Barão beats McDonald with 4th-round submission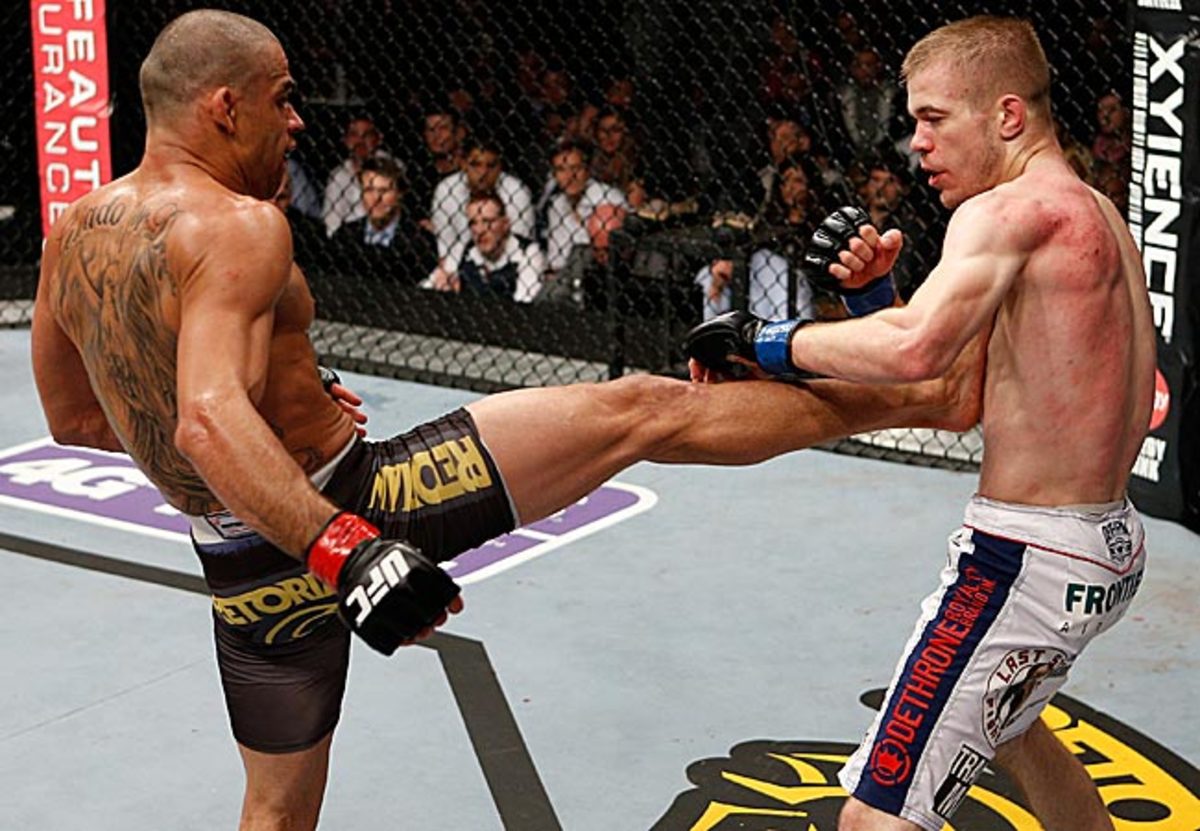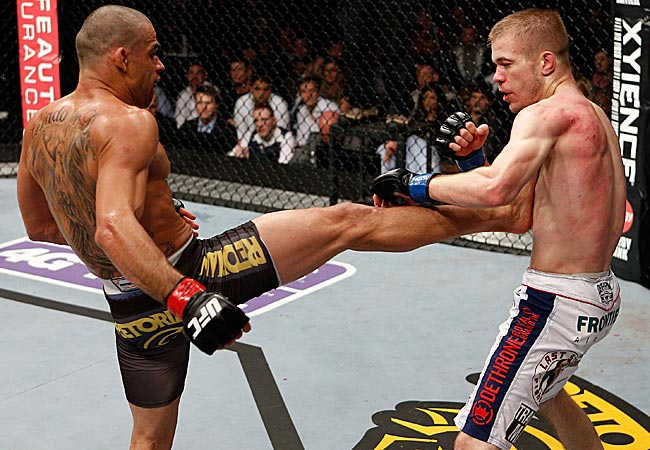 Seven years, 10 months and two days.
That's how long it's been since Renan do Nascimento Mota Pegao, better known by the childhood nickname "Barão," has lost a fight.
Where have you gone, Joao Rodrigues de Souza? The UFC's bantamweight division turns its lonely eyes to you.
Not really. But ever since dropping a decision to that journeyman fellow Brazilian in his professional mixed martial arts debut when he was barely 18 years old, Barão has gone undefeated in 31 straight bouts. He became the UFC's interim bantamweight champion back in July with a dominant decision victory over former featherweight belt holder Urijah Faber. And on Saturday at Wembley Arena in London, the 25-year-old stood up to the estimable challenge of Michael McDonald, bloodied and frustrated the young American and walked away with a fourth-round submission victory.
Perhaps what made it so impressive a victory was that it wasn't easy. Barão (30-1, one no contest) had been running through everyone who'd stepped in the cage with him, but McDonald (15-2) made it a fight. Barão got a takedown in the first minute, but he could do not even a little damage on the ground before the challenger got back to his feet. Then, with about 90 seconds to go in the round, the champ was staggered and dropped to a knee by a succession of short right hands. But he never ceased his attack, and before the round was over he had another takedown.
McDonald had his moments in the second and third, too, mostly on counterpunches. But Barão continued his aggression, and as the fight wore on, it paid dividends more and more. He landed a front kick to the face late in the second, and spinning back kicks also connected to the mug in the third and fourth, bloodying the challenger's nose and taking some steam out of his offense.
The fighters were locked up near the cage midway through the fourth when Barão attempted a takedown and McDonald tried to counter with a throw, and when they hit the mat the champ had back control. As McDonald tried to maneuver out of the dangerous position, Barão put him in an even more precarious one, clamping on an arm triangle choke. The Californian gave referee Marc Goddard a thumbs-up to indicate he was OK, but Barão held firm and eventually McDonald tapped out at 3:57.
It was McDonald's first loss in eight fights dating back to 2009 ... and a lost opportunity to make history: He was attempting to become the youngest UFC champion ever. But opportunity could well knock again. McDonald is barely 22 years old, a full year and a half younger than Jon Jones was when he knocked out Mauricio Rua to become light heavyweight champ in 2011. So McDonald still has time to chase this little piece of history. And even if it doesn't happen within the next 18 months, it's pretty likely that these two young fighters will see each other again.
But for now Barão has his sights set on a different fighter. "Dominick Cruz, I'm waiting for you," he said through a translator in a postfight interview in the cage, referring to the true 135-pound champion, whose knee injury made the interim belt a necessity. "Please come quick."
Is this summer quick enough for you, Renan? That's probably the most optimistic return scenario for Cruz, who has been out of the octagon for 16 months and counting. "The Dominator" last defended his belt back in October 2011 against Demetrious Johnson, who went on to become the UFC's first flyweight champ. Cruz was training for what was to be his next defense, against Urijah Faber, when he tore an ACL last May. In December he underwent a second knee surgery and is expected to be out until summer or early fall.
Conveniently enough, Cruz was one of the analysts on the UFC's postfight show on Fuel TV, and he wasted no time in getting the hype started for the champ vs. interim champ showdown.
"Barão's submission game is the most threatening part of his game," Cruz said in his analysis of the McDonald fight. "I love how he used the upper-body clinch and was able to drop down to the body for the takedowns. ... Barão used his size and grappling to his advantage."
And how does the champ intend to counteract that advantage? "I fight differently than anyone else," said Cruz. "I'm not going to stand in front of you. I'm not just going to counter you, and I mix things up. You take away range with angles. I can wrestle. I'm not going to just stand in front of him and strike the whole time. Feints ruin the entire game of Barao, in my opinion. You take away the range by taking away the jab. He's going to be confused when he gets in there looking for me."
He's already looking, Dominick. The nickname given to your presumed next challenger by his grandmother, "Barão," means "baron" in Portuguese. That's fitting. It's a title of nobility. The reigning king of the bantamweight division is named Cruz, but a young Brazilian with a regal resume has been keeping the throne warm and is ready to fight for the right to stay there. He's waiting.