Title questions loom ahead of Henderson-Machida UFC 157 card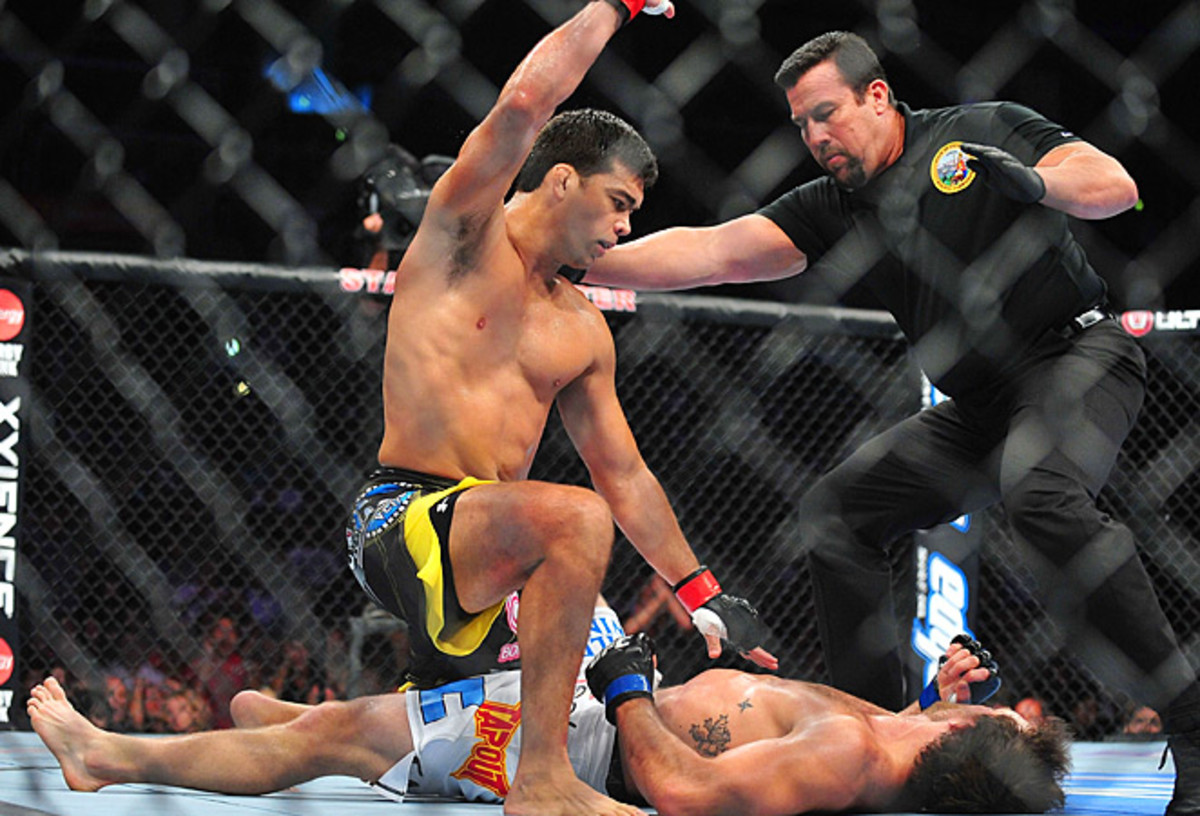 TORRANCE, Calif. -- One fighter had a light heavyweight title shot scheduled. The other was promised a crack at the winner of the first fighter's bout.
But as Dan Henderson and Lyoto Machida prepare for their meeting Saturday at UFC 157 in nearby Anaheim, not only is no title on the line, but there's no guarantee of a future title fight for the winner, either.
Such is the life of a UFC light heavyweight contender in 2013. Henderson and Machida are slotted Nos. 1 and 2 in the division in the UFC's own ranking system, but a failed former middleweight contender, Chael Sonnen, will get the next shot at Jon Jones' 205-pound belt.
Instead, Machida, a former UFC light heavyweight champion, and Henderson, a former multi-weight class titleholder with championships in Strikeforce and the Japanese Pride promotion, are left to square off in a co-feature bout underneath the women's title fight between Ronda Rousey and Liz Carmouche and then see where the chips fall.
"Promises of title shots are a way to hype a fight, I think that's why they've been telling everybody they'll get a title shot," Henderson said at Wednesday's UFC 157 open workouts at a UFC-branded gym in the Los Angeles suburbs. "It doesn't matter to me, I have no control over what happens next other than in the cage on Saturday night."
Machida, for his part, has also accepted his fate. "I think whoever wins, me or Dan Henderson, deserves the title shot," Machida said. "But, anything can happen inside the UFC, so I don't think about that. I'm just focusing on my fight right now."
The title saga started late last summer, when Henderson was scheduled to meet Jones at UFC 151 in Las Vegas on Sept. 1. A week and a half before the event, the 42-year-old Henderson informed UFC president Dana White he wasn't going to be able to compete due to a knee injury. When Jones refused a bout against potential replacement Sonnen, White canceled the card, a first in UFC history.
"Actually, I halfway expected them to still give me the title shot because of all the promotion they did for that fight," Henderson said. He then shrugs. "You know, it's not my job to be in charge of that."
Machida, who held the championship in 2009-10 before losing to Mauricio "Shogun" Rua (who subsequently lost to Jones), was promised a title shot after defeating Ryan Bader on Aug. 4. When Jones-Henderson fell out, Machida was offered a bout with Jones at UFC 152, scheduled for Sept. 22. Machida, however, didn't want to take the fight against a competitor of Jones' caliber on three week's notice, so he declined.
Both Henderson and Machida, with a combined 58 professional fights between them, might not have been happy about these circumstances, but as veterans, they understood these things can happen in the fight game.
But then White dropped Jones-Sonnen bombshell, as the two will meet on April 27.
"It took me a little while to get over it," Henderson said. "But not long, and I told Dana I'll do whatever he wants me to do. When I came back I wasn't gonna bank on a title fight, but when he asked me to fight Lyoto Machida, I never asked for anything different."
So after all was said and done, we ended up with Henderson vs. Machida, an intriguing bout on its own merits. Henderson has made his mark of the years with the strong combination of his wrestling skills -- the Southern California native was an Olympian in 1992 and 1996 -- and a fearsome right hand, which keeps his opponents from focusing in too tight on Henderson's takedown attempts.
Machida, nicknamed "The Dragon," is trained in both shotokan karate and sumo. Known for his patient counter-striking, Machida has scored signature wins by wearing down his opponents' patience, then pouncing with a knockout blow when they inevitably come charging into range.
"The first goal for me is to win," said Machida. "My next goal is to put in a great performance to show everybody my great technique. If I can do both, it's excellent for me, but my victory, that's the important thing. I'm looking for the knockout, I'm looking for my victory every time."
Henderson (27-8) knows that in a three-round fight, he might not have the luxury of waiting for Machida to make the first move.
"That's going to be the key to the fight is getting into his face, being able to get in his face and getting him to fight me and not letting me move around and fight at his pace and on his terms," Henderson said. "I think that's when he's most dangerous is when you let him fight how he wants. I'm going to make sure that doesn't happen."
Machida, meanwhile, has undergone a career rebirth after relocating to the United States. After dropping three out of four bouts, Machida left his hometown of Belem, Brazil, and took his family to Redondo Beach, Calif. His Black House camp, which also features UFC middleweight champion Anderson Silva, bases its American operations in nearby Gardena. The victory over Bader, in which he knocked his foe cold in the second round, was the first since the move.
The ex-champ sees the change of scenery as pivotal to his career rejuvenation.
"The thing is, I value my privacy," Machida (18-3) said. "I am glad to have fans back in my homeland in Brazil, but the UFC has gotten so big that I can't leave my home without having many demands on my time. Here, in the U.S., I can walk down the street with my family, I can go home at the end of the night and be by myself. I value that, and I feel like moving here has been good for my career."