Nick Diaz outclassed physically and mentally at UFC 158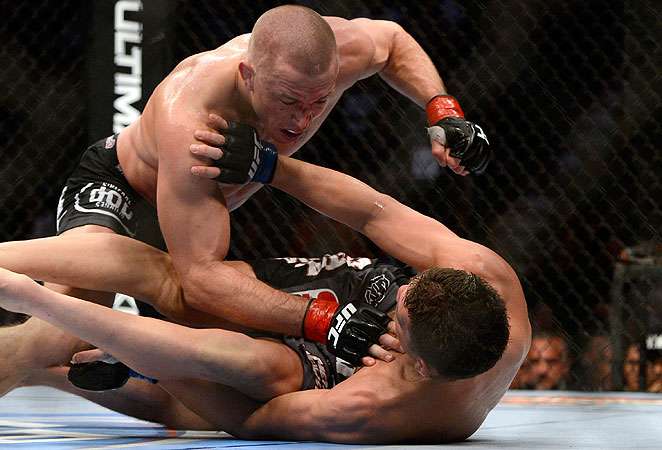 If you went in to Saturday night's UFC welterweight title bout in Montreal with the mindset that Georges St-Pierre is as complete and dominant a fighter as there is in mixed martial arts, your high opinion was confirmed. If you went into the champion's five-round whupping of Nick Diaz with the mindset that GSP is a play-it-safe points competitor unwilling to go for the finish if it means exposing himself to peril, your low opinion was confirmed.
St-Pierre is as steady and composed as you'll find in the fight game, but boy does he evoke wild passion. Fans love him. Fans hate him. No, not hate, exactly. How could anyone hate Gentleman Georges? But many who follow this sport do find him maddeningly unsatisfying to watch. GSP is an uncommon athlete with a skill set evenly balanced between refined standup and mat mastery, and he practices his martial arts with brainy precision. He uses prodigious wrestling to take down and tame ferocious strikers, and when he's in the ring with a grappling virtuoso, he remains at a safe distance and picks the guy apart with punches and kicks. GSP's fights take place in GSP's comfort zone.
Against Diaz, we saw the same old story play out, and that riled up some within the UFC fan base. Why had these folks anticipated something less buttoned-down this time? Well, the built-up expectations had to do with the buildup to the UFC 158 main event, which for months fed us high-potency acrimony. Baited into Diaz's black-belt verbal jousting, St-Pierre had oddly devolved from his even-tempered self, even tantalizing the most bloodthirsty among us -- and no doubt selling a few extra pay-per-views -- with a threat to "put the worst beating you've ever seen on [Diaz] in the UFC."
The champ didn't keep that promise in terms of savagery, but St-Pierre did beat up Diaz more thoroughly than anyone had since Nick was a green 19-year-old getting knocked out a small regional show. And what was most impressive is that Georges was the better fighter no matter where the fight was fought. Going in, the conventional wisdom was that while the well-rounded Diaz could pose problems on the ground, that still would be a safer place for GSP to be than within firing range of Diaz's relentlessly stalking standup. Even St-Pierre acknowledged as much after the fight, saying, "I didn't want to fight at a boxing range because he's the best boxer in mixed martial arts."
Not on Saturday night he wasn't. St-Pierre peppered Diaz for five rounds, landing straighter, crisper punches, and many more of them. GSP doubled Diaz's strike output, counting both punches and kicks, and did so by consistently beating the challenger to the punch and countering everything Diaz threw. On the ground, Nick and his jiujitsu black belt had no answer, either.
GSP had the fight won by the end of the second round, really. Diaz went back to his corner demoralized, slouched on his stool and said, "Win or lose, he still hits like a bitch." Win or lose? If you utter the word "lose" while a fight is still going on, you've already lost the fight. You're looking for the exit door, as Diaz did again at the end of the third, taking a swing at GSP long after the horn had sounded. Referee Yves Lavigne followed Diaz to his corner with a warning: "If you do that again, I will disqualify you." It wouldn't have surprised me a bit if Diaz had come out after that and pulled a Mike Tyson as soon as St-Pierre was within biting range. Check, please?
What many had expected to be a tough matchup ended up being a cruise-control runaway for St-Pierre, even more lopsided than his last few title defenses. So what's next for the champ? A tough matchup. No, really.
Johny Hendricks, who earned his title shot long ago but finally was assured of it with his unanimous-decision victory over Carlos Condit in a stirring co-main event, truly has the skill set to make St-Pierre fight for his life. GSP's takedown game will face its toughest challenge yet against the two-time NCAA Division I wrestling champion and four-time All-American. The takedowns will likely be sparse both ways, leaving GSP to pit his slick standup against the thunderous fists of Hendricks. Considering that the one Achilles' heel we've seen in the champ has been his tendency to get nailed by a big shot now and then, this fight will be something to see.
Matchmaker, matchmaker
Though Condit came out on the wrong end of a tight decision in the co-main, he really didn't lose a whole lot. Had he beaten Hendricks, he probably wouldn't have been granted the shot at GSP, whom he unsuccessfully challenged just four months ago. Condit likely would have had to prove himself worthy of a title fight rematch with one more big victory, maybe even two. And that's pretty much where he sits now anyway.
So it seems like a no-brainer to go back to the original UFC 158 plan for Condit and pit him against Rory MacDonald. The 23-year-old had to pull out of the show in Montreal, where he lives and trains, because of a neck injury. The fight was to be a rematch of one from three years ago in which MacDonald was ahead on points but was stopped by Condit with seven seconds to go. Rory badly wanted another shot.
Surely, he still does. He and Condit will just have to wait, though, because the shoulder was reinjured last week when MacDonald came back too soon. The delay isn't the worst thing in the world for Condit, who is coming off a pair of grueling losses to the men who'll tussle in the next 170-pound title fight. Carlos can use the mental break.
And for the other welterweights from the UFC 158 main card?
The UFC could book Jake Ellenberger vs. Demian Maia in order to determine who'll get the GSP-Hendricks winner. Unless MacDonald were to win his next bout and his TriStar gym training partner were to lose the title fight decisively (that is, no rematch called for), in which case MacDonald would probably be first in line for "Bigg Rigg."
For Diaz, if he reconsiders his fight-night proclamation that he'll retire if not given a rematch with GSP (not going to happen) or a fight with Anderson Silva (not going to happen), a date with Martin Kampman would make sense. The Dane is coming off a first-round KO loss to Hendricks, so just like Diaz he needs to make a statement if title contention is his destination.
Title talk is far off in the future for Nate Marquardt, who was the victim of Ellenberger's first-round KO on Saturday night. It was his second straight loss, and with the UFC roster getting sliced by the minute, Marquardt has to do something fast to stop the bleeding. Maybe take on Josh "Two Straight Losses" Koscheck in a Get Out of Town Match?
Nick Diaz says the darndest things
Saturday's post-fight press conference began with Dana White announcing that the main event loser would not be attending: "Nick Diaz said, 'I'm done. My job is over. I'm outa here.'" Probably wishful thinking by the UFC president, who'd just been saved from having to take a flying leap off the Bell Centre roof. (How else might Dana have responded to the prospect of dealing with Nick and his stream-of-contentiousness as welterweight champ?)
But then, a good 40 minutes into the session, in walked Diaz. He nonchalantly sat down at the dais, grabbed a microphone and produced more memorable moments over the next 15 minutes than he had during the 25 minutes he'd spent in the octagon.
Some highlights:
On GSP: "No offense, but this guy has no punching power. No offense."
On whether he should have been penalized for the late punch after Round Two: "I don't know if I was, but I didn't really try to take that shot. I just threw it across his face. I know that sounds like some bull [expletive], but I really wasn't trying to hit him with that. I was just being really mean."
On how the time change between Montreal and his home in northern California affected him: "You know, I could sit out here and make a million reasons why I didn't do well. But I was trying to time this whole hours delay between the U.S. and here, and I was so confused. I just wish I would have had some kind of coach telling me, 'Listen, you're gonna have to go to sleep, dude.' 'Cause I was like, 'Should I stay up? Should I go to sleep?' And like, I slept all the way till 8 o'clock today, thinking I don't know if that's going to help me or if that's gonna work against me. But I was like [expletive] taking a nap out there."
On why he won't get a rematch with GSP: "Uh, he's gonna fight Johny Hen--" He notices that Hendricks and St-Pierre are right beside him, and ... "Uh, I don't know why you guys are sitting next to each other if you guys are gonna fight. I don't understand that."
On Carlos Condit: "I thought he did a great job versus Johny here. You know [laughing], I hate that he lost. I hate it. I hate it. You know, but ..." Turning to Hendricks: "No offense, but I don't think he lost, though. I just think that the way this sport is geared towards the wrestler, you know, going on top every round. You know, if you watched the Pride FC, which is gone now, disappeared, you gotta punch the guy."
On a possible venue for his next fight: "You know what? I've never paid taxes in my life. I'm probably going to go to jail."
Number crunching
1: Diaz's significant strike total in the first round. Through two rounds he'd landed a grand total of four, to 30 for St-Pierre.
0: Diaz's significant strike total, in ground fighting, for the whole fight. GSP landed 32. Total strikes while on the ground: 129-24.
56: St-Pierre's success rate, by percentage, on takedowns (9 of 16). For the most prolific takedown artist in UFC history (75 percent accuracy over his career), that's among his poorer batting averages.
11: Championship fight victories for St-Pierre, tying Anderson Silva for the most in UFC history. It also was GSP's 11th straight win.
47: Rounds fought in championship fights by St-Pierre, surpassing Randy Couture (44) for most ever in the UFC.
Stop me if you've heard this one
UFC 158's early-evening controversy -- there's always got to be one of them, right? -- came when Darren Elkins stiffened Antonio Carvalho with a straight right hand, wobbled him with a second, then dropped him with a third, prompting referee Yves Lavigne to jump in...just as Carvalho was getting back up.
The crowd exploded in boos, in part because Carvalho fights out of Oshawa, Ontario, and the Montreal fans had been giving their full-voiced support to fellow Canadians. Then again, Twitter exploded in protest as well, even from points outside the North Country. It was a quick stoppage, no question, but not an unreasonable one, particularly once you read between the lines of what the losing fighter said afterward.
"I don't blame Darren. He isn't the referee," said Carvalho. "Listen, he hit me with something because I remember going down. I shouldn't have been caught with the punch in the first place, because some referees are safety-first, and you don't get to do it again."
Hmm. "He hit me with something and I remember going down"? Sounds like someone had been separated from his wits a little. "Some referees are safety-first"? Yes, that's their No. 1 priority.
As for Elkins, he had something -- and someone -- to brag about. "I'm now the first featherweight in the history of the 145-pound UFC division to go 5-0," said the 17-2 featherweight. "You know why I know that? My wife, Connie, has been texting me about it all week."