A month after losing his best friend, McDaniel preparing for 'TUF Finale'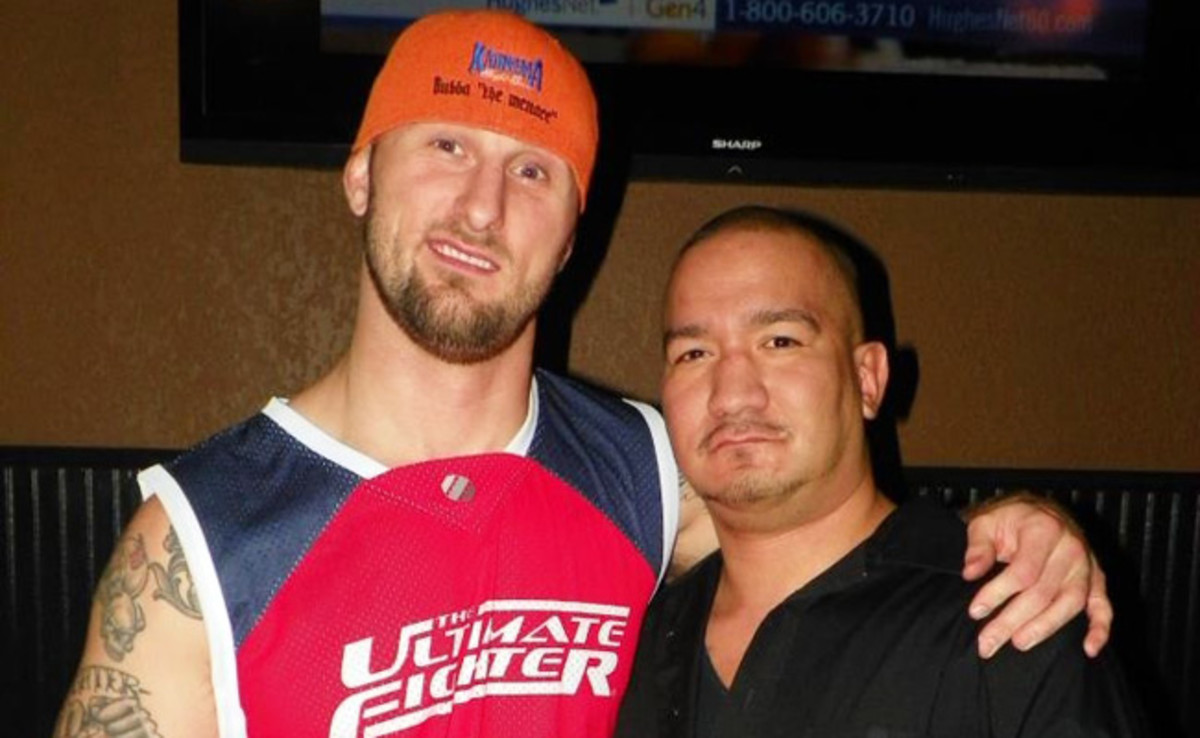 ALBUQUERQUE, N.M. -- Crutches and canes hang from the thick, adobe walls of the tiny room in the tiny church. So do baby shoes and rosaries -- all articles of appreciation for the healing that generations of New Mexicans swear they've found in holy dirt springing up from a hole in the back room of the Santuario de Chimayo, a Roman Catholic church nestled in the foothills of the Sangre de Cristo mountains.
Bubba McDaniel is neither New Mexican, nor even Catholic, and the vestiges of healing he hoped to find when he made the 90-mile pilgrimage from Jackson/Winkeljohn's gym last week couldn't be found on the church's walls. Still, the Ultimate Fighter 17 contestant knelt, reaching for the dirt. He didn't rub it around his left eye socket, broken in three places by Uriah Hall during their quarterfinal fight that aired April 2, and he didn't bow his head and ask for God to mend his ego, shattered by two crushing defeats on national television. Instead, McDaniel bowed his head and asked God to heal the wound and fill the void so few people knew existed.
McDaniel finished his prayers but before he headed home, he stopped to buy a medallion of St. Michael the Archangel (whose prayer implores, "Defend us in battle"). He then returned to his car and headed back to for the next day's training.
***
After McDaniel walks into the cage on Saturday night to face Gilbert Smith as part of the Ultimate Fighter Finale maincard, he plans on handing the medallion to a cornerman and taking off the T-shirt he created with his best friend's picture silkscreened across it, along with the words "In Loving Memory." McDaniel has driven around with the shirt in his passenger seat since burying his best friend one month to the day on Saturday. It's the closest Bubba McDaniel can get to having his friend, the one responsible for his career, ride shotgun anymore.
"Jason Hernandez was the guy who brought me into my first gym when I was too afraid to walk in there myself," says McDaniel, rubbing the St. Michael's medal between his thumb and forefinger last Monday. "He was known as a local bad boy but he was my buddy."
Hernandez and McDaniel met 12 years ago through mutual friends. Through the years they'd seen all their hometown of Wichita Falls, Texas, had to offer, from the front of the beer lines to the back of police cars, through the women they loved and the children born, though the hangovers and the heartbreaks -- together. As soon as McDaniel left the Ultimate Fighter house in December and headed back to Texas, Hernandez was one of his first calls.
"I was always calling him to see what we were doing," McDaniel, 29, says of his Ultimate Fighter aftermath. "Every day I spent with him. He was my right-hand man going in and out of [the show]. You have those two, three irreplaceable friends in the world and he was one of them." Theirs was a friendship not a fad, one that couldn't be undone by a few clicks on Facebook.
Or even by a woman.
On the evening of February 28 -- in what would be their final outing -- McDaniel went out to meet Hernandez and his new girlfriend. But the night ended abruptly, not long after Hernandez and his girlfriend began a very loud and a very public argument. McDaniel, by this time a local celebrity for his Ultimate Fighter appearances, barked at Hernandez. "I can't do this s--t while I'm on TV," then walked away. As he left, Hernandez's girlfriend asked her boyfriend, "And that's your best friend?"
When Hernandez called McDaniel that following Saturday afternoon, the two old friends laughed not so much about the absurdity of their argument but of the incredulity of Hernandez's girlfriend, who couldn't understand that a bond so strong couldn't be undone by pettiness, anger or even her.
McDaniel's phone rang again the next day, a Sunday, after Hernandez, who struggled with high blood pressure -- took a blood pressure reading.
"This is the first time I've been scared in a long time," Hernandez told him after the test showed his pressure to be abnormally high.
"You've started drinking again, doing stupid s---," McDaniel said to his friend. "You need to make changes. We're getting older. You're not invincible anymore. "
Before McDaniel hung up the phone and pointed his car towards Albuquerque, he told his friend, "I love you, man."
McDaniel didn't learn of Hernandez's heart attack on Wednesday, March 6, until hours after it had happened. With his fight just five and half weeks away, McDaniel was as in full training camp mode.
"I couldn't take off. I had to get ready for this fight," he says.
Plus, the prognosis looked promising. When McDaniel's mother went to the hospital the next day in her son's stead, she told him that Hernandez "fluttered" and seemed responsive. McDaniel went back to hitting heavy bags and grappling with teammates, confident of his friend's return.
Some in the hospice industry have noticed that some people experience a brief -- and sometimes slight -- jolt of energy before dying. Perhaps that's what McDaniel's mother felt on Thursday but by Friday evening, as McDaniel finished his work as a personal trainer, his phone rang again. Hernandez's sister was on the other end, telling him that doctors determined her brother to be brain dead. They would be taking him off life support shortly.
McDaniel went to his car, closed the door, "and screamed for about an hour." He'd stay in his car and make the 500-mile drive from Albuquerque back to Wichita Falls.
He arrived at the hospital a little after five in the morning, as the sun rose, to say goodbye to the best friend he'd ever known. He sat by his bedside for more than an hour before Hernandez died. It just didn't seem real. So much so that later that evening, as Bubba tried to eat dinner, he picked up his phone and . . .
And then he remembered. Hernandez wouldn't be answering anymore. But just because his friend could no longer answer didn't mean McDaniel wasn't getting a loud and clear message from the Hernandez family: Go back and train, Bubba.
"He'd be mad at you if you didn't finish training, and if you didn't win this fight because something happened to him," they told him over and over again.
***
A month after Hernandez's death, McDaniel runs on a treadmill at Jackson/Winkeljohn's gym, the St. Michael's medal bouncing beneath the hooded sweatshirt McDaniel wears as he tries to cut weight.
He says the constant weight cuts on the show diminished his fighting ability and altered his personality. "I've trained way harder but the stress of having to fight and then cut weight again, it's the hardest thing I've put my body through," he says. "I don't wish that experience on anyone."
The toll didn't just tax his body.
"When I lost, I broke down," he says. "I went in thinking that I was the best fighter and then being beaten twice, that made me question, 'Well, am I even good enough to compete?' That's a fighter's worst enemy. I had a lot of self-doubts. I had to make sure this is what I wanted to do."
He enlisted the help of a sports psychologist who helped him find both his purpose in the sport and pride in himself once again.
"I know I'm a good fighter," he says. "You definitely will see a different fighter come finale time. I'm ready to let my hands go. I'm ready to go out there and fight. I've already got the whole world thinking, 'Oh, Bubba can't do this, Bubba can't do that.' So what's the worst that can happen now?"
Especially when the worst already has.
After the fight, McDaniel plans on taking that St. Michael's medallion and placing it on Hernandez's grave, thanking his friend for giving him the courage to try the sport.
It might not be a crutch hanging from the church wall, but for Bubba McDaniel, placing the medallion on Hernandez's headstone might be the closest he comes to healing.