Low risk but high reward for Floyd Mayweather in latest title fight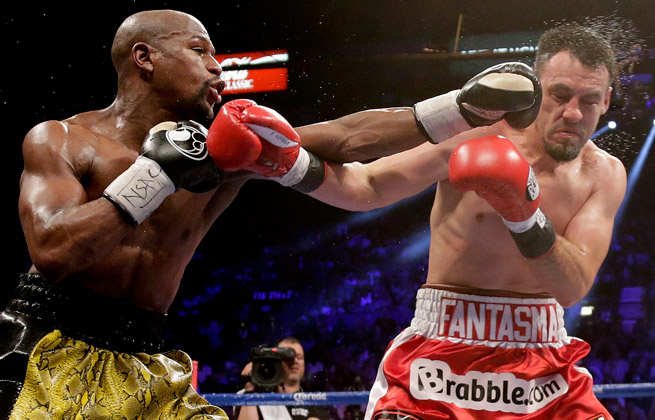 LAS VEGAS -- The beginning of the end could not have gone better for Floyd Mayweather Jr.
With a devastating exhibition of speed, accuracy and ring generalship, Mayweather thoroughly dominated Robert Guerrero to retain his WBC welterweight title before a crowd of 15,880 at the MGM Grand Garden Arena. All three judges scored it 117-111. (SI.com had it 118-112.)
It was the first fight of Mayweather's contract with Showtime, a deal for up to six bouts over three years with a potential payout of $250 million, that he plans to ride into retirement.
That's great for Mayweather (44-0, 26 KOs), who was already the world's highest earning athlete even before a pact that's been trumpeted as the richest individual contract in sports history.
Not so much for boxing fans, if Guerrero represents the caliber of opponent Mayweather plans on playing out the string against.
Surely, that's not all on Mayweather. As he showed Saturday night, the flawless technique and deft counterpunching are still there at 36 years old, even after a 364-day layoff that included a two-month bit in jail on a domestic battery charge. He's that much better than most everyone else out there.
But Saturday's beatdown underscored how Mayweather has behaved more as a businessman than boxer since his rematch with Jose Luis Castillo in 2001, adopting a conservative approach to picking his opponents for 16 consecutive fights. With so much money at stake, who can blame him for eschewing unnecessary risk? He earned a guaranteed $32 million for Saturday's outing, a figure nearly certain to swell to more than $40 million once the pay-per-view and closed-circuit receipts are tallied.
Boxing's hype machine did much to pump up Guerrero (31-2-1, 18 KOs), who earned $3 million, triple his previous career-high purse. The little-known fighter from Gilroy, Calif. -- the garlic capital of the world -- was making just his third appearance at welterweight after winning titles at 126, 130 and 135 pounds. We were told he was a younger, primer, hungrier challenger capable of exploiting the defensive slippage Mayweather showed in his last fight against Miguel Cotto. It's perhaps the biggest reason Guerrero's odds had been slashed to 4-to-1 by fight time after opening at 9-to-1.
It didn't take long for the mismatch to reveal itself.
The only tense moments came early in the fight, as the challenger tried to pressure and crowd Mayweather. Guerrero made Mayweather miss and countered with a hard right that managed to wobble the champion.
From the third round on, it was one-way traffic.
Mayweather landed flush with a right hand. Then another. And another. It was a puzzle Guerrero made no headway toward solving. By the fifth, Mayweather was picking the challenger apart, slipping shots, scoring with both hands at will. His impeccable control of tempo left Guerrero mentally broken.
The champion enjoyed his best moments in the eighth, cutting Guerrero over his left eye with a punch and connecting with a brain-rattling right hook in the center of the ring. The last four rounds were more of the same, even as the crowd grew impatient with Floyd's hesitance to close the show -- which he attributed to a hand injury suffered in early rounds. Boos could be heard over the last six minutes directed at Mayweather's reluctance to mix it up.
"All I want to do is give the fans an exciting fight," said Mayweather, nary a mark on his face, after connecting on 153 of 254 power shots (an otherworldly 60 percent). "I feel bad I didn't get the knockout tonight. I was looking for it, but I hurt my right hand."
He called his opponent a "true champion" but make no mistake: Guerrero was hopelessly out of his depth. He threw just 48 punches per round, down from an average of 71 in his two other welterweight fights, a testament to Mayweather's masterful dictation of pace. "Easy money," as the five-division champion is so fond of saying.
Mayweather had generated 9.6 million buys in his nine pay-per-view fights before Saturday night, representing $540 million in revenue. He will almost certainly overtake Oscar De La Hoya ($610.6 million on 12.6 million buys in 18 events), Mike Tyson ($545 million, 12.4 million buys, 12 events) and Evander Holyfield ($543 million, 12.6 million buys, 14 events) as the biggest pay-per-view attraction in history.
So much of that success is dependent on the all-important zero in his loss ledger. The polarizing Mayweather is the first to acknowledge that more fans plunk down $59.95 on a pay-per-view to watch him lose than to watch him win -- a truism corroborated by the pro-Guerrero crowd. He's already weathered most glaring hit to his legacy: that he never fought Manny Pacquiao when that fight still mattered. There's no need to take on undue risk when the money keeps flowing.
Yes, it comes at a price. The buzz all week was muted by Mayweather standards. It didn't sell out, with tickets on the secondary market going for hundreds below face. But those costs are negligible given the guaranteed money at hand.
So what is next for Mayweather, who reaffirmed his intent to return on Sept. 14 at the MGM Grand? Golden Boy CEO Richard Schaefer mentioned Danny Garcia, Victor Ortiz and Amir Khan as potential opponents.
What of 23-year-old Adrien Broner, the two-division champion and superstar-in-waiting who makes his welterweight debut in June? That's a potential challenge for Mayweather -- particularly in 12 to 18 months -- but don't count on it. Broner, diamond-studded grill in place, raised two middle fingers to the press corps when asked about fighting Mayweather, whom he considers a mentor.
What of Saul "Canelo" Alvarez, the rugged Mexican junior middleweight champion who passed on a spot on Saturday's undercard when Mayweather wouldn't commit to facing him in September? Mayweather said he'd consider it, but we'll believe it when we see it.
In all likelihood, we can expect five more nights like these: immaculate, peerless exhibitions of prizefighting -- and salesmanship -- with minimal true risk.
Mayweather has already proven he's the greatest fighter of his generation. Forty-four consecutive victories over 17 years make a compelling case.
Just don't expect much from the closing argument.