A year after testing positive, Peterson is trying to win fans back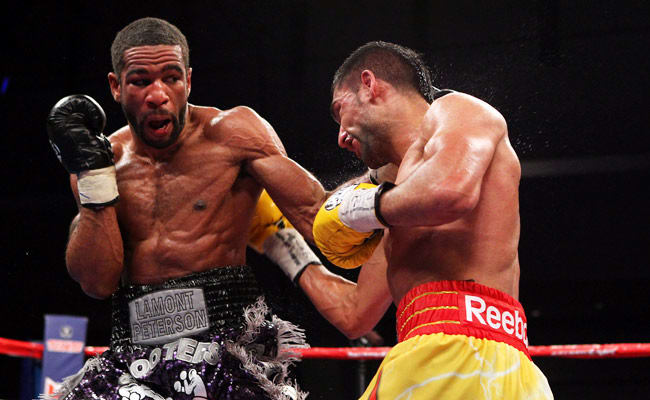 NEW YORK -- Lamont Peterson understands his days of being just Lamont Peterson may be over.
Huh?
See, to many he's Lamont Peterson, IBF junior welterweight champion, D.C. kid who rose from the horrors of the streets to become a world champion. He slept in cars, used newspaper for toilet paper and, Peterson told me recently, had he not met trainer Barry Hunter when he was 11, he probably would be dead or in prison.
To others... well... he's the guy who flunked a drug test, the guy who tested positive for synthetic testosterone, the guy whose career, including a defining win over Amir Khan, will always be shrouded in some doubt.
"I'm still trying to bury that whole drug testing situation," Peterson admitted. "People seem to forget very fast about how I performed up to that Khan fight. And then, after the Khan fight, a lot of people were saying I need this and that and this and that. But people forget that I've already been a top fighter and I just want to get paid to go out and to prove to people that Lamont Peterson's still a top fighter and a world champion."
Peterson's explanation for the failed test -- he was prescribed the testosterone by a doctor to treat his abnormally low levels and that it wasn't enough to enhance his performance in the ring -- had its share of believers and doubters. The WBA didn't buy it; the sanctioning body stripped Peterson of the belt he won against Khan. The IBF did buy it and allowed Peterson to keep its version of the 140-pound title.
In February, Peterson (31-1) ended a 14-month layoff when he defended his title against Kendall Holt. Peterson looked sluggish early, absorbing plenty of power shots. But in the fourth round, Peterson seized control, steadily advancing on Holt, punishing him with short, crisp punches. Holt went down in the fourth and was finished off in the eighth, when a surging Peterson buried him under an avalanche of punches that forced a stoppage.
"That's kind of how I work or go about things," Peterson said. "People can call me a slow starter; I guess that's the case. I take my time. I figure things out, and after a few rounds I start taking over."
On Saturday night, Peterson will continue his road back when he takes on Lucas Matthysse at Boardwalk Hall in Atlantic City (Showtime, 9 pm). No titles will be at stake -- Matthysse (33-2) is the interim WBC champion, and because the IBF does not recognize interim titles it would not sanction it as a unification fight, Golden Boy Promotions matchmaker Eric Gomez said, so instead it will be fought at a 141-pound catchweight -- but there is plenty on the line. The winner is earmarked for a shot at junior welterweight kingpin Danny Garcia in the fall.
"Every fight right now is important to me," Peterson said, "because you're at the top level right now and every fight that you win, every fight that you're in is a big fight and if you win that big fight you're going to a bigger fight. I'm 29 years old now. So I'm, some people might not say this but, on the tail end of my career. I don't plan on doing this much longer."
Peterson claims to be motivated to fight Matthysse by the urban legend that he has become. Despite losing his two most significant fights -- close decision defeats to Zab Judah in 2010 and Devon Alexander in 2011 -- Matthysse is considered one of the most feared fighters in the division. He has stopped his last five opponents, including a crushing first-round knockout of Mike Dallas Jr. last January.
"It was the media who said things like, 'No one wants fight him,'" Peterson said. "I'm in the division, in the same division, when I hear things like that, that are not true, it kind of gets under my skin. I'm like, 'I'll fight anyone.' Not being angry or anything, it's just the fact that I want to prove to everyone I'm the best at the weight class.
"A lot of people, when you hear about the best in the weight class, they were saying his name. So of course that was the person that I wanted to fight to prove myself and to let people know that someone out here wanted to fight him."
The taint of the positive test will never fully fade, not with the Internet, not with Wikipedia, not with search engines linking it to his name. But Peterson knows he can win back some of the fans he lost with clean tests and entertaining fights. And matching his fight in the pocket style with the heavy handed Matthysse is close to a can't-miss.
"I normally don't worry about anybody's punching power before the fight," Peterson said. "I understand that it's boxing and I'm going to get hit. That's something that's a given. If I get hit hard or not, that really doesn't make a difference to me. I'm willing to take any shot that anybody can give out."