Cain Velasquez knows what it's like to be fueled by vengeance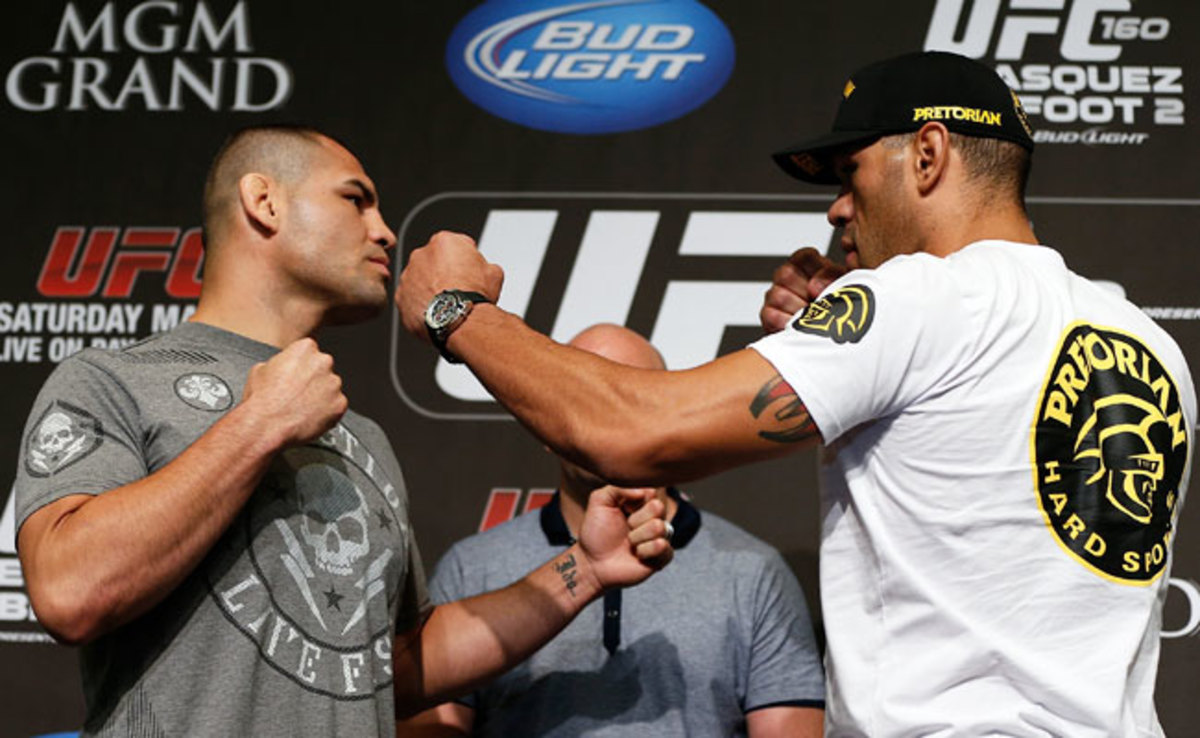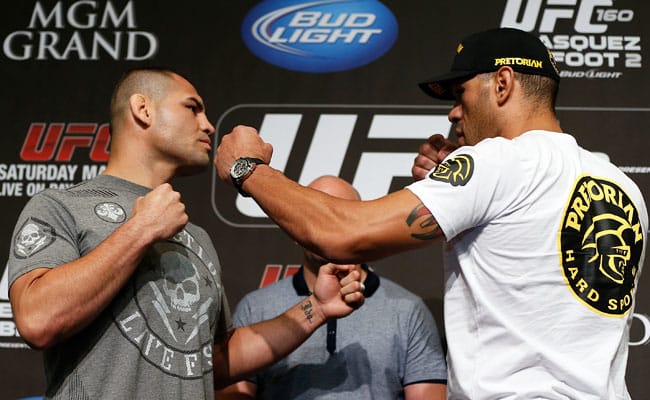 LAS VEGAS -- His challenger has one big advantage. No, I don't mean the sledgehammer right fist that Antonio "Bigfoot" Silva wields. I'm referring to the motivating incentive of vengeance, an emotion that festers in a pool of humiliation.
Cain Velasquez knows all about this. On a night back in November 2011, he strode into the UFC octagon as an undefeated heavyweight champion. Minutes later, he groggily exited, no longer undefeated and no longer champion. That knockout loss to Junior dos Santos in his very first title defense was a humbling experience. It was a driving experience.
Six months later, Velasquez showed up for his next fight as a caged animal. That might be a safe creature to be around if you're walking in a zoo. But if you're at a mixed martial event and you're the one across the cage -- inside the cage -- you're definitely not safe. Silva was that man last May, and his fate was quickly sealed. Five seconds into their bout, Cain put the big Brazilian on his back. And for the next three and a half minutes -- or until a merciful referee pulled him away -- the ex-champ unleashed a beating with savagery ramped up a notch by every single person who'd mentioned his name with "ex" or "former" attached to it. Velasquez fought that night like a man who had payback on his mind, and "Bigfoot" was the first steppingstone on the road to retaliation.
Velasquez (11-1) completed his redemptive journey in December when he thrashed Dos Santos for the full 25 minutes of their rematch, earning a lopsided unanimous decision to trade in the "ex" and "former" for his old title belt. Now, the first to take a crack at him this time will be Silva (18-4), who'll be looking for payback of his own in the main event of UFC 160 on Saturday night in Las Vegas.
It's obvious what will pushing the challenger. But what about the champ, who made it look easy against "Bigfoot" last time? How does one prepare for the reappearance of an opponent you so thoroughly smashed?
"This is a whole different fight," Velasquez told SI.com, repeating a vanilla platitude he's spoken all through the buildup to this fight. Of course, he said much the same leading up to the Dos Santos rematch. And that tells us it doesn't really matter which side of the beatdown you were on the first time. It's always a whole different fight. A fighter's mind is perpetually being invaded by variables.
"This one could be totally different," Velasquez acknowledged, "like the second fight between me and Dos Santos."
That uncertainty feeds into an emotion one would think is natural in the fighting life but is seldom acknowledged by the practitioners: fear. "I'm not scared of the other fighter or scared of getting hurt," Velasquez said. "But there's a fear of not knowing what's going to happen. I have a lot on the line. I'm prepared, and I know what I can do. But I don't know what's going to happen in this fight. Hopefully, it's going to go my way. But it might not."
History is on the side of that shred of doubt, especially now that the UFC championship belt is back in his trophy case. Consider this: While Anderson Silva has defended the middleweight belt 10 times, Georges St-Pierre has defended at welterweight eight times and Jon Jones already has beaten down five light heavyweight challengers, no heavyweight champ in UFC history has defended the title more than twice in a row.
Velasquez prepares his questioning mind and the uneasiness in the pit of his stomach the same way he does his fists. He practices. In training camp at American Kickboxing Academy he spars several times a week with Daniel Cormier, and Cain insists that his sessions with the former Olympic wrestler are tougher than anything he faces in his UFC fights. "Sometimes it's my day," said Cain, "and sometimes it's Daniel's day." So Velasquez readies himself for these sparring sessions like he would for real fights. "I sit in the back room before practice thinking like I'm going into battle," he said. "I feel the butterflies coming, and I let that feeling sink in. That way, when the butterflies come on fight night, I've been there before."
On Saturday night, Velasquez should have no trouble feeling like he's been there before. He spent a lot of hours in the gym focusing on Silva prior to their first match, because just before he had his shot at "Bigfoot" he helped prepare Cormier for a meeting with the Brazilian. Then Cormier trounced Silva, and so did Velasquez. Sure, every fight is a whole new fight, but Velasquez is as familiar with -- and confident against -- Silva as one could be. "We know what he's good at," said Cain. "We know what we need to do to beat him."
Again.
PREDICTIONS: Our experts' picks for Saturday's main card