Ronda Rousey wants to face 'Cyborg' Justino before retiring in her 30s
Rousey hopes to fight Cristiane Justino before her career is over.
UFC champion Ronda Rousey (12–0 MMA, 6–0 UFC) does not expect to fight into her 30s and hopes to fight Cristiane (Cyborg)​ Justino (14–1) before calling it a career, she told UFC commentator Joe Rogan on his podcast "Joe Rogan Experience" on Monday.
"I don't want to be fighting in my 30s," Rousey told Rogan. "By 30s, I mean like 31, 32. If you're actually 30 years old that's 30, not 30s. Once you add the one, that's 30s, plural. I'm 28."
Rousey turns 29 on Feb. 1, and boasts an undefeated MMA record. Last month she defeated Bethe Correia at UFC 190 in a 34-second bout before announcing that she will fight Holly Holm at UFC 193 in Melbourne.
In addition to her undefeated record in the cage, Rousey also adds an Olympic bronze medal in judo from the 2008 Summer Olympic Games in Beijing to her resumé.
"It just seems unfinished—my career, there's more left to do. I don't feel like I'm done yet," Rousey said. "With the Olympics it's just like, you win an Olympic gold medal and you're done. With the UFC, when am I really done? I'm not. It feels unfinished still. [A fight vs. Justino] definitely would [help]."
Ronda Rousey's Toughest Would-Be Challenger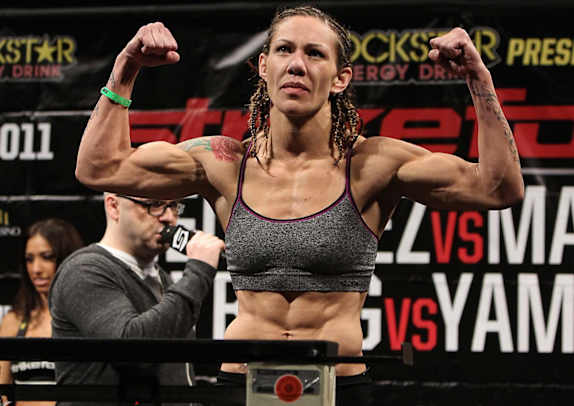 ​Justino is the 145-pound titleholder while Rousey has been competing in the 135-pound weight class since the fifth fight of her career.
Justino tested positive for steroids in December 2011 and was stripped of her Strikeforce featherweight title. Rousey still has her suspicions of Justino's performance-enhancing drug use.
"If you can make weight and be on steroids, even if it's making weight or a relatedly making weight-friendly steroid ... without it you're capable of moving down," Rousey said. "You see what happens to people without it when they get off of steroids? You see what they look like. It's very easy for them to drop down. They immediately shrink up. It changes everything. It's all an insecurity thing."
- Christopher Chavez