Northwestern women's lacrosse is the NCAA champion again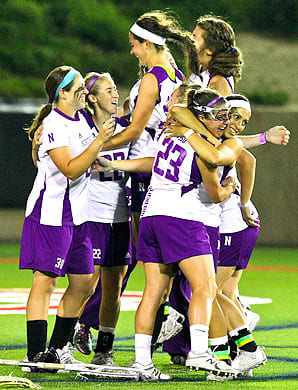 Taylor Thornton scored the winning goal with 9:55 left and Northwestern won its seventh NCAA women's lacrosse championship in eight years, beating Syracuse 8-6 on Sunday night.
"Obviously, we're very excited right now," Northwestern coach Kelly Amonte-Hiller said. "I'm just really proud of the team and how they came together from a low moment of losing the ALC championship to really re-evaluating ourselves, just working and coming together. I think this could not be a more proud moment."
Thornton got past defender Natalie Glennell and put a high shot past goaltender Alyssa Costantino.
"I was just pretty poised," Thornton said. "We had possession on the attack. Once we got the ball, the idea was to clear space and go to goal. I saw a good kind of opening for my right hand and just kind of went for it."
Shannon Smith scored twice and had two assists for Northwestern (21-2). Last year in the final, Smith scored four goals in an 8-7 victory over Maryland.
Smith won her second straight Most Outstanding Player award after winning her third championship. The Long Island native finished her standout career with 58 points in the NCAA tournament, second on the career list.
"To end my career where it started back here on Long Island, not a lot of people get to do that," Smith said.
Erin Fitzgerald also scored twice for the Wildcats, who rallied from a pair of two-goal deficits in the first half. Casey Bocket, Jessica Russo and Amanda Macaluso added goals.
Katie Webster and Amy Cross scored Syracuse's first two goals in the opening 3 1/2 minutes. Sarah Holden, Kailah Kempney, Alyssa Murray and Michelle Tumolo also scored for the Orange (19-4), appearing in their first championship game.
"Not the way we wanted to end our season," Syracuse coach Gary Gait said. "They did what they needed to do to be successful. They maintained possession most of the second half and I think that was a big difference."
The Wildcats overcame early deficits of 2-0 and 4-2 by scoring four straight goals in the final 8:45 of the first half and the first 10:56 of the second. Smith scored twice in that span, and set up Bocklet's tying goal.
Syracuse came back after losing nine straight draw controls and ended a 21-minute scoreless stretch when Murray scored with 18:19 remaining. A little over 7 minutes later, Tumolo cleared it out of her own end and scored on a wraparound.
Murray and Tumolo combined for six goals in Syracuse's double-overtime victory against Florida on Friday.
"As badly as we wanted to win for our seniors, we have a lot of potential," Murray said. "This isn't the last you'll see of us."
In the championship, Northwestern constantly face-guarded them and those were the only instances they found the net.
"Tumolo is a phenomenal player and she's very fun to watch," Amonte-Hiller said. "We talked about a number of different scenarios but we felt it was important to stop Alyssa Murray because she's a force as well."
The game was played before 7,127 fans. Last year's game drew 8,011 fans, the second-largest crowd to watch a women's lacrosse title game.