Lara Gut wins World Cup downhill, Lindsey Vonn crashes out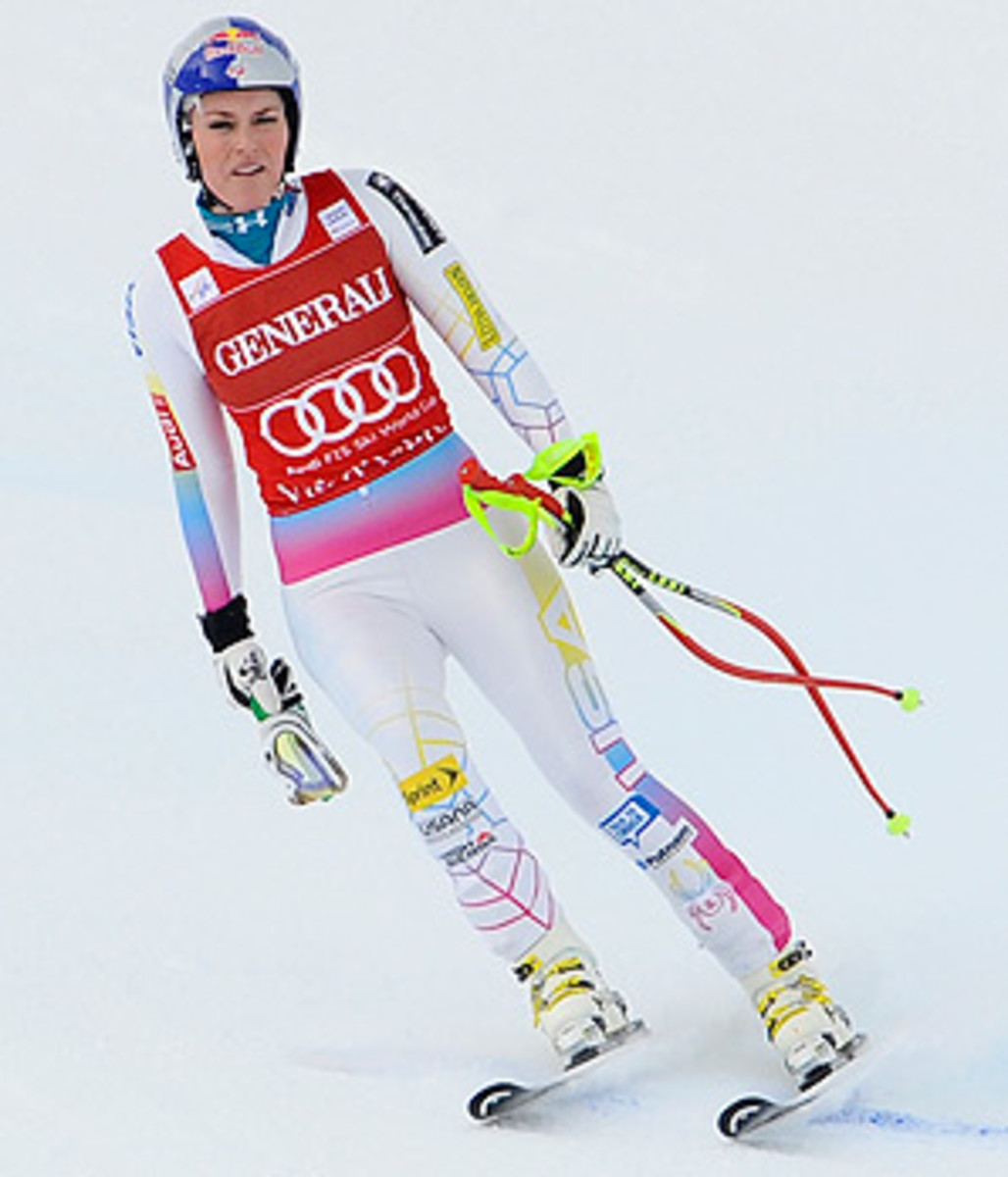 VAL D'ISERE, France (AP) -- Lara Gut and Lindsey Vonn had mixed fortunes on one of their favorite courses on Friday. Gut won her first World Cup downhill and Vonn had a rare crash in her strongest discipline to miss out on a fifth straight win in speed events this season.
The second racer to start on the Oreiller-Killy course, Gut made the most of good conditions to set a challenging time of 1 minute, 19.75 seconds. American Leanne Smith was .16 seconds behind in second place, and Gut's Swiss teammate Nadja Kamer 0.50 back in third.
"It's my first victory in downhill and it's a pleasure. I'd been second in Val d'Isere before," Gut said. "It feels good, and I feel like I've been skiing well since the start of the season. I already thought in St. Moritz (last weekend) that a podium was coming."
Vonn's crash was totally unexpected since she was aiming for her third straight World Cup downhill win at Val d'Isere.
Before Friday, she had finished in the top five in her last 27 World Cup downhill races, including 17 wins and 24 podiums, and missed only the top five once in 43 downhills since January 2007.
"She made a mistake that every skier (makes) at some point of their skiing career," U.S. women's coach Alex Hoedlmoser said. "A little bit of fall away in that turn. (With) her type of skiing where she's pushing things to the limit ... it was just a touch too much there."
Vonn lost balance and veered to the left, landing heavily into the netting. After a few moments, the American got back up and managed to ski to the bottom unassisted. She was not injured, aside from some general soreness, and is still likely to race in Saturday's Super-G.
Vonn, who has won two downhills and two super-Gs this season, did not stop for reporters at the bottom of the course. Before climbing onto a bus, she replied "not feeling great" when asked by The Associated Press how she was feeling.
"Yeah, she hit the fence pretty hard but in general she's OK," Hoedlmoser said. "She's going to feel it tomorrow and we're going to have to take it step by step, but I'm expecting her (to race)."
Gut finished third behind Kamer and Vonn in a World Cup downhill at Val d'Isere two years ago, and she also won two silver medals in downhill and super-combined at the 2009 world championships in the Alpine resort.
"When you've done well somewhere you always think you can repeat it, that's what makes the difference," Gut said "It's a shame the world championships won't be here (next year)."
Gut climbed up to fifth in the overall standings.
"I'm still young, I have a lot to learn," Gut said. "I think I'm a long way from winning the overall. But I've already got five years of experience and I have to make the most of that."
There was better news for the U.S. ski team as Smith was one of four Americans in the top 10 - with Julia Mancuso seventh; Alice McKennis eighth, and Stacey Cook 10th.
"I'm beyond excited. This is something that you dream about that you put your heart and soul into," Smith said. "Today was my day. I'm really happy with the outcome. I've been on the World Cup team for a few years now and starting to feel comfortable. Hopefully you'll see more of me now."
Hoedlmoser thinks the women's team is starting to confirm its potential.
"That was kind of the goal of the team, to put pretty much everybody within podium reach this year," Hoedlmoser said. "We're on track with that goal. That goal didn't come out of nowhere, we know how (well) those girls ski."
Overall World Cup leader Tina Maze of Slovenia was 12th but she extended her lead over Vonn, who was third overall, to 285 points.
Vonn had some cause for optimism because neither Maze nor Hoefl-Riesch, who finished 13th, made significant gains in terms of points. Hoefl-Riesch, who beat Vonn by just three points to win the World Cup two seasons ago, has 463 points to Vonn's 413 so far.
Vonn didn't train well this week, finishing 18th on Wednesday and a shaky 48th on Thursday.
"She will be back with a vengeance," Smith said. "I know she will be coming out tomorrow fighting, and showing her best skiing again."
Kamer, meanwhile, was surprised with her result.
"I thought I would get top 10 when I reached the line," Kamer said. "I never thought I would make the podium, so I'm lucky."