SI.com's Media Awards: Best, worst from 2012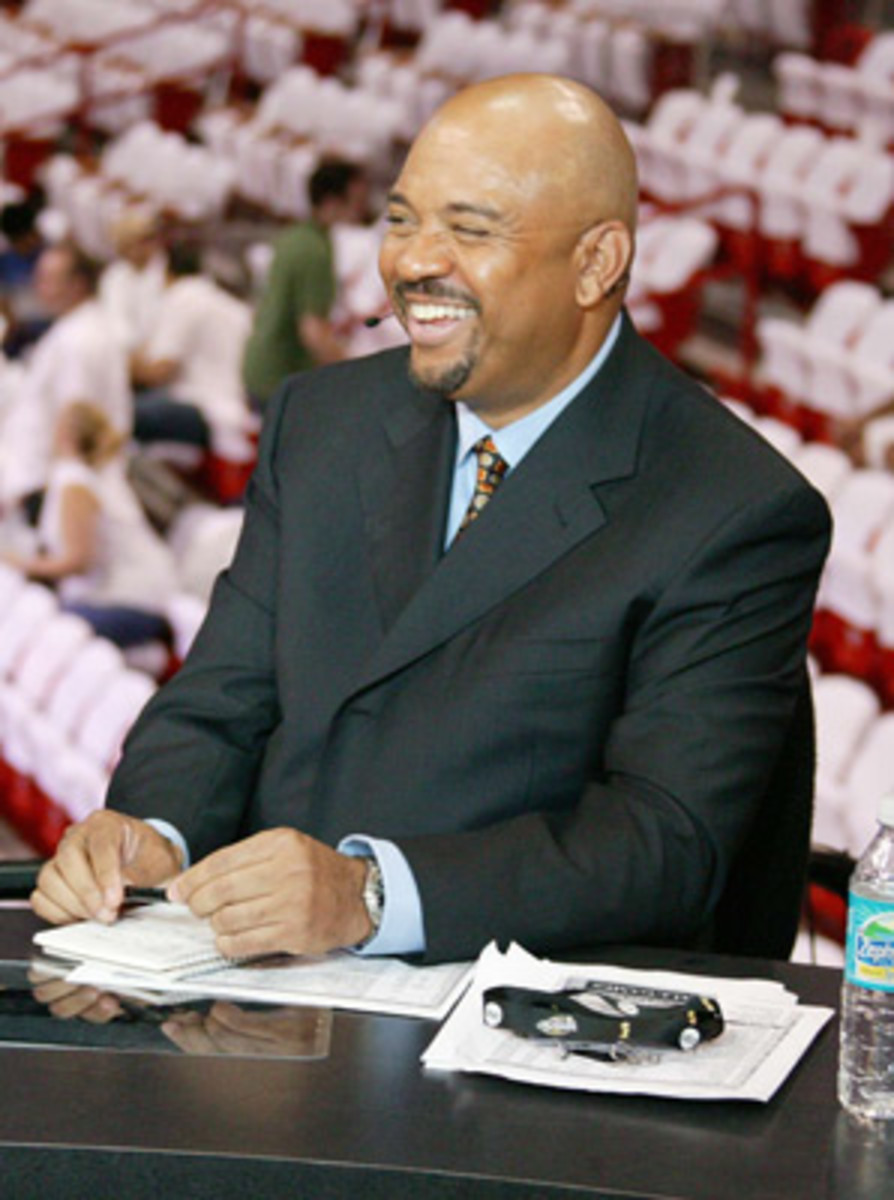 SI.com highlights a select group of people in television, radio, print and online who were newsworthy, both for positive and negative reasons, in 2012.
Person of the Year
THE PICK: Joe Buck (Fox)
Yep, we know. Plenty of you hate him. You think he's smug and sanctimonious and got his gig because of his famous last name. That rap is old. Buck is an exceptional baseball announcer and he's improved yearly in football. His skills were most visible on Oct. 14 when he called an NFL game (49ers-Giants at Candlestick Park) in the afternoon and an MLB playoff game (Cardinals-Giants at AT&T Park) at night, a television stunt that promoted Fox Sports but also highlighted the broadcaster's unique versatility. Most impressively, Buck's performance came less than a year after a virus he contracted in the laryngeal nerve of his left vocal cord nearly cost him his career.
When asked by SI.com what he was most proud of in 2012, Buck said: "I would say that answering the bell every week gave me a sense of pride and powering through it would have pleased my dad. I had to work so hard vocally to get a sound out that I couldn't really emote or have conversational moments. I missed that and won't take that for granted ever again."
HONORABLE MENTION: Charles Barkley (Turner Sports), Jay Bilas (ESPN), Doris Burke (ESPN), Cris Collinsworth (NBC), Bob Costas (NBC), Rece Davis (ESPN), Ian Eagle (CBS), Jeannine Edwards (ESPN), Rich Eisen (NFL Network), Mike Emrick (NBC), Dan Fouts (CBS), Chris Fowler (ESPN), Bryant Gumbel (HBO Sports), Kirk Herbstreit (ESPN), Al Michaels (NBC), Ken Rosenthal (Fox, MLB Network), Adam Schefter (ESPN), Dan Shulman (ESPN), Kenny Smith (Turner Sports), Mike Tirico (ESPN), Scott Van Pelt (ESPN), Trey Wingo (ESPN).
Announcing Team of the Year
THE PICK: Al Michaels and Cris Collinsworth (NBC)
A couple of weeks ago in Sports Illustrated, I named this duo as the best broadcasting booth in the NFL. But that designation extends to all sports. Michaels is a fanatically prepared play-by-play maestro whose game calls are flawless. He's terrific at down and distance recognition, and equally skilled in explaining the byzantine NFL rules. Collinsworth is sensational at foreshadowing the action, as he did in Super Bowl XLVI when he suggested that the Giants, who were in position for the game-winning score with one minute left, should go down at the New England 1-yard line to waste time -- just as New York's Ahmad Bradshaw tried to do so. Best of all, and unlike many of his ex-jock brethren, when a player or issue demands criticism, Collinsworth habitually delivers. Michaels and Collinsworth are a big reason why Sunday Night Football remains best in class as a production.
I also want to note that Mike Breen and Jeff Van Gundy (ESPN) and Ian Eagle and Dan Fouts (CBS) are both sensational teams that rated just a shade behind the top group.
HONORABLE MENTION: Marv Albert and Steve Kerr (Turner Sports); Joe Buck and Troy Aikman (Fox); Mike Breen and Jeff Van Gundy (ESPN); Ian Darke and Steve McManaman (ESPN); Chris Fowler and Darren Cahill (ESPN); Ian Eagle and Dan Fouts (CBS); Mike Emrick and Eddie Olczyk (NBC); Terry Gannon and Doris Burke (ESPN); Tom Hammond and Ato Boldon (NBC); Gus Johnson and Charles Davis (Fox); Sean McDonough, Jay Bilas and Bill Raftery (ESPN); Sean McDonough and Chris Spielman (ESPN); Brent Musburger and Kirk Herbstreit (ESPN); Jim Nantz, Clark Kellogg and Steve Kerr (CBS); Brent Musburger and Fran Fraschilla (ESPN); Brad Nessler and Mike Mayock (NFL Network); Dave O'Brien and Doris Burke (ESPN); Ted Robinson, Mary Carillo and John McEnroe (NBC).
Best Studio Show
THE PICK:Inside the NBA (TNT)
This category is usually a toss-up between ESPN's College GameDay and Inside the NBA, and so it is again this year. But we give the nod to Inside the NBA because the show's unscripted, free-flowing nature produces amazing, unexpected television such as this, complete with the Colonel Sanders backdrop and Charles Barkley's making an impassioned anti-obesity speech. Shaquille O'Neal remains a major work in progress as an analyst, but Barkley, Kenny Smith and Ernie Johnson are the gold standard for any studio crew.
HONORABLE MENTION:Baseball Tonight (ESPN), College GameDay (ESPN), Fantasy Football Now (ESPN), Football Night in America (NBC), MLB Tonight (MLB Network), NFL Live (ESPN).
Most Improved
THE PICKS: Rodney Harrison (NBC) and Gonzalo Le Batard (ESPN) (tie)
Now in his fourth year as a Football Night in America studio analyst, Harrison has morphed from ex-player mode into a thoughtful voice, especially on the subject of concussions (he said he suffered 20 to 30 during his career). He shared this award with colleague Tony Dungy in 2010 and he shares it again, but this time with Le Batard, the father of Miami Herald writer Dan Le Batard and the main reason to turn into ESPN2's Dan Le Batard Is Highly Questionable. The elder Le Batard has become more comfortable in front of the camera over the course of the year and is fantastically entertaining on a show that isn't for everyone.
HONORABLE MENTION: Jay Crawford (ESPN), Brian Dawkins (ESPN), Mike Florio (NBC), Alexi Lalas (ESPN), David Lloyd (ESPN), Carolyn Peck (ESPN), Bill Simmons (ESPN).
Best Game Analyst
THE PICK: Jay Bilas (ESPN), Cris Collinsworth (NBC), Dan Fouts (CBS) (tie)
Viewers demand a number of things from game analysts, including honesty, entertaining presentation and the ability to clearly communicate complex things. Bilas, Collinsworth and Fouts educate viewers in each broadcast.
I asked Fouts' NFL booth mate, Ian Eagle, to offer a few words on what makes the Hall of Fame quarterback a good partner.
"One of the biggest challenges in the broadcast booth is striking the right balance between informing and entertaining the audience," Eagle said. "I'd like to think we do both. Dan is a Hall a Famer who has terrific insight into the game, but he also has a self-deprecating side, a rare combination. Having worked with the great Bill Raftery for so many years, I learned if you're legitimately enjoying yourself while broadcasting a game, there's a greater chance the audience is also enjoying themselves.
"Dan is a partner in every sense of the word. He cares about how we sound, not just about how he sounds. Also, his beard is quite mesmerizing in person. "
HONORABLE MENTION: Troy Aikman (Fox), Ato Boldon (NBC), Doris Burke (ESPN), Hubie Brown (ESPN), Darren Cahill (ESPN), Mary Carillo (CBS, Tennis Channel), Cris Collinsworth (NBC), Charles Davis (Fox), Ron Darling (Turner Sports), Fran Fraschilla (ESPN), Rowdy Gaines (NBC), Kirk Herbstreit (ESPN), Ray Hudson (beIN Sport), Clark Kellogg (CBS), Steve Kerr (TNT), Kara Lawson (ESPN), Mike Mayock (NFL Network, NBC), Steve McManaman (ESPN), Johnny Miller (NBC), John Smoltz (Turner Sports, MLB Network), Jeff Van Gundy (ESPN), Darrell Waltrip (Fox).
Best Sideline Reporter
THE PICK: Doris Burke (ESPN)
Retire the category now. A remarkable combination of editorial independence, professionalism and smarts.
HONORABLE MENTION: David Aldridge (Turner Sports), Erin Andrews (Fox), Cara Capuano (ESPN), Heather Cox (ESPN), Jeannine Edwards (ESPN), Lewis Johnson (NBC), Jamie Little (ESPN), Carolyn Manno (NBC), Pam Oliver (Fox), Jerry Punch (ESPN), Tom Rinaldi (ESPN), Holly Rowe (ESPN), Lisa Salters (ESPN), Shelley Smith (ESPN), Samantha Steele (ESPN), Michele Tafoya (NBC), Tracy Wolfson (CBS).
Best National Radio Voice
THE PICK: Bob Valvano, The V Show (ESPN Radio)
He's been the overnight weekend voice for ESPN Radio for years and runs a better show than many of his more famous and visible colleagues. Valvano is always prepared and reasonable, and he's exceptional on college basketball.
HONORABLE MENTION: Dino Costa (SiriusXM Radio), Paul Finebaum (SiriusXM Radio), Mike Hill and Mark Schlereth (ESPN Radio), Dan Patrick (NBC Sports Network), Travis Rodgers (Y! Sports Radio), Jim Rome (CBS Sports Radio), Scott Van Pelt and Ryen Russillo (ESPN Radio), Chuck Wilson (ESPN Radio).
Note: Patrick works for Sports Illustrated and I know many of his behind-the-scenes people. But the show's quality speaks for itself and it would be on my list no matter where he or I worked.
Best Documentary
THE PICK: The Dream Team (NBA TV)
Thanks to candid, behind-the-scenes footage of the most remarkable team ever assembled, this 90-minute documentary took viewers along for a thrilling ride, especially those of the generation who remain eternally fascinated by the Dreamers. The coup was getting Michael Jordan to talk about his experiences. He told the film's producers that he would sit for a 15-minute interview, but he ended up sticking around for 45.
"He opened up to us about how he felt about Isiah Thomas, his relationship with Magic [Johnson] and what he was willing to do to help bring home the gold," said Andy Thompson, the vice president of development for NBA Entertainment and a director on the film. "It was a revelatory experience to hear Michael speak candidly about everything."
HONORABLE MENTION: The Announcement (ESPN), Benji (ESPN), Broke (ESPN), 9.79 (ESPN), Steve McNair: A Football Life (NFL Network), Still Standing: The Earl Campbell Story (NBC Sports Network).
Best News Feature on a Sports Program
THE PICK: ESPN's Outside the Lines: Breaking the Silence
A remarkably filmed and reported piece on Monika Korra, an SMU cross-country runner from Norway who survived a brutal rape to emerge as a figure of strength and self-reliance. I'd urge you to watch, and kudos to producer Kory Kozak.
HONORABLE MENTION: ESPN's Outside the Lines (fronted by Paula Lavigne) on gambling in South Florida youth football; HBO's Real Sports (fronted by Mary Carillo) on Lolo Jones; ESPN's Outside the Lines (fronted by Michele Steele) on Seimone Augustus.
Media Feud of the Year
THE PICK: Michael Wilbon (ESPN) vs. Dan Steinberg (The Washington Post) and Bram Weinstein (ESPN)
After former Post staffer Wilbon smacked around Washington, D.C., as a not-so-great sports town in an ESPN The Magazine story, D.C. homeboy Steinberg knocked that argument in the Post and ESPN anchor Weinstein called Wilbon a "carpetbagger." Wilbon then significantly upped the ante, as chronicled with delight here by Awful Announcing. Particularly fun was Wilbon's attempted mic drop by using the totality of his career.
"Anytime, any place you want to post and compare résumés or career highlights I'm more than happy to engage," Wilbon wrote on Facebook. "Until then, I'll form my own opinions, popular or not, without seeking your permission."
Everyone made up eventually, with Wilbon admitting that D.C. is "a pretty good sports town ... but not great."
HONORABLE MENTION
Keith Law (ESPN) vs. Rob Parker (ESPN): After Parker made fun of "all the stat-geeks that follow Law," the sabermetric community was down for the cause and came roaring down on Parker.
Ed Werder (ESPN) vs. Rick Reilly (ESPN): Veteran NFL reporter Werder took exception to Reilly's boasting of scoopage for breaking a story about Ben Roethlisberger's shoulder injury.
Bill Simmons (ESPN) vs. Bob McKenzie (TSN hockey insider): A short-fought border war: After Simmons complained about the lack of hockey reporting in the United States, B-Mac came to the defense of American hockey scribes.
Dan Patrick (NBC) vs. Colin Cowherd (ESPN): Former ESPN-er Patrick complained that Cowherd used information from an interview he conducted with Kurt Warner without sourcing him.
Multiple reporters vs. ESPN sourcing policies:Fox NFL reporter Jay Glazer famously reflected the continued anger from rival reporters by tweeting, "Hey @Sportscenter just to clear up confusion, my last name is not spelled S-O-U-R-C-E. Unless my Mom got it wrong all these years."
Call of the Year
THE PICK: Martin Tyler, Sky Sports, Manchester City vs. QPR, May 13
Tyler's call of Manchester City's finding wonderland against QPR in added time on the final day of the Premier League ranks at the top for me -- just as it does for my friends at Awful Announcing, which compiled this handy guide of the top 10 calls of 2012.
HONORABLE MENTION: Ian Eagle, YES Network, Nets vs. Pistons, Dec. 14
After Brooklyn guard Joe Johnson hit the game-winning shot at the buzzer in double overtime, the cameras panned to comedian Jerry Seinfeld in attendance. Without missing a beat, Eagle, the TV voice of the Nets and a longtime CBS announcer, channeled his inner Seinfeld: "That was real! And that was spectacular!"
Sports Media Tweet of the Year
THE PICK: "No way Notre Dame beats USC tonight. If I'm wrong, I'll come to South Bend + polish every freaking helmet. I can't be wrong ALL year, can I?" -- ESPN's Rick Reilly, answering his own question.
Readers Poll
We asked for your vote this week on a series of sports media categories, and about 13,000 of you responded. NBC's Al Michaels was your runaway winner, with 49 percent of the vote, for best play-by-play announcer among the six candidates we selected. Fox's Joe Buck finished second with 17 percent.
As for the best analyst, Michaels' Sunday Night Football partner, Cris Collinsworth (32 percent), edged ESPN's Kirk Herbstreit (28 percent). Michaels and Collinsworth were the clear choice for best announcing team with 45 percent. ESPN's Brent Musburger and Herbstreit were second at 21 percent.
The closest category was best studio show, with ESPN's College GameDay (28 percent) slipping by TNT's Inside the NBA (26 percent) and Fox NFL Sunday (20 percent).
ESPN2's First Take panelist Skip Bayless (46 percent) was the most unlikable sports personality, followed by colleague Stephen A. Smith (22 percent). ESPN (42 percent) was voted the best place to watch sports, doubling the support for second-place Fox (21 percent).
You can see all the results here.
Duds
? A word of advice for First Take carnival barker Skip Bayless: If you brag about going Pete Maravich on teams in high school, it's probably better if that's accurate, especially when you blast some athletes for being frauds. Showing Woodward- and Bernstein-type initiative, The Lost Ogle, an Oklahoma City-based website, did the legwork to discover the truth about Bayless' high school basketball career.
? NBC's tape-delayed coverage of the London Olympics produced the usual negative commentary among print media, but the network never could have predicted that its every misstep would spawn an Occupy movement on Twitter featuring one of the most famous hashtags of 2012: #NBCfail.
? Speaking of the Olympics, it's time to retire Matt Lauer and Meredith Vieira from hosting the Olympic ceremonies.
? NFL Network analyst Warren Sapp recklessly tweeted that former New Orleans tight end Jeremy Shockey was an informant (Sapp used the word "snitch") in the Saints' bounty scandal that resulted in extensive penalties for the team. Shockey repeatedly denied being the whistleblower, and no evidence emerged that he was behind anything.
? In one of the worst tweets of the year, Columbus, Ohio-based sports-talk host Scott Torgerson said, "I wish Desmond Howard would get fired or die so I can watch GameDay again." Torgerson later apologized for what he defended as an obvious joke (his Twitter feed was deleted), but Howard's wife, Rebkah, didn't find it funny. She tweeted: "Thx for the 'apologizes.' Are you fortunate enough to be a father? Know who didn't get your 'total (dead) joke'? Our daughter." Torgerson now works for 92.3 The Fan in Cleveland.
? Dave Hodge of TSN in Canada inexplicably referenced the KKK when discussing Boston Bruins goalie Tim Thomas' decision to bypass the team's Stanley Cup ceremony at the White House. He later said it was a "tongue-in-cheek observation meant to be humorous."
? Nick Cannon took the sycophantic Super Bowl red-carpet gig to a new soul-sucking low on NBC, but the lowest of the low on Super Bowl Sunday was NBC late-night host Jimmy Fallon's dressing up in drag for a skit called "the Real Housewives of Indianapolis." It was arguably the worst pregame segment in NFL history.
? Fox Sports made a splashy move in August by adding longtime ESPN sideline reporter Erin Andrews. Lacking boldfaced names in college football -- its previous pregame college football show was an unwatchable mess featuring Kevin Frazier and Marcus Allen -- the network gambled that Andrews could draw fans to a revamped program with analysts Eddie George and Joey Harrington. Alas, the show failed to gain traction and lacked chemistry. The jury remains out on whether Andrews has the gravitas to serve as a lead host.
? Many ESPN staffers have complained about the unequal justice meted out by management, and low-on-the-star-power scale ESPN News anchor Max Bretos was severely punished for a line about Jeremy Lin and the Knicks that seemingly had zero racial intent.
? It's absolutely ridiculous for broadcasters not to mention the word "no-hitter" when one is in progress, given that the charter is to tell viewers what is happening. Los Angeles Daily News columnist Tom Hoffarth properly exposed such nonsense from Angles broadcaster Victor Rojas during Jered Weaver's no-hitter on May 2.
? ESPN2's Numbers Never Lie had a chance to be something unique, an interesting sports analytics-based show with a panel of nontraditional, smart television people delivering interesting content for the Nate Silver-loving crowd. Instead, it quickly morphed into another unwatchable debate program between ex-jocks. Sad.
? Two Maryland journalism students asserted that an ESPN vice president told their class that the reason for a Deadspin reporter's aggressive coverage of a clear-cut case of plagiarism at ESPN was because of a romantic rivalry. The Deadspin reporter then told the world why this was unlikely to be true. At this point, the tease should be sufficient for you to click.
? CBS' The NFL Today aired as tone-deaf a pregame show as we've ever seen after the murder-suicide of Kasandra Perkins and Chiefs linebacker Jovan Belcher. The program opened with a ham-handed live advertisement for Garmin that featured host James Brown's hawking the product like a GPS-happy P.T. Barnum and went downhill fast from there.
? ESPN Radio host Colin Cowherd, expert on the makeup of the NHL media.
? ESPN Radio host Colin Cowherd, expert on crime statistics for major cities.
? On the day the Freeh Report was released documenting Penn State's internal investigation of the Jerry Sandusky scandal, ESPN inexplicably opted to use college football analyst and Penn State alum Matt Millen as a solo analyst. The decision launched the kind of vitriol in social media usually reserved for former ESPN college football analyst Craig James. Millen's initial reaction was something out of a Kafka novel, a jumble of head-shaking statements unchallenged by those asking him questions.
? On this same topic, the Big Ten Network aired a replay of an Ohio State-Purdue football game instead of the Freeh Report news conference.
? The Poynter Institute had a muddled tenure as ESPN's ombudsman, including its failure to deliver a promised James column and its lack of immediacy compared to others in the position, such as The New York Times' public editor. One of early charters for the next ombudsman should be a follow-up on ESPN's Bernie Fine reporting.
? Let us be the first to report on Twitter that Rick Reilly probably wants this one back. Equally amusing was ESPN anchor Stuart Scott's parroting what Reilly demanded without any kind of checking.
? Here's a nice collection of some of the worst sports media tweets of the year.
? ESPN2's First Take. All of it.
Studs
? Patriot-News of Harrisburg crime reporter Sara Ganim investigated the Sandusky case for nearly three years before the national media converged on State College, Pa. She owned the story with careful, sourced reporting and was honored (along with her paper) in April with the Pulitzer Prize in Local Reporting. In November, Ganim was hired by CNN.
? ESPN's reporting on betting on youth football games in South Florida prompted an investigation from the Broward Sheriff's Office and subsequent felony charges for those involved. It was great public-service journalism.
? With the circus peanuts being handed out at First Take during the same time slot, ESPN SportsCenter anchors Lindsay Czarniak and Kevin Negandhi offered professional and engaging content on a daily basis.
? MLB Network's Brian Kenny consistently does excellent work on Clubhouse Confidential and other programs.
? Great impromptu work by ESPN announcer Mark Jones and producer Brian Boyle during the U.S. Olympic men's basketball team exhibition victory over Brazil in July. After calling the first half, Jones quickly changed hats to interview President Barack Obama at halftime, opportunistically getting the noted basketball fan to weigh in on who would win between the 1992 Dream Team and this year's squad. (POTUS correctly said '92.) Jones then called the second half.
? In an example of ESPN at its best, Tom Rinaldi's interview with Jay Paterno after the release of the Freeh Report was direct and firm but respectful.
? A shout-out to behind-the-scenes workers such as NFL Network senior researcher Chad Reuter and ESPN production staffers Jeremy Drummond and Trevor Gavin for the months of pre-draft research they do so that viewers can watch footage of late-round picks.
? Vin Scully, doing a Twitter chat.
? Anything Liz Merrill wrote for ESPN.com.
? ESPN's cross-platform look at the safety of football ("Football at a Crossroads") produced some remarkable work, especially this Kevin Van Valkenburg piece on the death of a semi-pro football player in Indiana.
? NBC produced thrilling coverage of Europe's miracle comeback in the Ryder Cup. The final-day coverage drew 5.5 million viewers, up 88 percent from 2010.
? In one of the year's most amusing interviews, NASCAR's Brad Keselowski drank a huge glass of Miller Lite during a live SportsCenter interview after winning the Sprint Cup championship. Product placement at its finest.
? Really liked the MLB Network's adding the Baseball Writers' Association of America awards to its programming, especially the live interviews with the winners after the announcement.
? Using talent from both Turner and CBS was great for NCAA tournament viewers, especially pairings such as Marv Albert and Steve Kerr for the regionals and Kerr, Jim Nantz and Clark Kellogg for the Final Four.
? Some professionals who deserve notice for excellent week-in, week-out work: Greg Anthony (CBS, NBA TV), John Buccigross (ESPN), Dan Hicks (NBC), Mike Lombardi (NFL Network), Chris McKendry (ESPN), Chris Mortensen (ESPN), Rachel Nichols (ESPN), Mike Pereira (Fox), Joe Tessitore (ESPN), Ed Werder (ESPN).
They Said It
? "I think [sports betting] should have been legalized and taxed. One of the first things people ask about a football game is: Who's favored? And by how much? I know coaches who will look at the point spread and then in a staff meeting say, 'What do these guys know that we don't?' It is a big part of the success of football in this society. I mean, the National Football League, some of the early founders were bookmakers and horse betters. These were people I really appreciated and liked." -- ESPN announcer Brent Musburger, on why he mentions gambling on the air.
? "I think that's a fair question, and if we promised we were going to write something, we should have. I think the audience asks a fair question, especially given that we did say we were going to. If we made a promise, we should have kept it." -- Stephen Buckley, dean of faculty at The Poynter Institute, on why his organization did not write a promised column on former ESPN college football analyst Craig James.
? "What we are mostly trying to do is we want to ride [Monday Night Football analyst Jon] Gruden. Gruden is a star. You have seen his QB show. He has a lot of personality. He has a lot to say. There was some concern that he and Jaws [Ron Jaworski] sounded a little bit the same in the booth. We just thought it would help viewers sort of understand who was there. Our sense is we ride Mr. Gruden a little bit. I think he can be a big star." -- ESPN president John Skipper, on why his network removed Jaworski from the MNF booth.
? "If the SEC is so great, why are there so many coaching changes?" -- SiriusXM host Chris Russo, noted college football expert.
? "I've talked to some people down in Washington, D.C., friends of mine, who are around and at some of the press conferences, people I've known for a long time. But my question, which is just a straight honest question: Is he a brother, or is he a cornball brother?" -- ESPN First Take panelist Rob Parker, questioning the blackness of Redskins quarterback Robert Griffin III.
? "You're getting a lot of young, cheap people covering hockey and it's not like newspapers send their best people to hockey." -- Colin Cowherd, ESPN Radio host and NHL media staffing expert.
? "I'll take on the Empire, and I like my damn chances." -- Former ESPN employee Dan Patrick, channeling his inner Han Solo.
? "I was very disappointed in myself that I would ever be connected with anything like this because I'm way too smart for this, nor do I think like this in my private time or in life in general. I didn't know how far this was going, but I do know you can lose your job over issues of race and gender. So I got scared. But primarily, I was devastated that my name would ever be associated with a race issue." -- Fox NFL analyst Terry Bradshaw, after saying Dolphins running back Reggie Bush was "chasing that bucket of chicken that the wind was blowing the other day."
? "I just talk to people everyday walking down the street. That's what I care about. That's good enough for me. They didn't like Ted Williams either. Now, I'm not Ted Williams." -- Chris Berman, telling USA Today he wasn't comparing himself to Ted Williams after comparing himself to Ted Wlliams.
? "I love my job. I love the people I work with. And I'm going to try to do things to keep me engaged. But I have four years left on my current deal, and to be honest with you, it's going to be a struggle for me to make it for the whole four years." -- Turner Sports NBA analyst Charles Barkley, on how much longer he planned to work in broadcasting.
? "That's the way this game should end, that's the way the Jets' season should end. Ugly, and a loss!" -- ESPN MNF announcer Mike Tirico, after a late turnover ended the Jets' hopes of winning Monday's game at Tennessee and making the playoffs.
Numbers of the Year
? 219 million: Viewers across all NBC Universal television platforms for the London Olympics, the most-watched event in history.
? 111.3 million: Audience for NBC's broadcast of Super Bowl XLVI between the Giants and Patriots on Feb. 5, breaking last year's record of 111 million for Fox's coverage of Packers-Steelers.
? 12.7 million: Average viewers for the 2012 World Series, the least watched on record.
In Memoriam
Carl Beane (Red Sox public address announcer); Furman Bisher (Atlanta Journal-Constitution sports writer); Beano Cook (ESPN college football commentator); David Courtney (L.A. sports announcer); Robert W. Creamer (Sports Illustrated writer); Jim Durham (ESPN broadcaster); Chris Economaki (pioneering motorsports journalist); Trent Frayne (famed Canadian sports writer); Jim Huber (Turner Sports broadcaster); Alex Karras (Monday Night Football broadcaster); Bill Jauss (Chicago sports writer); Tom Kenville (Associated Press sports writer); Eddy Landreth (Chapel Hill News sports editor); Frank Luksa (Dallas Morning News sports writer); Budd Lynch (Joe Louis Arena public address announcer); Jessica Redfield (Colorado sports writer); Steve Sabol (NFL Films); Emanuel Steward (HBO broadcaster); Bert Sugar (boxing historian).
Final Word
Twenty Broadcasters Viewers Deserve More Of In 2013 (not listed above): Brian Anderson (Turner Sports), John Barr (ESPN), Steve Delsohn (ESPN), Brad Friedel (Fox Soccer), Desmond Howard (ESPN), Michael Kim (ESPN), Steve Levy (ESPN), Bob Ley (ESPN), Liam McHugh (NBC), Curt Menefee (Fox), Beth Mowins (ESPN), Kelly Naqi (ESPN), Wendi Nix (ESPN), Dave Revsine (Big Ten Network), Jeremy Schaap (ESPN), Sage Steele (ESPN), T.J. Quinn (ESPN), Chris Webber (Turner Sports), Arlo White (NBC), Matt Winer (Turner Sports).
Six Broadcasters Viewers Need Less Of In '13: Skip Bayless (ESPN and Hall of Famer in this category), Michael Irvin (NFL Network and Hall of Famer in this category), Craig James (unattached, Hall of Famer in this category), Matt Millen (ESPN), Rob Parker (ESPN), Woody Paige (ESPN).