The Final Countdown: Katy and Allen win Texas titles to close 2012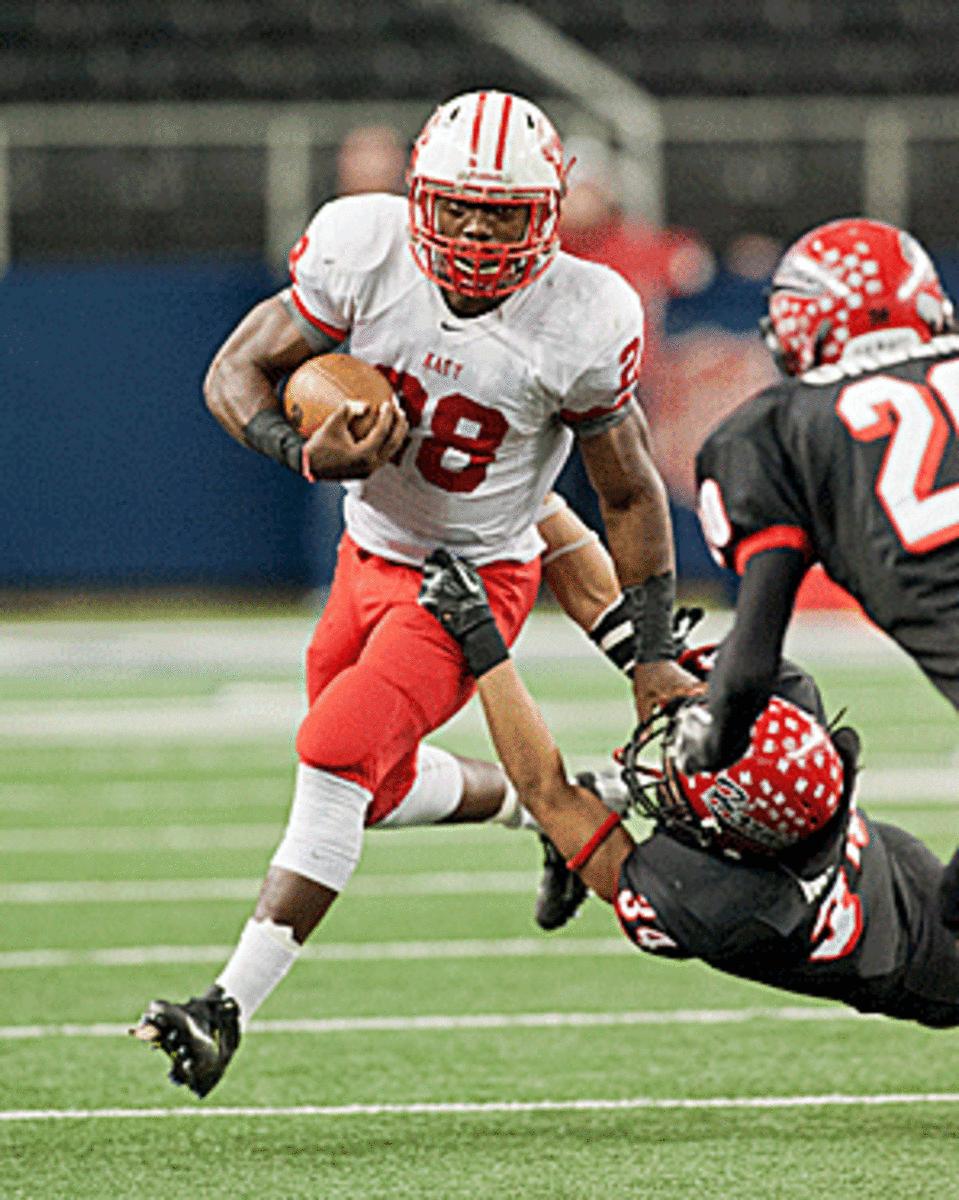 And finally, it is all over. Seventeen weeks after we first ranked the top teams in the nation, the Texas state championships concluded and thus closed the curtain on the 2012 high school football season. The season was predictably full of unpredictable twists -- only one school in the initial top 10 finished in final edition -- and proved that my ranking abilities may be no better than the commoner's.
It was a season that saw the national rushing record broken, the single-game national passing record broken (a game that finished with a score 104-80), and the Texas state single game passing record. Now, most players await National Signing Day to officially sign with the school they've chosen while others mull over a litany of choices. But the final games of the season featured crowds of over 45,000 packing Cowboys Stadium in Arlington to watch the Texas state championships. And they didn't disappoint.
Katy finishes perfect season: With one of the top rushing attacks in the nation and an offense that posted over 70 points on multiple occasions, the Katy Tigers were one of the most feared teams in Texas all season. Though the game was the closest that Katy played all season, it still won by double digits and proved its superiority in Class 5A Division II.
Running back Adam Taylor scored five touchdowns to anchor Katy's 35-24 win over determined underdog Cedar Hill (Texas) on Saturday night at Cowboys Stadium. Taylor, who will attend Nebraska next season, overwhelmed the Longhorns defense all night by carrying the ball 30 times for 277 yards and five touchdowns. Katy has effectively used a multipronged attack all season, but its ground game was the key to clinching the state title.
Even though Taylor put up enormous numbers, the game did not come easily to Katy. The Tigers scored the game's final two touchdowns after it trailed 24-21 three minutes into the fourth quarter. Not a team accustomed to trailing, Katy put itself in front for good when Taylor scored off of a pitch on a pivotal 4th and 1 from its own 44-yard line.
Cedar Hill was an unlikely candidate to be in the state final, but certainly not an unworthy one. The Longhorns had lost four games entering the title game, but also played one of the nation's -- not just state's --most difficult schedules. Coach Joey McGuire's side faced a vicious three game stretch in September that included 5A Division I champion Allen (a 37-20 loss), former national No. 6 and Florida's Class 4A champion Booker T. Washington (they lost 40-21) and former national No. 3 DeSoto (they lost 48-35).
Katy clinched its seventh state title in school history, and the Tigers did it even though their quarterback played with a broken fibula.
Allen clinches over Lamar: Allen started the season in a new $60 million stadium and shut out last year's state champions (Southlake Carroll). Four months later, they hoisted the state trophy and took it back to the shiny athletics complex that many regard as the nicest high school facility in the nation.
Despite some early-game jitters, the Eagles held off a pesky Lamar (Houston) side to win the Class 5A Division I state title 35-21 in front of over 48,000 fans at Cowboys Stadium.
The Eagles struggled from the outset, going three and out on their first position and snapping the ball out of the end zone to give the Redskins an early 2-0 lead. Lamar was looking to become the first team from the Houston Independent School District to win a state championship in 27 years.
Lamar did a decent job holding Allen's read option attack for most of the evening, but the Eagles were able to break off a series of big plays that eventually propelled them to victory. Quarterback Kyler Murray and running back Marcus Ward each got loose for big runs in both halves -- the two finished the game with a combined 260 yards rushing and four touchdowns on 32 carries.
The Redskins were more methodical on offense, and junior quarterback Darrell Colbert may have played himself into the national eye after an effective performance. With help from sure-handed receivers Beau Wells and Cory Mitchell and backed by speedy running back Ronnie Wesley, Colbert looked like the dual threat quarterback that is becoming increasingly popular in today's game.
Colbert was good, but Murray was still better, and Allen hoisted the state trophy as a result.
And so here is the final edition of the 2012 High School Power Rankings. We'll never know who would survive if each team were put to a playoff, but the top ten teams finish a combined 146-1. It's been a great season indeed:
1. Bellevue (Wash.)
Record: 14-0
Previous rank: 1
Last week: Season over -- finished WIAA Class 3A state champions
2. John Curtis (River Ridge, La.)
Record: 14-0
Previous rank: 2
Last week: Season over -- finished LHSAA Class 2A state champions
3. Katy (Texas)
Record: 16-0
Previous rank: 4
Last week: Defeated Cedar Hill (Texas) 35-24 in the Class 5A Division II Area championship
The Tigers won their first state title since 2008 and their seventh in school history with a gutty win over the Longhorns.
4. De La Salle (Concord, Calif.)
Record: 15-0
Previous rank: 5
Last week: Season over -- California Open Division champions
5. Allen (Texas)
Record: 15-1
Previous rank: 5
Last week: Defeated Lamar 35-21 in the Class 5A Division I Area championship
The Eagles used big plays in a big stadium to cap a magical season.
6. Butler (Matthews, N.C.)
Record: 15-0
Previous rank: 6
Last week: Season over -- finished 4AA state champions.
7. Ensworth (Nashville)
Record: 13-0
Previous rank: 7
Last week: Season over -- Tennessee II-AA state champions.
8. University (Fort Lauderdale, Fla.)
Record: 13-0
Previous rank: 8
Last week: Season over -- FHSAA Class 3A champions
9. Norcross (Ga.)
Record: 15-0
Previous rank: 9
Last week: Season over -- Georgia Class 6A champions
10. Hoover (Ala.)
Record: 16-0
Previous rank: 10
Last game: Season over -- AHSAA state champions
Next five: Our Lady of Good Counsel (Olney, Md.), Archbishop Moeller (Cincinnati), Trinity (Louisville), Bishop Gorman (Las Vegas), Booker T. Washington (Miami)