Fenninger wins giant slalom, Maze extends World Cup lead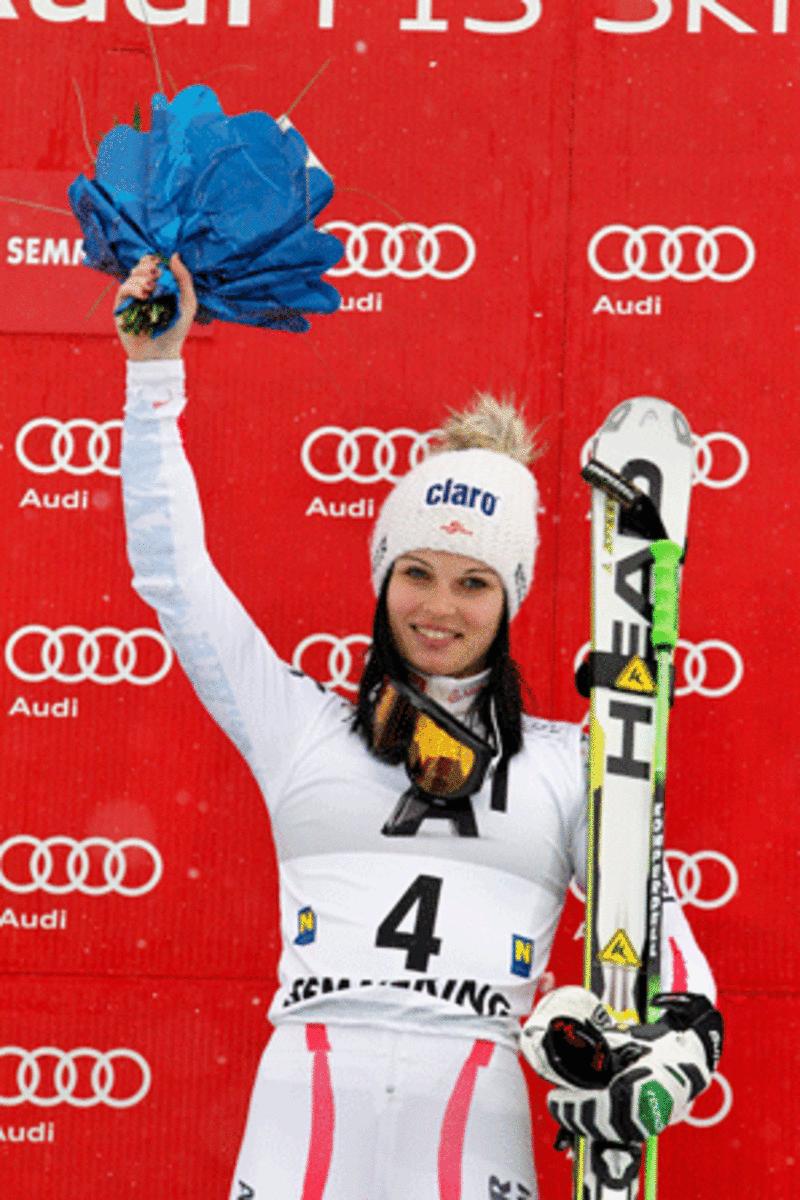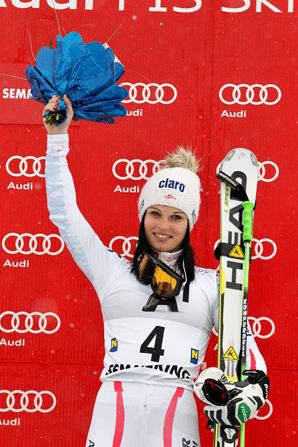 SEMMERING, Austria (AP) -- Anna Fenninger of Austria had two near-perfect runs to win a World Cup giant slalom on Friday, while second-place Tina Maze of Slovenia extended her lead in the overall standings.
In difficult conditions because of snowfall, Fenninger posted the fastest time in both runs on the Panorama course and finished in a combined time of 2 minutes, 13.09 seconds to beat Maze by 1.10. Tessa Worley of France, who was second after the opening run, was third.
American teenager Mikaela Shiffrin, who won her first World Cup race last week, was eighth for the best GS result in her career. She's now 10th in the overall standings.
Shiffrin had several mistakes in her final run but used a blistering second to finish2.68 seconds off Fenninger's winning time.
"I had some energy that run," said Shiffrin, who struggled with a cold. "My energy level has been OK, or maybe I am just telling myself that's OK - mind over matter ... Hopefully tonight I get a good night of sleep and come out tomorrow (for the slalom) and have some fun."
Shiffrin leads the slalom standings, the first time since 1982 that the U.S. women's team has three racers in the top 10.
Defending overall champion Lindsey Vonn of the United States skipped the race. Vonn, who is fifth in the overall standings, is taking a break from the circuit to fully recover from an intestinal illness.
Fenninger earned her second World Cup victory after claiming a GS on home soil - in Lienz - a year ago to the day.
"I was very difficult to free my mind before the start," said Fenninger, who had never led a World Cup race after the first run before. "I tried to tell myself that it's just an ordinary race. I kept repeating that, and it worked."
Fenninger held a 0.90-second margin over Maze going into the final run but refused to hold back and managed to even increase that lead, to the delight of the home crowd.
Maze, who won the first four GS events this season, accepted her defeat.
"I am really happy with my skiing," said Maze, who lost time early in her opening run as she struggled for rhythm in the first flat section. "I lost a lot of time there. I fought until the end but Anna really had a perfect day. She was unbeatable today."
Maze became the first woman skier to earn nine podium finishes in GS within one year, beating the record previously held by Lise-Marie Morerod of Switzerland (1977), Deborah Compagnoni of Italy (1997) and Anita Wachter of Austria (1999).
"It's my skiing that makes me confident, I don't look at the points or the records," the Slovenian said. "I try to prepare each race as well as I can. It's not always perfect but I am a fighter."
Maze finished runner-up to Vonn last season without winning a race. In the first 15 events of this season, Maze won five times and earned five more podium finishes.
She tops the overall standings with 999 points, and is likely to surpass the 1,000-point mark in Saturday's slalom, the last women's race of 2012.
Maze already leads second-place Maria Hoefl-Riesch of Germany by 417 points. Vonn is fifth, trailing Maze by 585 points.
"It's still a long season, anything can happen," Maze said. "If Lindsey comes back and she wins all the downhills, you never know. I am not calculating. I hope Lindsey returns to the circuit quickly, but of course her health is most important."
The only other racer besides Maze and Fenninger to win a GS this season, Olympic champion Viktoria Rebensburg of Germany, finished 1.91 behind Fenninger in fifth place.
After six of nine events, Maze is a strong favorite to take the discipline title. She leads No. 2 Kathrin Zettel by 198 points, with each victory worth 100 points.
There is one more women's GS scheduled ahead of February's world championships - in Maribor, Slovenia, on Jan. 26.
The 2006 Olympic champion, Julia Mancuso, finished 25th on Friday, 4.16 seconds behind Fenninger.
"I felt pretty well but somehow the time isn't there," the American said. "I was surprised that I was that far behind. I thought I had a pretty good section."
Mancuso switched her ski supplier in the offseason. Her best result so far in the discipline was sixth on Dec. 16 in Courchevel, France.
"I am better when the snow is really hard," Mancuso said. "I guess these are not quite my conditions."