Velez Zuzulova wins women's World Cup night slalom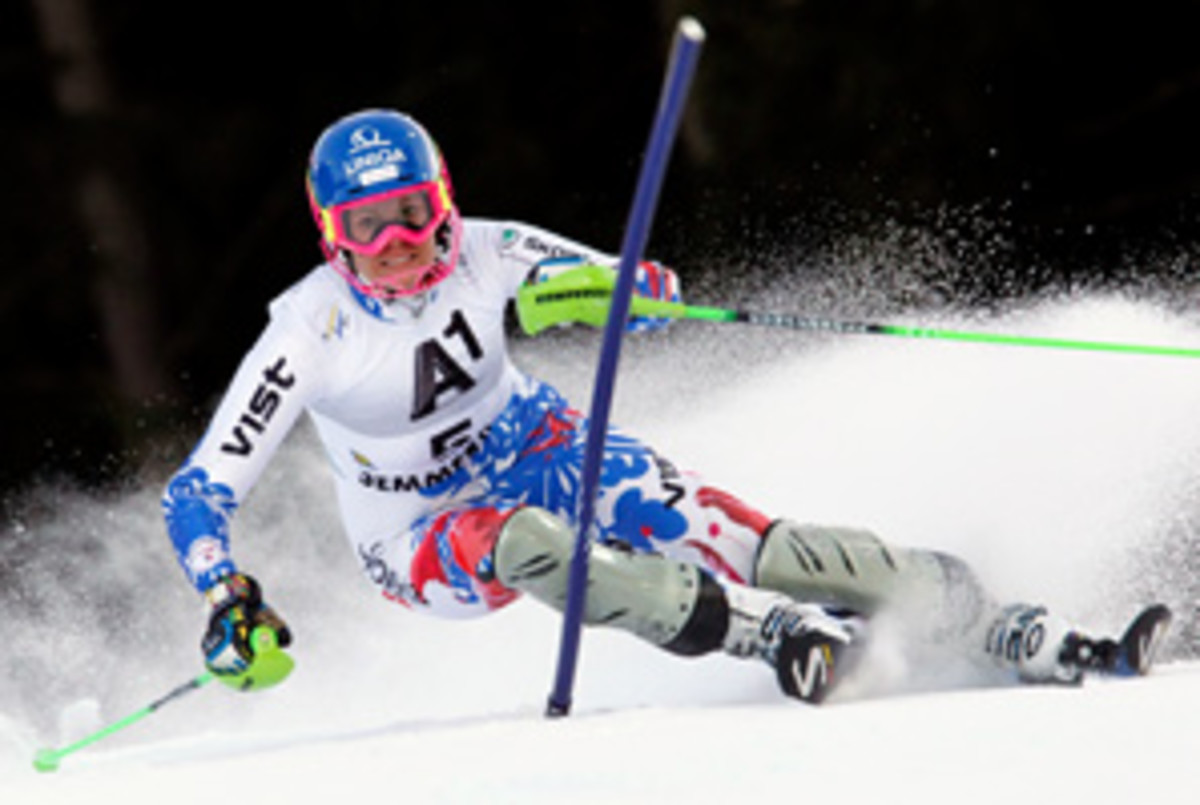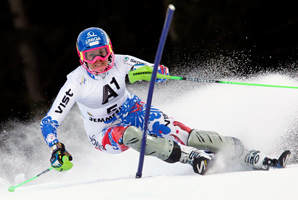 SEMMERING, Austria (AP) -- Veronika Velez Zuzulova of Slovakia upset the favorites to win a World Cup night slalom Saturday for her first career victory.
She trailed overall World Cup leader Tina Maze by 0.55 seconds after the opening leg but overtook the Slovenian with a near-flawless final run. Velez Zuzulova finished in a combined time of 1 minute, 37.28 seconds. Kathrin Zettel of Austria was 0.10 back. Maze was third, 0.20 behind.
The rest of the field finished more than a second behind Velez Zuzulova, who celebrated her victory by lying face-down in the snow in the finish area for about 30 seconds.
"A while ago I was almost thinking that it's impossible to win one day," said the 28-year-old Velez Zuzulova, who has been racing on the World Cup circuit since 2000.
The Slovakian, who married her French coach Romain Velez in the offseason, said attacking was her only tactic for the final run.
"After the first run I was really happy," Velez Zuzulova said. "But the second run was really difficult, as I knew Kathrin had a good time. I had to attack; it was the only way I could win."
Zettel said she was "super happy" to finish second.
"To get this result in front of your home crowd is such a great feeling," she said.
Teenager Mikeala Shiffrin of the United States, who led the slalom standings going into the race, straddled a gate and didn't finish her second run.
Defending overall champion Lindsey Vonn missed the race while recovering from an intestinal illness, and world slalom champion Marlies Schild of Austria is out for three months after knee surgery.
Maze earned her 11th podium finish of the season, took the lead in the slalom standings and extended her overall lead. But she still couldn't hide her disappointment about losing her commanding first-run lead.
Maze leads the overall World Cup standings with 1,059 points, 427 ahead of Maria Hoefl-Riesch of Germany, who finished fourth in the night slalom. Vonn is 645 points behind in fifth place.
"I am bit emotional," Maze said. "The year is ending; I am skiing so good. It's amazing."
Vonn has yet to decide if she will return to the circuit for speed racing from Jan. 10-13 at one of her favorite venues, St. Anton, Austria, said U.S. women's coach Alex Hoedlmoser.
"Lindsey is working hard on her physical fitness and she is doing ski training," Hoedlmoser told The Associated Press. "However, we are not putting her under any pressure and we have not set a date. The decision is completely up to Lindsey and the people she's working with now. It would be useless to return when she's not back at full strength."
Shiffrin topped the slalom standings after her first career victory last week in Are, Sweden. She was 0.87 back in fourth after the opening run before skiing out in her second.
"This is only my second year racing World Cups and every experience is new. I am trying to learn as fast as I can," she said. "Wearing the red bib (as leader of the slalom standings) was my dream ever since I was little, but I never put a date on it. I didn't really think about it at the start; it was just another bib at just another race."
The women's World Cup continues with two more slaloms - in Munich on Jan. 1 and a night race three days later in Zagreb, Croatia.