Lezak showed unlikely actors can deliver big performances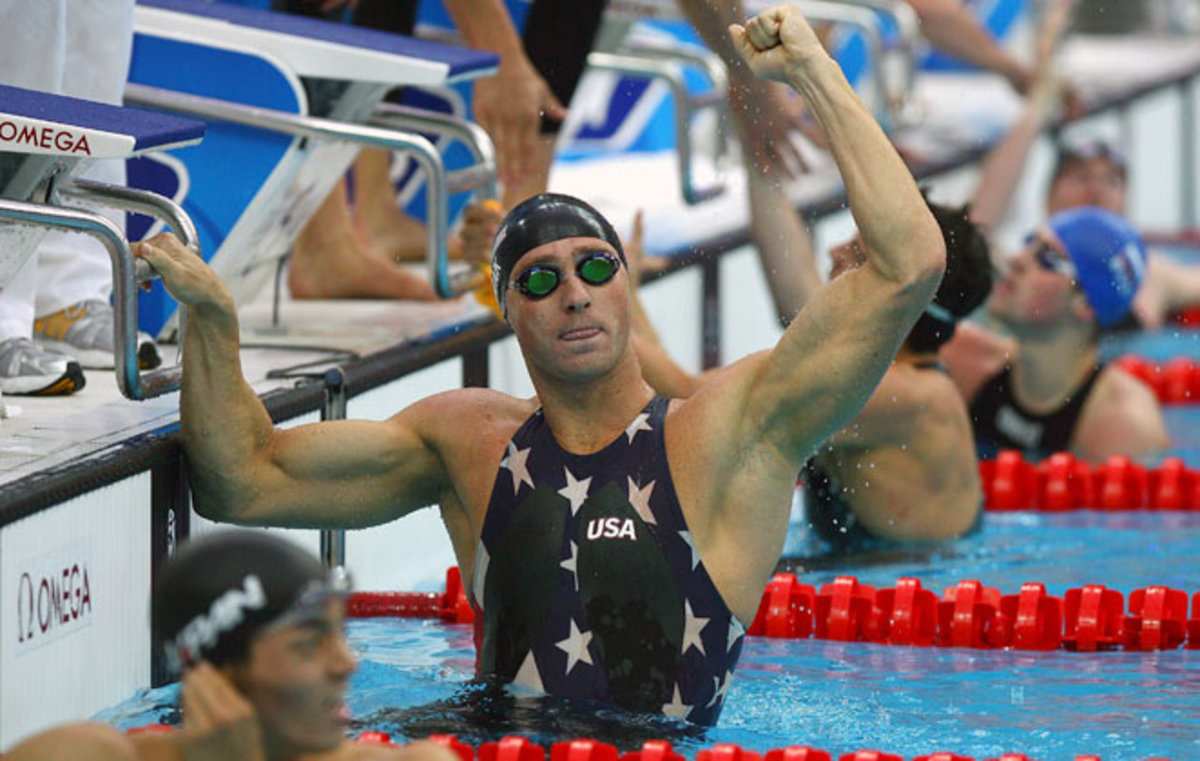 Like a lot of kids, Jason Lezak used to fantasize about making his mark in professional sports with last-second heroics. As a teenager shooting hoops in his backyard in Irvine, CA, his favorite daydream was making the game-winning three-pointer in Game 7 of the NBA playoffs. "I never pictured it actually happening in real life," he said. "Much less in swimming."
Because of one transcendent, mind-boggling lap, Lezak, who announced his retirement Tuesday after a swimming career that spanned four Olympics and earned him eight medals, will be remembered among the greatest game-savers in Olympic history. He's the guy, you might recall, who rescued Michael Phelps' bid for eight gold medals in Beijing by running down France's Alain Bernard in the final lap of the 4 x 100 free relay after trailing by a body length at the turn.
But Phelps, who had led off the race, wasn't on Lezak's mind as he stood on the blocks that morning in the Water Cube, waiting for teammate Cullen Jones to touch the wall. Lezak had never been a superstar. He had set the American record in the 100 free in Trials earlier that summer, but otherwise his individual highlights were few. He was a career relay guy, and at 32, that career was on the wane. He loved the pressure of serving as anchor on the 400 free relay, his role since 2002. But the relay hadn't done well during his tenure. "I had been a part of six years of losing that relay at international competitions after the U.S. had dominated that race for so many years," he said. "I can't remember wanting something so badly as I wanted that relay back."
No one thought his chances were great. The French were heavily favored, and in the third leg, they had made their move, overtaking Jones and giving Bernard, then the world-record holder in the 100 free, a wide margin to finish the damage. Most swims are a blur, but Lezak remembers many details from that race. When he hit the water, almost six tenths of a second behind Bernard, his first thought was that he had left the blocks early. "I thought I had disqualified the team," Lezak recalled. "I had to talk positive stuff to myself to get it out of my head, and I had to do it quickly." He wouldn't let himself peek over at Bernard, to his left on the first lap, because he was afraid that even the slightest head movement would slow him down. So he didn't realize he was nearly a body length behind until he flipped at the wall and pushed off. "He had increased his lead," said Lezak. "I thought, there's no way I can catch this guy." Once again, he flushed the negativity away with positive thoughts: "I told myself I feel really good, I feel really strong, just do your own race," he said.
Lezak gained on Bernard slowly and then all of the sudden. "At the end of the race I felt an extra surge of adrenaline, which I had never felt before in a relay," he said. "You get a surge before you start a swim, but it usually wears off. But to feel that again at the end of the race, it's pretty spectacular. It helped me keep my speed to the end of the wall. People tell me, 'Wow, you sped up at the end of that race!' I've watched the video hundreds of times. I just maintained my speed, and thank goodness, the French guy kind of fell apart."
With a split of 46.06, the fastest split in history, Lezak beat Bernard to the wall by eight one-hundredths of a second, giving the U.S. the win and a world record and keeping Phelps's gold-medal rush alive. It was such a mind-blowing performance that witnesses struggled for perspective. "It has to be in the unbelievable category," said U.S. head coach Eddie Reese.
In Beijing Phelps went on to win six more gold medals and make history while Lezak hit his own personal high-water mark: he won his first and only individual medal, a bronze in the 100 free. Lezak doesn't recall Phelps thanking him specifically, much less getting a cut of the million-dollar bonus Phelps got from Speedo for winning eight gold medals. "There's nothing that really needed to be said," said Lezak. "He knows I wasn't doing it strictly for him, and everyone on the team knows we were out to win a gold medal for USA."
This past summer, at age 36, Lezak made the 4x100 free relay team again -- by conjuring Bernard's ghost and giving chase in the 100 free final at Trials. "I had to think of something," he said at the time. "And that was the first thought that came to into my head." Lezak came in sixth, good for the final spot in the relay pool. In London, where he was the oldest U.S. male swimmer for the second Olympics in a row, he anchored the preliminary swim and had to watch the final from the stands as U.S. anchor Ryan Lochte, in a bit of cosmic payback, was chased down by France's superstar Yannick Agnel. "All the guys who swam in the morning would tell you we would have loved to be on that relay," said Lezak. "I didn't deserve to be on it if you looked at the times from the preliminaries, but there's a lot more that goes into it than just statistics. Who's to say what would have happened if I had swum the anchor? (Agnel) swam an amazing race. Most likely whoever swam on that leg, the results would have been the same. But you never know."
That is, above all else, Lezak's legacy. At any moment -- sometimes at the best possible moment -- the most unlikely actors can deliver the most astonishing performances. You never know.