Ted Ligety's mastery of new giant slalom skis leads to world title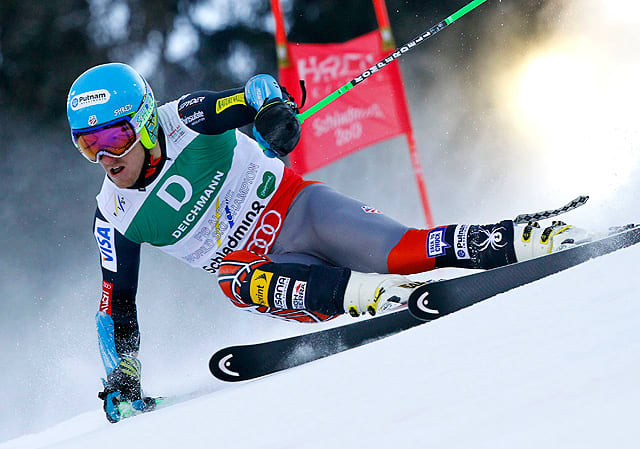 In the autumn of 2011, the international governing body for alpine ski racing, known as FIS, announced radical changes for the configuration of giant slalom skis. In simple terms, skis would resemble the longer, straighter skis of previous generations more than the hourglass-shaped sidecut skis that had overtaken the sport in the mid-1990s. FIS cited safety reasons for the change, which would significantly alter the means by which racers carve GS turns. This equipment ruling prompted a revolt among racers. Among the most vocal was Ted Ligety of the U.S., who wrote a blistering blog post addressing the issue. It said in part:
"...I wrote this article now because today I had a chance to try a prototype of the [new] GS skis. And quite frankly, they suck. I felt like Phil Mahre, circa '84. Try as I might, I could not get the skis to come around without a huge slide and step..."
FIS acknowledged Ligety's -- and others' -- protests, but nonetheless implemented the new equipment mandates, effective with the (current) 2013 season. And then Ligety did something else: he changed his entire training program. An accomplished racer with two World Cup seasonal titles in giant slalom and a 2006 Olympic gold medalist in the (downhill-slalom) combined, he altered his dryland workouts to prepare for the change in giant slalom. Where sidecut skis are turned essentially by setting the ski on its edge and following its -- some would say graceful -- geometric arc, the old-school skis require a more primal -- and physically taxing -- turning process. Success in the new GS paradigm would require a more powerful skier with greater ability to sustain that power over the 70-80 seconds of an icy giant slalom run.
On Thursday morning on a mountainside above the Austrian village of Schladming, Ligety laid waste to the field in winning the giant slalom at the alpine skiing world championships. He won the first run by 1.31 seconds -- comparable to a 42-7 lead at halftime of a football game -- and the overall race by .81 seconds over Marcel Hirscher of Austria. It was Ligety's third individual gold medal of the worlds (he also won the Super-G and combined titles), a feat not achieved since Jean-Claude Killy in 1968. He's also the first U.S. racer in history to win three golds at a single worlds. But it was Thursday's slalom win that measured Ligety's resolve, creativity and growth.
"When I was speaking vocally against the changes," Ligety said Thursday in a phone interview from Schladming, "I wasn't vocal because I thought it would hurt me. I was vocal because I thought the new rules would take so much of the joy out of ski racing, because it takes so much effort to turn the skis.
"But I also changed my whole program from overall strength and power training, with a little bit of muscle endurance," he said, "to almost entirely muscle endurance, because on the straighter skis, it's just so much more physically demanding, way more tiring. Before, because of the nature of the shaped skis, you ski with less intensity and still get on the [top 3] podium. Now, if you ski with 95 percent intensity, you lose a second and you're out of it."
At the core of Ligety's new dryland workout was a training circuit -- it lasts barely five minutes, but it is five minutes in the seventh circle of lactic acid hell. It begins with 10 heavy squat reps, and then moves to 60 seconds of leg presses, followed by 45 seconds on a special quad machine, 30 leg-extension reps and then more leg presses on a different unit. Then comes a rest period lasting anywhere from seven to 10 minutes. Ligety does three or four repeats of the circuit, after which his quads are temporarily pumped to at least two centimeters bigger than when he started. It's worth noting that Ligety's GS style before the rules changes -- early on his edge, late off the edge -- were going to mesh well with the new skis, but his training has made him even more dominant.
Ligety has won four World Cup GS races in the 2013 season and currently leads the giant slalom standings by 125 points over Hirscher in pursuit of his fourth GS season title. He is fourth in the overall standings with 736 points, trailing Hirscher (1135), Aksel Lund Svindal of Norway (921) and Felix Neureuther of Germany (776). But in the U.S., popular ski success is measured not by World Cup globes, but by Olympic medals.
Ligety, 28, was a surprising winner of the combined gold medal seven years ago at the Turin Olympic Games. He was also an equally as surprising non-medalist in the giant slalom (along with Super-G and combined) in Vancouver in 2010, where he finished ninth in the giant slalom (as the leader in the GS World Cup standings) and a half-second out of the medals in the combined, which was won by Bode Miller of the U.S.
"Those Olympics where a good learning experience for me," said Ligety. "Up to that point, I had always sort of skied to my status in the world, and that would usually get me close to the podium. It wasn't that I wasn't trying to win, but now I've learned not to hold anything back."
His performance in Schladming will intensify expectations for Sochi in 2014. His Super-G win was the first of his career, albeit on a technically demanding course that favored a GS specialist (and will be difficult to replicate on course with more tuck-and-glide skiing). His combined win was his first since Turin.
"On paper, combined is an event I should have been winning all along," said Ligety, who is an elite-level slalom racer and respectable in downhill, the perfect combination. "It was a matter of time before I broke through."
There will be no shortage of story lines among U.S. racers a year from now in Sochi. Lindsey Vonn, arguably the best women's racer in history (and certainly the best U.S. women's racer), will be racing the clock to the start house in Sochi with a rebuilt knee that was blown apart in Schladming. Mikaela Shiffrin, the 17-year-old future of U.S. women's skiing (who skis Friday in the worlds slalom), will be chasing a slalom (and possibly a giant slalom) gold. Miller says he will be back for one last rodeo. Julia Mancuso, a three-time Olympic medalist, will again be racing to escape Vonn's long shadow.
GALLERY: Vonn, Mancuso, more at the world skiing championships
But Ligety has earned a prominent seat at the table. "I don't expect that what I did here is an easily repeatable performance," said Ligety Thursday. "I know I never expected to hear my name in the same sentence at Jean-Claude Killy. It's been a phenomenal week."