A country remains in shock as hero Pistorius charged with murder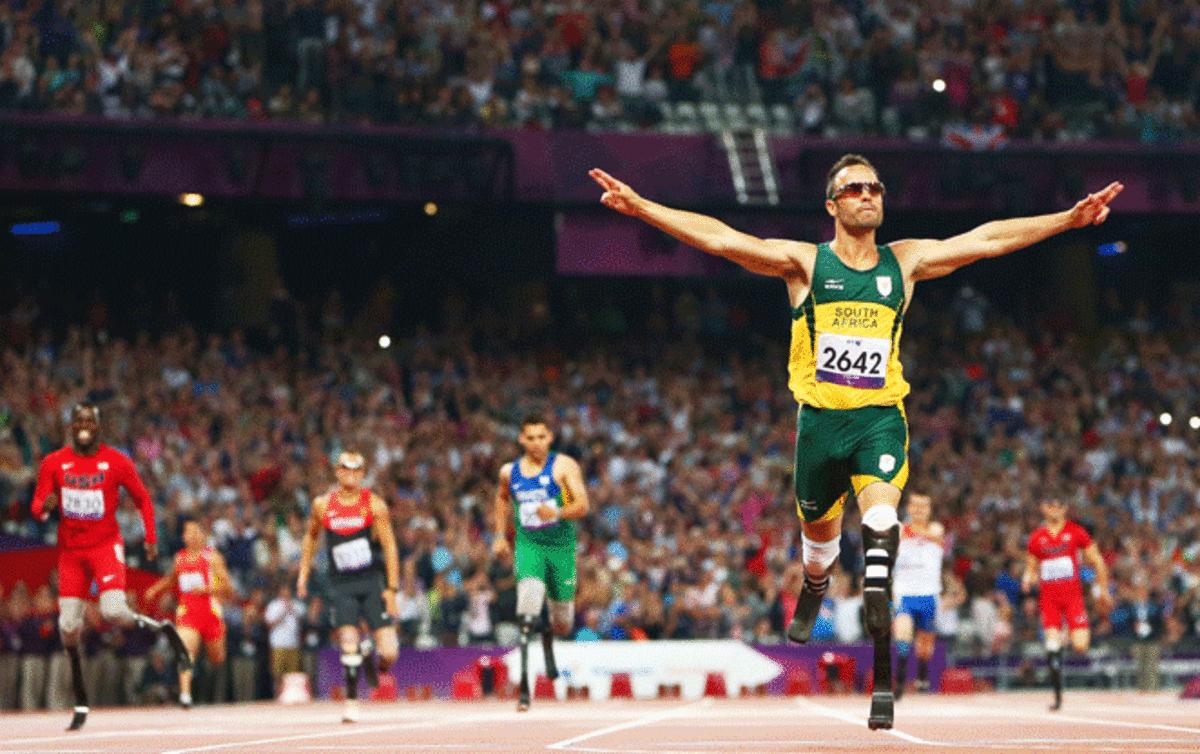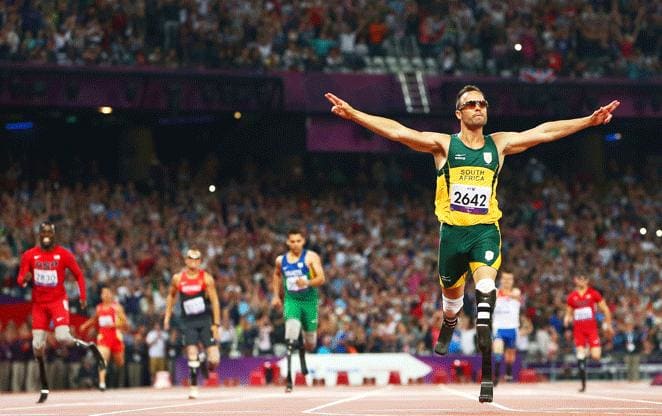 JOHANNESBURG, South Africa -- As a 130,000-ton asteroid hurtled silently through the dark sea of space last week, teasing earth by slipping past its satellites, a fiery news meteor smashed into the heart of South Africa.
Unlike the lump of rock spotted by astronomers in Spain a year ago, the story of Oscar Pistorius came without warning, burning through the atmosphere in the dead of night and exploding over the country's capital city.
The dust storm of confusion it kicked up is beginning to settle, but the shock waves are still reverberating around the globe. South Africa -- a nation obsessed with sport and heroes, and especially sporting heroes -- is reeling.
The man known as the "blade runner" is due to return to court on Tuesday for what is expected to be the start of his bail application. The preliminary hearing is likely to reveal -- through statements, witnesses or both -- a great deal about the police's case and why they believe the death of Pistorius' model girlfriend, Reeva Steenkamp, was premeditated murder and not, as Pistorius' family describe it "a terrible, terrible tragedy".
We may also learn what the double-amputee sprinter plans to offer as his defense. With little doubt over who pulled the trigger, his options are limited and the only real question that remains is: why? What happened behind the closed doors of Pistorius' Pretoria mansion in the early hours of Thursday morning? How is it possible that a man honored by Time magazine as the very "definition of global inspiration" has plummeted, like a comet, into a courtroom, to stand there as a broken, weeping man accused of murder?
Fragments of the truth are beginning to come out, but a great deal has already been pieced together by journalists and through official police statements. When news of the murder first broke, it appeared Pistorius had told police he mistook his 29-year-old girlfriend for an intruder and shot his 9-mm firearm to protect himself. In a country plagued by crime (15 000 murders, 17,000 violent house robberies and nearly a quarter of a million burglaries in a single year), this sparked a debate about gun ownership and the terrible fear people carry with them each day and sleep with each night.
The "mistaken identity" version was easy to swallow. South Africans spend millions of Rands each year to hire private security companies and to build walls, electric fences and burglar bars. In 2004, one of the country's retired rugby stars, Rudi Visagie, mistook his teenage daughter for a thief and shot her dead in his yard. She was sneaking out to surprise her boyfriend on his birthday. Listeners called into radio shows to share their experiences, one man having jumped out of bed to attack a shadow which turned out to be his wife. There was also a lot of debate about whether new gun laws, introduced almost a decade ago, have helped bring down the crime rate.
But within hours of the shooting, police gathered anxious journalists outside Pistorius' home and provided details which would swing the story in a completely different direction, turning down the volume on the self-defense theories. According to police, there was no forced entry into the plush (and extremely well protected) Silverwoods estate where Pistorius lives, nor into his home. In other words, there is no evidence to suggest an intruder had broken in and the only two people inside were Pistorius and Steenkamp. While this doesn't mean Pistorius couldn't have thought he was under attack, the new information packed a punch.
Police also revealed that witnesses had heard a commotion -- screaming or shouting -- shortly before the gunshots rang out. It appears neighbors called for help shortly after. Journalists were also told that other incidents of a "domestic nature" had been reported involving Pistorius. It's not clear whether this was a reference to an incident in 2009, when Pistorius was briefly detained by police for assaulting a woman at his house (a case that was later dropped). At the time, he claimed she picked a fight with his then-girlfriend and was injured when a wooden beam fell on her leg.
Most importantly, police made it immediately clear they were planning to oppose any bail application and were taking Pistorius for a blood test at a local hospital, presumably to test for alcohol, drugs or steroids.
Suddenly, with the dots connected, it was easy to see that detectives didn't believe the shooting was an accident. Why else would they fight to keep Pistorius, a man whose name is known in every corner of the globe, behind bars?
The impromptu police briefing sent shock waves across South Africa. In the period of a few minutes, Pistorius went from being a victim to an alleged villain. Charged with a murder in a country so desperately sick and tired of violence against women and children.
*****
Just six months earlier, Pistorius was a national hero. The "fastest man on no legs" sprinted his way into the history books by sharing a track with the world's fastest runners. He became the first disabled athlete to qualify for the able-bodied Olympics in London, overcoming scientific scrutiny and using lawyers to dismantle a ban which, for a while, looked set to shatter his dreams. He silenced his critics and ran. He didn't win, but he didn't have to.
While he graced the covers of magazines, flashed his smile and scooped up sponsorship deals worth millions, South Africa watched with pride. He was Springbok captain Francois Pienaar, raising the 1995 World Cup rugby trophy. He was Chad le Clos, the boyish swimmer who -- in the same London Olympics -- defeated Michael Phelps, arguably the greatest Olympian of alltime. He was golfing legend Gary Player at the Masters; he was cricketer Hashim Amla becoming the first South African to score a triple century in England; he was iconic footballer Lucas Radebe captaining the national squad and being signed up to play at Leeds United. He was all of these great sportsmen and more.
Pistorius was, as one local writer put it "our good thing". He was Charlize Theron making it in Hollywood; township-born R&B star Lira having her "Marilyn moment" while singing for U.S. President Barack Obama; war photographer Joao Silva surviving a land mine in Afghanistan and returning to the field.
In a country haunted by a dark past and tangled up in identity issues, Pistorius transcended all racial boundaries. His triumph over his disability made him a hero in the eyes of all South Africans, black or white, rich or poor, able or disabled. Here was a man with no legs playing rugby, cricket and water polo.
And so, it was all the more shocking when details of the shooting began to emerge. By last Friday it came out that Steenkamp had been shot four times, through a bathroom door (where she allegedly locked herself in). One of the bullets apparently struck her in the head. Blood spatter patterns further showed that she either ran or was carried down the stairs while still alive. None of this has been officially confirmed by police and is yet to be tested in court, but it was reported by several South African media organizations.
Later, the City Press newspaper would reveal that a bloodied cricket bat was at the center of the investigation. The respected publication also claimed that -- according to their sources -- Steenkamp's skull was "crushed". It also reported that Pistorius had called his father for help at 3:20 that morning.
Pistorius' so-called "dark side" began to shift into focus. An alleged history of anger, jealousy and bullying. A speedboat he crashed in 2009, amidst claims he had been drinking. His fast cars and motorbikes and the "wrong crowd" he found himself in. Fights over girlfriends (threatening to break a man's legs). A 2012 Daily Mail article which claimed he kept a machine gun by the window; The New York Times piece which called him "more than a little crazy;" the reporter he took to a shooting range. There were also questions of whether he should have been allowed to own a gun.
*****
When looked at collectively, these incidents paint a picture of an embattled or controversial celebrity. But in reality, Pistorius' life in South Africa didn't play out on the front pages of tabloids and these incidents were scattered over time and dwarfed by his success. No one was waiting for something terrible to happen. His private affairs were known to those close to him but never translated into major scandals in the media. At the time of the shooting, he stared down from massive street billboards across Johannesburg as the temporary face of one of the country's biggest television channels. The advertising campaign was carefully timed to coincide with the Oscars.
By all accounts, his relationship with Steenkamp was a healthy one still in a honeymoon phase. The couple had been dating for a few months and appeared to be happy. Steenkamp was a former FHM model who was about to break through as a contestant on a celebrity reality show called Tropika Island of Treasure. The tragedy of her death and her shattered family were, at least at first, eclipsed by the storm around her superstar boyfriend.
Journalist Hagen Engler knew Steenkamp and, following her death, wrote that she was a woman who was "going places." "She was amazing. Charismatic, vivacious, intelligent, hilarious as well as beautiful, with a deep, masculine voice, permanent smile lines around the corners of her lips and a naughty sparkle in her eye," he recalled.
Her family described her as a "pure soul," a woman whose goal was to become famous. Steenkamp will be laid to rest in the next few days in her home town of Port Elizabeth. The TV show she featured in has been broadcast, with a special tribute to her and, as the producer said, the echo of her laughter in every one of her scenes.
Steenkamp's last tweets were about Valentine's day, sharing gift ideas and declaring that it should be a "day of love for everyone". Her present to Pistorius was reportedly a framed photograph of the couple.
As new, grim details about the shooting began to surface, the 26-year-old Pistorius made his first court appearance at a Pretoria magistrate's court last Friday. He was charged with a single count of murder -- a crime that carries a life sentence in one of the world's toughest prisons. The prosecutor assigned to his case is advocate Gerrie Nel, known for being a legal bulldog and internationally recognized for convicting South Africa's former police chief -- and Interpol president -- Jackie Selebi for corruption. Regardless of what lawyers, forensic experts and spin doctors Pistorius brings into the ring, a worthy opponent is now waiting in the other corner.
Shortly before midday on Friday, Pistorius walked into a packed courtroom wearing a dark suit. He cut a lonely figure in the dock, his anguish visible through a twitch in his face, a jaw clenched shut and a spasming muscle in his neck. He wept into his palms. His family members reached out to touch him, to comfort him. Nel announced that the state has set out to prove a case of "premeditated murder".
Court was adjourned for three days to give the athlete time to prepare. If Nel and his team get their way, the onus will fall on Pistorius to prove why he should be granted bail. He'll have to present to court what's known as "exceptional circumstances" which warrant his release. Factors like his health, the interest of justice, the strength of the state's case and whether the suspect is a flight-risk will come into play. Given the number of cases being heard in South Africa's courts, a trial of this magnitude will take months, if not a year or more, to get underway. It won't be easy for Pistorius to get bail, but it won't be impossible. Strict conditions may be set (reporting to a police station, declaring any travel, surrendering passports or even house arrest) but there is more than enough precedent for him not to be kept in jail.
If Pistorius claims to have shot at what he believed was a stranger or an intruder, he'll need to be absolutely certain the forensics back him up. If not, the scientific evidence could destroy his case and sink his defense. This would amount to a scenario where his version is tested against a careful forensic reconstruction of the scene. A man's word seldom wins over hard, cold scientific facts.
If he puts up a psychological defense, he can be sure that any experts he calls will be met with the country's best police psychologists. In fact, the Investigative Psychology Unit -- which deals with serial murders and psychologically motivated crimes -- has been involved from Day 1. Already, Pistorius' lawyers have said he's in an "extremely traumatized state of mind". At the weekend his family issued a second statement, saying they were "devastated", while the blade runner remains "numb with shock and grief".
South African courts are unpredictable. and the country is a complicated place. A place where a national police chief went to jail for his links to the underworld; a president has stood trial for rape; a cricket captain blamed the devil for accepting match-fixing bribes; and a minister used public funds to visit a girlfriend in a foreign jail. It's a country where, last year, policemen (under the control of a government that freed the nation from the oppressive Apartheid regime) gunned down striking miners by the dozen in what became known as the "Marikana bloodbath" and beat a protester to death in Ficksburg for demanding basic services. It's a land where truth really is stranger than fiction and the forces of light and dark are often blurred or twisted. There's also a shortage of leaders and heroes. Our greatest icon, Nelson Mandela, is held onto dearly, guarded as a national treasure, pulled out from much-deserved retirement. Each time Mandela has a health scare -- which is not unusual for a man of 94 -- the entire nation goes into paralysis.
And so, even despite having a thick skin, when another success story is suffocated and a hero falls, we hurt. The world watches with curiosity, but South Africa rides the emotional roller coaster.
I still can't shake the image of one of the talk show hosts at my radio station on Friday. As I walked past the sound-proof glass of his studio, with the "on-air" light shining green, I caught him in a brief, private moment. He was about to talk to a reporter who was covering the Pistorius case. With his earphones around his neck, the presenter was pinching the bridge of his nose to relieve the pressure. His eyes were like clenched fists. The blood was hot under his skin.
Before going on air, he had told me a story of how he first interviewed Pistorius as a teenager with braces and bad skin. How he messed up the pronunciation of the at-the-time unknown athlete's name and had to be corrected. How, for the rest of their friendship, Pistorius refused to call him by his first name and teased him by sticking to the surname and throwing a "mister" in front of it. He told me about the joy he felt while covering the London Paralympics last year (six months ago) watching the same kid obliterate his competitors. I could see how difficult it was for him to digest the murder allegations. How personal it was. And I sensed that it was the same for many South Africans.
However this story ends, the crater it leaves will be a deep one.
Alex Eliseev is a South African writer and senior reporter at Eyewitness News.