Trainer Rick Dutrow files lawsuit to overturn 10-year racing ban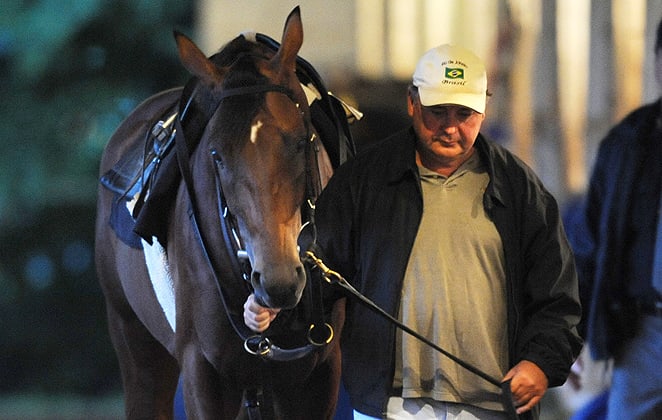 ALBANY, N.Y. (AP) -- Kentucky Derby-winning trainer Rick Dutrow has filed a federal lawsuit trying to overturn his 10-year ban from racing in New York for drug violations.
The lawsuit, filed this week in U.S. District Court in Brooklyn, says the 53-year-old Dutrow has been "irreparably harmed" by the New York State Racing and Wagering Board for what he says is effectively a lifetime ban. Dutrow claims racing officials engaged in "wrongful and malicious actions" against him. He's seeking $10 million in damages for lost earnings, punitive damages and an order lifting the ban.
Dutrow trained Big Brown to Kentucky Derby and Preakness Stakes wins in 2008. He recently tied for the training title with 110 victories at Aqueduct, his fourth title at the track where his stable is based. It was the ninth time in the last 10 years he was the leading or second-leading trainer.
"Any and every horse Dutrow becomes involved with during the 10 years his license is revoked ... disqualifies the horse from any racetrack throughout New York state," the civil court complaint says. "The order, in effect, also acts as a prohibition against Dutrow associating with any individuals who use the racetracks of New York state, including his family, who are connected to the racetracks."
Lee Park, a spokesman for the New York State Gaming Commission, the agency that succeeded the racing board, said Wednesday that they haven't been served with legal papers and declined to comment
Dutrow had unsuccessfully appealed the license revocation in state courts, with the punishment put on hold until the New York Court of Appeals in January declined to hear his latest appeal.
In October, that same court rejected his constitutional claim that his rights to a fair proceeding were violated by the appearance of bias by racing board Chairman John Sabini. Sabini was also an officer of the Association of Racing Commissioners International, which advocated revoking Dutrow's license.
The federal lawsuit claims Sabini and association officials acted in concert to ensure his license would be revoked, depriving him of due process.
The three-member state board cited infractions including syringes containing an analgesic and sedative found in Dutrow's desk and an analgesic found in the urine of his horse Fastus Cactus in November 2010 after it won at Aqueduct Racetrack. The board also fined him $50,000.
Dutrow told a hearing officer he didn't know how the syringes got into his desk. A blood test of Fastus Cactus didn't show any of the analgesic, and Dutrow's expert witness theorized that the urine test may have been contaminated.
When the board issued the ban in October 2011, Sabini said Dutrow's repeated violations and disregard for racing rules "eroded confidence in the betting public and caused an embarrassment throughout the industry."