D. Wayne Lukas remains hands on with his three Preakness horses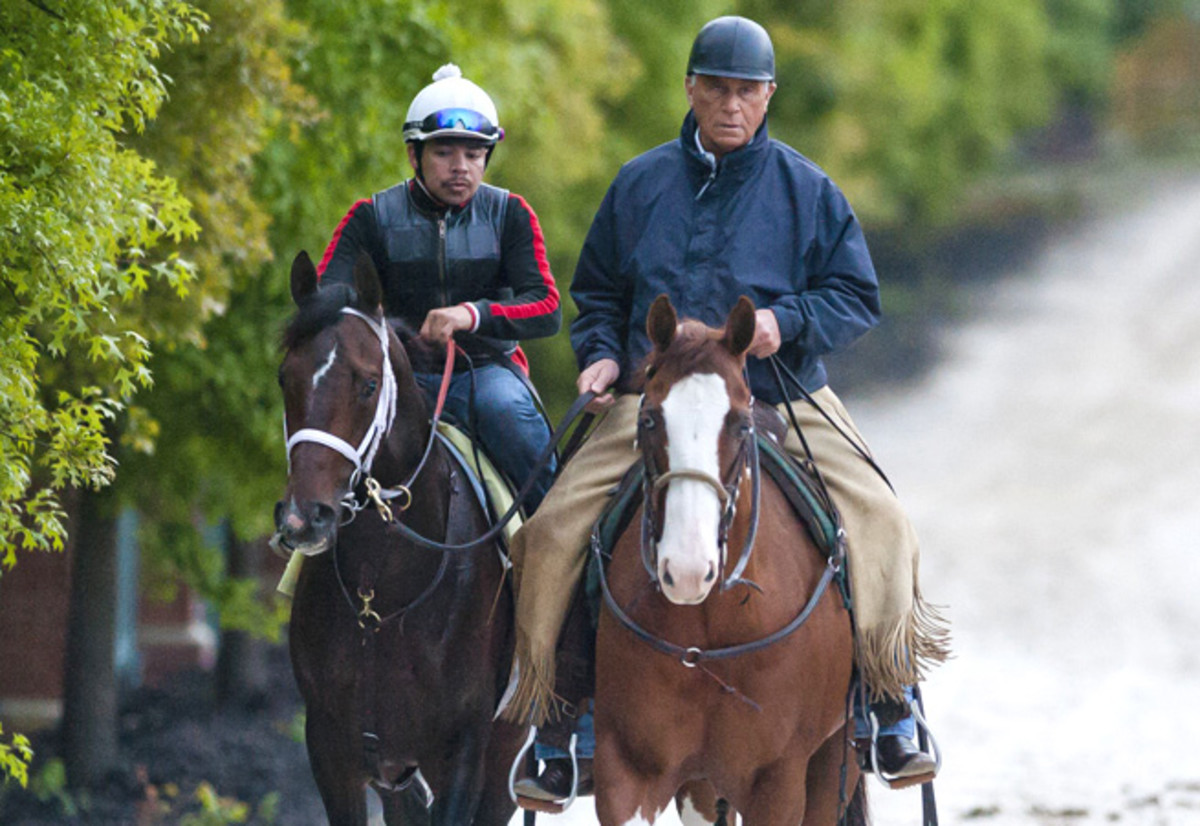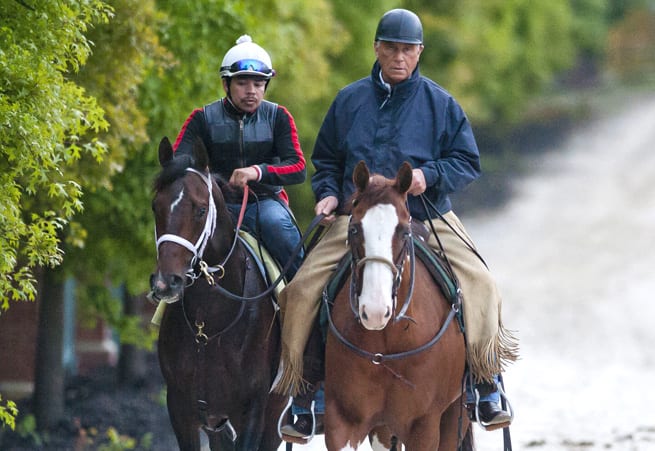 BALTIMORE (AP) -- After being on this earth for 77 years, winning 13 Triple Crown races and totaling more than $100 million in purse money, Hall of Fame trainer D. Wayne Lukas has earned the right to sit in an office and let his assistants do the grunt work in the stables.
That's not going to happen anytime soon.
With three entrants in Saturday's Preakness - that's a third of the field - Lukas has been working diligently this week at Pimlico Race Course. Although he's already won the Preakness five times, he's eager to make it six.
"It would be significant," Lukas said. "I don't know how many more there are. I don't plan on retiring, I'm not thinking about that at all, but you only get so many opportunities every year with a good 3-year-old."
Lukas intends to make the most of it, and he's tending to virtually every detail himself. Earlier in the week, he changed jockeys on two of his horses. On Thursday, he was dressed to ride, wearing chaps, jeans and spurs before getting on this horse and taking Oxbow, Titletown Five and Will Take Charge to the track for their morning run.
"What I find kind of interesting is that there are nine horses in the race and one guy's got three of them," said Shug McGaughey, trainer of Kentucky Derby winner Orb.
"I wish I had five or six," Lukas said. "It only takes one horse to spoil your day."
That could be Orb, who easily beat Oxbow (sixth) and Will Take Charge (eighth). Titletown Five, with one win in seven career races, is a 30-1 long shot in his first outing since April 27.
"I think Orb is the horse to beat," Lukas said. "He has to come back to us a little bit and we have to move forward. Having said that, I feel very comfortable with the rest of them. I'm not running for second, however. That's not my style."
Nor would it be his style to use two of his three horses to block out Orb, leaving the other Lukas entrant free to challenge for the lead.
"Wayne is a clean guy," McGaughey said. "He's not going to instruct his riders, `You got Orb down inside of you, do something.' He's not that kind of guy."
Lukas wins - or loses - within the rules and with dignity. Underneath his trademark 10-gallon hat is a hard-working gentleman who serves as an example for almost everyone in horse racing.
"I watched Wayne Lukas when I was growing up," said Paul Bulmahn, owner of Preakness entrant Mylute. "I just have a great appreciation for what he brings to the industry. He is a classy person. He's always managed his horses effectively and his barns are always the most manicured. He just has an attention to detail that some people lack."
Lukas has knack for identifying talent, too.
"Of the six horses I bought last year, three are in the Preakness," he noted. "So I'm pretty proud of that, after looking at 3,000."
With a victory Saturday, Lukas would break a tie with "Sunny Jim" Fitzsimmons for most Triple Crown wins. Lukas may not have the best horse in the field, but he does have three of them. And if that leaves him with three times the disappointment late Saturday evening, so be it.
"The races at this point in my career are significant," he said. "But I've been so blessed, I don't go around kicking the dirt if I get beat, either. So if we win one, we'll all talk about it and enjoy it. And if we don't, we'll go on to the next one."
For years and years to come, evidently. Bulmahn has long marveled over Lukas' work ethic, and nothing that's happened this week has changed his mind.
"He's 77 and still going at it. I think that says a whole lot about Wayne," Bulmahn said. "He loves what he does, and he's still very good at it. He is gifted."