Gabby Douglas returns to the gym after post-Olympics break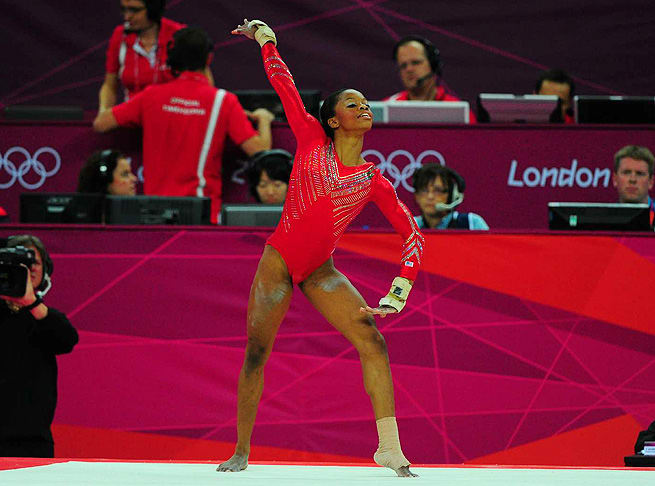 Gabby Douglas had been looking forward to this appearance for a long time.
The Olympic all-around champion returned to the gym Monday, going through her first practice since the London Games after meeting with coach Liang Chow to discuss her comeback plan.
"She is very excited to be coming back," Chow told The Associated Press. "She can't wait any longer."
Douglas has always said she wanted to continue competing through the Rio Olympics in 2016. She is only 17, and Chow said in London that she hadn't come close to reaching her potential. (The Olympics were only the fifth international event for Douglas.)
But her life has been a whirlwind since London, where she also helped the U.S. win only its second team title. Her Olympic success, dazzling smile and captivating personality turned her into a worldwide celebrity, and she's been going nonstop since the games ended.
She was the AP's female athlete of the year and one of Barbara Walters' "10 Most Fascinating People" in 2012. She was the only female on Forbes' recent list of 10 most influential athletes in the U.S. She had a guest spot on "The Vampire Diaries," one of her favorite shows, and she performed at the Video Music Awards after walking the red carpet with the rest of the Fierce Five.
Douglas and fellow Fierce Five members Aly Raisman, Jordyn Wieber and McKayla Maroney did a 40-city gymnastics tour last fall, and she's made dozens of other celebrity appearances. She signed deals with Nike, Kellogg Co. and AT&T, among others, and recently published her second book.
Gymnastics was never far from her mind, though, and Chow got the sense from the text messages Douglas would send him that she'd eventually be back in the gym in West Des Moines, Iowa.
"She's the kind of person who wants to be achieving," he said. "She wants to feel good about her improvement and her goal setting. That's the attitude Gabby is about and now she can set out a goal and achieve it, through the sport."
Chow wouldn't put a timetable on Douglas' return, saying she has to get back in gymnastics shape before they can put a "realistic" training plan together.
"I think 2014 is an excellent possibility for competition," he said.
But this won't be an easy process, Chow said. Gymnastics is a sport that requires hundreds of hours of repetition to perfect skills, and Douglas has been out of action for nine months.
"I did warn her, `If you think preparing for London was hard, preparing for Rio will be harder.' There's many challenges ahead of us," Chow said. "Also, `You're going to have to have a lot more patience with yourself. Nine months off, you have to get yourself in very good physical condition first before we even talk about the training plan for the next steps."
But Douglas is undeterred.
"She understood," Chow said, "and she is super excited."