Strong offseason moves raises the bar for Tulsa Shock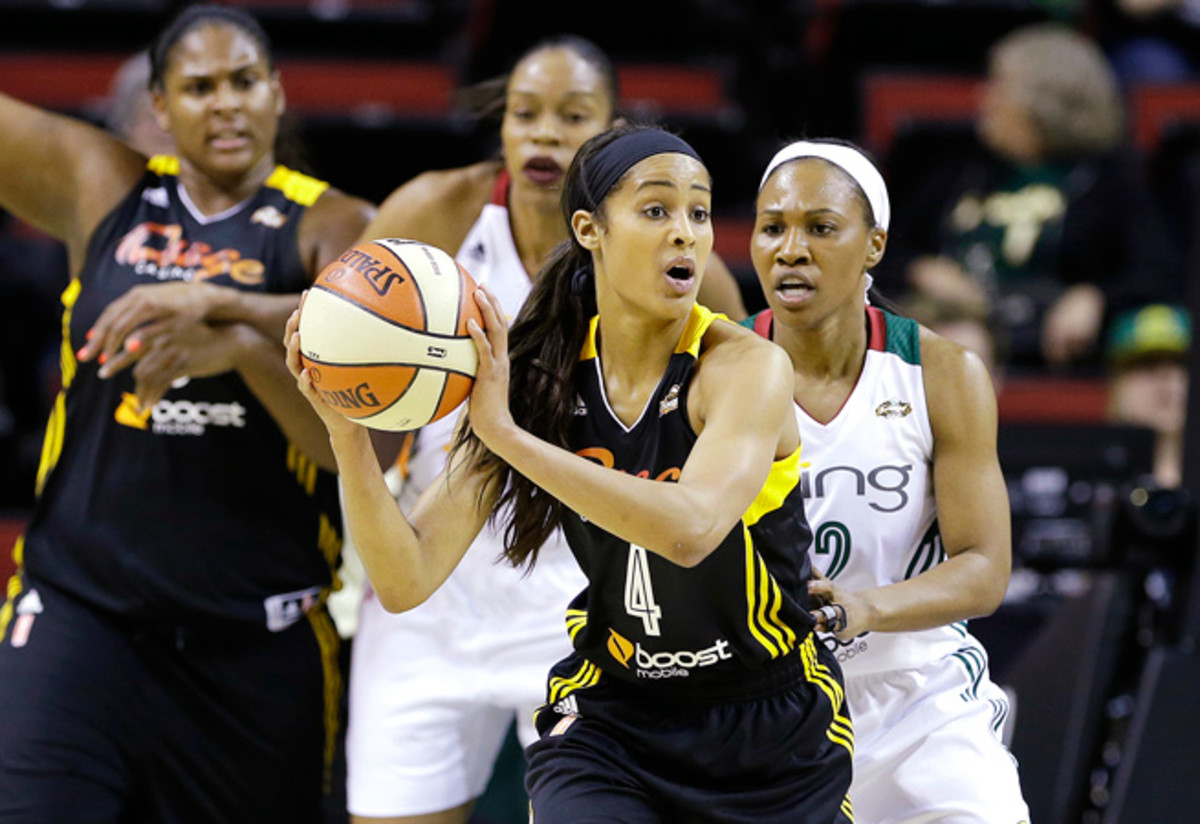 TULSA, Okla. (AP) -- Are the pieces finally falling in place for the Tulsa Shock?
Time will tell, but if the preseason prognostications of the league's general managers are any indication, Tulsa finally looks like a playoff contender. A survey found the Shock as the WNBA's most improved team.
Tulsa, which went 9-25 last season, is now on the playoff radar after a series of offseason moves. And it appears that 2011 draft pick Liz Cambage will also rejoin the team, adding to the intrigue.
First, though, came the trades with Minnesota and New York to acquire former Stanford standouts Candice Wiggins and Nicole Powell, respectively. Next, came the signing of Notre Dame All-American Skylar Diggins, undoubtedly the top point guard in the 2013 draft.
"It seems like people want to play in Tulsa now," forward Glory Johnson said. "Last year, players would ask `Why would I come to Tulsa?' Now, with all the great players we have, it's like people are saying 'Check out Tulsa now."'
The Shock open on the road Saturday in Atlanta. Washington visits on Monday.
"The excitement is building," Shock coach Gary Kloppenburg said. "It's a privilege to be in this league. It's a high-level league and has the best players in the world.
"We feel like all through (the roster), we have more talent. We've been happy with the work ethic in camp. Everyone is working hard to learn everything. Making that final cut (Thursday) is going to be really hard. I'd like to keep all 12."
Kloppenburg remained in contact with Cambage in the hope of luring the 6-foot-8-post player back to Tulsa.
"I talked with her, emailed and texted her all year long," he said. "I think she finally realized she wanted to give this shot. We're happy to get her back."
Cambage started 11 of 33 games her rookie season, averaging 11.5 points and 4.7 rebounds on a team that won only three games. Last winter, Cambage came into her own as a pro, averaging 36.2 points and 11.1 rebounds for Zhejiang in China.
Johnson emerged as a star as well, playing in Russia.
"When I went to Russia, I was told the Americans - and there were two of us - were expected to take charge of the team," she said. "I put in extra practice in the gym and came back with the attitude that I want to contribute however I can."
The frontcourt combination of Johnson and Tiffany Jackson-Jones, has the former excited. But Jackson-Jones suffered a stress fracture to her right tibia and will likely miss the first three weeks.
"It's a little disappointing to have the stress fracture but it's just a bump in the road," she said. "I'm very excited to be back. It's exciting to have Liz coming back and with Skylar, Candice and Nicole here.
"I'm so excited to be on the court with Glory. She's so athletic. She has the ability to be a premier player in this league. Candice is already very vocal, that's something we lacked in the past. I played with Nicole in New York."
Jackson-Jones said she was eager to see Cambage on the court.
"She's had a few years to mature," she said, "and I can only imagine how hard it was for her being 18, drafted and moving so far from home."
Diggins has completed her first preseason camp and proudly wore a battle scar after a sharp elbow to the face.
"It's gone isn't it?" Diggins asked of the scar. "It looks better I know."
Diggins laughs at the attention she has received since signing with Jay-Z's new agency.
"I come from humble beginnings," she said. "I drove a 2004 Honda in high school and college and was really happy to have it. It's a blessing to have been a part of the (Jay-Z) dynasty, whether I got a car or not."
Diggins is more concerned with basketball.
"It feels like we are in on the ground floor on something really special," she said. "We might be the youngest team in the league, but we're exciting and we will be fun to watch.
"We're excited to have Liz back. I know the city will do a great job in welcoming her back. The fans of Tulsa are great people, they welcomed me and my family and I believe they will do the same for Liz."
League rules dictate rosters must be trimmed to 11 by Thursday.