Top seed Syracuse into Final Four, aiming for lacrosse national title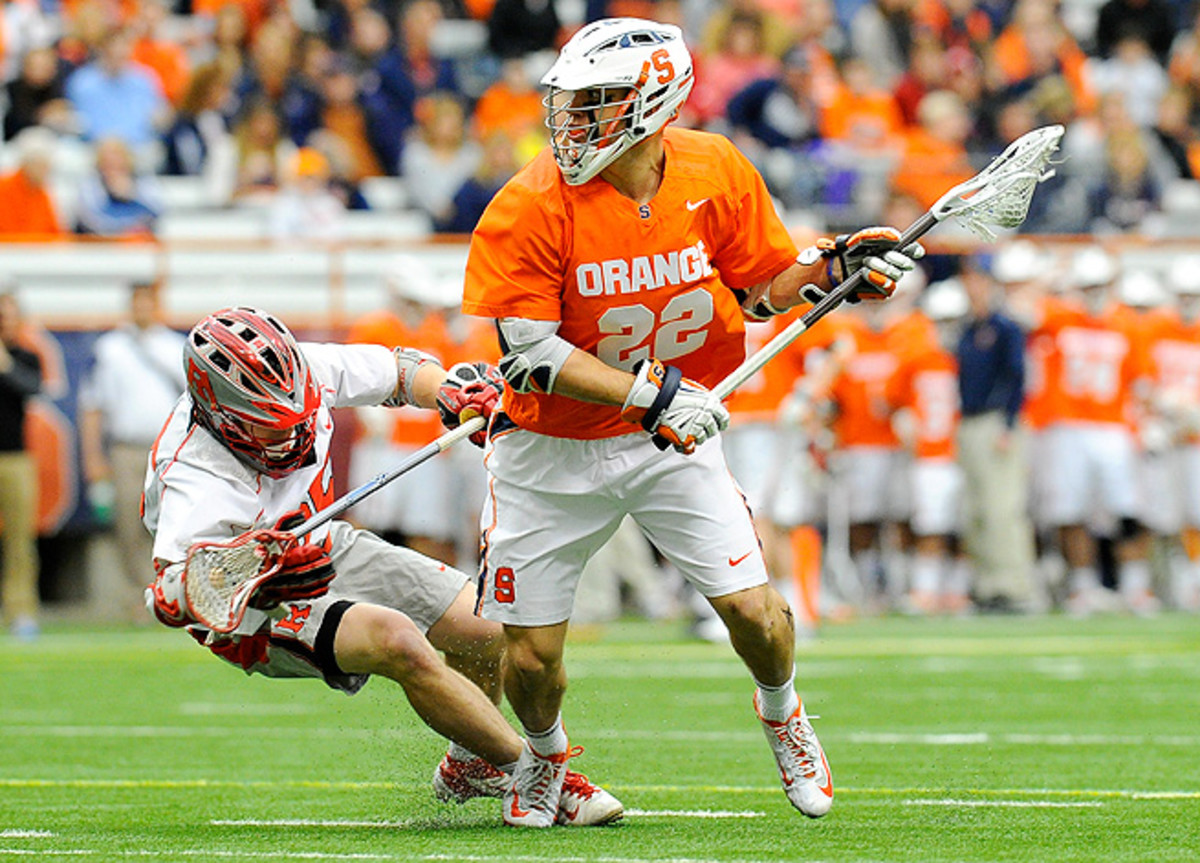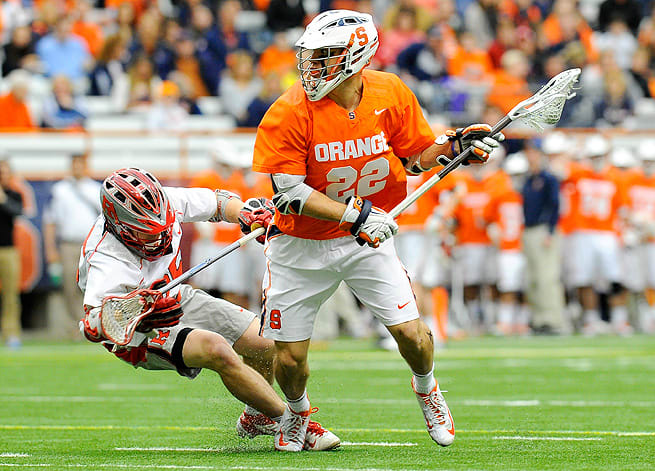 Syracuse star midfielder JoJo Marasco couldn't dodge the question as the one-goal games during the regular season began to mount, and neither could his fellow seniors.
Would they be the first Orange class since the 1970s to never make a Final Four?
"Every interview, every media day, it was a question. It's been a tough three years, making the playoffs and not making the Final Four," said Marasco, the Orange's leading scorer (20 goals, 38 assists) and a finalist for the Tewaaraton Award, given annually to the top player in college lacrosse.
"It's why I think this whole year, we've been working so hard. The leadership (of the seniors) has been huge."
Syracuse (15-3), which earned the top seed in the NCAA tournament with a strong finish to a season that so far has included a school-record nine one-goal games, made it 6-3 in those close affairs with a stirring 7-6 comeback triumph over Ivy League-champion Yale in the quarterfinals last week.
The win earned the Orange that elusive date in the national semifinals on Saturday at Lincoln Financial Field in Philadelphia, home of the NFL's Eagles. The Orange will meet high-scoring Denver (14-4), while unseeded and surging Cornell (14-3), playing its best lacrosse of the season, will play Duke (14-5) in the other semifinal.
Cornell has cruised behind the dynamic attack duo of Rob Pannell and Steve Mock. The Big Red has scored 16 goals in each of its tournament victories - vs. Maryland and Ohio State.
It was a scramble, though, for the other three teams in the title mix this weekend. Syracuse rallied with three goals in the final 3:04 against the Bulldogs after being held scoreless for more than 43 minutes. Also, Denver beat North Carolina 12-11 after trailing 6-0, and the Blue Devils scored the game's final three goals to edge Notre Dame 12-11.
For the Orange, it was almost a case of too close for comfort, especially considering their desperation this season. Syracuse, with a proud lacrosse heritage, is seeking its first title since 2009 and its 12th overall.
"Even in the Yale game, in the fourth quarter, it started to hit us. `Man, this can't be happening.' (So,) we pulled together as a team," Marasco said. "It worked out, thankfully."
Syracuse faces a familiar face at the helm of the No. 4 Pioneers in Hall of Fame coach Bill Tierney. He won six NCAA championships in 22 seasons at Princeton and has always held a great measure of respect for the Orange. So much so that in an effort to create intensity and a high level of competition - when he took over the Pioneers in 2010 - one of the first phone calls he made was to Syracuse coach John Desko.
"I said, 'John, these guys need to know what it's going to take to be a championship team and I want their first experience to be against you in the Carrier Dome because there's nothing more daunting than that," said Tierney, in his second Final Four at Denver. "Our senior class, the first game they played in was against Syracuse in the Dome. I wanted that bar to be set high.
"We're getting there. Hopefully, the last game they play in isn't against Syracuse."
The Orange, who prevailed 15-9 in that game three years ago, now face a team that can score goals in bunches. The Pioneers are led by Eric Law, Eric Adamson, and Canadian-born midfielders Cameron Flint, Wesley Berg and Jeremy Noble. Their skills in box lacrosse - an indoor form of the sport with walls and bounces and caroms - make the Canadian trio difficult to deal with. Look no further than Berg, who has 56 goals, including 12 in the tournament.
"They're all really good finishers," Syracuse attackman Kevin Rice said. "They can put up a lot of goals in a hurry. We're going to need to be very efficient on offense."
The coach concurs.
"They're a difficult team to prepare for, especially with their offense," Desko added. "You can talk to your defenders about their style, how they carry their sticks, how they're good off the ball, how they catch and shoot with quick releases. But until you experience it, it's a different-type player to cover. It's a different team than his Princeton teams."
The Pioneers will be facing an attack that is as well-balanced as any, a switch from the great Syracuse teams of yesteryear that always featured one marquee, go-to guy.
"There's no weakness in Syracuse. They scored three goals in three minutes to win that game (against Yale)," Tierney said. "We don't look at Syracuse and say there's anything weak. All we see is strength."
That's probably all Duke coach John Danowski sees when he looks at the Big Red offense.
Pannell and Mock have been unstoppable all season, and they've turned up the wick in the tournament. In last week's 16-6 rout of third-seeded Ohio State, Mock scored seven goals to increase his season total to 59, tops in the nation, and Pannell added two goals and six assists.
"We just know what each other is going to do," Mock said. "We're playing extremely unselfishly. We're moving the ball well, getting a ton of assisted goals, and we're shooting extremely well. We've been facing some good goalies and we've been able to capitalize on our opportunities.
"Hopefully, we can keep it going."
The seventh-seeded Blue Devils are 12-1 since starting the season 2-4, averaging 16.1 goals per game in that span, and they might have a little extra incentive in this one. Pannell, the favorite to win the Tewaaraton, needs just seven points to break the all-time NCAA career scoring record. The mark is held by Matt Danowski, the Duke coach's son, who had 353 career points from 2004-08 for the Blue Devils.
The NCAA final is on Monday.