Natalie Coughlin, Missy Franklin star at Santa Clara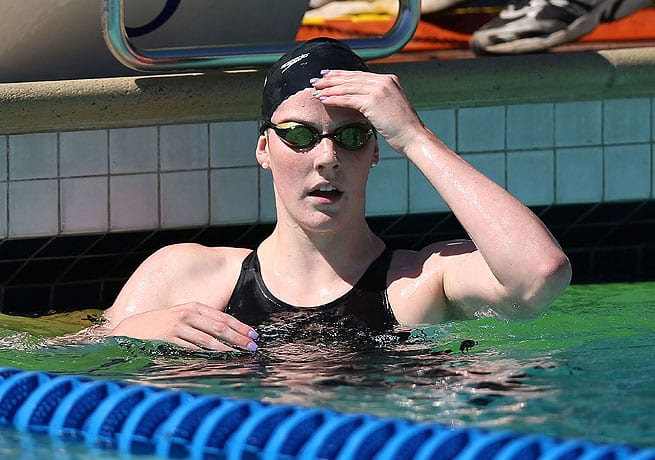 SANTA CLARA, Calif. (AP) -- Natalie Coughlin wants people to know she can still swim competitively. Teen star Missy Franklin is just getting started.
Coughlin won the 50-meter freestyle and Franklin took the 200 freestyle and 200 backstroke Saturday in the Santa Clara Grand Prix.
The 30-year-old Coughlin, a three-time Olympic champion, took the 50 free in 25.06 seconds. The 18-year-old Franklin, a four-time winner last year in the London Olympics, won the 200 free in 1:58.26 and the 200 back in 2:08.24.
Olympic star Ryan Lochte won the 400 individual medley in a meet-record 4:11.36 and took the 200 back in 1:57.51. Nathan Adrian set his second meet record in two days, winning the 50 freestyle in 21.76, and Connor Jaeger won his third event of the meet, topping the 200-free field in 1:49.14.
Coughlin, who failed to qualify for an individual event in last year's Olympic Games, has been training since the middle of January to gauge the possibility of another Olympic run.
"I think people think I should be having babies," said Coughlin, who has been married four years. "I wanted to continue swimming."
Coughlin felt she needed to end her swimming days on a better note than last year's Olympics, where she was limited to swimming one relay event, in the trials only, and a bronze medal.
"I'm better than that," she said. "I didn't want to end like that. I'm treating last year like a learning experience."
Coughlin said she got interested in the sprints as a way to change things up. She'll likely limit herself to one or two events as she moves forward.
"I'm training with some of the best sprinters in the world," Coughlin said. "It's something different and I find it interesting. I'm enjoying the process. I get bored doing the same things every day."
Caitlin Leverenz won the women's 400 individual medley in 4:40.05. Coughlin and Leverenz graduated from the University of California in Berkeley, where Franklin starts in the fall.
"I went over to Berkeley before I came here," Franklin said. "I got my classes and it was awesome just being on the campus. I'm looking forward to so much."
Franklin and Rachael Bootsma finished just ahead of Coughlin in last year's 100 freestyle Olympic trials, regulating Coughlin to the relay pool.
Franklin's victories were in back-to-back events, something she enjoys.
"It doesn't give me a lot of time to think," she said. "You just go and swim."
Adrian won his sprint in a field that included the world record holder in Brazil's Cesar Cielo.
"It's a solid time," said Adrian, who works out with Coughlin. "It's where I want to be moving into the trials."
The national championships and world trials will be held in Indianapolis late this month.
"As far as I'm concerned, the Olympics never happened," Lochte said. "Whatever has happened, is over and I can't do anything about it. All I can do is try to fix some of the small things."