CBS Sports Network to debut weekly all-female sports talk show
The rarest species in sports television is a woman offering her opinion. Your cable system is littered with bloviating Baylesses belting out hot takes, but it doesn't take Inspector Javert to recognize that the women in the medium are essentially restricted to anchoring or sideline reporting. Executives at sports networks talk a nice game about on-air equality but only ESPN has made an attempt to give its front-facing women significant (key word) airtime when it comes to opinion-based television. While ex-coaches and players blather daily on multiple sports networks, the women at those networks are mostly used in ornamental roles. Fox Sports 1's Katie Nolan hammered this point home here all too well.
So I give CBS Sports executives credit for executing a concept that's long overdue. On Tuesday, the network will launch We Need To Talk, a nationally-televised, all-female, hour-long, once-a-week sports show, airing at 10 p.m. Eastern on CBS Sports Network. The show's title is a mess but the quality of on-air staffers and behind-the-scenes people is first rate. If given time to develop -- and that should happen with the CBS Sports Network not yet rated for viewership -- We Need To Talk has the potential to be outstanding.
"I'm serious about this -- I want this show to succeed for all these little girls across the country who sit and watch baseball games with their Dads and Moms and want to get into this business and have been -- and I choose these words carefully -- relegated to three minutes during a football game," said Emilie Deutsch, one of the show's coordinating producers along with Suzanne Smith.
"It's time. It's time for women to have a real platform. It's time for women to have more of an opportunity than to be relegated to three minutes during a three-hour game. When you are a little girl looking for role models in television, this show will now hopefully provide that."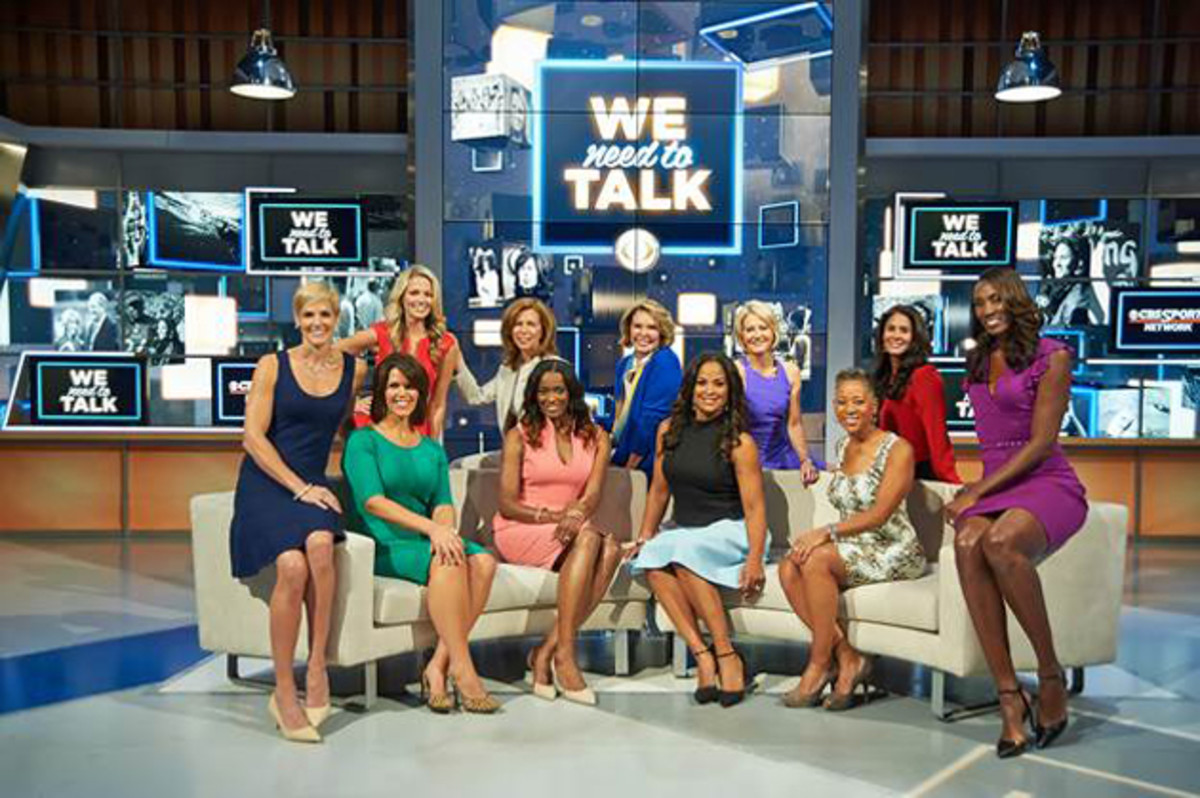 The show has 12 regular on-air commentators, including CBS Sports staffers Dana Jacobson, Allie LaForce, Amy Trask, Lesley Visser and Tracy Wolfson. There's also an Emmy award-winning journalist from another network (Andrea Kremer) and a host of former athletes (Katrina Adams, Laila Ali, Swin Cash, Lisa Leslie, Summer Sanders and Dara Torres), most of whom have post-athletic broadcasting experience. The debut show will feature 11 of the 12 staffers (Sanders is in Rwanda on a humanitarian mission), and on most weeks the producers say there will be four or five staffers plus guests.
"I wanted to do the show because it's historic, and kudos to CBS for the decision to move forward with this idea that so many of us have harbored for years," said Kremer, who works for HBO Sports and NFL Network. "We've always had these conversations about sports -- it's nothing new to us. The public just gets to hear it for the first time."
"This show is really a pivotal moment in sports television but ultimately the show should be judged based on the quality of the show," said Trask, the former CEO of the Oakland Raiders. "It's going to be a quality show or it's not. We hope it will be intellectuality-stimulating, thought-provoking and evocative, but ultimately it needs to be quality. What I like about it is it's definitely not a show about women's sports. It is a show about sports and the overlap of sports and society, hosted by women, produced by women and directed by a woman."
Smith said the debut show will lead with two segments on the NFL, including the league's domestic violence issues. A typical show will address the news of the day or week in the opening segments, followed by a social media segment and a segment in which staffers talk about their personal experience in relation to a story. The final segment will be titled "We Need To Listen," and center on an opinion given by someone outside the show that week.
Charissa Thompson on her career path, women working in sports media
​Talk will not have a traditional host. Instead, the staffers with hosting experience (for example, Kremer, LaForce, Jacobson, Visser, and Wolfson) will bring the show in and out from commercial breaks. The show will often feature male guests -- including athletes, coaches and sports executives -- as well as other female reporters and television personalities from CBS and other networks. An ESPN spokesman said on Tuesday the network would be open to having one of its staffers appear as a guest on a case-by-case basis depending on availability.
"We want our group to bring a women's perspective when it's appropriate," Deutsch said. "We want them to talk as daughters, wives and mothers. But the bottom line is these guys can hold their own with anyone in sports."
CBS management has supported the show with promos that have run during Thursday Night Football, its SEC coverage and NFL pregame programming. How will management determine if the show is a success or failure?
"We're looking forward to smart discussion, a fun atmosphere, with well-informed and unique perspectives," said CBS Sports president David Berson. "If we achieve that, the show will be a success."
Smith is close with Hall of Fame tennis player Billie Jean King and she's been using one of King's famous sayings to motivate her staff. "I tell them pressure is a privilege and is a privilege for all of us to have the opportunity to this show," said Smith, one of the quality people in the business and the lone woman to direct NFL football on television.  
"Women don't always root for women in this business," added Visser, "but I believe everyone here is rooting for each other for this to succeed."
THE NOISE REPORT
SI.com examines the biggest stories of the week in the sports media:
1. If you check the Twitter accounts of some Grantland staffers, you'll notice something interesting:
They have not tweeted since Sept. 24, the day ESPN management announced the suspension of Grantland editor-in-chief Bill Simmons.
An silent act of staff solidarity? An O Captain! My Captain! nod to their Lech Walesa? An example of me spending too much time on Twitter?
Bill Simmons: A deeper examination of his suspension from ESPN
​Well, Wesley Morris, the fabulous Pulitzer-Prize-winning culture writer for the site, tweeted "This account is suspended" on Sept. 24 and has not been seen on Twitter since. That was also the last day top editor Dan Fierman tweeted. [Update: The cheeky Fireman tweeted this morning.] Staff writers Rembert Browne, Jordan Conn, Robert Mays, and contributor Bill Barnwell also went Twitter silent on that day. Staff writer Kirk Goldsberry has not tweeted since Sept. 22. 
I do know that Grantland staffers were told to be careful about any Simmons-related tweets (not surprising and good advice in this climate) but whether those who are not tweeting are coordinating with each other, I cannot confirm for certain. Fierman did not return an email from Sports Illustrated and the Grantland staffers I reached out to --  like modern-day Brienne's of Tarth – would not reveal anything.
2. TBS announced its broadcasters for the American League Division Series. Ernie Johnson will do the play-by-play for the Angels-Athletics/Royals series with analysts Ron Darling and Cal Ripken and reporter Matt Winer. Brian Anderson will call the Tigers-Orioles with analysts Dennis Eckersley and Joe Simpson and reporter Jaime Maggio. The TBS pregame show will be hosted by Casey Stern (he replaces Keith Olbermann) and features analysts Pedro Martinez and Gary Sheffield.
2a. TBS will televise the AL Wild Card Game between the A's and Royals on Tuesday night at 8 p.m. ET. Johnson, Darling, Ripken and Winer are on the call.
2b. MLB Network will televise Game 2 of the National League Division Series between the Cardinals and Dodgers in L.A. The broadcasters include Bob Costas (play by play), Harold Reynolds, Tom Verducci and Ken Rosenthal MLB Network will also televise a second NLDS game on Oct. 6 between the Nationals and the winner of the National League Wild Card game between the Pirates and the Giants.
3. Why the decision to call the show We Need To Talk? Deutsch said she liked the title because "it has a double meaning and also "it's what women will say to each other when there is something they need to discuss."
Pam Oliver opens up on Erin Andrews, demotion from Fox's No. 1 sideline gig
​3a.Wolfson said CBS vice president of studio production Tyler Hale reached out to her last summer, prior to the show's existence, to kick around ideas about a show hosted by women discussing the sports issues of the day. Wolfson said she and Visser had talked often about such a show over the years. That led to a summer brainstorming session with Adams, Jacobson, Trask, Visser, Wolfson and a number of CBS Sports executives, including Smith, and the concepts grew from there.
3b. On the subject of those on Talk whose primary job is reporting, Wolfson said leaving neutrality for opinion-making will not be easy. "You don't want to burn bridges or relationships," said Wolfson. "So it's going to be difficult but I'm okay with it. We don't get that forum all that often. I know I don't. My role is a sideline reporter on the NFL but here my role will be giving opinions and I will."
4. ESPN's College GameDay will make its first-ever visit to the University of Mississippi in Oxford as part of the buildup to No. 11 Ole Miss vs. No. 3 Alabama on Saturday. The show will set up on The Grove, one of the famous spots in college football. ESPN said the show has now originated from the campus of every SEC school except Mississippi State.
4a. Game Day has been to 50 of the 65 Power Five schools. ESPN PR said the show has not yet been to Louisville, Syracuse, Wake Forest, Virginia, Maryland, Indiana, Rutgers, Minnesota, Illinois, Baylor, Kansas, Iowa State, Cal, Washington State and Mississippi State.
5. ESPN's E:60 magazine show has its Fall season premiere on Tuesday at 8 p.m. ET. The episode features two in-depth NFL features on Chiefs running back Jamaal Charles and Seahawks cornerback Richard Sherman.