Celtics' history affords Brad Stevens freedom to rebuild at own pace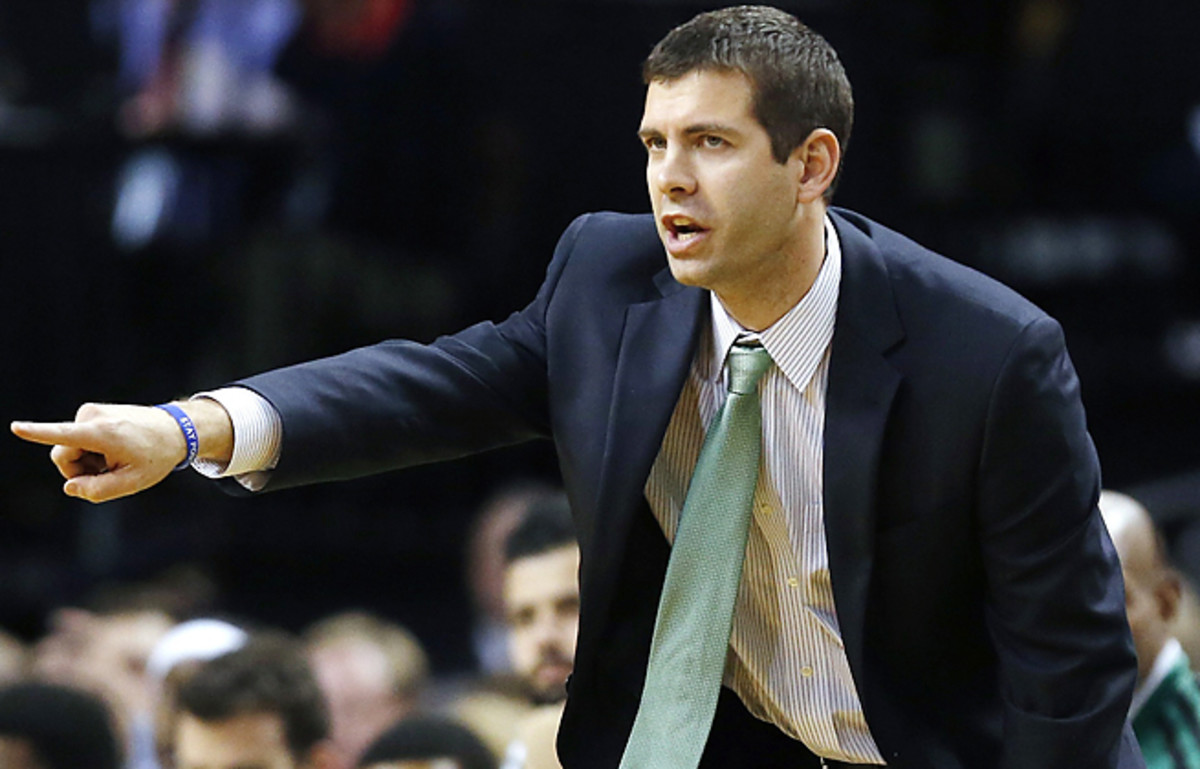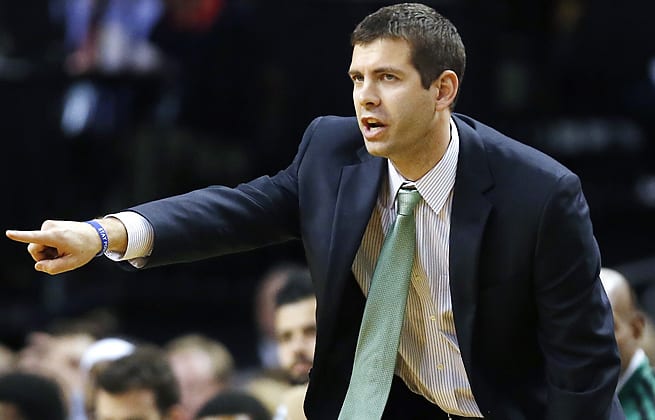 BOSTON -- For almost 30 minutes there was reason to believe things may not be so bad after all. But then a Celtics' 72-50 lead was slashed down to 10 points on a bad midcourt shooting foul by rookie Kelly Olynyk at the third-quarter buzzer.
"In the last six to eight minutes we played tight, I thought," Brad Stevens said after his first win at home had turned into a horrifying 105-98 loss to the rebuilding Bucks. "Instead of playing with a clear mind.''
It is easier to play with a clear mind when you have a reliable ballhandler and a defensive leader. The Celtics, who aren't built to win just yet, have neither, and into those vacuums leaped Milwaukee center Zaza Pachulia, a career 6.8-points-per-game substitute, to disrupt the game at both ends. After Stevens saw the Bucks outscore his team 34-15 in the fourth quarter, he stood at midcourt with his arms crossed and watched Milwaukee coach Larry Drew leave without a handshake or wave. There are 80 games still to go, and Drew had a plane to catch.
Consider the day 37-year-old Stevens had on the way to his homecourt debut. On Friday afternoon, he attended a statue unveiling to honor Bill Russell, who established the unreachable Celtics standard to which Stevens now aspires. That evening, Stevens walked into his new arena and looked up at the championship banners, all 17 of them won by a half-dozen of his coaching predecessors. Before the opening tip he watched Red Sox owners John Henry and Tom Werner hijack the court -- by invitation -- to raise the latest of the eight championships won over the last dozen years by all four major franchises in this spoiled, demanding city.
When Russell was honored at the end of the first quarter, Stevens declined to huddle his team in order to enable his players to watch a video tribute to one of their franchise's founding fathers. It was a dilemma of symbolism for Stevens that had zero impact on the game, but all the same it revealed the gulf of expectations confronting him now: Was he supposed to drop everything for a minute in order to honor the Celtics past, or should he have honored the past by focusing every last moment on trying to win?
The Celtics are embarking on a long, uncharted journey, and the trades that sent the old heart of their team to Los Angeles and Brooklyn for first-round picks were just the start. And yet, Stevens had his team positioned to win Friday. They were up 20-6 in the opening minutes as new center Vitor Faverani pursued a double-double of 18 rebounds and 12 points.
The Bucks' top two point guards were absent, but third-stringer Nate Wolters -- a second-round pick from South Dakota State -- was superior to any of the Celtics' playmakers. As much as Boston will miss the defensive captaincy of Kevin Garnett, it may be the absence of Paul Pierce's ballhandling that hurts most of all during Rajon Rondo's continuing rehab from knee surgery. Boston's assist-to-turnover ratio of 13-17 was telling; it's as if they're beginning an NFL season with Rex Grossman at quarterback. If the ball isn't moving then there is no secondary option.
"We got selfish,"said forward Gerald Wallace, a former All-Star who probably would be the next player to be moved to a contender if it weren't for his oppressive contract. "Instead of worrying about winning the ballgame, we were more worried about our stats and getting points. We went from a team that was moving and playing together in the first half to a team that was five individuals out on the court, everyone playing for themselves, and it showed on the defensive end ... I'm trying to figure out what's more important, winning or padding your stats.''
Stevens' day began with an interesting afternoon drive into the convoluted traffic patterns of downtown Boston. The unveiling of Russell's statue was already underway at City Hall Plaza as Celtics president Danny Ainge stood by talking to his new coach by phone. "I think he's trying to figure out how to get here," Ainge said, with a grin. Stevens showed up in time to attend the ceremony around the corner, where he received a crash-course in the Celtics tradition. Russell and the legends who traveled here to honor him spoke of qualities and values Ainge and Stevens can only hope to acquire and develop among their players over the years ahead.
This is going to be a season of perspective for everyone, starting with Stevens. His home debut was a night of mixed messages. "It's a big deal," Drew said of Stevens' first game in his new home. "When the moment finally gets here, it's a high level of excitement. You want to do well. You want your team to play well. I don't recall my first game, but I'm sure the excitement was there.''
How was that for perspective? Drew, 55, won his first game at home as coach of the Hawks three seasons ago and already had forgotten all about it. "I don't even remember it," said Drew, who was beginning his 31st NBA season as a player or coach. "What I do remember after that game was over was a sigh of relief, that that part of my coaching was over with. I had my first home win and I could move on.''
The home fans weren't booing the collapse, and maybe that was because they weren't surprised. Stevens walked the sideline calmly, chewing his gum and possibly thinking about how many future opponents are going to be more talented and experienced than these Bucks who were undressing his Celtics. The frustrations of Gerald Wallace figure to be contagious until Rondo comes back.
All the same, there is reason for optimism and it has everything to do with Stevens and the almighty goals confronting him. Nothing less than a championship will do for any coach who works for Ainge and the ownership group of Wyc Grousbeck. That ambition ought to be strangely liberating for Stevens, who knows he can return to the NCAA anytime he likes. If he had stayed at Butler he was never going to abandon the school he loved for a larger college program. But now, if things don't work out for him with the Celtics, he can move to whichever Division I opening appeals to him.
There is nothing for him or the Celtics to fear. Rival executives believe Stevens' six-year contract must have an offset that will take Boston off the hook for much of the money owed to Stevens if he should ever leave. The fact he is always going to have favorable options is a good reason to believe he won't have to leave. It is because he doesn't ever have to worry about saving this job that Stevens will be able to make the most of it. He can be himself, he can do what he thinks is right (like taking a couple of minutes from a game to show respect to Bill Russell) and he can attack this once-in-a-lifetime assignment with confidence that neither he nor his employer has anything to lose. It may turn out that his college background isn't a weakness but rather a strength that empowers him.
This was a strange night for optimism. How many rookie coaches have ever taken on so hard a job with nothing to consider but the upside? It is the fear and defensiveness and playing it safe that ruins many of them, but not in this case. Even as he scrambles to catch up and learn, even as the losses wound him deeply, Stevens is embarking on a season of unusual freedom -- and that strength to be himself could ultimately set him and his franchise apart.