The Brooklyn Nets begin anew
Just a year following their drastic acquisitions of Paul Pierce and Kevin Garnett, the Brooklyn Nets are already in need of rebuilding. Pierce is gone, signed away by the Wizards for the mid-level exception. Garnett lingers for some 20 minutes a night, bound by the wear of a 19-year career and dwindling offensive game. Shaun Livingston, the mortar of last year's team, left for the Warriors when the Nets' salary situation became restrictive to his earning power. Even the fanfare of Jason Kidd's turn as head coach has since been buried in his power play and astonishing exit. 
What remains doesn't much resemble the Nets of last season. All definition has been erased; even with 10 members of that team set to return, those three departing individuals (Pierce, Livingston and Kidd) gave Brooklyn most of its basketball form. The odd, misshapen team that came to test the Heat in the second round of the postseason was the product of their collective flexibility—Pierce taking to the power forward spot, Livingston enabling the Nets to control matchups and Kidd tactically leaning into his roster's weirdness. Brooklyn was far too slow and deliberate early in 2013-14, spurred to a shift by a fracture in Brook Lopez's foot. Had Kidd pushed forward in a positionally traditional set, the frontcourt pinch could have consumed the Nets' season. That circumstance instead gave way to an approach far more interesting and ultimately fleeting.
In total, only four of Brooklyn's five-man lineups logged 100 minutes or more last season. Each one featured Pierce as an undersized power forward. Smart differentiation has already been made between the Nets' adaptive style and the play of other small-ball outfits around the league, though the distinction is only possible because of Pierce. His defensive savvy, creative talent, shooting range and playmaking allowed those lineups to thrive; the weakest of the four still outscored opponents by 6.9 points per 100 possessions while playing stifling defense, per NBA.com. That Pierce could facilitate from the perimeter also enabled the inversion of Brooklyn's offense, giving room to Joe Johnson and Livingston to attack smaller guards in the post. 
Offseason grades: Atlantic Division
Livingston was wildly effective in that particular dimension, though he leveraged his size and length just as effectively in his eventual role as the Nets' starting shooting guard. On some nights Livingston was a requisite defensive stopper, able to handle assignments that Johnson and Deron Williams were unsuited for. On others he lay in wait to terrorize as a help defender; rarely was Brooklyn's defensive synergy more impressive than when the revamped starting five pressured opponents into turnovers on nearly a quarter of their possessions, catalyzed by Livingston's pesky jumps and reaches. Ultimately, Lopez's absence, Pierce's adjustment and Garnett's decline left the Nets lacking in certain respects. Livingston, who had been signed as a mere role player reserve, fulfilled many of them with startling proficiency. It was in his and Pierce's spots that Brooklyn bent most without often breaking. A season on the brink was redefined in their elasticity.
It's now the job of Lionel Hollins, who was introduced as Brooklyn's next head coach after Kidd's departure, to give the Nets a new architecture. Lopez, who was fully cleared for basketball activity last month, can fairly be presumed the crux if he's able. The hiring of Hollins, who last coached the Grizzlies to feature Zach Randolph and Marc Gasol, is pointed in that way; had Brooklyn intended to continue its veer away from a conventional alignment, Hollins likely wouldn't have been the hire. That he was should translate to healthy usage for Lopez and as confirmation of Brooklyn's philosophical movement. The weirdo Nets were born of Lopez's injury and will apparently die with his recovery.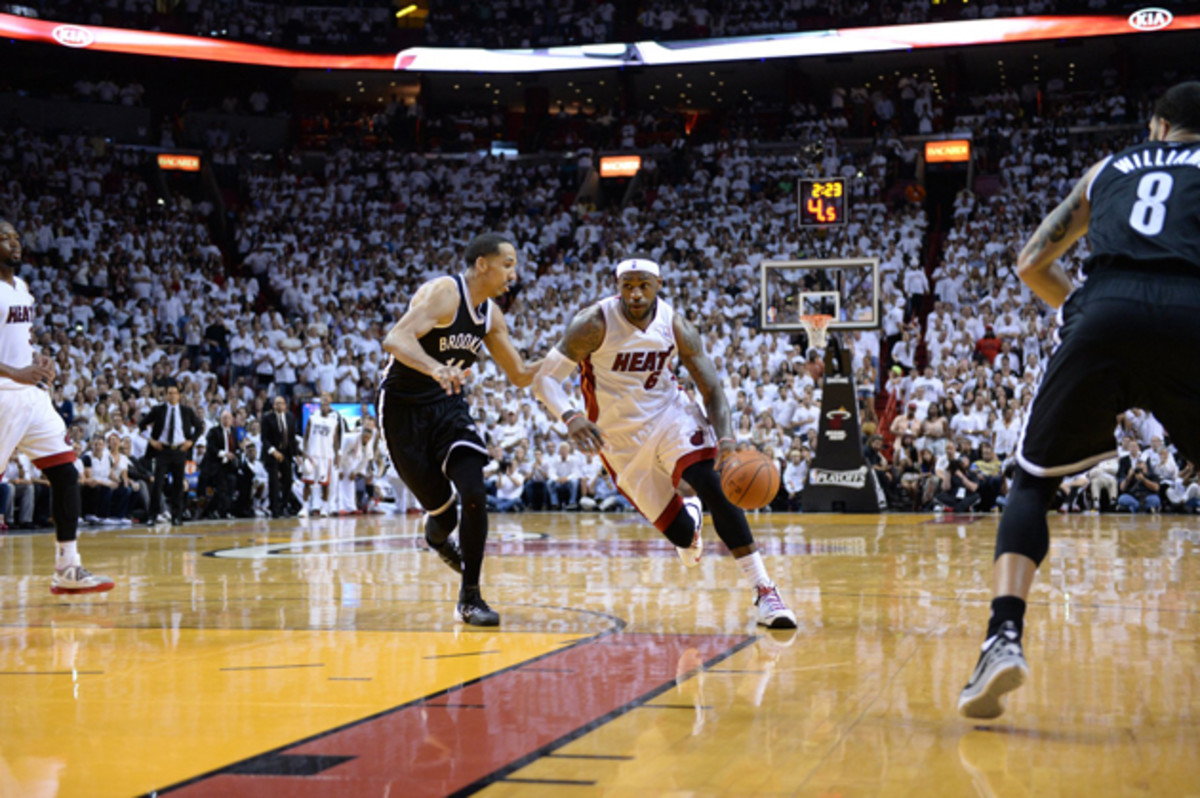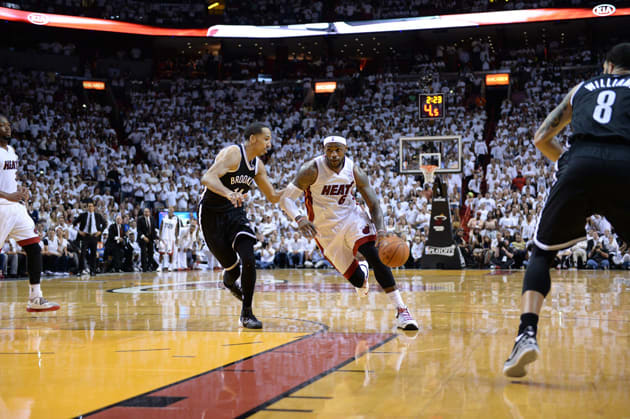 The problem, however, is that we've seen these Nets in comparable construction before. They didn't play under Hollins and the personnel has shifted a bit, but a similarly traditional team made for Brooklyn's early struggles last season: While Lopez was in the mix, the Nets went just 9-17. Hollins will undoubtedly have the Nets sharper in coverage than they were at that point, though to what end? That primordial version of the Nets built around Lopez, Johnson, Pierce, Williams and Garnett proved to be less capable and adaptable than the group that followed. Rebooting with Pierce replaced in composite and Jarrett Jack sliding in for Livingston doesn't much change the calculus in any positive way, leaving the Nets to rely on the idea that Hollins will make more of the pieces available than Kidd did. 
Lionel Hollins, Nets perfect pairing after both parties cast aside by exes
Success for Hollins is very possible, though whether he can get enough from this roster to the extent that warrants a playoff spot is another matter entirely. Brooklyn will enter next season stripped of its continuity and again at a reset, all while the rest of the Eastern Conference grows dramatically stronger in the middle. Cleveland and Chicago look to be the toast of the conference, with Washington, Charlotte, Toronto, Atlanta and Miami in a dead heat for the East's middle seeds. Assuming those seven maintain a playoff course, that leaves just one playoff spot between Brooklyn, Indiana (downgraded off of Paul George's season-disqualifying injury) and New York. There's reason to like the Nets' chances against that lot, though the prize at stake would only be a difficult series against a much better team. At this early juncture, playoff inclusion seems to be the caliber of prize Brooklyn's lavishly built roster will be playing for.
That's both a product of Pierce's exit and the Nets' prohibitive spending, which are on some level related. Brooklyn had the ability (via Bird rights) to make a competitive offer to Pierce but ultimately failed to bring him back. Livingston, in contrast, will pull a salary from the Warriors that the Nets were powerless to match due to his specific rights and the team's luxury tax standing. It's not a stretch, then, to say that the issues the Nets now face have been years in the making. That they were unable to even make a plausible run at a replacement for Pierce and that they had to settle on Jack (whose contract is a genuine burden) as a fill-in for Livingston were the results of the roster's financial construction. This is the reality that the Nets paid an unprecedented luxury tax bill for. It is the present that Brooklyn gave up three first round picks (along with the right to swap picks in another year) to Boston in order to create. Lopez's injury was an unfortunate stroke of luck and Pierce's exit somewhat surprising, yet none of that changes the fact that Brooklyn's current station is a bitter pill.
And so the Nets swallow hard and begin again. There's a lot left to figure out, not least of which whether Brooklyn will carry Pierce's proud defiance even after he's moved on. To the extent that we could identify one single leader of last year's team it was Pierce—the star more vocal than Johnson, more cogent than Garnett and more steady than Williams. The approaches of Hollins and Garnett, in particular, hit some of the same notes, though the team's identity most recently hinged on the ways Pierce played and led.
Perhaps Brooklyn works out an entirely new way in an entirely new structure. Maybe Hollins, with a more widely capable group of shot creators than he ever had in Memphis, can steer this group through fresh means toward two-way dependability. All of the most hopeful possibilities, though, rely on the same long assumption: That Brooklyn, in yet another rebirth, can access some of the magic that eluded a more talented roster a year ago.