Bucks' Larry Sanders tries to find footing after season-long spiral
After a season-long spiral, Bucks center Larry Sanders is armed with a new blueprint and vivid memories of letting himself and others down. Will that be enough to guide him where he wants to go?
PORTLAND, Ore. -- Public Enemy No. 1 in the NBA describes himself as "a helper." He cradles a pillow as he expresses his love of trees. He eagerly leans forward to laud fashion designer Alexander McQueen and to lay out his plan for starting a summer arts camp for kids. Bucks center Larry Sanders is complicated, a proud square peg in a league whose culture is often corporate and conformist.
As Sanders, 26, has learned, the slopes get slippery when tens of millions of dollars and the future of a franchise are at stake. A "noncomformist," especially one with anger-management issues that require daily maintenance, can quickly become an "outsider." Once there, it can be a fast, hard fall to "disappointment," even "pariah." In August 2013, Milwaukee rewarded Sanders for his defensive impact with a four-year, $44 million rookie extension, and his above-the-rim blocks earned him a cult following on social media. Less than a year later, Sanders was persona non grata, the face of a 15-win season and a player whose laundry list of issues -- a nightclub brawl, animal-cruelty citations and a drug suspension -- ran far longer than his highlight reel.
Sanders quickly went from being hailed as a foundational piece for the Bucks to being derided as untradable. He went from being a potential Defensive Player of the Year candidate to a guy who barely contributed thanks in part to a thumb injury he sustained on the same night he was caught on tape heaving alcohol bottles at strangers. He went from being an intimidating paint presence to a player whose season slipped away amid locker-room squabbles and confrontations with referees.
How did Sanders get to the point where he was drawing comparisons with Metta World Peace and Dennis Rodman?
"If you want to get to know a person, Sanders said, "talk to the person."
2013-14: A rough start
That talk took place at the Bucks' hotel in Portland on Tuesday, a few hours before forward Jabari Parker, Milwaukee's Rookie of the Year candidate, was officially lost for the season because of a torn left ACL. Sprawled out on a long, cream couch with the city's massive downtown Christmas tree looming over his right shoulder, Sanders sounded like a person who knows his words won't be able to repair the damage he's caused. But he also said he spent much of the summer reflecting on what went wrong.
What Jabari Parker's injury means to Bucks in short term, big picture
"It was a very long year," Sanders said. "It felt like four years. When my birthday came, I was like, 'Only a year has passed?'" 
Sanders recently took up painting as a hobby, and his picture of the 2013-14 Bucks belongs next to Francisco Goya's Black Paintings in the museum. Every major variable that might affect his success -- an uncertain ownership situation, the arrival of coach Larry Drew, his teammates, his health -- was off. Simultaneously, he was facing real expectations and pressure for the first time, thanks to his extension and a trip to the 2013 playoffs, his first postseason appearance since being drafted 15th in '10.
This wasn't quite Maloofs-in-Sacramento dysfunction, but it was messy. Owner Herb Kohl was failing in his quest to strike an arena deal with Milwaukee to replace the Bradley Center, which opened in 1988 and was deemed by NBA commissioner Adam Silver to be "too small" and short on modern amenities. Relocation rumors picked up for a franchise that had struggled at the gate and advanced in the playoffs just once since 1989. 
"The atmosphere trickles down from the top," Sanders said. "No one was really settled. It's really hard to play in that atmosphere, to be fully bought in."
Meanwhile, the roster around Sanders was constantly changing. After the Bucks were swept by the Heat in the 2013 first round, four of the team's five leading scorers -- Monta Ellis, Brandon Jennings, J.J. Redick and Mike Dunleavy -- departed. (The fifth, forward Ersan Ilyasova, began dealing with injuries almost as soon as the next season began.) That summer's major veteran additions -- O.J. Mayo, Caron Butler and Zaza Pachulia -- made little impact. Brandon Knight, Jennings' replacement at point guard, was still getting up to speed in his third season. A jumbled roster lacked chemistry, dependability and a clear pecking order.
"There were so many individual situations going on that we could never really be a team," Sanders said. "My first three years, the team changed dramatically every year. Ten guys gone [one year], seven guys gone [the next]. We were searching for that feeling of camaraderie, and no one was settled from the top to the bottom."
At the helm was Drew, hired to replace interim coach Jim Boylan, who took over when Scott Skiles was fired during the middle of the 2012-13 season. Drew was Sanders' third coach in 10 months, and reports began surfacing early in the season that player and coach were clashing over Sanders' role.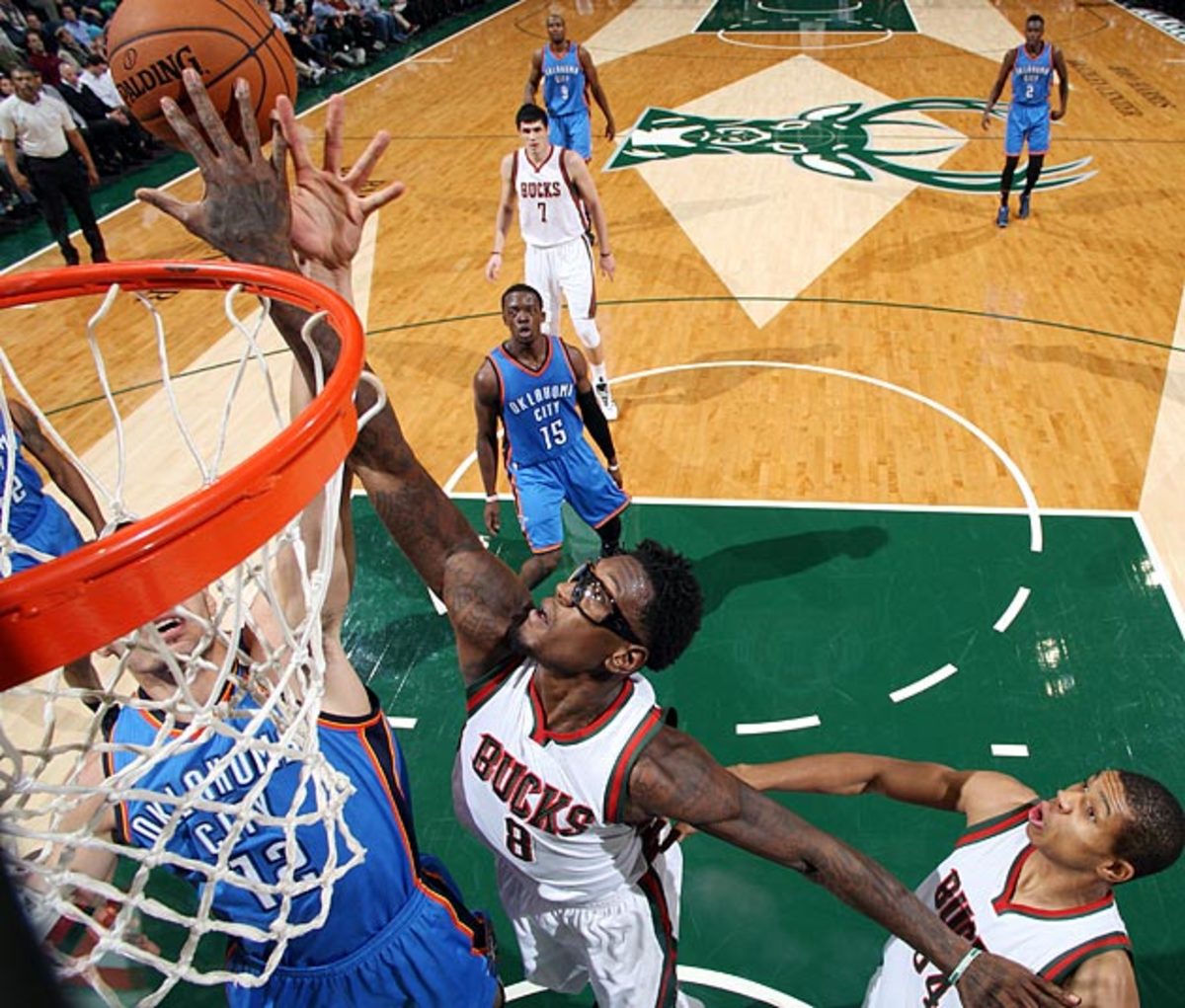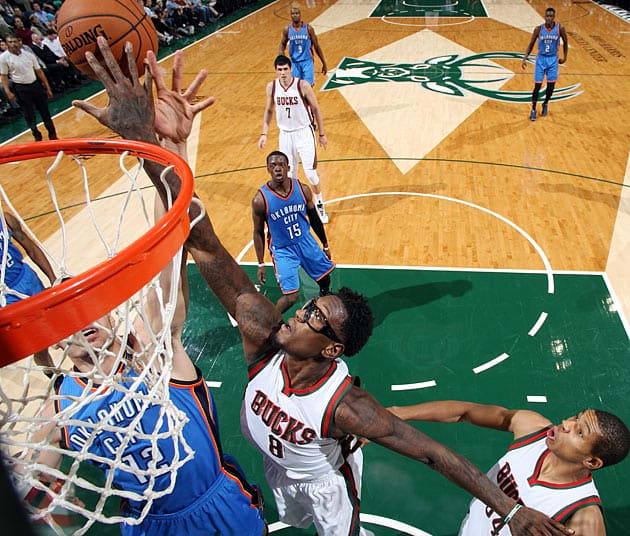 "We come off a playoff year, and then I'm not playing as much and I'm not playing as well," Sanders said. "The frustration starts to set in. I'm trying to figure things out and I have no communication with the people above me. That's my fault. I learned that. No one can read my mind. I have to communicate how I feel."
Sanders went scoreless while playing just 12 minutes in a season-opening loss to the Knicks, but his early-season struggles would soon be dwarfed by his off-court headlines. With the benefit of time and reflection, Sanders now believes that his inability to find common ground with Drew contributed to the problems that followed.
"[The lack of] communication led to displaced emotions and outbursts," he said. "It wasn't good emotional management. I lacked the ability to address those emotions, express those emotions and digest those emotions. It was all held in."
2013-14: A fight at Apartment 720
The pent-up emotion bubbled over on Nov. 3, less than a week into the season. Sanders was at Apartment 720, a Milwaukee nightclub, when a fight broke out. Surveillance video shows Sanders scuffling with a group of men, throwing glass liquor bottles into a crowd after the initial incident had cooled, and attempting to punch a man who had jumped on his back. Bystanders are seen scurrying, and one young woman appears to try to grab a bottle out of Sanders' hands to stop him from throwing it. Things only got worse when a thumb injury sustained during the fight required surgery that sidelined him for six weeks. Sanders, off to a slow start after signing a new contract that came with leadership expectations, couldn't have generated a more sensational story if he had tried. 
"I was trying to indulge in the luxury of being able to walk around freely," Sanders said. "At that point, I didn't have a bodyguard. I didn't want my friends to walk around everywhere with me. I wanted to be on my own and talk to people. I was caught off guard."
In a 2013 profile for Sports Illustrated, Lee Jenkins wrote that Sanders' father regularly beat his mother when Sanders was a child in Vero Beach, Fla., forcing mom and son to flee and live for a time in a shelter. Sanders was "terrified" that the experiences would desensitize him to violence, to the point that he would accept it in his own life. Feeling "targeted" at Apartment 720, Sanders responded, receiving a taste of that terror in the process.
"If you wait until the point of attack to try to counter, it's too late," he said. "You're not approaching the situation with the right parts of your mind. You feel attacked. You go to your natural, instinctual reactions rather than your cognitive reasoning. I learned that I have to be prepared [to be a target]. Thankfully, I learned that in a way where I didn't have to go to jail, no one got arrested, no one got seriously injured. It was a very valuable lesson learned."
Watching tape of the fight, Sanders sees the same guy who has lost his cool with referees, the guy who accrued 14 technical fouls and a league-high five ejections in 2012-13. He has a hard time believing his eyes. 
"Every time I get ejected or look at film of me arguing with the ref," Sanders lamented, "I say, 'Why? How?' I've done so much preparation before games trying to center myself so I won't get into that dispute. But it would still happen. I hate watching it. I would say to myself, 'My hero wouldn't react that way.' And I want to be my hero one day. I want to work my way up to being what I see as a great man. A great man wouldn't react like that."
Even Sanders' most famous ejection, when he gave the thumbs-up sign to all three referees during a March 2013 loss to the Wizards, is remembered with regret rather than humor.
"J.J. Redick showed me the video and he was cracking up," Sanders recalled. "The video went viral. It was a rough game and I felt like the calls were crazy. But if I could choose any way to respond, it would be to not respond at all."
Though tape of the nightclub incident wouldn't surface for a few weeks, the thumb injury and a police investigation into the altercation forced Sanders to confront what had happened immediately. (Sanders was cited for disorderly conduct and assault and battery but didn't face criminal charges.) Less than three months earlier, after signing his new deal, Sanders had written on Instagram that he was glad the Bucks had shown "faith in me as a leader." He added, "I won't let you down Mil-town." Now, he was trying to piece together the night's events and explain what had happened to Drew and Bucks general manager John Hammond. 
"[Hammond] preached that with the responsibility that I have, I have to be prepared," Sanders said. "You can't go into a situation and respond and react. You have to understand not only how you view the world but how the world views you. That was something I had shied away from."
Sanders later apologized to Kohl, Bucks fans and his teammates, but he understood that the damage was done.
[pagebreak]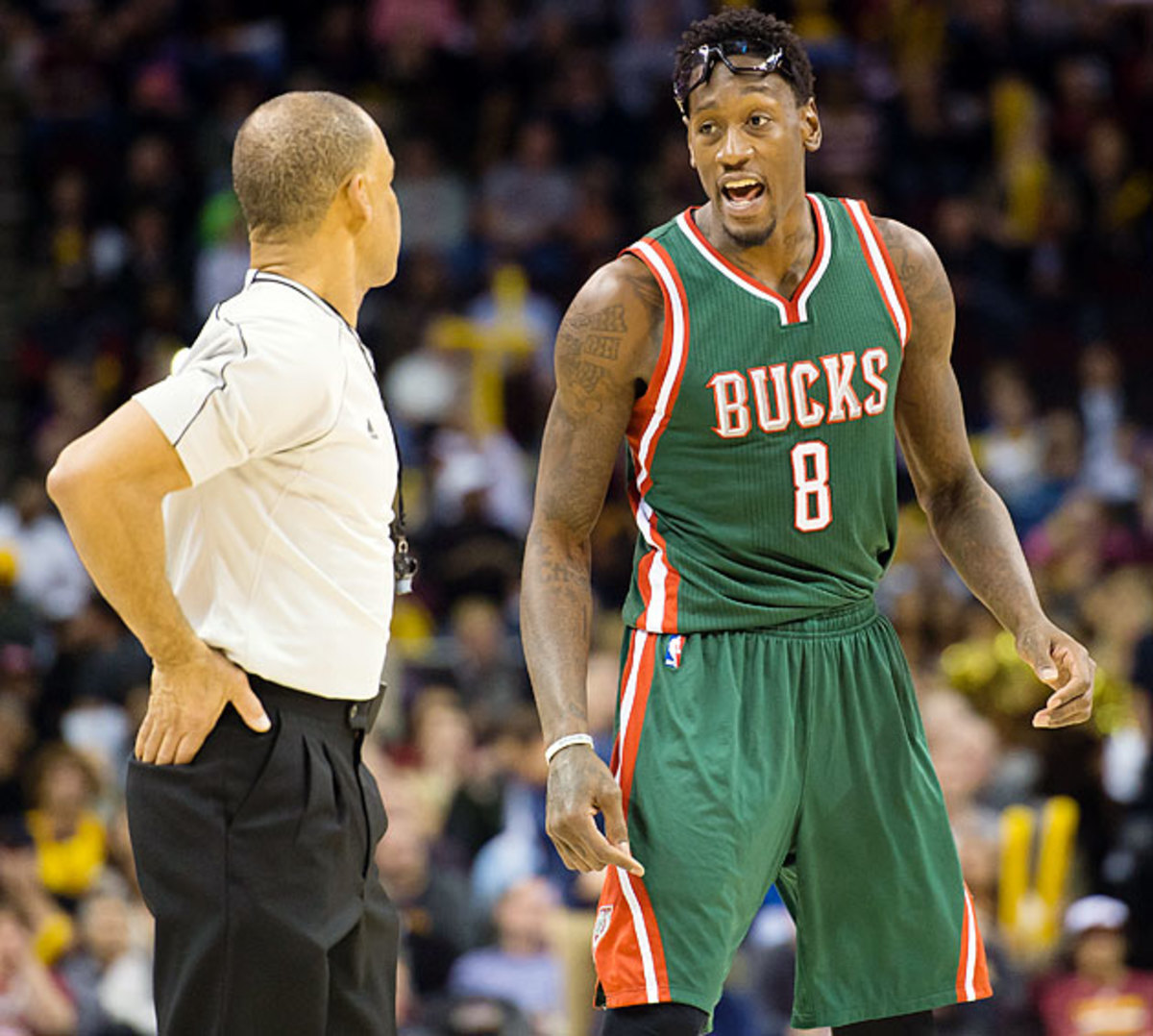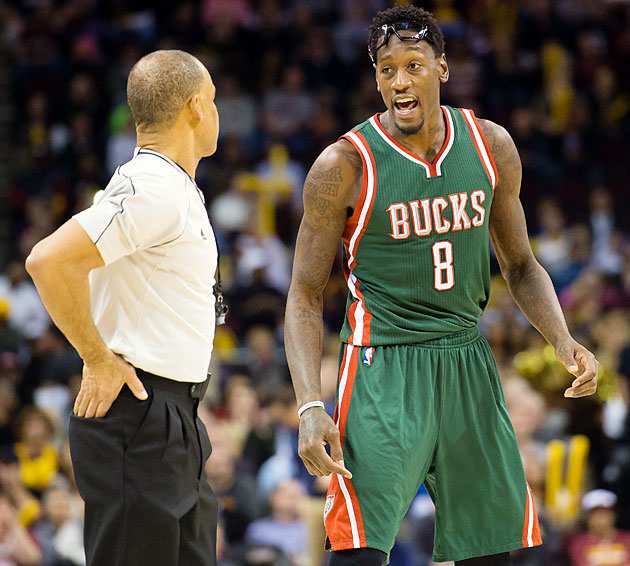 2013-14: Locker-room drama
By the time Sanders returned, on Dec. 27, the Bucks were 6-22. Their season was all but over. Sanders' presence didn't spark Milwaukee, which lost 11 of its next 12 games.
One week into his comeback, the Milwaukee Journal Sentinel reported that Sanders and teammate Gary Neal engaged in a shouting match in front of reporters after a blowout loss to the Suns in Phoenix. Neal reportedly asked Sanders why he wasn't earning his paycheck, while Sanders took issue with Neal's attitude.
Sanders views the spat less as an argument between teammates and more as a fight over the Bucks' identity.
"[Neal] wasn't really coming at me; he was coming at the team," Sanders said. "He just said something out loud generally and I was really sick of it. You can only throw so much negative stuff out there. The negativity was a huge part of us not being successful. A lot of people had negative emotions and negative thoughts. I believe the game rewards those who sacrifice, want to win and stay positive, those who aren't selfish. You have to be encouraging when someone else on your team is successful."
Sanders indicated that the blowup wasn't out of the ordinary for a team that was losing aimlessly.  
"There were so many personal conflicts," Sanders said. "We weren't having much success, so we went a lot to the young guys to let them flourish. A lot of the older guys weren't very happy about that.
"That [exchange] was a situation where [Neal] impulsively reacted after a game. A back-and-forth happened and then it calmed down. It never got physical. The whole message behind it for me was, That's not a team. That's just not a team."
Neal was dealt to Charlotte at the February trade deadline, even though Milwaukee had signed him to a two-year, $6.5 million contract the previous summer.
2014 offseason: A chance for space
As the Bucks sputtered to the league's worst record, Sanders missed more time when an elbow from Rockets guard James Harden fractured his eye socket on Feb. 8. While sidelined, Sanders was suspended five games for his third positive test for marijuana. He apologized for the ban, which he served during the final five games of the season, but he also made headlines for expressing his belief in the medical benefits of marijuana.
Hours before Milwaukee's season finale, Marc Lasry and Wesley Edens agreed to buy the Bucks from Kohl for $550 million. The Wall Street investors wasted no time getting to work on the turnaround project. Four days after selecting Parker with the No. 2 pick in the June draft, the Bucks fired Drew after agreeing to send two second-round picks to the Nets for coach Jason Kidd.
Many observers recoiled at the organization's apparent lack of tact during the coaching change. Sanders, however, was pleased that the new owners were so engaged and proactive as the Bucks moved on after 29 years under Kohl. Edens even invited the team to his summer home on Martha's Vineyard in Massachusetts.
Open Floor: Bucks booming after big makeover, Knicks' debacle and more
"Their freshness and excitement, their success in different areas and their willingness to be involved with all of us personally was something I had never felt before," Sanders said. "It was refreshing. The owners took that first step toward us."
The timing of that extended hand from ownership couldn't have been better, given Sanders' rough season and the communication breakdowns he had been a part of early in the season. This tone-setting would have a clear carryover effect, as a number of players, including Sanders, participated in group offseason workouts in California. 
Sanders devoted much of the offseason to improving off the court. He kept a daily journal and constructed a communication routine to avoid letting his emotions boil inside. Sanders also told himself that he was still able to contribute to his community despite the season-long drama. In so doing, he was reminded that his journey to the NBA was improbable. He had come late to the game, never playing AAU until his senior year in high school. If not for his breakout as an upperclassmen, Sanders was planning to pursue a career in architecture or graphic art.
"There was ITT Tech or this community college down the street," he said. "I was hoping to get a scholarship or a grant. [Then] the basketball recruiters started contacting me. I had to decipher what a D-I and a D-II and a D-III was.
Sanders also came back to one more memory from his youth in Florida, a scene that still puts a smile on his face.  
"The first basketball game I attended was a Heat game," Sanders recalled. "Alonzo Mourning got all the kids to come down to the court and he signed autographs. I thought, Man, if I can go to the NBA, I'm going to be this guy. I actually told [Mourning] about this when we played Miami. He was so inspiring, just off of the pure respect he gave us as kids. Right then, I really felt the power of an NBA player."
The vignette says a lot about Mourning, a Hall of Fame inductee this year, but it also tells a second story, left unsaid, about Sanders. It's impossible to have a Mourning-like impact when you make a series of mistakes and struggle to contain your emotions. And it's really hard to regain the public's trust once it's broken.    
Sanders continues to work through a repair process that started with his apologies. He believes that the criticism and venom he has received from fans and media members isn't reflective of permanent feelings, and that dwelling on the negativity would run counter to his growth process.
"I think people take a pounding, man," he explained. "I think they take a pounding by society, and they look for relief. There's a lot of relief in comparing yourself to someone who isn't doing as well as you, or who seems like they're not doing as well as you. I don't think that's a natural thing at all. I think it's due to [society's] influence. If I get my mind wrapped up in other people's perception of me, or things I can't control, I would lose focus."
2014-15: Back to basketball
Kidd's arrival, as awkward as it might have been in its opening days, has been a game-changer. With his championship experience, Hall of Fame-worthy credentials and enthusiastic responses to his players' success, Kidd has made an instant impact. He was the no-brainer choice for the East's Coach of the Month in November, and Milwaukee (14-13) entered Friday's play sixth in the conference during a season that was supposed to end with another high spot in the lottery.
There is no clearer sign of Kidd's locker-room savvy than his handling of Sanders. Kidd has asked Sanders to cede playing time (to accommodate the 30-year-old Pachulia) and shots (so that the offense runs through Milwaukee's skilled perimeter players). That sounds like a tough sell, especially considering Sanders' tension with Drew, but Kidd has managed it through direct communication and by appealing to Sanders' defensive mind-set and desire to win.
"I like how I'm being used," said Sanders, who is averaging 21.3 minutes compared with 25.4 last season and a career-high 27.3 in 2012-13. "We've had success, so the [minutes] aren't a bad thing. … Kidd preaches defense all the time. That's who we are, a defensive team. He looked at the tools he has with us and understood that defense is where we're going to win games."
Sanders is averaging 7.2 points, 6.0 rebounds and 1.4 blocks in his slightly reduced role. Milwaukee has jumped from 29th in defensive efficiency last season to 10th this season, thanks to an aggressive approach on the perimeter that has Sanders and Pachulia, both 6-foot-11, regularly providing cover for their inexperienced teammates. For the first time in years the Bucks are flying around on a night-to-night basis, rather than simply going through the motions.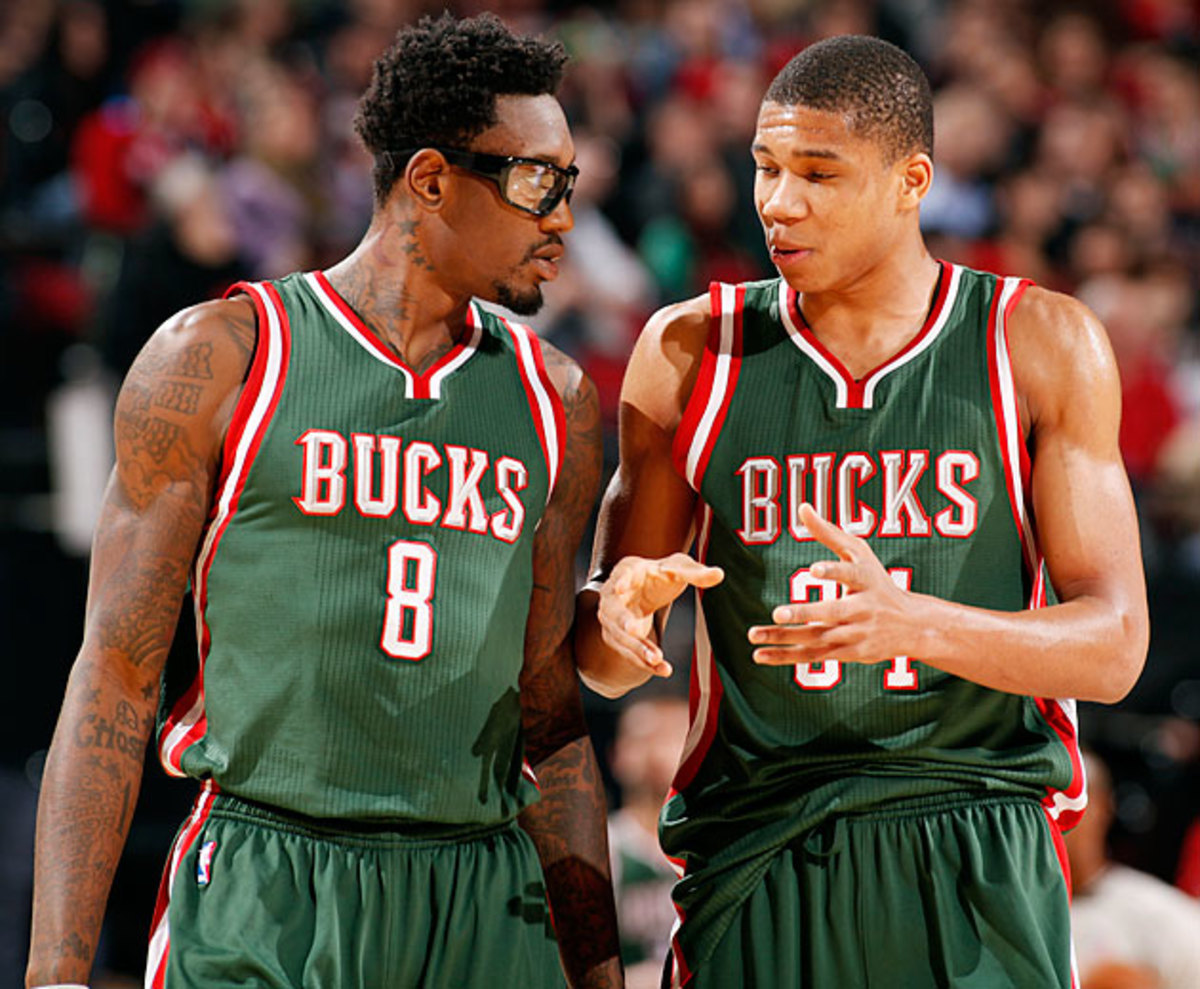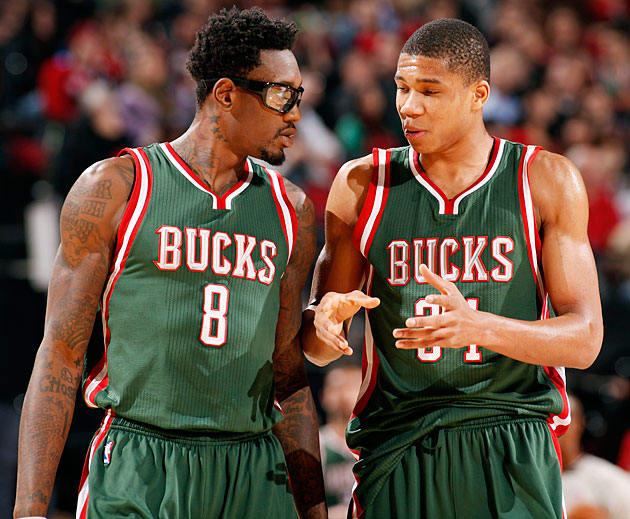 "[Kidd] puts a lot of trust in me," Sanders said. "He pushes me to do more, to say more, to be more. It's everything I would want. … He wants me communicating, anchoring the back line, sacrificing some personal success and just being a big brother to guys. I feel really fulfilled doing that."
The big-brother duties were on display during a Nov. 29 game against the Rockets. A frustrated Giannis Antetokounmpo got into Harden's face, prompting a light shove in response. Instantly, a goggles-rocking Sanders came barging into the picture, grabbing Harden's arms and briefly jawing nose-to-nose with the All-Star guard.
"Giannis was being immature," Sanders said with a laugh. "I didn't want him to get attacked. I have to remember that [Antetokounmpo] is [20]. He's playful. That's a small example of [helping a teammate], but a lot of it is personal communication and knowing everyone else's assignments so that I can help guys get into better position. I really want to be a guy that other guys lean on."
Empowering Sanders as a defensive leader required some faith on Kidd's part, but it was worth a shot. Entering the season, Sanders' shot-blocking was one of the most obvious strengths on Milwaukee's young roster. Plus, to put it bluntly, the Bucks would have needed to think seriously about Sanders' future role if he wasn't up to the task.  
Thanks to his athletic, high-flying basket-minding, the Bucks' defensive rating improves from 104.2 when Sanders is off the court to 100.2 when he is on it. He credits his timing, long arms and aggressiveness for his shot-blocking ability, but he enhances those natural gifts with modern study methods. Before games Sanders watches tape on how his counterparts use rhythm dribbles or fakes to set up their shots, and he checks out their hot spots on the court. He also digests team shot charts to determine how often he will be tested inside.  
"I like the percentages," he said. "If I know a certain percentage of their shots come from the paint and then they take three straight jump shots, I know they're going to attack the paint the next time down."
If there's anything he would change about his game, it's his foul trouble. Sanders, who has committed a league-leading 95 fouls, acknowledges that he often is too "amped" early in the game, even though he knows it will be a long night if he picks up two fouls in the first quarter. Like every physical big man since the peach basket days, he believes that referees call the game too tightly.
"They won't let me be too physical," Sanders said. "If I were in an open gym with these guys, they wouldn't call these fouls. They would be like, 'Here, it's your ball.' I know my aggression is a strong suit, and I try to harness it. But I need to keep myself on the floor. That's something I'm struggling with right now."
2014-15: What's next?
"Work in progress" is a ubiquitous phrase in the NBA, and it certainly applies to Sanders. During the fourth quarter of Wednesday's loss to the Trail Blazers, Sanders was called for a flagrant foul for shoving Nicolas Batum as the Portland forward dunked. Afterward Sanders sat silently in front of his corner locker, clutching his head with both hands for several minutes. The next day the league suspended him one game, another video replay that he would hate to re-watch.
Milwaukee defeated the Kings on Thursday without Sanders. The 108-107 victory in Sacramento ended with Kidd bear-hugging Pachulia to celebrate a last-second defensive stand. It was another gutsy performance for the Bucks in the wake of Parker's injury, with Antetokounmpo playing 37 minutes despite spraining his ankle against the Blazers. Wins like this contribute to the growing perception that the Bucks could ride their hot start to a postseason appearance. Having survived disorienting expectations, a roller coaster season and years of discord, Sanders would rather not entertain the playoff talk.
"To say that our goal is to make the playoffs doesn't make sense to me," he said. "We have to focus on the recipe. The goal has to be, What are we going to sacrifice? Are we going to talk to each other? If we're having a bad day or a bad game, are we going to support each other? The recipe is our focus, and then you wake up to the playoffs, or wake up to a championship. That's what good teams do."
This same "process, not results" mantra is guiding him, day by day, as he works to stabilize his life, rebuild his reputation and write the next chapter of his career. The new owners' joy and commitment have changed the climate. Hammond's reminders to Saunders to prepare himself before acting and to consider how others view him help sharpen his focus. Kidd's daily guidance and trust will continue to be critical. A roster built around a young core group should provide structural support.
But Sanders' future is on Sanders, and he seems to know that now in a way that he might not have 12 months ago. From his experiences, Sanders has crafted an idealized form of himself, the "hero" character he referred to when he described how he wants to act more calmly during disputes with referees.
"My hero is a calm guy," Sanders explained, reciting his core principles as if he were reading the Bill of Rights. "He loves children. He has a sense of spirit about him, a sincerity about him, an honesty that demands respect. His approach to people doesn't change. My hero understands true value. We're bombarded with so many things, like money and luxury, which look like happiness or fulfillment, but my hero knows that's false.
"My hero keeps getting better. He's not perfect. He keeps pushing. My hero doesn't settle on ideas because there's nothing set in stone. My hero is definitely a thinker. I can only be an athlete for as long as the body holds up. My hero is for a lifetime, until I die."