NBA Mock Draft 3.0: Mudiay tumbles, Porzingis to Knicks in new projections
SI.com's latest Mock Draft has plenty of movement in the top 10, including a tumble by Emmanuel Mudiay.
For the next two weeks, NBA prospects will be immersed in the most important phase of the draft process: Individual workouts. For players that participated in the draft combine, it will be a chance to enhance (or make up for) a pre-draft performance. For players that didn't—and that group includes most of the top prospects—it's a teams first, and possibly only, up close look before making a selection.

How impactful are individual workouts? Ask Elfrid Payton, the little known Louisiana-Lafayette star who rode a series of stellar workouts all the way to a lottery selection last June. This year's workouts could be particularly influential, with several of the top five spots still very much up for grabs.

Onto SI.com's Mock Draft 3.0:
• MORE NBA: Draft rumors | LeBron: Best Finals ever? | Curry struggling
RECORD: Kentucky, Freshman | 6-11, 250
• SI ROUNDTABLE: Okafor or Towns at No. 1?
2. Los Angeles Lakers
RECORD: Duke, freshman | 6-11, 270
• MORE NBA: Kobe reacts to lottery results
3. Philadelphia 76ers
Predictably, the Sixers have been quiet on this. The expectation remains that they will take a point guard, with Russell and Mudiay as the targets. Mudiay has, predictably, performed well in early workouts and will work out in Philly on June 16. Russell is viewed as the better shooter and more gifted playmaker, so slot him in here—for now.
The Knicks have been circling four players, according to league sources: Porzingis, former high school star Emmanuel Mudiay, Duke's Justise Winslow and Kentucky's Willie Cauley-Stein. Mudiay and Winslow are more NBA-ready—a factor for a team built around 31-year-old Carmelo Anthony—while Porzingis, an offensively skilled stretch four who needs to fill out—has earned fans in the Knicks' front office. Clarence Gaines, an advisor with the ear of Phil Jackson, has scouted Porzingis. Long term, Porzingis could be the best of the bunch. Short term, he's a project.
5. Orlando Magic
If Porzingis is here, several rival executives expect Orlando to jump on him. If not, Orlando could have a choice: Reach and take Willie Cauley-Stein, a defensive-minded big who fills a need, or take the best player on the board. Drafting Winslow creates a logjam at the wing, but the rebuilding Magic can't afford to let top talent get past them.
6. Sacramento Kings
• MORE NBA: Common Sense Mock Draft 2.0
On Monday, Nuggets center Jusuf Nurkic tweeted a Hezonja highlight. Nurkic likely isn't in GM Tim Connelly's draft meetings, but Hezonja makes a lot of sense here. He's an explosive athlete who fearlessly attacks, traits not often seen in young European prospects. He's a strong shooter, too, making him a particularly appealing prospect.
Booker's rise continues. At 18, Booker is the youngest player in the draft, but several execs say he has looked like a seasoned pro in workouts. Teams are enamored with his shooting, both for what he is now—a 41.1% shooter at UK—and what his clean shooting stroke will help him become. The Pistons don't have a hole at two-guard, but Stan Van Gundy loves shooters; Booker could be hard to pass up.
• MORE NBA: Kaminsky prefers Okafor over Towns
10. Miami Heat
There are rumblings that Payne, the draft's fastest riser, could have a promise from Oklahoma City at No. 14. He may not get past Indiana though; the Pacers are starved for a dynamic point guard like Payne, a polished pick-and-roll guard who can create offense for himself and teammates.
12. Utah Jazz
Opinions on Cauley-Stein are all over the map. As limited as he is offensively—and no tweak to his shot is going to make him much more than a finisher and maybe a decent baseline/elbow jump shooter—his defensive upside is enormous. The Jazz could use another big (when was the last time we said that?) and Cauley-Stein can slide between both frontcourt positions.
13. Phoenix Suns
The Suns need offense up front, and while it might take two years for Turner to develop, his scoring potential is enticing. Turner is a perimeter-oriented center who proved at Texas that he can stretch the floor on one end and block shots and rebound on the other. He needs to get stronger, but there are not many rookies that don't.
14. Oklahoma City Thunder
Lyles is just the type of skilled, somewhat underachieving player GM Sam Presti likes to pounce on. He did it two years ago with Steven Adams; he could do it again here with Lyles, a long, talented forward who was overshadowed by Towns, Cauley-Stein and Booker at Kentucky. Presti has long been complimentary of the players that have come out of John Calipari's program and head coach Billy Donovan got a birds eye look at Lyles in the SEC. He needs work, but Oklahoma City can afford to wait.
15. Atlanta Hawks (via Nets)
RECORD: Arkansas, Sophomore | 6-11, 240
Looney is a Danny Ainge-type pick. Raw but gifted physically, a player who will likely be useless next season but could develop into a steal down the road. Executives are all over the map on Looney, whose game never seemed to add up to the sum of his parts with the Bruins last season. Looney has great hands and has shown flashes of a post game.
17. Milwaukee Bucks
RECORD: Georgia State, Junior | 6-6, 190
Hunter, according to several coaches, has shot the ball well in workouts. He's impressed with his attitude and work ethic, too. The Bucks need a pivot, though drafting a five here would be a stretch. Expect Milwaukee to grab a swingman like Hunter, one of the draft's best shooters, a nice fit to develop behind Khris Middleton.
Houston's backcourt reserves include Pablo Prigioni, 38, and Jason Terry, 37, who will be a free agent. Grant, 22, is an older prospect but he is fearless, is big enough to play either guard spot and could be able to contribute something next season.
19. Washington Wizards
The Wizards have been eyeing frontcourt help. The success of Draymond Green in Golden State is evidence that not every successful power forward needs to be 6'10". Harrell possesses some of Green's skills: He's long with good defensive instincts and is a relentless worker. Players with those tools and Harrell's motor are hard to find, making his lack of size easier to live with.
Oubre is another player whose stock is all over the place. He could go as high as the late teens or as low as the end of the first round. Oubre's talent is undeniable: He's got superior defensive skills—which Raptors coach Dwane Casey would love—and a nice perimeter touch. He was wildly inconsistent last season, but some scouts think with a year or two of development he will be a starting small forward.
The Mavericks are point guard shopping (again) and Jones is one of the best prospects. Jones isn't especially big or athletic but he's an intelligent playmaker—a quality Rick Carlisle would love to cultivate.
22. Chicago Bulls
The Bulls could use an injection of youth up front, but with Kirk Hinrich getting up there in years, a newcomer to the backcourt wouldn't hurt either. Wright is an unselfish playmaker who emerged as a strong defender with the Utes lasts season.
The story on Dekker remains the same: If he can shoot, he's a steal. But scouts evaluating Dekker remain unsure if he will develop into a reliable outside threat. Weak perimeter shooters need to be elite defenders (see Andre Iguodala, Tony Allen) and though Dekker has good size and athleticism, he's not viewed as a defensive stopper.
Vaughn is a multi-dimensional scorer, something the Grizzlies sorely lacked from the wing positions last season. With Tony Allen getting up in age, Vaughn could be a nice piece for Memphis to groom to replace Allen in a year or two.
26. San Antonio Spurs
RECORD: Kansas, Freshman | 6-8, 240
There are strong rumblings that someone is going to take a flyer on Alexander late in the first round. Alexander underachieved last season, a year that ended abruptly due to NCAA violations. But he is a big, physical shot blocker who plays well off the ball and has enormous potential. Low risk, high reward here.
27. L.A. Lakers (via Rockets)
Hollis-Jefferson is a terrific defender. He's strong and athletic with tremendous instincts. Offensively though, there is not much there. Hollis-Jefferson doesn't play well off the dribble and doesn't have much of a jump shot; most of his offense came in transition or around the rim. Is he Tony Allen? Maybe, but Allen-types are rare. 
The Celtics could go a variety of different ways here. McCullough—whose season ended early due to a knee injury—has been pegged by several executives as a high value pick with mid-first round talent. When McCullough adds weight, he has nice defensive potential.
29. Brooklyn Nets (via Hawks)
RECORD: Louisville, Sophomore | 6-1, 190
Rozier's stock has risen considerably in recent weeks. More scorer than playmaker, Rozier will have to learn to be more of a distributor at the next level. But he has good physical tools and could develop into a productive Jamal Crawford-type off the bench.
30. Golden State Warriors
RECORD: LSU, Sophomore | 6-8, 235
Mickey was a standout during five-on-five games at the combine last month. Undersized, Mickey makes up for it with a long wingspan (7'3") and good shot-blocking skills. Not much of a perimeter shooter, Mickey has low post scoring potential—something the Warriors sorely need.
• GALLERY: Teams that beat the draft lottery odds over the years
Beating the NBA Draft Lottery Odds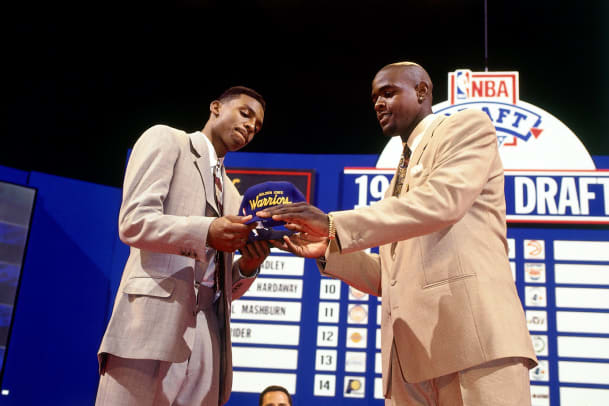 ​