Numbers validate Steve Nash as one of the NBA's best point guards ever
Is Steve Nash the best NBA point guard of all-time? The numbers show he at least belongs in the conversation.
Steve Nash announced his retirement from the NBA earlier this year following a tumultuous three-year stint with the Los Angeles Lakers in which he missed 181 games (including the entire 2014–15 season). Nash was unable to stay on the court due to nerve damage in his back and was forced to call it quits as a result.
The Phoenix Suns and owner Robert Sarver will appropriately waste little time honoring the franchise legend who played there from 1996–98 and 2004–12. Nash will be inducted into the Suns Ring of Honor on Oct. 30 against Portland (the second home game of the new season) where he'll join past inductees like Charles Barkley, Connie Hawkins and Kevin Johnson among others.
The two-time MVP was a no-brainer to join the other names and faces adorning Talking Stick Resort Arena (formerly US Airways Center). He's inarguably the best Phoenix Suns player of all time, but where does the Canadian floor general rank among other point guards in league history?
• MORE NBA: Steph Curry Q&A | Remembering Darryl Dawkins | Roundtable
Sharing the wealth
"I would try to shoot as high a percentage as possible to save shots for my teammates and then shoot more in the fourth quarter. I had coaches tell me I was hurting our team at times by trying to set up my teammates, but I always thought I got it back by how I make them feel and incorporated them into the offensive scheme and the chemistry of the team."
That Nash quote, relayed to Bleacher Report's Ric Bucher, represents his career in a nutshell. A humble player who was more interested in getting teammates involved and locked in rather than looking to score for himself. Unless, of course, the occasion called for his scoring chops.
Due to that, it only seems appropriate to start with the assists stat.
In terms of setting up teammates, only John Stockton and Jason Kidd trump Nash's output. Compared directly to those guys from a sheer numbers standpoint, it seems as though Nash lags behind.
He has the lowest scoring output of the three, but he was the more efficient three-point shooter by a wide margin. Of course, Kidd and Stockton were adept at picking opponents' pockets with more than 5,900 steals combined. Nash didn't even collect 900 steals in his career and was never viewed as a good defender.
In addition to Stockton and Kidd, point guards like Gary Payton, Isiah Thomas and even a more modern example in Chris Paul have all been vastly superior to Nash on the defensive end. Strictly in terms of offense, however, Nash truly deserves to be known as an all-time great.
50-40-90
Only six players in the history of the NBA have recorded a 50-40-90 season—shooting at least 50% from the field, 40% from three-point territory and 90% at the free-throw line for an entire season. Only two of the six did so more than once.
Larry Bird made it happen in back-to-back seasons from 1986 through 1988. Nash, however, entered the exclusive club an astounding four times.
The only other point guard in the 50-40-90 club is Mark Price. Of the members, Nash holds the distinction of attempting the most and second-most three-pointers in a 50-40-90 campaign. (So while he certainly opted to pick his shots wisely, he wasn't exactly being conservative.)
• MORE NBA: Strangest contracts | Players set to improve | USA PG battle
Speaking of which, Nash's legacy as one of the league's all-time best shooters from distance is the stuff of legend. He ranks 10th in NBA history in three-point percentage and 15th in three-pointers made—a remarkable combination of efficiency and volume. Only Kyle Korver of the Atlanta Hawks joins Nash by ranking in the top 15 all-time in each of those two categories.
A pick-and-roll maestro throughout his illustrious career, Nash frequently made opponents pay if they went under screens on the perimeter. If longtime teammates like Amar'e Stoudemire and Dirk Nowitzki weren't open in those scenarios, Nash would happily pull up and often knock down treys.
• MORE NBA: Jenkins on Nash's legacy | Numbers behind Nash's career
Nash is one of the league's best outside shooters ever, but where he sits as the undisputed No. 1 guy is at the charity stripe.
The image of Nash slicking back his long locks over his ears, pantomiming his shooting form two or three times and licking his fingers before cashing more than 90% of his free throws won't make the highlight reels, but he holds the top spot in the category, which is no small feat.
Awards … but no ring
Stephen Curry of the Golden State Warriors joined an admittedly short list of MVP point guards by winning the award for 2014–15. Perhaps the sharpshooter will add a second to his mantel moving forward, but for the moment, only Nash and Earvin "Magic" Johnson have won multiple MVP awards at the position.
Of course, with three MVPs, three Finals MVPs and five championship rings, Johnson is far and away the best point guard the NBA has ever seen. Johnson had elite supporting casts in Lakerland that helped him win said titles. Nash played on solid teams of his own—particularly in Phoenix—but he'll ultimately join a prestigious list of Hall of Famers never to win a ring: Stockton, Barkley, Karl Malone, etc.
• VAULT: SI profiles Nash in '95 | Nash is a genuine point guard (4.12.10)
Defensive shortcomings and never reaching the NBA mountaintop by winning the Larry O'Brien trophy hinder Nash's all-time standing against other point guards. But by pitting the entire body of work against his peers, Nash should be considered top 10 (perhaps even top five if you opt to put more emphasis on MVP awards). Magic, Jerry West, the Big O, Stockton, Payton, Cousy, Kidd, Isiah Thomas, Walt "Clyde" Frazier and Nash provide for a solid top-10 baseline of point guards in some order (so long as Johnson sits at No. 1).
Nash's all-time rankings as a distributor and masterfully efficient shooter are second to none. He'll be honored as a Suns Ring of Honor member in October, and his Hall of Fame induction won't be far behind.
GALLERY: Classic photos of Steve Nash
Rare Photos of Steve Nash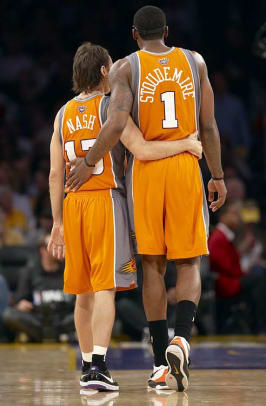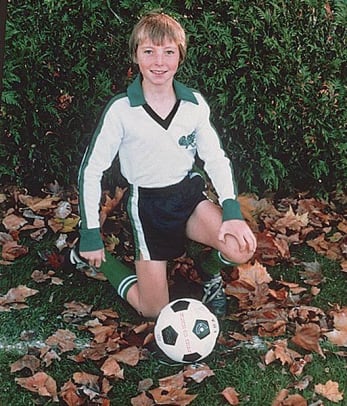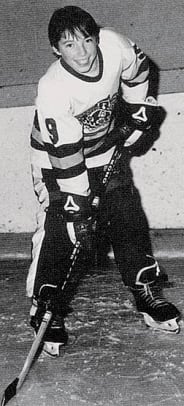 ​
More from Ben Leibowitz:
2015–16 NBA Schedule: Can't miss nationally televised games
Re-picking the 2011 NFL (J.J. Watt) draft
Why Steve Nash is the best Phoenix Suns player of all-time
PointAfter is part of the Graphiq network, a data aggregation and visualization website that's collected all the information about Steve Nash and the Phoenix Suns and put it all in one place so you don't have to go searching for it. Join Graphiq to discover contextually-rich data visualizations spanning NBA players, NBA teams and thousands of other topics.