Charles Barkley: Always The Life Of the Party
Charles Barkley is never short on opinions. The NBA legend voices his distaste for the Warriors, Hillary Clinton, ring chasers and more.
The easiest job for a sports media writer? Interviewing Charles Barkley. Essentially, you have two major responsibilities: 1. Make sure your recording device is functioning; 2. And occasionally ask a why or what question.
I'm not sure I've ever encountered a member of the sports media who combines Barkley's level of fame and a true enjoyment of shooting the s--- with anyone willing to engage him. On Tuesday, as part of its outreach to kick off Turner's 2016-17 NBA coverage, Barkley joined fellow Inside The NBA studio analyst Kenny Smith and a host of Turner Sports executives for a media lunch at a Manhattan seafood restaurant.
"I might go my whole life stealing money," Barkley says. "I got paid to play basketball, which is a scam. I get paid to watch basketball, which is a scam. And they give you trophies [Emmys] for watching basketball now, which is ridiculous."
Sitting around a table with a group of reporters, Barkley discussed a variety of topics from Kevin Durant joining Golden State to Barack Obama's legacy to where he ranks LeBron James among the all-time greats. Enjoy.
On Where LeBron James Ranks For Him Historically 
"I have told you guys the five greatest players in my opinion: Michael [Jordan], Oscar Robertson, Wilt [Chamberlain], Bill Russell and Kareem [Abdul-Jabbar]. Then it's Kobe Bryant and Tim Duncan. Then LeBron is right there. I don't understand why ya'll are in such a hurry to move him past Tim Duncan and Kobe. Now if he wins a couple of more championships, I might move him past Kobe and Tim Duncan. You guys always talk about championships. Kobe and Tim have five. LeBron has three…LeBron is amazing. But only in the bulls--- of today's society could I say a guy is one of the eight greatest players ever and it's an insult to him. That's crazy. If LeBron wins a couple of more championships I will move him past Tim Duncan and Kobe.
Russell Westbrook: 'I Was Never Going To Leave'
​
"But nobody can get into my Top 5. It's not like those guys are slouches. It ain't like I'm putting Manute Bol in my Top 10 ahead of LeBron. Every time LeBron has a triple double, people say that's amazing. I say yeah, there's a guy who averaged one for the whole season who have on my Top 5 list! LeBron had three in the playoffs and you all go crazy. And that is no disrespect to LeBron. The guy is amazing. But why would you put him past Kobe and Tim Duncan already?"
On Golden State's Chances In 2016-17
"I said if they won last year I would give them their due—and they didn't. It's hard for people to people to say it—Charles was right! Everybody crushed me for a year—Charles was wrong, he said a jump-shooting team could not win a championship. What I said was yes they won but everybody they played [in 2015] was hurt in the playoffs. I said last year if they win a championship I would get on my knees and I say I was wrong and that a jump-shooting team can win a championship. They didn't win …They have a really good team and KD is a helluva of player but they are still going to be shooting jumpers. Can they rebound the ball? I don't know if they can win enough games shooting jumpers and rebounding the ball against elite competition if everyone is healthy. That's all I've ever said. It's not hating on the Warriors…I just believe in playing basketball the same way. The game's going to come down to defense and rebounding. And easy baskets down low, that's just my philosophy. If they win, maybe next time they can go get LeBron, then they can win that way, and y'all can still think that analytics sh-- works."
On Locker Room Talk In Relation To Donald Trump's Comments
"Let me say this: It is never appropriate to touch a woman, grab a woman. I have a daughter. It is never appropriate to sexually assault or harass a woman, ever—there's no place for that. But to act like I have not heard or said something inappropriate that I wouldn't want to get to the public, it's just not true. I played for 16 years and I'm not going to lie to you: I am against sexual assault and harassment. There is no place for that ever. But to act like in my 16 years in an NBA locker room, I haven't heard sexually explicit stuff or said sexually explicit stuff, that's just not true."
On Why He Buys The Sixers' Future
"The Sixers invited me and [former Sixers coach] Billy Cunningham to watch them scrimmage about three weeks ago. I got to see Joel Embiid play and [Ben] Simmons play. I like [Dario] Saric. And I thought they did a really nice job fortifying their bench with Jerryd Bayless and Gerald Henderson. They are two really solid vets who are good guys and will be an influence on those young guys. Then two weeks later Simmons breaks his foot. If Embiid can stay healthy, he will be a handful. Simmons looked good. They have a bright future, man. And it's not going to stop. They will probably have two lottery picks the next couple of years. They will keep getting good players. I also like [Jahli] Okafor. I don't think they should trade him. I would not play Embiid in back to back games or over 25 minutes a night. You have to make sure Embiid is healthy. I mean, if you trade Okafor and Embiid breaks his foot again, you are going to look like an idiot."
On Durant's Move To Golden State
"Us older guys were disappointed in Kevin. I'm not going crazy here but we were disappointed when LeBron did it. Guys like myself, Patrick [Ewing], Karl Malone, John Stockton, we can answer we are good even if we didn't win a ring. But we would have never answered, let's go play with other stars. For some reason something changed media-wise that you have to win a championship or you suck as a player. Our [old] guys are like, "No, if you gave your best that is good enough." But these young guys get caught up in the peer pressure and media. I know this for a fact: You don't think LeBron felt better about winning that one in Cleveland than he did those two in Miami? Winning in Miami would not be the same as winning in Cleveland. There is a reason he went back. Durant winning a championship with Golden State will not feel the same as winning in Oklahoma City. He will be happy and excited but he will not feel the same."
Rare Photos of Charles Barkley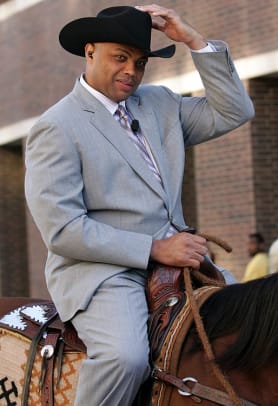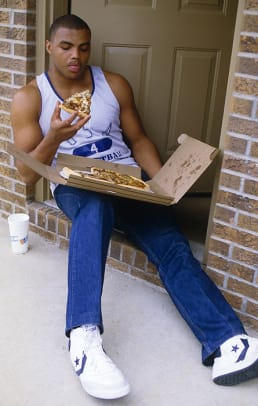 On Super Teams
"I'd rather see a bunch of good teams [than a super team]. It undermines the integrity of the game. As a fan, I don't want to have my team out of it by Day 1. I've heard people say, 'It's always been like this.' But first of all it hasn't always been like this. Michael Jordan fought through it. The Pistons fought through it. They fought through the Celtics. There are always stars who have stuck it out. Everyone wants to make it old against young. It's not going to hit the fans who defend it until one of their stars joins a super team. The only people who agree with it are the ones who get the superstars. They don't lose a superstar. I guarantee you people in New York, if Patrick Ewing had left in his prime to go to the Bulls, they would have been like, 'What?'"
On Gaining Weight
"I'm too thick right now. But I did just get a new hip in fairness to my fatness. I've been on the shelf all summer."
On Being Vocal Against North Carolina's House Bill 2:
"If someone passed a law against Jewish people, I would say something too. If someone passed a law against Hispanic and Muslims, I would say something too. You can't have selective [discrimination]. It has to be you are against any form of discrimination."
For Dwyane Wade, Fantasy Is Now a Reality
On Why He Does Not Appear In The NBA 2K17 Game
"The reason I am not on 2K is because they would not give me money. They make a lot of money on that game. What I said to them was we as players have not done enough for the retired players association. We told the 2K people that our job is to take care of the older players. I don't even want any money. I said, "Let's come up with an amount of money for you to give to the retired players union." They said, "Well we get all the guys the same." And I said, "Well, we ain't all the same." I told them they make a gazillon dollars on that game. They said, 'Well we are not going to do that [give money].' So I'm not giving them the right to use my license until they come up with a fair number. I'm not trying to be a pig or greedy. They should donate the money to the retired players. If they would give a million dollars a year to retired players union, they can use my likeness."
On NBA Commissioner Adam Silver
"Adam has done a fantastic job. He started with the whole Donald Sterling thing. I don't know the whole history of sports but I do know that no commissioner in the history of sports civilization ever came in with a more toxic situation. So I think Adam is a great guy and he is following the greatest commissioner in the history of sports. People forget, man, when I got to the NBA in 1984 after David Stern's first year, there was like a bunch of drug guys, no one was making any money and everybody thought the NBA was bad. The average salary was like $500,000. Now that the average salary is $5 million. Adam took over and he inherited a couple of things that were toxic and he handled it great."
On The Knicks
"Derrick [Rose], if he is healthy, he has a lot at stake. If him and [Joakim] Noah play well, that could be dangerous team. Other than the Cavaliers, nobody fears anyone in the East. Even though I love Toronto and love what Boston is doing, nobody fears them. But if you have Carmelo [Anthony], Derrick and Noah playing a high level, I don't people want to see them….The Knicks season will be dictated whether those boys can stay healthy. It's all about Noah and Rose because I think Carmelo and Kristaps Porziņģis will play well."
Analysis: Why Derrick Rose Was Found Not Liable
On Who He Is Voting For In The Presidential Election
"I have voted Democrat my entire life. [Ohio Governor] John Kasich was the first time I was going to vote Republican because I like Kasich. But I have to tell you something. I am having a hard time with the Hillary [Clinton] thing. I'm having a hard time pulling the lever for her. There is something about her that rubs the wrong way…I am undecided about whether I am going to vote or not, but I am not undecided."
On Barack Obama's Legacy As President
"I remember crying the day he was elected. Never thought there would be a black president in my day. One of the greatest days of my life. I think he's a wonderful man, got a great wife and amazing daughters. I hope he has inspired a lot of black men on the value of education. I think sports has done a disservice for a lot of black kids thinking they can only be successful through athletics and entertainment. I want them to know they can be doctors, lawyers, teachers, fireman, police officers etc.. That is the big picture. It has been very frustrating watching the Republicans and Democrats disagree on every subject and I think he has done an amazing job under the circumstances."