Inside the Numbers: Week 14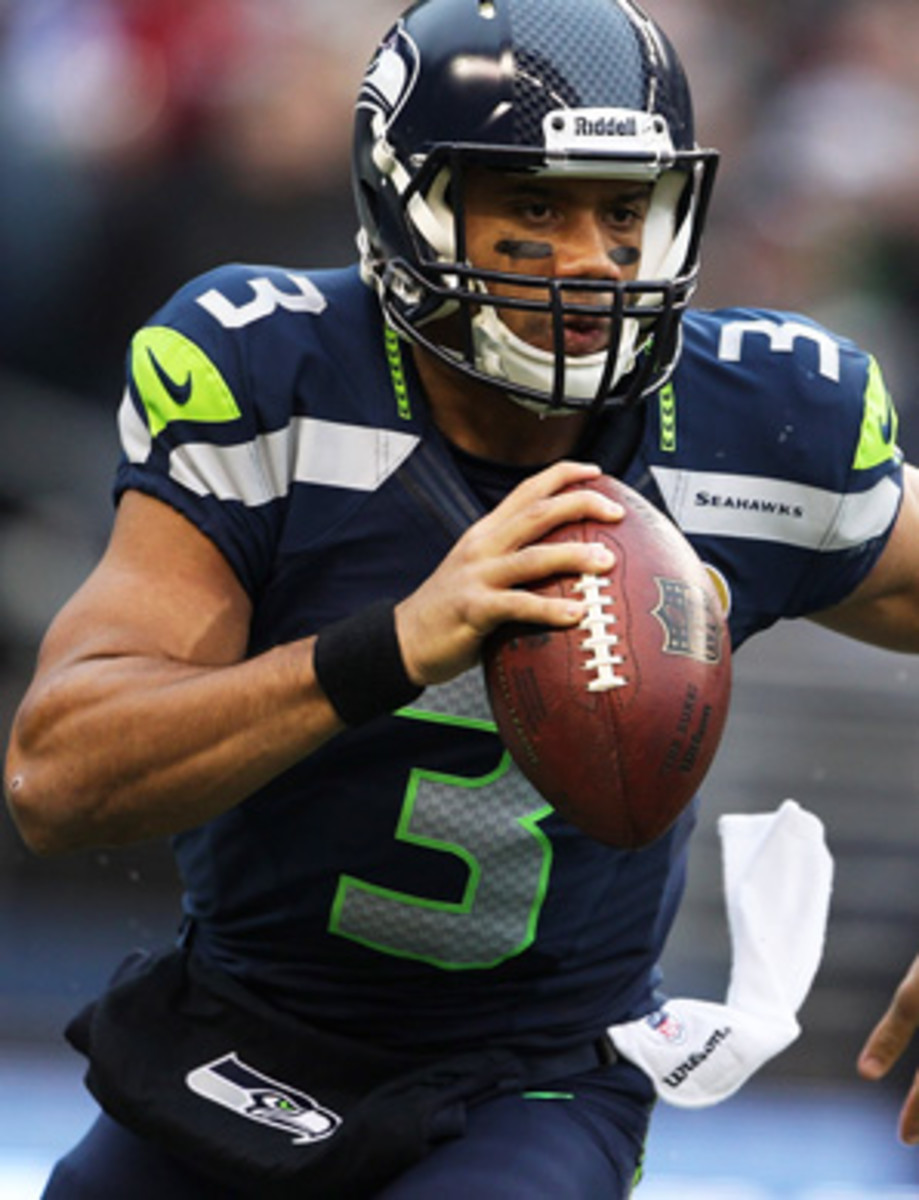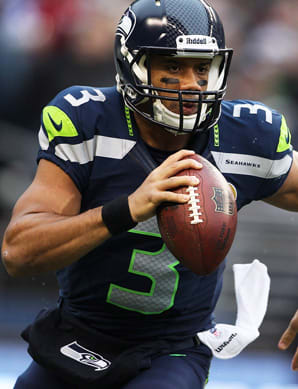 Seattle is a great place to play if you want to grab a double latte or a Pyramid IPA. It's not a great place to play if you want to grab coast-to-coast NFL headlines.
Just ask Russell Wilson, the rookie quarterback who has quietly pieced together a brilliant season and, right now, is certainly better than Andrew Luck and somewhere near the level of Robert Griffin III -- the top two picks in the 2012 draft. More importantly, Wilson is the only one of the three rookie quarterbacks leading a legitimate Super Bowl contender.
The Redskins and Colts have huge holes on defense and would need something close to a statistical miracle to reach the Super Bowl. The Seahawks, meanwhile, pair the NFL's No. 2 scoring defense (15.5 PPG) with a strong running game, a killer home-field advantage and a hugely efficient, under-valued quarterback.
The deadly combination could lead the Seahawks straight to New Orleans.
If you didn't take notice of Seattle earlier this season, the awesome 58-0 execution of the Arizona Cardinals should have grabbed your attention. After all, it was only the fifth biggest blowout in NFL history. Here's the short list:
Dec. 8, 1940 -- Chicago 73, Washington 0 (NFL title game)
Nov. 7, 1954 -- Cleveland 62, Washington 3
Dec. 4, 1976 -- L.A. Rams 59, Atlanta 0
Oct. 18, 2009 -- New England 59, Tennessee 0
Dec. 9, 2012 -- Seattle 58, Arizona 0
Sure, the Cardinals are on a nine-game losing streak, but Arizona is still an NFL team -- a team that suffered the type of defeat we've seen out of only the dynastic Patriots in nearly four decades.
But one game does not a contender make. Seattle, as you'll see, is getting it done against the Big Boys, too, with a team more dangerous than most fans realize.
Reasons to Take Notice of Russell Wilson and the Seahawks
Blame the geographic isolation, East Coast bias, aquamarine and sea green uniforms or the organization's own general lack of success.
One Super Bowl appearance and just five 10-win campaigns in 36 seasons will leave a team something of an after-thought in a crowded league that craves big names and glitzy headlines.
But the reality is that if the Seahawks played in a larger market, and if Wilson were the No. 1 overall pick in the draft, they might be the talk of the football world this week.
Here are three statistical reasons the pigskin public needs to step up and take notice of Russell Wilson and the Seattle Seahawks.
One: Wilson may be the best rookie quarterback in the game
Wilson was actually something of a role player in the Arizona game. He attempted just 13 passes and threw an interception for the first time since October.
But so far, he's clearly performed well above anyone's expectations for an under-sized rookie third-round draft pick. In fact, he's passed the ball far more efficiently than No. 1 overall pick Andrew Luck, and is quietly near the top of the league -- Brady, Manning, Rodgers territory -- in almost every major measure of passing efficiency.
Here's how he stacks up against fellow rookies Andrew Luck and Robert Griffin III.
Wilson leads all rookie QBs with 20 touchdown passes and he's done it with just 330 attempts. His rate of a touchdown on 6.1 percent of pass attempts is extraordinary. For a little perspective, Tom Brady has thrown a TD pass on 5.9 percent of attempts this season.
Griffin III is clearly one of the most impressive rookie quarterbacks the game has ever seen -- and clearly the NFL's efforts to neuter defenses have made it easier than ever for rookies, and all QBs, to pass the football.
Luck, meanwhile, has displayed plenty of late-game magic. But week to week and drive to drive, he's struggled badly to pass the ball effectively when compared to Griffin and Wilson.
Wilson is much closer to Griffin's efficiency than he is to Luck's. In fact, Wilson leads Luck in EVERY measure of passing efficiency: completion percentage, yards per attempt, TD percentage, interception percentage and passer rating -- where it's not even close.
Wilson's 94.9 passer rating puts him seventh league-wide, right ahead of Matt Ryan (94.8) and right behind Aaron Rodgers (103.7) and Ben Roethlisberger (98.6). In other words, the Seahawks are getting Super Bowl-caliber play out of their rookie quarterback.
Two: The Seahawks fear no team
It's easy to look at Seattle's 58-0 victory over Arizona as a one-time event, a confluence of circumstances that ended up steamrolling the Cardinals. And certainly, the Seahawks are unlikely to win another game by 58 points in our lifetime. But Seattle plays Big Boy football week in and week out.
Seattle is the only team in the NFL with five wins over Quality Opponents so far in 2012, including victories against Brady and the Patriots and Aaron Rodgers and the Packers -- the latter, of course, under controversial circumstances.
The Seahawks are 5-1 in six games against teams with winning records and have outscored those Quality Teams by nearly a touchdown per game (20.7 to 15.3). Only the Falcons (+6.3 PPG) and Patriots (+14.2 PPG) are better against teams with winning records.
And how about this for a delicious bit of controversy: the Seahawks and Packers could each end the season 11-5, which means Golden Tate's replacement ref touchdown against Green Bay back in Week 3 might be prove the single play that broke the tie in the race for the NFC's No. 2 seed and a first-round bye in the playoffs.
Three:Seattle possesses a Super Bowl-caliber defense
So Wilson has played extraordinarily well and Seattle has proven it can beat just about any team in the NFL, especially at home.
But the statistical lynchpin for the Seahawks, the factor that makes them Super Bowl contenders right now, is a defense -- and a pass defense in particular -- that's among the best in football.
Here's how Seattle stacks up league-wide in several key measures of defensive success:
No. 2 in scoring defense (15.5 PPG) -- only San Francisco has given up fewer points this season (14.2 PPG)
No. 2 in Bendability (19.38 YPPA) -- our measure of defensive efficiency tells us how hard opponents must work to score points. Seattle opponents need 19.4 yards to score the equivalent of a single point, or 135.7 yards for the equivalent of a touchdown and extra point.
No. 3 in Defensive Real Passing Yards Per Attempt (5.35) -- Opponents average just over 5 yards every time they drop back to pass. For a little perspective, the Minnesota Vikings generate 5.39 YPA every time they run the ball.
No. 3 in Defensive Passer Rating (72.57) -- Opposing quarterbacks this season have combined to produce a passer rating below 73, a dismal number in this day and age. NFL champions throughout history excel in Defensive Passer Rating. Only five teams since 1940 have won a championship with a DPR greater than 80.0.
No. 3 in Passer Rating Differential (+23.45) -- PRD is the "Mother of All Stats" because it so consistently identifies championship contenders: 69 percent of all NFL champs since 1940 finished the year in the Top 3 in passer rating differential. ?
Seattle poised to capture NFC West crown
The final three weeks get very interesting for Seattle (8-5) and for the NFC West. The Seahawks visit the inferior Buffalo Bills Sunday in a game they should win.
Their NFC West rival 49ers">49ers (9-3-1), however, do not have it so easy: they travel to Foxboro to face the Patriots, who have not lost a home game in December since 2002, and who just exposed the 11-2 Houston Texans like they were the Donner Party in the Sierra Nevada.
Then the 49ers travel to Seattle in a huge Week 16 clash that will likely determine the division crown. Seattle is 6-0 at home his year, with four wins over playoff contenders (Dallas, Green Bay, New England, Minnesota), plus last week's historic beating of the Cardinals.
In other words, there's a very good chance Seattle enters the final game of the year with a 10-5 record and a half-game lead over the 49ers. The Seahawks would need only to beat the Rams at home to lock up an improbable NFC West title and perhaps grab a first-round bye, too.
It would be a remarkable feat for a team with a rookie quarterback.
Pedigree matters in the NFL. Luck and RGIII, as the first two picks in the 2012 draft, entered the NFL with high expectations. Fans and analysts need only see a few signs of success before they anoint them for their greatness.
Not so much Wilson. A guy like him, who bounced around in college, is seen as too small for the pro game and who sat on draft day until the third round, needs to do more to garner the same bit of attention. So far he's delivering -- and he's doing it with a team that very well could be your NFC Super Bowl dark horse.
If he were a No. 1 overall pick, he might easily be everybody's choice for NFL rookie of the year.