Inside how the Revis trade to Tampa Bay finally went down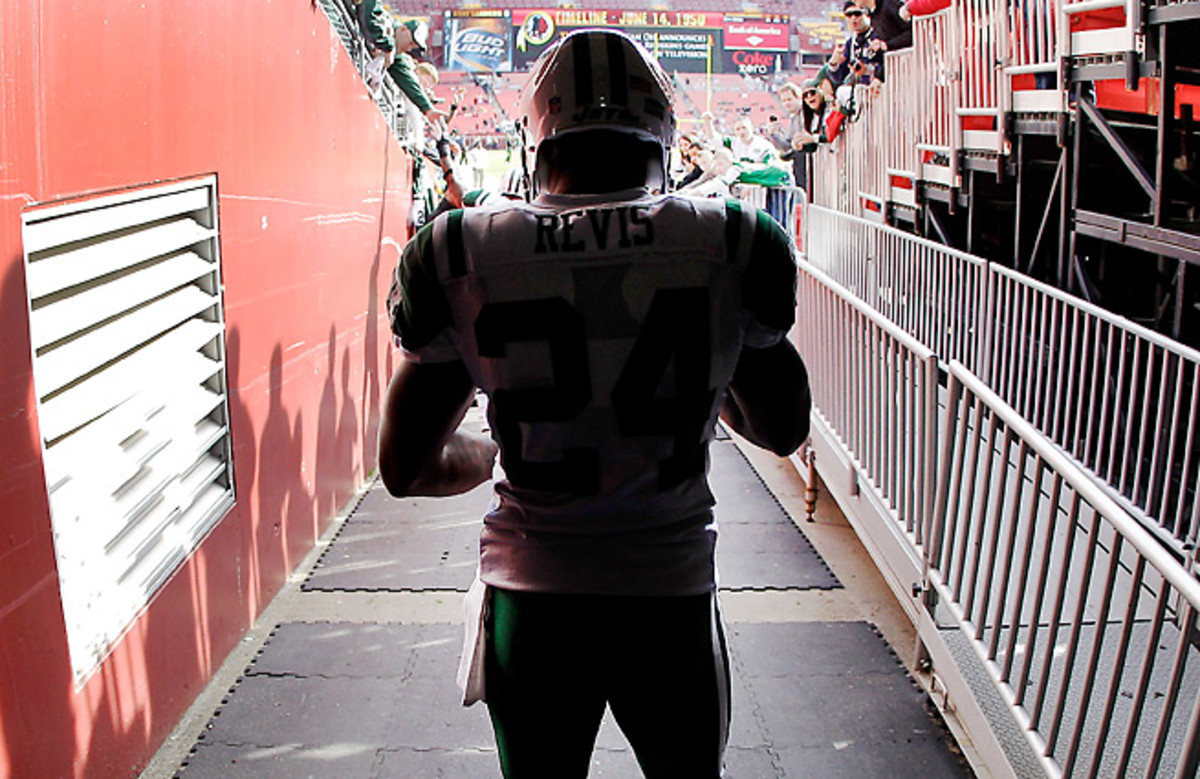 By Sunday morning, the Bucs and Jets had worked out the trade details for Darrelle Revis -- Tampa Bay's first-round pick in this draft and likely a third-rounder next year to New York. The Bucs had a contract done with Revis -- six years, $96 million, none of it guaranteed. But there was no deal yet. Revis had to pass the Tampa Bay physical, and if his surgically repaired knee wasn't healing to the Bucs' liking, this deal wasn't going to get done.
"If the physical doesn't go right, we're sending him home,'' coach Greg Schiano told GM Mark Dominik Sunday morning. Both men agreed on that.
So two Bucs doctors, including head team orthopedist John Zvijac and director of sports medicine Todd Toriscelli, pored over recent MRI results on Revis' left knee, then met with and examined Revis. It went well, a source said, with the doctors satisfied the knee was making good progress. But there are no guarantees for corners coming back from ACL surgeries, and Dominik and Schiano couldn't know unconditionally that Revis' knee would recover to the level it was before he was injured last Sept. 23. Dominik, Schiano and the medical staff met for about 30 minutes without Revis, and then the coach and GM went into a private meeting. In that meeting, as Dominik told me Sunday night, "We decided there was not enough risk to not do it. At the end of the day, you trust your doctors to tell you as much as they can, but it's a decision really that came down to me and Greg. We had to be comfortable with the risk, and I can tell you we are.''
After Dominik and Schiano decided, they met with Revis. The way the contract is structured -- $13 million per year, with $1.5 million in annual roster bonuses and $1.5 million in annual offseason workout bonuses -- the Bucs wanted Revis to know exactly what was expected in this rehab process. They wanted him to rehab in Tampa, and they wanted him to be a full-time offseason workout guy in Tampa.
"I'm all in,'' Revis told them. "I'm a Buccaneer.''
Said Dominik: "You could see how excited he was. The look in his eyes was, 'Coach, I will not let you down.' ''
There were three elements to The Trade That Had To Happen. The contract was a big one. The Bucs knew they were taking a huge leap of faith, paying the 13th pick in this year's draft (Revis was the 14th overall pick six years ago) plus a third-rounder if Revis is on the Tampa Bay roster on the third day of the 2014 league year. (If Tampa Bay cuts Revis after the season, the Bucs will owe New York their fourth-round pick in 2014.) So Dominik told the agents for Revis he was willing to put Revis in the stratosphere with the highest-paid defensive players ever, but he wasn't going to give any guaranteed money in the deal. Dominik was willing to walk away after a year if Revis was damaged goods and not a great player anymore; but if he did, he wanted the penalty to be two high draft choices, not the high picks plus an immense guarantee. If Revis is a top corner, he'll get the money. If not, Tampa's out two good picks and Revis gets to make another deal elsewhere.
The compensation was next. The Jets at one point in the negotiations wanted three picks for Revis -- first-, third-, and fifth-round picks. A week ago, Dominik said he didn't think the deal would get done. But a source with knowledge of the talks said Dominik dug in and drew the line at two picks, and gave the Jets a deadline to get the deal done. (SI.com could not determine what the deadline was, but it had to be some time in the last few days.) Another source said Jets GM John Idzik knew coach Rex Ryan didn't want to trade Revis, and was hoping against hope owner Woody Johnson would reconsider his stance about paying Revis a rich contract to keep him in New York. But that wasn't going to happen ... and Dominik knew he had a solid position. Because the Jets couldn't franchise Revis after the last year of his deal this season, they had to either trade him before the October deadline or get nothing for him but a compensatory draft choice in the 2015 draft.
And the physical was third. Important, but third. Once Revis passed it to Tampa's satisfaction, this was a done deal.
From the Jets' standpoint, if they weren't going to pay Revis, they had to trade him. Simple reason: They couldn't risk Revis going to arch-rival New England in free agency -- or anywhere without compensation -- in 2014. And in that respect, Idzik did a good job in getting the 13th, and, say, 75th picks for a player coming off knee surgery who the team wasn't going to pay, and everyone knew it.
Still, it's a stark reminder that the Jets are rebuilding, and it'd be a huge upset if that rebuilding job doesn't cost Rex Ryan his job. Ryan knows that; everyone does. Ryan craves great cornerbacks more than great quarterbacks, and listening to him trying to be a team guy and go along with the trade Sunday night on a team conference call was awkward to say the least. There's no way he'd have ever chosen trading Revis over re-signing him. But of course, that wasn't his call.
I agree with what Ryan must be thinking, for what it's worth. I understand the Jets could be going through a rebuilding slog. But Revis is 27. All indications are his knee is progressing well, and he'll be the same Revis. One right decision at quarterback in the next 12 months, and the Jets could easily contend by 2015 -- when Revis would still have four or five good years left. I just don't believe in trading great players you work your football career to acquire and develop and nurture. I'd have gone to Revis with a simple proposal: Prove by October 1 your knee is fine, and we'll show you the money, and you'll be our franchise cornerstone, the greatest cornerback in the game in the greatest city in the world. But that's me. Woody Johnson had other ideas. And so, of course, did Idzik.
So Tampa Bay, which had the game's most generous secondary in 2012, will have Revis and Eric Wright at cornerback, with ex-Niner Dashon Goldson and Mark Barron at safety. As of today, the Bucs still need a nickel corner, and they're not sure if Ronde Barber will return. But the secondary has been upgraded in a very big way in a division with Drew Brees, Matt Ryan and Cam Newton filling the air with footballs.
"Where Darrelle will be on the day we open camp is on the field,'' said Dominik. "And where he'll be opening day is playing against the Jets. That's what I believe."
Said Ryan: "You look at the big picture. I think this ends up, as in all good trades, one that benefits both teams.''
If it is, the Jets will have to make as good a decision with the 13th overall choice this year as they did with the 14th pick in 2007. You don't find Darrelle Revises in every draft. If he's healthy, Tampa Bay got a great deal.
BURKE: What Revis deal means for Bucs, Jets, draft
***
Just think if George Steinbrenner had his way, Denver.
ESPN has a terrific documentary Tuesday night about the 1983 draft, the one with six first-round quarterbacks, called Elway to Marino. It's still the most fascinating first round ever. Through the eyes of all involved who still are alive, the trade of first pick John Elway and the pick of Dan Marino last of the six quarterbacks is dissected. One of the key guys in the documentary, directed by Ken Rodgers of NFL Films, is agent Marvin Demoff (full-disclosure point: Demoff now represents me), who reps Elway and Marino. Demoff kept detailed diaries of the days leading up to the draft, and what happened to land Elway in Denver and Marino in Miami. My favorite story: Elway was a top Yankees outfield prospect, and at one point in April 1983 George Steinbrenner showed Demoff a projected 1985 starting lineup for New York -- with Elway in right field and prospect Don Mattingly at first base. And Steinbrenner offered Elway a rich contract. If Baltimore hadn't traded Elway to Denver, who knows whether Elway would have played baseball in New York rather than football for Colts taskmaster Frank Kush.
Other nuggets from the show:
? Raider boss Al Davis asked Demoff a startling question about Elway during the process of discussing a deal for the top pick in the draft: "Can he throw deep?"
? The Raiders, Bears and Colts discussed a three-way trade that would have sent Howie Long to Chicago, Elway to Oakland and draft picks to Baltimore.
? During the draft, the Jets picked Ken O'Brien with the 24th pick of the draft. "Who is Ken O'Brien?'' Marino asked Demoff.
? Elway found out he was being traded from Baltimore to Denver while watching All My Children.
It's a good living-history show. Highly recommended.
BUKOWSKI: Best, worst and weirdest draft moments ever
***
The early case against Haslam is ominous.
Cleveland owner Jimmy Haslam was a Shad Khan-type breath of fresh for a battered fandom in northeast Ohio when the league approved him last fall. Haslam, a Tennesseean who got rich through truck-stop ownership, would care far more about the Browns than absentee owner Randy Lerner would, the fans thought.
Talk about letting the air out of the Cleveland balloon. According to 120 pages of court documents obtained by the Cleveland Plain Dealer, Haslam knew about a scheme in which his company, Pilot Flying J, was intentionally defrauding customers by shorting them on promised rebates. A company vice president, John Freeman, was quoted as saying that Haslam "knew all along that I was cost-plussin' this guy. He knew it all along. Loved it. We were makin' $450,000 a month on him. Why wouldn't he love it?"
Haslam denied it. The league has had no comment. Haslam said he won't step down from his Browns duties during the investigation, which could result in him being prosecuted in the case.
The league could have several ownership kerfuffles in the coming years; the future of teams in Buffalo and Tennessee run by aging owners Ralph Wilson and Bud Adams could mean those franchises will change hands. The last thing the NFL needs is for the Browns to be up for sale again, not to mention that it's the last thing the Cleveland fan base needs. I'm told Haslam was the cream of the crop among owner candidates when the league knew Lerner wanted to sell in Cleveland, and the league was thrilled he wanted to buy the Browns. If this story is true, the league is going to have to give a once-over to its vetting process for owners, and it may have to search anew for a Cleveland savior. Too bad Jim Brown doesn't have a spare billion lying around.
Colts 23, Giants 17, 1958: The Game That Almost Wasn't
Greatest football game of all time? That's debatable, but the one with the most significance was probably the 1958 NFL Championship Game -- the Baltimore Colts faced the New York Giants, and the Colts won in overtime on a scintillating Johnny Unitas drive. It was one of the first nationally televised games that turned America onto the game that now dominates the national sporting landscape. And it was the first overtime game in league history.
The tableau is so familiar: Unitas against the famous backdrop of Yankee Stadium, his black high-tops and hunched shoulders and famous arcing passes, and Alan Ameche diving for the winning touchdown to cap a length-of-the-field drive.
Imagine if Pat Summerall didn't have his big foot impact during the 1958 season. If Summerall hadn't made the most famous pre-Vinatieri snow kick in NFL history two Sundays prior, the lasting image from the '58 title game might have been Unitas against the leaden Cleveland sky, or Jim Brown stiff-arming Gino Marchetti.
Summerall died last week at 82. He was known for his understated tone and bass pipes, sitting alongside John Madden for CBS and FOX for so many great games in the last two generations of football. He called 16 Super Bowls from the play-by-play seat, more than anyone ever. Sixteen of 48 Super Bowls, by one man -- that's quite a gig. But before that, he was a kicker for the Chicago Cardinals and, starting in 1958 after a trade, with the New York Giants. He kicked more field goals than any kicker in football: 32, over the '58 and '59 seasons. None was bigger than the longest kick of his life, on the last day of the 1958 regular season.
Cleveland came to Yankee Stadium on Dec. 14, 1958 with a 9-2 record. New York was 8-3. If Cleveland won, the Browns would host the Colts, winners of the Western Conference, in the NFL Championship Game on Dec. 21 in Cleveland. If New York won, the Giants, by virtue of a sweep against the Browns in the regular season, would host a playoff game to determine the winner of the Eastern Conference -- and the winner of that playoff game would host the Colts. (In those days, home field for the title game alternated -- West in the odd years, East in the even years.) Well, Jim Brown ran wild in the wind and snow of New York, rushing for 148 yards, and the Giants never led until 2:07 remained in the game. That's when New York coach Jim Lee Howell, against the howling protests of assistant Vince Lombardi, sent Summerall out on fourth down for a 49-yard field-goal try.
When quarterback Charlie Conerly saw Summerall jog onto the field, he told him (according to Frank Gifford, via Michael Eisen of Giants.com), "You son of a gun. You can't kick it that far.''
About three inches of snow lay on the ground, and a steady snow fell in a swirling wind. As Summerall wrote in his memoir nearly four decades later: "The wind was howling. My breath was a vapor cloud hovering in front of my face. It was a good snap and a good hold. As soon as I kicked it, I knew it was going to be far enough, but the ball was on a very unpromising trajectory, knuckleballing like a missile gone awry. Yet somewhere it stayed on course and cleared the uprights by so much it would have been good from 65 yards out."
That kick made the playoff necessary. The Browns returned to Yankee Stadium the next week, and the Giants won 10-0. Then came the great game against the Colts.
Johnny Unitas driving against Vince Costello and Galen Fiss ... just doesn't have the same pizzazz as Unitas against Huff and Tunnell and Robustelli with the Yankee Stadium façade in all the black-and-white photos.
Summerall is responsible for a lot of your favorite football memories. Your grandfather, and maybe your father, remember him for one of the greatest kicks in NFL history 55 years ago.
JENKINS: Remembering Pat Summerall's unforgettable voice
***
So you want to know how the sausage gets made...
I'm going to take a few paragraphs here to discuss a couple of Sports Illustrated things you might enjoy.
Maybe it's just me, but when this week's edition of the magazine landed in your mailboxes on Wednesday (some on Thursday), I wonder how many of you wondered, "Wow. They got the Boston bombing story on the cover, with some really good stuff inside. How'd they do that?" There was a prescient essay from Scott Price inside, and an emotional back-page column from Steve Rushin with the cutest photo of his 8-year-old daughter at the Finish Line of the Boston Marathon, taken on a father-daughter trip to Boston last August.
So I asked our managing editor, Chris Stone, to tell me how it all came together. This is a little bit of an inside-baseball thing, and I understand if you want to skip it, but it interests me.
"We have a weekly Monday 3 p.m. meeting,'' Stone said. "When we came out of it [at 3:20], word was already making its way around the floor about an explosion, maybe two, at the Marathon. Social media and TV quickly confirmed this. It took about 10 minutes -- for me, at least -- to process exactly what we were watching. We gathered a bunch of editors, magazine and website, in my office and first made the decision to run an extended 'Leading Off' [the photo section at the front of the mag] because photos, and their inherent documentary value, were the one thing we knew would not be overtaken by the news cycle. Words are a little tougher because of how little we knew and the unlikelihood that we would uncover much that ultimately wouldn't be overtaken by new news. [Executive editor] Jon Wertheim pointed out that Scott Price, one of our best and most thoughtful writers, was in Cambridge working on another story. This is around 4; so Jon called him and set a 5:45 deadline. It turned out the hotel Scott was staying at was full of runners and their families, which enabled him to gain the firsthand accounts that he wouldn't be able to get, being three miles from the scene. We would run his essay as the 'Scorecard' lead.
"Now we just needed a cover, which for production reasons, needed to off the floor by 7 o'clock. We were looking for an image that was self-explanatory, something we wouldn't gum up with a lot of words. We had five color shows between 4 and 6 to look at photos, but we found our photo in the first showing. The fallen runner, the police with guns drawn against the smoky backdrop. 'That's the one,' Chris Hercik, our creative director, said. The photo, from the Globe's John Tlumacki, was so powerful that it was tempting to run it without words at all, but that might have come off as a gimmick that drew attention to ourselves and less to the photo. In the end, we settled on the word 'Boston.' That's all readers needed to know. They could fill in the rest.
"Price's story came in on deadline and it was just what we were looking for. Around the same time [assistant managing editor] Steve Cannella received an e-mail from Steve Rushin saying that he had an essay he was thinking about. He had a photo on his phone of his daughter standing at the finish line on Boylston Street -- the finish line is marked permanently. It was from last August, the last day of summer vacation, when he took his daughter to her first Sox game. They went down Newbury and Boylston looking in every window. Their last stop was a candy store near the finish line, where he snapped the photo. That moment, which they called the Best Day Ever, juxtaposed in his mind with the tragedy of the afternoon, became his column. He turned it in within 90 minutes. It is wonderful, the perfect coda for the issue.
"It was a great collaborative effort, one that we're proud of, but, listen, what we did is something that newspapers, websites, blogs and other media outlets do every day, and continued to do -- exceptionally well, I might add -- last Monday and every day since.''
The Rushin column was the biggest moving part. Originally, he was writing for SI.com, to be posted either that night or Tuesday. But his column was so good it forced its way into the issue.
"The lockscreen on my phone is a photo of my 8-year-old, Siobhan, at Fenway,'' said Rushin, who lives in Connecticut and has four kids 8 and younger -- and was in charge that fateful Monday while his wife, Rebecca Lobo, was at ESPN to analyze the WNBA Draft. "The photo was taken on our 'Special Day' last summer. I remembered our visit to the Marathon finish line that day and when I looked back at that photo on my phone ... I got choked up. When I heard that an 8-year-old had died at the finish line, I was a little bit of a mess. I e-mailed Steve Cannella, and said I wanted to write a column about all this for the following week -- nine days down the line. Steve wisely said, 'Write it for the web in the next 36 hours.' ... I sat down at the kitchen counter to write around 6:30. I filed the column and the picture around 8:30.''
He's Superdad! Writes a great column while putting four children to bed!
At 9 p.m., the editors decided to run the 800-word piece as the back page column, as well as running it immediately on the website.
"While I was writing,'' said Rushin, "I couldn't stop -- and still can't stop -- thinking of that 8-year-old boy [who was killed], Martin Richard. When my daughter and I were at that Red Sox-Royals game last summer, she couldn't believe that all 25 players on both rosters didn't get a chance to bat. 'It's not fair,' she said. As you know, kids that age have a very sharp sense of what is and isn't fair. And that's all I could think about on Monday, the unfairness of it all. I have my 8-year-old daughter and the Richards lost their 8-year-old son. It was and remains very upsetting.''
"Are you proud of the column?" I said.
"I just wish I'd had no reason to write it,'' Rushin said.
***
I am a proud Papa.
I'm proud this morning to announce the third addition to our writing staff at my new pro-football-centric website set to debut in July. We're hiring Robert Klemko, a 25-year-old sports reporter for USA Today, and he joins our previous two full-time additions: Greg Bedard of the Boston Globe and Jenny Vrentas of the Newark Star-Ledger.
We're still formulating plans for the site, but this much we know: We like our first three draft choices.
Bedard, 39, a former Rutgers baseball player who comes to us from the Boston Globe, will be based in suburban Boston. I believe Greg has a chance to be this generation's Paul Zimmerman. Not saying he will be, just that he has the requisite love and devotion to the game, the insight for it and the skepticism you need in it. Lucky for Greg, he has learned under some of the best in our business, including Bob McGinn when he worked alongside Bob at the Milwaukee Journal-Sentinal. For fun, he goes to coaches' clinics, and he'll teach you things about football you don't know.
Vrentas, 28, has one of the more interesting routes to modern sportswriting of anyone. She majored in biochemistry and molecular biology at Penn State before making the absolutely ridiculous decision to start writing about sports midway through her college career. We will all be the better for it, though. After going to Columbia for grad school to sharpen her journalism, she has done a terrific job covering the Giants and Jets in a competitive market. Jenny will cover lots for us, with a special eye on player health, safety and welfare, and on the future of the game.
Klemko, 25, went to Robert Morris University to play tight end for football coach Joe Walton -- until a torn labrum in his freshman year ended that quest. He transferred to Maryland and did the journalism thing in college, working at local papers and sites until USA Today hired him last August to cover the NFL. This impacted me: I was at Joe Flacco's family party post-Super Bowl in February, gathering stuff for my Sports Illustrated game story, and suddenly I saw Robert. Then, an insightful story shows up on USAToday.com while I'm still writing at 6 in the morning. Looking forward to seeing Robert mine some more news for us.
As the spring and summer go on, I'll have more information for you about the new microsite. It's going to be an exciting venture.
Quote of the Week I
"It became quite evident to us it was going to happen here ... It became abundantly clear to us that his value to us, we just weren't going to get there.''
-- Jets GM John Idzik on a conference call with reporters Sunday night, announcing the Darrelle Revis trade and saying, in essence, he was dealt because the Jets and Revis had far different opinions of his value coming off ACL surgery.
Quote of the Week II
"I understand the Orioles are playing a game at home. Well, who really cares? You've got 81 of them things at home and maybe you could've done the right thing and given one up and played 82 on the road and 80 at home. I really don't think people are going to care about that game.''
--Jets coach Rex Ryan, on baseball's refusal to move the Sept. 5 White Sox-Orioles game at Camden Yards in Baltimore so the Ravens could host the first game of the NFL season that night.
Miffed O's manager Showalter responded: "I try to stay out of things I don't know about."
Quote of the Week III
"It had absolutely no impact on my decision to leave.''
-- Eagles coach Chip Kelly, after the college football team he left, Oregon, was put in the cross-hairs of an NCAA investigation
Quote of the Week IV
"He was royalty in the broadcast booth, an icon, an American original."
-- Cowboys owner Jerry Jones, on the passing of broadcast legend Pat Summerall.
Quote of the Week V
"You know in TV some of these guys have all the numbers and stats and notes? Pat would come to a broadcast with nothing. It was all in his head. He didn't have anything. Could you see another play-by-play guy today doing that? He had that thing of, in one sentence he could say what would take others two or three paragraphs to say. He'd hit it right on the head. That was why he was so great to work with.''
-- John Madden, on the loss of his longtime partner, Summerall, to Sam Farmer of the Los Angeles Times.
Quote of the Week VI
"We're running out of Giants.''
-- Frank Gifford, 82, one of the greatest Giants, on the death of Summerall, to Michael Eisen of Giants.com.
Factoid of the Week That May Interest Only Me
One year when he played for the Cardinals, the late Pat Tillman, who was not a religious man but rather a man of letters, read the Bible, the Qaran and the Book of Mormon. "He thought he should be educated on the great religions of the world because they were so important to so many people,'' Cardinals president Michael Bidwill said Friday night.
Just another facet of the life and times of the late Tillman that makes him one of the most compelling people ever to play in the NFL.
Factoid of the Week That I Am Sure Interests Only Me
I ran Pat's Run, the annual fundraiser for the Pat Tillman Foundation, in Tempe, Ariz., on Saturday.
Date: 4-20-13
Distance: 4.2 miles
Time: 42:03
I was honestly trying to do 4.2 in 42:00 on 4-20. Ran into a little traffic at the finish line at Sun Devil Stadium. On the 42-yard line.
Tillman, a safety, wore No. 42 for Arizona State
Mr. Starwood Preferred Member Travel Note of the Week
Four of them:
1. Alaska Airlines, in my recent airline rankings, got ripped off. This is one of the best coach experiences in the air. Friendly and a tad snarky flight attendants on my two Western legs last week (Seattle-Portland, Portland-LAX), and they busted out the free Full Sail Session lager on the first trip. Be careful, Alaska, or you'll get a lot more of my business.
2. In my life, before Wednesday night, I'd been in Portland, Ore., once in my life -- for a couple of days, to do a story a few years ago on Derek Anderson, the quarterback who hailed from nearby Scappoose. This time, I was there to try to sell advertisers on my new website under the auspices of SI. Had the pleasure of a 3.3-mile run downtown next to the Willamette River, a great Italian meal with a client and a visit to the Nike campus. It's big, and it's beautiful. We parked in a parking spot reserved for Jorge Posada (I guess they have a sense of humor there), and the place seemed like a well-coiffed horticultural paradise. I mentioned to one Nike employee, "You must have a heck of a groundskeeper." He said, "Actually, we've got about a hundred."
3. You fly all the way across the country, and you're rushing around, and you find that your daughter, who does PR work in Seattle and works on the Microsoft account, is on the Microsoft campus in Redmond at the same time as you are, and you text back and forth and there she is! "Hey, Mary Beth!'' Hugs, pleasantries between a Jersey dad and his Jersey daughter. Six minutes, maybe. Then it was off to another appointment, for both of us.
4. Did I really look that bad running in Tempe? Must have. At about the 1.5-mile point, a guy jogged up next to me (now, I was on a 10-minute pace about then, not 17-) and said, "Fading, Peter?'' I said, "No, this is just the way I run."
Stats of the Week
I think you could make the argument that this could be the riskiest first round in NFL history. The exemplifier of football risk this spring is a man who will be picked in the top 10 of the first round (I have him No. 2, to Jacksonville, in my mock draft, which you can find on SI.com Wednesday), Brigham Young defensive end Ezekiel Ansah.
Four numbers defining the incredible rise up the draft charts of the 22-year-old Ghanaian, and the risk entailed in taking the on-the-rise player:
1.Twenty-one -- Ansah played 31 college football games at BYU. In his first 21, he did not record a sack.
2. Three -- He first touched a football three years ago, at Brigham Young, when he walked on to the team.
3.4.5 -- Ansah's career sack total.
4.Two -- In addition to English, Ansah speaks two languages: Twi and Fante, spoken widely in Ghana.
DILLON: Ansah ready to turn NFL, and its QBs, upside down
More prospects: Jordan | Watson | Bray | Trufant | Carradine | Lattimore | Hunt | Brown | Mauti
Tweet of the Week I
"Geno has become mystery man in draft if not in top 8, it could be a long 1st round''
-- @mortreport, ESPN's Chris Mortensen, tweeting Sunday night about what more and more people in the NFL feel: Only four or five teams in the first round could take West Virginia quarterback Geno Smith -- the consensus top quarterback in this week's draft -- and there is absolutely no guarantee that one will.
BURKE: 50 essential, eccentric facts about this year's draft
Tweet of the Week II
"Here at MSG, Mark Sanchez couldn't have been booed any louder if he walked into the middle of Tim Tebow Day in Gainesville"
-- @Ian_OConnor, the EPNNewYork columnist, at Madison Square Garden Saturday for the Celtics-Knicks playoff game when Sanchez's visage was shown on the video board.
Tweet of the Week III
"Mark Sanchez's new Order of Enemies: 1. Pass rushers. 2. Cornerbacks. 3. Jumbotrons. 4. Tebow."
-- @SC_DougFarrar, the Yahoo!Sports NFL columnist, watching the same game as O'Connor.
Tweet of the Week IV
"Amazing and sad we've had horrible attacks in the last year at a movie theater, a grade school and a major sporting event.''
-- @MikeMcCartney7, noted player agent.
Tweet of the Week V
"Not only did #Indians play 'Sweet Caroline' in game vs. #RedSox, they played 'Dirty Water' after #Boston's win''
-- @BGlobeSports, the sports department's Twitter feed of the Boston Globe, after the Red Sox beat Cleveland Tuesday night in Cleveland. "Dirty Water'' is the song played at Fenway Park after Red Sox victories.
Across the country, against bitter rivals and just plain rivals, sports teams bowed to Boston. It was great to see.
Ten Things I Think I Think
1. I think, if the Falcons had their way, they'd come out of the first round with Missouri defensive tackle Sheldon Richardson. But I also think it'd be too costly to move up from No. 30 in the first round far enough to get Richardson, who is very likely to go in the top 15.
DEITSCH: Inside ESPN's, NFL Network's draft plans
2. I think these were my biggest surprises at NFL.com draft analyst Mike Mayock's top 100 prospects, just published late in the week:
a. Central Michigan tackle Eric Fisher No. 1 overall, two spots ahead of peer Luke Joeckel.
b. Notre Dame tight end Tyler Eifert (13) ahead of corner Dee Milliner (16), though I am starting to hear teams have injury concerns about Milliner's shoulder.
c. Houston's D.J. Hayden (14) being the top-rated cornerback. I was stunned to hear the Bengals interest in him in the first round, and now I hear reliably they have company.
d. As he has said all along, Mayock has Geno Smith, his top-rated quarterback, out of the top 20. At 21.
e. Next at QB: E.J. Manuel (41), Matt Barkley (43) and Ryan Nassib (50). Mike Glennon is 81, but I could see him going as high as early second. He's an acquired taste, and a few teams love Glennon.
f. How the mighty have fallen: Alec Ogletree was in the top half of many early first-round mocks. Mayock has the Georgia linebacker 44th.
g. Sign of the times: one running back (Eddie Lacy, 18) in the top 50.
h. Hearing more and more good things about Oregon tackle Kyle Long -- son of Howie, brother of Chris, and former 95-mph-fastball-thrower. Mayock has him 29th, and one scouting boss told me Friday Long will go in the first round because he's strong enough to be a move-the-pile guard and quick enough to deflect edge rushers.
i. The Honey Badger's 98th, which is right around where Tyrann Mathieu should go.
BANKS: Mock Draft 6.0 | BURKE: Big Board 5.0
3. I think Rolando McClain, arrested again in Alabama over the weekend (disorderly conduct, resisting arrest), must have a death wish. What is wrong with the guy?
4. I think one of the underlying reasons Seattle and Tampa Bay traded their first-round picks this year is that neither thought the first-round talent was very good. But the one place each will miss that first-round pick is in salary-cap management. Tampa Bay sent the 13th overall pick to the Jets in the Revis deal. The 15th pick in the draft this year will average about $2.6 million per year for four years. Revis averages $16 million a year for six. So if you want the star, you'd better be a good cap manager.
5. I think if I had to go to Vegas, I'm still in the Luke Joeckel-to-the-Chiefs camp at No. 1.
6. I think -- and I don't know about you -- that after the 2012 season I'm dumbfounded that Tim Tebow is still a Jet and Darrelle Revis isn't.
7. I think new Carolina GM Dave Gettleman had an interesting comment about the state of his team last week. "Maybe you guys think I'm Pollyanna, but I don't see any major holes here,'' he said. Yes, Dave. We think you're Pollyanna. Your team has won two, six and seven games over the last three years, and hasn't won a playoff game in the last seven seasons. You might want to develop a wide receiver to take pressure off Steve Smith (and be his heir), and you might improve your corners so you don't allow 67 percent completions in a pass-happy division -- especially considering one of your major rivals will acquire Darrelle Revis this week.
8. I think -- and I may be wrong on this -- that a 15-33 team in this decade just might have a major hole or two.
9. I think for all the knocks the Bidwill family has taken over the years -- too cheap, too removed, too whatever -- I experienced the exact opposite Friday night at a Tweetup I hosted for fans at the Cardinals-owned Tom's Tavern in downtown Phoenix. Club president Michael Bidwill cleared the place out for our event (what does it cost to close down a downtown sports bar on a Friday night?) and we had a two-hour discussion of football and the Pat Tillman Foundation the night before the Ninth Annual Pat's Run happened in Tempe Saturday morning. Bidwill donated everything at the restaurant that night -- including his employees and the food -- and the $40-a-head fee and money raised during the silent auction was enough ($10,000) to fund one scholarship for a Tillman Military Scholar. The foundation has funded school for 231 veterans or family members of veterans, and Marie Tillman was on hand to thank Bidwill and the crowd for their generosity. I add mine. A tremendous evening.
10. I think these are my non-football thoughts of the week:
a. No matter what side of the issue you fall on (and for the life of me, I need one sane explanation on what is wrong with thoroughly checking the background of someone who walks into a store to buy a potential weapon of mass murder), you need to read the op-ed piece former Congresswoman Gabby Gifford wrote after the shameful display in the Senate the other day.
b. You go, Gabby. She wrote: "I'm furious. I will not rest until we have righted the wrong these Senators have done, and until we have changed our laws so we can look parents in the face and say: We are trying to keep your children safe.''
c. Come on: Tell me one good reason the gun lobby in this country should make the laws of the land instead of so many gun-lobby-intimidated, soon-to-be-cast-out Senators who shamed their names last week.
d.Now, those of you boiling over right now because I am so ill-informed and so left-wing and such a hater of the Second Amendment (which I am absolutely not), say something to the parents of the murdered Newtown children, whose deaths prompted exactly zero federal action to prevent more mass murders of innocents in innocent public places in the future.
e.I knew you couldn't think of anything.
f.One more thing. Read this by Augustus Busch IV, the Anheuser-Busch heir and, for years, one of the biggest National Rifle Association advocates. He resigned his "lifetime'' membership in the NRA last week in the wake of the Senatorial inaction, and he wrote this in his resignation letter, among other things, that the NRA was going against the will of its members by hand-grenading the background-check issue. He also wrote in his letter renouncing his NRA membership: "I am simply unable to comprehend how assault weapons and large capacity magazines have a role in your vision. The NRA I see today has undermined the values upon which it was established. Your current strategic focus clearly places priority on the needs of gun and ammunition manufacturers while disregarding the opinions of your four million individual members ... One only has to look at the makeup of the 75-member board of directors, dominated by manufacturing interests, to confirm my point. The NRA appears to have evolved into the lobby for gun and ammunition manufacturers rather than gun owners."
h. I will be very interested to see how and where Tamerlan and Dzhokhar Tsarnaev acquired the weapons they used to shoot at Watertown, Boston and Massachusetts State Police. Very interested.
i.There have been some great pre-game ceremonies I've seen. The Yankees and President Bush at the World Series post-9/11 was especially riveting. But the half-hour before the Red Sox game Saturday after the mayhem of Friday in Boston was as good and poignant and on-point as stadium celebrations/commemorations go.
j.You tell 'em, Papi.
k. Coffeenerdness: Missed you in Portland, Stumptown Coffee, after everyone told me to try your stuff. Next time.
l. Beernerdness: I could have Alaskan Amber (from Juneau) every day of the week, it's so good. Smooth and drinkable, but with a bite. A pleasant surprise at the Portland airport trumped it: Klamath Basin Drop Dead Red. It probably should be called Klamath Basin Drop Dead Brown, because it's such a dark red, but what a unique taste. A little vanilla, maybe a roasted vanilla. Very good experience.
m. Obit of the Week: One of the things I love about the New York Times is the obituary section each day. The paper takes the death notices very seriously. So seriously that, the other day, the death of 71-year-old thrice-married Frank Bank, who played bulbous Clarence "Lumpy" Rutherford, the no-goodnik son of Ward Cleaver's business associate, required two reporters to tell the story in a 14-sentence obituary.
My favorite section of it: "Lumpy -- a friend of Wally Cleaver (Tony Dow), the older brother of Beaver Cleaver (Jerry Mathers) -- was the closest thing the cheerful series had to a bad guy; he tried to push younger boys around but wasn't very good at it. Thus the character, whose real name was Clarence Rutherford, reflected the idealized American suburbia of network television: even the town bully was lovable. Nicknamed for his size and perhaps for his less-than-stellar intellect, Lumpy may have been larger than the other boys because he had repeated his sophomore year (at least once) or because his favorite hobby was eating. Constantly. Hapless and harmless, he appeared in 50 episodes during the show's seven seasons, occasionally as the center of attention. (Certainly that was the case in the episodes called 'Lumpy's Scholarship,' 'Lumpy's Car Trouble' and 'Wally Stays at Lumpy's.') ''
n. Lumpy? A scholarship? To what? The Beaver Cleaver School of Eating?
o. If you're going to read this column, you'll have to indulge my love of Leave It To Beaver. Sorry.
p.Those Kansas City Royals are a tough out these days. I'm quite sure I've never written that before. Alcides Escobar, the young shortstop, is a gem.
q.Saw 42. Really liked it, though if I could nitpick one thing it would be that I think Jackie Robinson -- from reading the Arnold Rampersad bio of Robinson -- underwent much more degradation; I would have made the movie rougher than it was. The hate-mongering razzing of Robinson by Philadelphia manager Ben Chapman was important to include. I'd have liked to see more, because there was more. But this wasn't a Disney treatment of the story. It was real, and it's a history lesson every American, say, 13 and older should see. I really thought the baseball and stadium scenes were good for Hollywood.
Ten Things I Think I Think ... About The Schedule
1. It's nice to be in the Eastern Time Zone. The 49ers">49ers will travel across a league-high 21 time zones to play their eight road games -- the longest of which will be an eight-time-zone shift to play in London Oct. 27. The four teams in the AFC East play seven Eastern Time games and one Central. So the Niners travel forever and the AFC East puddlejumps. Not saying it'll be a factor, but if you were coach, which travel sked would you rather have?
2. ESPN got treated well. The Sunday night NBC schedule is always excellent, and this year's no different. ESPN's isn't always this good. In fact, I wonder if it ever has been this good on Monday night. Of ESPN's 17 games, only three don't feature at least one 2012 playoff team. The Saints, a good draw, are in one of the others; another one, Dallas-Chicago, is not a shabby game. Last year, five of 17 games didn't have a defending playoff team. In 2011, three of the first four games matched non-playoff teams from the year before. This year, there's Jay Cutler-Aaron Rodgers, Colin Kaepernick-RGIII, Cam Newton-Tom Brady, Chip Kelly's first game as an NFL coach, and a rematch of the NFC title game.
3.Carolina's got it tough. Not only do the Panthers have the league's toughest schedule (which always can be misleading, because it's based on 2012 records), but they play three defending playoff teams coming off byes. Yikes.
4. San Francisco's secondary will be tested early. The Niners' secondary cost them dearly in the playoffs (109.5 opposing QB rating, 68.4 percent opposing completion rate), and San Fran opens with Aaron Rodgers, Russell Wilson and Andrew Luck. Better get that pass rush revved up.
5. Why doesn't the league make Green Bay-Detroit a Thanksgiving fixture? Including this season, let's count how many times each division opponent has come to Detroit on Thanksgiving since 2001: Green Bay six, Chicago zero, Minnesota zero.
6. Welcome to the NFL, Chip. Three games in 11 days to open his NFL career, and none is against Nicholls State. (That's Oregon's first foe of 2013.) The Eagles open on Monday night at Washington -- won't be much emotion in the place if Robert Griffin III is playing -- and then San Diego comes to Philly the next Sunday, and then Andy Reid and the Chiefs are in town the following Thursday. Monday-Sunday-Thursday turnarounds ought to be against the law in the NFL. And then the Eagles have three straight road games.
7. But the Eagles get even. Eleven of their last 12 games are exactly what every coach wants: Sunday at 1. And the 12th, in Oakland, is Sunday at 1 -- 1 Pacific Time.
8. Denver will have the most emotional slate. Week 1: Ravens in a playoff rematch, this time without Ray Lewis and Ed Reed but with Wes Welker. Week 2: Peyton at Eli. Week 7: Peyton at Andrew Luck. Week 8: Mike Shanahan returns to the scene of his prime, coaching in Denver for the first time since he got whacked. Week 12: The last installment of Manning-Brady? Not so fast: The tentative 2014 schedule rotation has the AFC West and East matching up.
9. Hydrate, Jags. In the first eight weeks, Jacksonville travels to Oakland, Seattle, Denver and London.
10. And, of course, The Revis Bowl beckons. Who'd have thought Jets-Bucs would be compelling Week 1? It got that way Sunday with the trade of Darrelle Revis from the Jets to Tampa Bay ... providing Revis can rehab his reconstructed well enough to be a factor that day. Somehow, I think he will.
BANKS: 17 games I can't wait to see in 2013
The Adieu Haiku
Next Patriots Day, I must ask -- no, I demand: Come en masse to Mass.