In defense of their title, Seahawks may air it out with Russell Wilson
RENTON, Wash. -- At the end of the 2005 season, the Pittsburgh Steelers won Super Bowl XL with second-year quarterback Ben Roethlisberger on a very managed plan. Roethlisberger attempted 268 passes in the regular season and 96 more in the team's four post-season games, and the Steelers ranked dead last in passing attempts that year. Roethlisberger was efficient enough when given the chance, ranking seventh in Football Outsiders' opponent-adjusted metrics, but he wasn't tasked and tested as he would be the following season. In 2006, Roethlisberger threw the ball 469 times in the regular season, his interception total bloated up from nine to a league-leading 23, his FO metrics dropped to 10th, and the Steelers missed the playoffs. A team with an outstanding run game and a great defense regressed because they put too much, too soon on their franchise quarterback.
Now, the Seattle Seahawks, the team Pittsburgh beat in that Super Bowl that season, have to make a very similar decision regarding Russell Wilson. Going into his third NFL season, is Wilson ready to make the leap in a way that will allow him to define his offense, or would that decision set everything on the wrong path?
The 2013 Seahawks won the Super Bowl with a historically great defense and a running game that was among the NFL's best. But defenses at that level invariably regress, and Seattle's running game is in a bit of flux as Marshawn Lynch holds out for an altered contract. The Seahawks have Christine Michael and Robert Turbin in the bullpen ready to go, but neither young back has proven that he can replicate Lynch's unique skill set. Even if Lynch plays another full season for the Super Bowl champs, he'll do so at age 28, with more carries over the last three seasons than any other NFL back.
Wilson, selected in the third round of the 2012 draft, has attempted just 800 passes in two regular seasons. He's been a safe player; a bit more than a game manager, but not at the level of the quarterback that Roethlisberger became in the 2007 season when the Steelers switched their offense to a passing-heavy concern. Their quarterback was ready for it.
Richard Sherman, Patrick Peterson pace the NFL's best cornerbacks
Nobody doubts Wilson's work ethic and physical ability; the only question is whether he can keep his efficiency and consistency going when opposing defenses expect him to be the man.
One thing Wilson will have to do is to get past his own team's defense, and on the first day of the team's 2014 training camp, that appeared to be as difficult for him as it generally was for the quarterbacks opposing the Seahawks in 2013. When Wilson tried a deep end zone fade to receiver Chris Matthews about an hour into practice, Richard Sherman was all over it. When he tried to hit speedy target Ricardo Lockette on a seam route 20 yards downfield, Sherman denied that one, too. On the other hand, he did throw great passes to rookie receiver Kevin Norwood and veteran Percy Harvin, whose hip injury limited him to just 68 snaps in his first season in the Emerald City. Wilson's pocket presence has clearly improved, and unlike a lot of mobile throwers, he's just as good in the pocket as he is when he's on the move.
Head coach Pete Carroll would prefer to have a balanced offensive attack, but he's not one to force the run if it isn't working, and he's just as impressed with Wilson's acumen as just about anyone else.
"We're trying to keep growing," Carroll said after Friday's practice. "We want to become more efficient at everything we're doing. He'll continue to grow. He'll continue to see things better, he'll respond quicker, he'll take advantage of his background better. This is still a real ascending process for him, and he works so hard at it. He's going to take full advantage of the experience he's had, and I can only anticipate that he'll be cleaner and sharper at everything he's doing."
Warren Moon, the Hall of Fame quarterback who now works for the Seahawks' broadcasting group and has acted as an informal adviser to Wilson, told me Friday that Wilson would be ready for any increase in passing attempts. Moon says at this point in Wilson's career, it's not too big for him.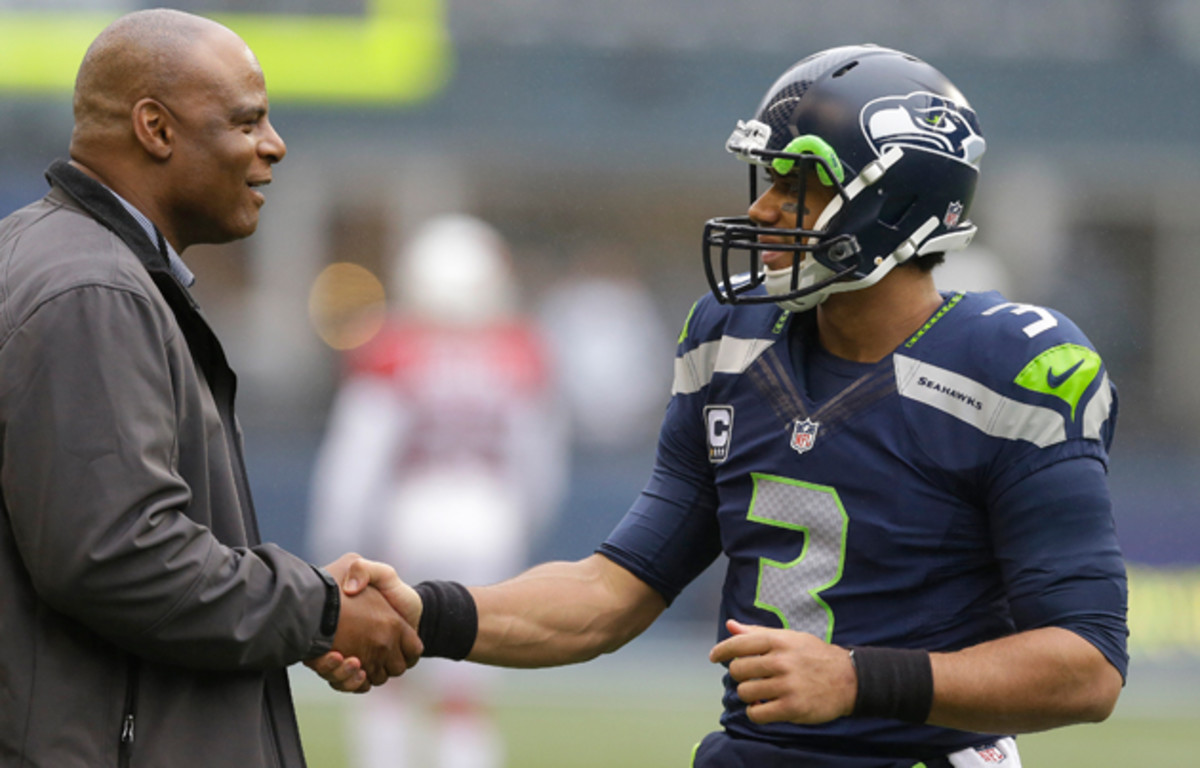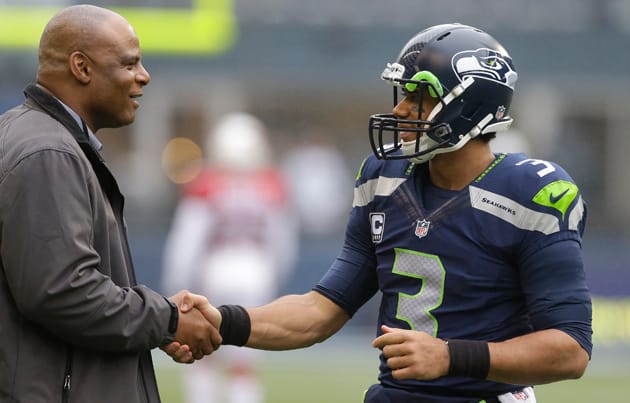 "They might give him a little more -- I don't know what you mean by a more expansive role, but he's got the whole package right now," Moon said. "They've given him every responsibility you could want as a quarterback. [The number of passing attempts] might increase a little bit more, just because of the talent he has on the outside. His receiver corps is a lot stronger now than it's been since he's been here. The guys he had last year, Doug Baldwin, Jermaine Kearse and those guys, they're all experienced. You get a healthy Percy Harvin, this kid Richardson looks like he's the legitimate deal. They've got a much more explosive group. Whether he gets a lot more attempts I'm not sure, but you'll see more explosive plays out there, just because the kinds of guys they have."
One of the things that impressed Wilson's teammates and coaches right from the start was his ability to pick up the playbook and really run with it. There are times when he puts too much juice on the ball, he's not always stable in the pocket and under pressure, and he will occasionally put a bit too much faith in his deep arm. But he's also developed the full array of throws, and given the Seahawks' current group of pass-catchers, including two taken in the 2014 draft in Paul Richardson and Kevin Norwood, it's easy to picture a scenario in which Wilson becomes the epicenter of Seattle's offense.
"He's got everything, and they gave all of that to him last year -- basically the latter part of this first year -- and then they expanded on it," Moon said. "So, he's got everything at his disposal. He could go up to the line of scrimmage with three different options and pick the right one for them to run based on what the defense is doing. But as far as the passing game is concerned, Pete really loves this balance of the offense. If this balance was 53 to 47 run versus pass last year, maybe it could go 53 to 47 pass versus run. It could be something like that, and it might not even be that drastic a change -- maybe 51-49 in favor of the pass. I think the type of game will determine how often they throw. If they're behind in a game, he'll obviously see more attempts."
And that's where the Seahawks could find themselves, with a schedule that includes games against Peyton Manning, Philip Rivers, Aaron Rodgers, Cam Newton, Tony Romo, Robert Griffin III and Nick Foles, as well as six total go-rounds with their NFC West rivals in what is unquestionably the toughest division in the NFL. There will be no margin for error, and it's quite possible that any regression anywhere else will have to be made up by Russell Wilson's arm. The extent to which he's ready to take that on could decide Seattle's ability to grab another Lombardi Trophy.