NFL bold predictions: Saints return to the top, RGIII struggles again
I suppose NFL predictions serve their rightful purpose. If us pundits didn't churn them out annually, how would any of the gazillion players and coaches who will claim "no one believed in us" between now and early February ever find a way to motivate themselves? So, it's really a public service of sorts.
2014 NFL division previews: Examining AFC East to NFC West
​There are no guarantees in the NFL, unless that in and of itself qualifies as one. But I'm drawing the line there. I write these every September, and then I hear about them the rest of the year. You could say getting most of my predictions wrong has turned into a rite of summer.
Not that it has deterred me from my convictions. I have visited training camps, watched preseason games and discerned the truths I can discern from the vantage point I have been afforded. And now, here's another 20 bold predictions as we approach the start of the NFL's 2014. Some of these are bolder than others, but as always, your results may vary:
NFL burning questions | Predicting the order of finish in every division
1. Three teams went undefeated at home last year in the regular season (New England, New Orleans and Cincinnati), but only the Saints will reprise that success, helping Sean Payton's stacked club earn the NFL's best overall record at 13-3. New Orleans will take care of business at home, and that dome-field advantage will prove pivotal to beating visiting Seattle in the glamor NFC title game showdown between a heavyweight offense and heavyweight defense. Getting to play Super Bowl 49 indoors at Arizona's comfy University of Phoenix Stadium won't put the Saints out one bit either, where Drew Brees and Co. will best a Peyton Manning-led team (this time, Denver) for the second time in five years.
2. It has been since 2008 for one franchise, and '07 for the two others. But the state of Florida's five-year NFL playoff drought will end with a flourish, with both Tampa Bay and Jacksonville rebounding from 4-12 finishes a year ago to earn wild-card berths and reach the postseason for the first time since Jon Gruden and Jack Del Rio were still on the job as head coaches. Alas, Joe Philbin's still-mediocre Miami Dolphins, who most recently made a playoff appearance in 2008, will not join in on the fun in the sun, failing to post a winning record for the sixth consecutive year. In Miami, that Dave Wannstedt era is looking better all the time.
2014 All-Pro predictions: Aaron Rodgers, Jimmy Graham lead the way
3. With his recent knee and arm injuries no longer inspiring round-the-clock updates, Patriots TE Rob Gronkowski will actually stay healthy this season, playing in 16 games for the first time since 2011 and hanging up his usual gaudy collection of statistics. No. 87 will earn the NFL's Comeback Player of the Year honor and give Patriots QB Tom Brady at least one proven target taller than 5-foot-11 in the passing game. He'll top 80 catches for roughly 1,200 yards, with at least 10 touchdowns and return to cult-hero status in New England.
4. Proving his inability to correctly slide as the only skill he has completely mastered thus far in his three-year NFL career, Washington QB Robert Griffin III will get injured and forced to the sideline at some point before midseason. His backup, Kirk Cousins, will play just well enough to spark (or further ignite) the inevitable quarterback controversy in D.C., renewing questions about RGIII's long-term future as the team's franchise quarterback. In addition, team owner Daniel Snyder will resist the urge to use the word "NEVER" in all capitals when asked if Cousins poses any threat to Griffin's standing as the starter. I don't know if predicting any of this qualifies me one of those "doubters" Griffin likes to take aim at, but I think it's fair to say I'm at least in the range of dubious.
SI.com's complete fantasy draft guide | Play our weekly fantasy game
5. Despite all the hand-wringing that took place this spring, neither the Eagles nor their fans will be wracked by regret this year when it comes to the departure of big-play WR DeSean Jackson. Washington did commit a heist on Philadelphia with that Sonny Jurgensen trade, but in this case, Jackson's relocation within the NFC East will be more similar to Jeremiah Trotter's and Donovan McNabb's moves. When all is said and done, Philadelphia will claim another division title and be playing in January. Even with Jackson's ability to cause major problems for a defense, Washington will do well to flirt with .500.
6. At 28, and leading the NFL with an average of almost 300 carries the past three seasons, Seattle running back Marshawn Lynch is headed for something considerably less than Beast Mode in 2014 (Least Mode anyone?). Lynch runs like he's playing bumper cars at the arcade, but even his hammer-like body can only absorb so much punishment. I'm just connecting dots here, but when you add in that he's already won a ring, spent a good deal of time this offseason focused on his 2014 salary level and isn't playing behind the NFL's most stellar offensive line, Lynch may not come anywhere near his 1,573 yards from scrimmage and 14 touchdowns of a year ago. If his head and heart are not into it at 2013 levels, Lynch will not be the handful Seattle opponents have come to expect.
7. Raiders head coach Dennis Allen came to his senses Monday and named Derek Carr the team's starter, assuring the NFL of at least one rookie quarterback starting in Week 1 for the seventh consecutive year, a streak that began with Matt Ryan and Joe Flacco in 2008. (As we suspected all offseason, Matt Schaub went the way of Matt Flynn in Oakland, losing his grip on the No. 1 quarterback job once the games started.) But come October, all four of the league's high-profile rookie quarterbacks will have started at least a game or two, with Carr followed in order by Johnny Manziel in Cleveland Blake Bortles in Jacksonville and Teddy Bridgewater in Minnesota thanks to a mixture of ineffectiveness or injury by the veterans currently holding those starting jobs.
2015 NFL draft Big Board 1.0: Cedric Ogbuehi tops list entering season
8. Chris Ivory and Bilal Powell will get their touches, but the bounce-back season Chris Johnson is aiming for will unfold for the first-year Jets running back. Johnson may start out slowly, but he'll get better as the season wears on and wind up topping 1,300 yards rushing for the first time since 2010, with a healthy average rush in the range of 4.5 yards and double digits in touchdowns. With New York riding its ground game for all its worth, easing the pressure on second-year quarterback Geno Smith, the Jets will also inspire echoes of 2010, returning to the playoffs for the first time since that season.
9. Armed with a new contract and a vote of confidence from Bengals owner Mike Brown, quarterback Andy Dalton will see his maddening three-year streak of first-round playoff losses end in 2014 ... when Cincinnati fails to reach the postseason for the first time since 2010. The Bengals, my AFC Super Bowl pick a year ago, will come in second in the AFC North behind Baltimore, but lose out on the AFC wild-card spots to Jacksonville and the Jets. It will be Cincinnati's road woes that continue to bedevil the Bengals, who went just 3-5 away from home a year ago, including 0-3 in the division. A Week 1 loss at Baltimore will keep that dispiriting trend going.
SI's All-Breakout Team: Players on the verge of surprising season
10. Last week's surprising trade of six-time Pro Bowl guard Logan Mankins to Tampa Bay may have riled up some folks in the Patriots locker room -- even the all-important No. 12 -- but this will be a case of history repeating itself by season's end. Successful history, as in 2003, when New England shockingly released defensive captain Lawyer Milloy just before the season began, and then went on to earn the franchise's second Super Bowl ring. And again in 2009, when the Patriots shipped star defensive lineman Richard Seymour to Oakland at the final cutdown deadline, recovering enough to go 10-6 and re-claim the AFC East title they lost to Miami in 2008. When the smoke clears in Foxboro, New England will own its sixth consecutive division crown, and 12th in the past 14 years. Book it.
NFL Suspensions for 2014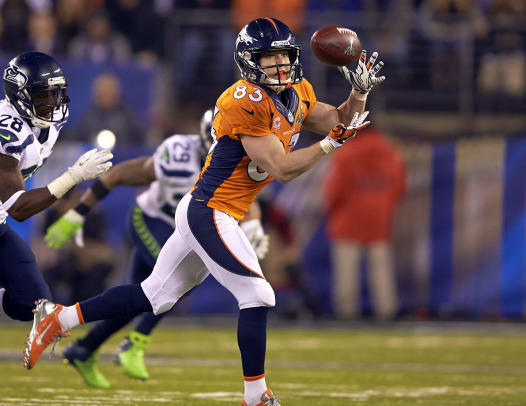 11. Maybe it's the Curse of Ryan Leaf, but Houston's new Ryan-Ryan quarterback tandem will not produce more than six wins for rookie Texans head coach Bill O'Brien this season. Ryan Fitzpatrick will get most of the team's starts, with the freshly acquired Ryan Mallett spelling him on occasion. Sorry, Houston, but the postseason will again be beyond reach. As they will be for Ryan Tannehill in Miami and Matt Ryan in Atlanta. Clearly there's no crying in baseball and no Ryans in the NFL playoffs.
BURKE: Breaking down the impact of Mallett's trade to the Texans
12. Unless you're counting Rex and Rob Ryan, those twin coaching savants who will head to the postseason in the same season for the first time since 2003, as hard as that might be to believe. Rob, the Saints' long-haired defensive coordinator, missed the playoffs for nine years in a row from 2004-12, while coordinating defenses in Oakland, Cleveland and Dallas. The Saints made the party a year ago with Rob employed, but Rex, the Jets' head coach, is working on a three-year playoff drought in New York. I've got the Saints winning it all this season, and the Jets breaking though with an AFC wild-card berth, putting both brothers back in the postseason for the first time since Rex was the Ravens defensive coordinator in 2003, and Rob was wrapping up a four-year stint as the Patriots linebackers coach with a second Super Bowl ring in three seasons.
13. Slowly but surely, the league's Mike Movement will continue to take over the head coaching ranks. With Mike Zimmer leading the way in Minnesota and Mike Pettine taking charge in Cleveland, almost one-fifth of the NFL franchise's (six of 32) now feature a Mike atop the coaching flow chart. And the I-like-Mike trend is smart strategy, with San Diego's Mike McCoy making the playoffs as a rookie head coach last year, while Pittsburgh's Mike Tomlin, Atlanta's Mike Smith, and Green Bay's Mike McCarthy all have earned multiple postseason berths and proven to be solid long-term bets. Even with Mike Shanahan's demise in Washington, hiring the best available Mike is almost always a sound approach.
Aldon Smith suspension creates big hole in San Francisco 49ers defense
14. Things might look a little rocky in the season's opening two months, but the depleted 49ers defense will weather the first-half absences of linebackers Aldon Smith and NaVorro Bowman -- as well as the potential absence of defensive lineman Ray McDonald -- and start to look like its dominating self in the second half. Keep in mind both Smith and Bowman are fortunately expected to be back in the lineup for both games against Seattle (Weeks 13 and 15), and those meetings could well decide the champion of the rugged NFC West. It won't be pretty at times on defense for San Francisco this year, even in the 49ers' pristine new Levi's Stadium, but their perseverance will be rewarded with a fourth consecutive playoff trip.
15. With new head coach Ken Whisenhunt arriving in the nick of time, fourth-year Titans quarterback Jake Locker will shake off his injury history and penchant for inconsistency, mounting a strong contract-year performance that will earn him an extension and a future in Tennessee. Locker will top 3,700 yards passing with 25 touchdown tosses, and complete a career-high 62 percent of his throws. The Titans will stay in contention for an AFC wild-card berth for most of the season, but ultimately fall short, watching the division rival Colts and Jaguars both reach the postseason.
16. After years of false starts and meaningless chatter, the NFL will be much more aggressive in maneuvering the necessary steps to return a team (or teams) to the Los Angeles market this fall. With labor peace accomplished three years back and the lucrative new TV contracts just beginning to take effect this season, there will be quiet momentum building to get serious about a team in L.A. in the very near future. For the first time in league history, three franchises -- the Rams, Raiders and Chargers -- are on year-to-year leases, with none having workable long-term stadium deals in their current city. Put the Rams at the top of the relocation to Los Angeles list and leave them there for the remainder of 2014, pending developments in the coming four months.
17. Jason Campbell won't last the season as Cincinnati's backup quarterback, because if he does, Bengals coach Marvin Lewis' job is in serious jeopardy. I don't know if he knows this yet, but Lewis can't overlook what Campbell could mean to his employment status. A brief refresher: Campbell has seen his head coach fired for five consecutive seasons, starting with Jim Zorn in Washington in 2009, Tom Cable in Oakland in '10, Hue Jackson in Oakland in '11, Lovie Smith in Chicago in '12 and Rob Chudzinski in Cleveland in '13. This season already has something of a now-or-never season in Cincinnati for Lewis, who's 0-5 in the playoffs in his 11-year Bengals tenure, but, I mean, why tempt fate?
Cover-Two: Examining the highs and lows of the 2014 NFL preseason
18. Dismissed as head coaches by Houston and Detroit, respectively, after last season's twin disasters, Gary Kubiak and Jim Schwartz will waste no time distinguishing themselves with strong first seasons back at the coordinator level. Under Kubiak, Baltimore's offense will exhibit both balance and tenacity, with quarterback Joe Flacco returning to form and the Ravens winning the AFC North. Schwartz's work with Buffalo won't be enough to end the Bills' NFL-worst playoff drought of 14 seasons, but his talented defense will finish in the league's top five and earn him consideration for head coaching jobs in January.
19. Between the newly signed J.J. Watt and Jadeveon Clowney, the pair of Houston pass rushers will combine for 24 sacks and lead the league in terms of impact per the letter J. And to think Jared Allen and Julius Peppers were both there for the taking as well this offseason. What a missed opportunity for the Texans.
20. In a easy-to-miss salute to the NFL's 95th season, third-year Patriots defensive end Chandler Jones -- who wears No. 95 -- will contrive to finish with exactly 9.5 sacks this season, a step down from his team-leading 11.5 sacks of a year ago. Asked repeatedly about the wisdom of such a decision while playing for a Bill Belichick-coached team, Jones offers only a pithy "it is what it is."