NFL Week 8 superlatives: Tom Brady excels against Bears defense while Geno Smith get benched after throwing three interceptions.
As Week 8 of the NFL season winds down, we take a look back at some notable performances and key plays.
• NFL Week 8 coverage hub | NFL trade rumors: Latest buzz before deadline
Sunday's late games
MVPs: Ben Roethlisberger.
Had the Steelers given him a shot on their final possession, Roethlisberger might have been able to surpass Norm Van Brocklin's single-game passing record of 554 yards. Instead, already leading the Colts by 17 points, Pittsburgh opted to run out the clock.
So Big Ben will have to settle for a 522-yard, six-touchdown day.
Both of those totals are team records -- Roethlisberger already held the yardage mark at 503; he (twice), Mark Malone and Terry Bradshaw previously had thrown five TDs in a game. Roethlisberger already had a quintet of touchdowns to his credit by the 9:59 mark of the third quarter, at which point the Steelers led 42-20.
Indianapolis rallied back within 42-34, before a safety and Roethlisberger's sixth TD toss sealed the win.
Antonio Brown and rookie Martavis Bryant each caught two of those scores, while Heath Miller and Markus Wheaton were on the receiving ends of the others. All told, Roethlisberger hit on 40-of-49 passes, with nine different Steelers making grabs.
Andrew Luck was not half bad, either. The Colts' superstar QB finished with 400 yards passing of his own and three touchdowns. But he also fired two interceptions, including an early pick-six, and took an intentional grounding penalty for that critical safety.
A good day for Luck. An incredible one for Roethlisberger. -- Chris Burke
​
LVPs: Cary Williams and Nate Allen.
Allen actually made one of the defensive plays of the day, stripping Arizona running back Andre Ellington and managing to recover the loose ball while getting both feet inbounds. An untimely miscue later will overshadow that effort.
The Eagles held a 20-17 lead with just 1:30 left, and the Cardinals were facing a 3rd-and-5 from their own 25, when Allen and Williams allowed speedy receiver John Brown to beat them for a game-winning touchdown. Brown faked inside, then ran past Allen deep. Williams, who appeared to be responsible for outside coverage on the play, also could not turn and catch Brown as he sprinted underneath Carson Palmer's bomb.
"It was just a great play by the coaches," Brown said. "I [saw] the safety [Allen] on me and I had made a double move. He bit on it."
Tough to pin the blame for a hard-fought defeat on any one player. In that situation, though, letting Brown have a first-down catch over the middle would have been preferable by far to allowing him the deep ball. -- CB
Must-See GIF: Quite the eventful Sunday for Eagles receiver Jeremy Maclin. He caught 12 passes for 187 yards and a touchdown. He left the game briefly after taking a wicked helmet-to-helmet shot, which left him bleeding from the ear and in need of a concussion test.
And he did this ...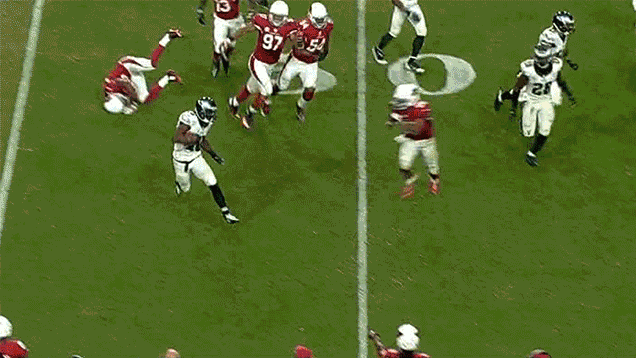 (GIF via Deadspin) -- CB
Must-See Vine: Sneaking in an extra one here because, well ... Matt Schaub.
That was Schaub's first regular-season pass as a member of the Raiders. It came after Oakland lined up for a long field-goal attempt, then shifted Schaub into a pooch-punt formation with kicker Sebastian Janikowski out wide. Bizarre call. Worse execution. -- CB
Head-scratching decision: Ben Roethlisberger's pooch punt.
Roethlisberger may not have set the single-game passing mark, but he has to be the record-holder for a QB who also had a punt blocked. On a 4th-and-4 from the Indianapolis 34 just before halftime, the Steelers opted to have Roethlisberger attempt a pooch punt. (He had five punt attempts in his career prior to Sunday.) 
Indianapolis' Jonathan Newsome had other ideas, rejecting Roethlisberger's kick at the line and giving the Colts possession at their own 35. They went on to add a field goal. -- CB
Key injury: Vontae Davis, CB, Colts (knee)
The Colts were struggling to slow Pittsburgh before Davis left with a knee injury. They were utterly lost without him.
A few other big names exited Sunday's late action, too: Cleveland TE Jordan Cameron, Arizona CB Patrick Peterson. Neither loss hit as hard as Davis' departure did the Colts, and now the AFC South leaders will cross their fingers that Davis is not out long. Indianapolis hosts the Giants next Monday night before a Week 10 bye.
Davis put together an All-Pro-worthy first half of the season -- Pro Football Focus actually has him graded as the NFL's top cornerback so far in 2014, with a QB rating of 35.2 on passes thrown his direction. His injury depleted an already overmatched Indianapolis secondary. -- CB
Sunday's early games
MVP: Tom Brady, QB, New England Patriots
Yes, the Bears' defense looked like something straight out of Division III football (our apologies to Division III football), but Brady put together one of his all-time best performances in a long list of all-time bests. The Patriots' quarterback completed 30-of-35 passes for 354 yards, five touchdowns and no interceptions in a 51-23 thrashing of the Bears. It was Brady's highest touchdown total since Oct. 18, 2009, when he put up six on the Tennessee Titans.
Oft-injured tight end Rob Gronkowski was healthy enough to catch three of those scores, and the only reason he left the field was due to dehydration. Perhaps reports of Brady's demise, and the demise of the Patriots offense, were a bit early?
As for the Bears, they came into this game ranked 30th in Football Outsiders' opponent-adjusted metrics against tight ends in pass coverage, and that number is about to drop. The matchup of safety Ryan Mundy on Gronkowski wasn't a matchup at all, and after last week's report of locker room schism and their 3-5 record, it can be safely said that the Bears -- a team expected by many to make noise in the postseason -- are circling the drain. -- Doug Farrar
[nfl_media_id:a4a8aeb934754f528fd47560ac7d2f2a]
LVP: Geno Smith, QB, New York Jets
No one else is more deserving of this "award" than the Jets' quarterback after his pitiful performance in Week 8. When he was finally benched in the first quarter (yes, the first quarter) in favor of Michael Vick, Smith had completed two passes to his own teammates -- and three to the Buffalo Bills. He left the field for the day with those two completions and three picks in eight attempts for a grand total of five yards.
It was a decisive reversal of development for the quarterback who, for the most part, looked pretty good in the Jets' 27-25 loss to the Patriots on Oct. 16 -- Smith completed 20-of-34 passes for 226 yards, a touchdown and no picks in Week 7. But this week, Smith more closely resembled Bills' quarterback EJ Manuel, who was benched earlier this season after a host of questionable decisions and horrid airballs.
The Jets have a problem here, and it goes beyond their limited receiver corps or offensive coordinator Marty Mornhinweg's play-calling. Smith has all the physical attributes to be successful in the NFL, but he still goes through long stretches in which he simply looks overwhelmed by the pro game.
Rex Ryan made it easier on everyone when he replaced Smith with Michael Vick after his third pick with 4:49 left in the first quarter (Yes, it took Smith a little more than 10 minutes to throw those three picks), but Vick didn't exactly impress either, completing 12-of-28 passes for 116 yards, no touchdowns and an interception of his own. However, when you're talking about Jets' quarterbacks, disasters are relative.
If you'd like to see Smith's entire debacle-filled performance ... well, we're happy to oblige. -- DF
​
Must-See Play: Kelvin Benjamin defeats the Legion of Boom
The Panthers fell short against the Seahawks at home in a 13-9 loss, but there was this throw from Cam Newton to rookie receiver Kelvin Benjamin with 8:39 left in the fourth quarter. From his own end zone, Newton heaved the ball, and left it to the 6-foot-5, 240-pound Benjamin to leap up and win a battle with Seahawks cornerback Richard Sherman and safety Earl Thomas. Seattle's defense has been a bit off this year, but it doesn't get much better than this. -- DF
(H/T: Bleacher Report)
Head-Scratching Decision(s): Two files from the "Act Like You've Been There Before" Department
First, here's Bills receiver Sammy Watkins beating the Jets for what seems like a long touchdown, until he decides to celebrate the score a bit early. This allowed Saalim Hakim -- a receiver and returner who was forced into duty in the Jets' depleted secondary -- to disabuse Mr. Watkins of the notion that he would score.
Apparently, Watkins hasn't watched any Leon Lett videos.
(H/T: Bleacher Report)
And then, there was Bears defensive lineman Lamarr Houston, who decided to celebrate a sack late in the aforementioned blowout loss and crumpled to the ground with what appeared to be an injury of the Bill Gramatica/Stephen Tulloch variety. Houston's leg buckled, and in all seriousness, we hope it isn't anything like the torn ACL Tulloch suffered while acting up in-game in September. -- DF
​
Key Injury: Nick Fairley, DT, Detroit Lions (knee)
The Lions beat the Falcons in London today, but they took a big hit along the way. In that 22-21 win, defensive tackle Nick Fairley crumpled to the turf after a collision with teammate Ndamukong Suh, and head coach Jim Caldwell wasn't happy about Fairley's prospects after the game.
"I'm not quite certain where he is right now," Caldwell said. "But obviously, when you're carried off the field, it's not the greatest news. We'll see what the doctors say about him."
"It was tough," teammate Jason Jones said. "Anytime you see an injury to one of our top players, that's tough. I've been through that last year, with my injury, and we just try to give him our best wishes.
"He says he'll be back. He'll rehab. He's up [emotionally] right now. I think he'll be back. We'll see."
It's bad timing if the injury is serious. Fairley, who's in the last year of a rookie contract after being drafted in the first round in 2011, has played very well this year after going through some concentration gaffes earlier in his career. -- DF
Athletes Who Injured Themselves While Celebrating
Edu Andrade/LatinContent/Getty Images
Mark Lennihan/AP; Marc Serota/Getty Images
Franck Fife/AFP/Getty Images
Jonathan Daniel/Getty Images
Jamie Squire/Getty Images
Joel Richardson/The Washington Post/Getty Images
​