Breaking down why top 2015 NFL draft picks Dante Fowler, Vic Beasley, Byron Jones and Danny Shelton are set up to contribute immediately on their respective teams.
Every year, there are those rookies who defy the odds and put together truly special performances, making the transition from college to the NFL look like a relative breeze. In 2014, receiver Odell Beckham Jr. of the Giants made spectacular catch after spectacular catch, looking almost uncoverable at times. On the other side of the ball, Khalil Mack turned the Raiders' defense into something special at times with his efforts, amassing four sacks, 10 quarterback hits and 40 quarterback hurries while growing into a dominant force on run defense.
Who will beat the rookie curve in 2015? Raw talent helps a lot, but the marriage of player and scheme is the most important factor in that transition. Yesterday, I broke down four offensive weapons who were drafted into ideal fits for their skill sets. These four defensive rookies have the chance to put up special debut seasons thanks to the situations on the teams that drafted them.
• Handicapping the Rookie of the Year race | Projected AFC standings
They haven't had a winning season since 2007, but the Jaguars have slowly built a good foundation from a very limited set of resources when that turnaround process started a few years back. The franchise embraces scouting and sabermetrics equally, and bit by bit, it's paying off. What team owner Shahid Khan, senior vice president of football technology Tony Khan and general manager Dave Caldwell needed for the reclamation was a coach who was both a strategic overseer and an eternal optimist. They filled that spot with former Seahawks defensive coordinator Gus Bradley in January 2013. One of the things Bradley brought with him from his time with Pete Carroll was a preference for the hybrid "endbacker" rushing end, also referred to as a LEO end. The ideal LEO can create havoc with his hands off the ground or in a three-point stance, and within different schematic constructs.
Jacksonville tried to fill that role with Chris Clemons in 2014—Clemons had success at LEO under Bradley and Carroll in Seattle, and he rebounded from a 4.5-sack campaign in 2013 with eight in his first year in Jacksonville. Add in the pass-rushing power of supremely underrated defensive tackle Sen'Derrick Marks and free agent acquisition Jared Odrick, and it's clear that the Jags are establishing a line that can bring consistent pressure.
Still, a young superstar was needed, and Jacksonville went after one with the third pick in the 2015 draft, taking Florida defensive end/linebacker Dante Fowler, Jr. Fowler amassed 8.5 sacks and 15 tackles for loss in 2014, but in his case, stats don't tell the whole story. Fowler lined up all over the formation—everywhere from stand-up end to one-tech nose tackle—and at 6'3" and 261 pounds, he was going to lose some of those inside power battles. As a pure pass-rusher, Fowler was generally listed as the top man in this draft class, and it's my belief that he's the best defensive player available in 2015. Bradley and Caldwell had no hesitation when Fowler was available. After Jameis Winston and Marcus Mariota predictably went off the board with the first and second picks, Jacksonville picked the guy who could conceivably terrorize both of those guys in years to come.
"I really liked him," Bradley said after Fowler was taken. "There were a lot of guys that we enjoyed that were in here in our building. Like Dave said, the need that we have, you can never have enough rushers. I did learn that the last couple of years being a defensive coordinator and now as a head coach that, any time you can get rush and good rushes. He is unique at the Leo position because of his size, strength and speed and what he brings. He is physical, explosive and I felt like he gives us a chance to become more explosive on defense.
"Sometimes when you get [to] 260, 265 [pounds] now they're 4.75 or 4.7 [in the 40-yard dash], but he is 260 at 4.6; that's a little bit different now. He is a little bit different style LEO."
What makes Fowler special is his great combination of speed off the edge, determination to push the pocket around and violent hand movement that will get even better when an NFL coaching staff gets hold of him. And while Clemons can still create pressure from multiple gaps, as exhibited in this sack of Eli Manning in the Jaguars' Week 13 win over the Giants...
...this Fowler sack against LSU shows a different level of upper-body strength, spatial awareness and pure short-area explosiveness.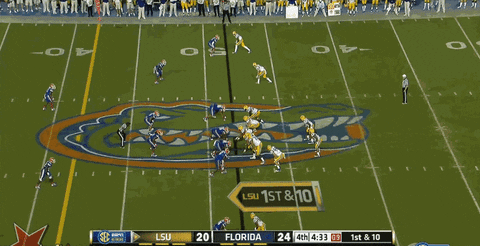 With Fowler and Clemons on the edge and Marks and Odrick inside, Jacksonville's line will be truly formidable for the first time in years. That's another impressive building block for a team on the rise.
One of the primary reasons the Falcons have plummeted in the standings over the last two years is the decline of their pass rush. Atlanta had just 22 quarterback sacks in 2014, and only the Bengals had fewer. General manager Thomas Dimitroff has tried in vain over the years to acquire good, young pass rushers through the draft, but outside of veterans John Abraham and Kroy Biermann, there hasn't been any consistent pressure in recent years. Biermann led the team in sacks in 2014 with 4.5, hardly an earth-shattering number.
To alleviate this issue, Atlanta replaced head coach Mike Smith with Dan Quinn, who had replaced Gus Bradley as Seattle's defensive coordinator and brought his own inventive pass-rushing concepts to the Emerald City. Dimitroff knew that he had to give Quinn more to work with, and that's why Atlanta selected Clemson end Vic Beasley with the eighth pick. From a sabermetric perspective, Clemson had the NCAA's best defense in 2014, and Beasley was the team's best pass rusher—he totaled 25 sacks and 44.5 tackles for loss, and he's Clemson's all-time sack leader with 33. Beasley got this done with a lightning-quick first step and tremendous athleticism around the edge and in open space. He doesn't yet have a full array of hand moves, a common fault among collegiate pass rushers, but the 6'3", 246-pound Beasley has the potential to be the best at this position since Abraham was in his prime.
"When we evaluated all the guys, that was the thing that really jumped out," Quinn said of Beasley's speed off the snap. "When you can beat a guy to the punch, that's when you can have your most success as a rusher. He certainly has the ability to do that. All the unique stuff Vic has as a player, we can't wait to feature that."
Quinn no doubt saw similarities between Beasley and Bruce Irvin, the West Virginia end the Seahawks took in the first round of the 2012 draft. Irvin hasn't developed his hand moves or an inside counter, and he hasn't been as productive as expected as a result, but his athleticism shows through in ways that Beasley's does—and Beasley might be even better over time.
"I think I fit great," Beasley said of his adjustment to the LEO position. "Just watching how Coach Quinn used [Bruce] Irvin out in Seattle, I think I fit the perfect role for that position."
The 6'3", 245-pound Irvin generally needs open space to make things happen, and you can see the results on this sack of Cam Newton in Seattle's Week 8 win over the Panthers. Here, Irvin times the snap and simply leaps over running back Jonathan Stewart to chase down the cat-quick Newton. So much for blocking.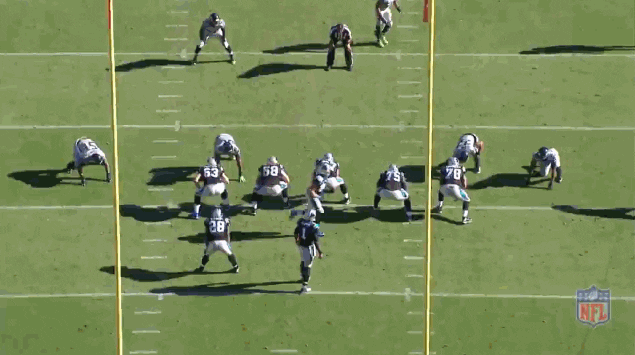 Beasley shows even more impressive speed to the quarterback on this sack against South Carolina. Here, he crosses the face of the left tackle, and Gamecocks quarterback Dylan Thompson isn't going to get away from a guy who ran a 4.53 40-yard dash at the combine and has been clocked as low as 4.4. That speed shows up all over the field in Beasley's case. 
[pagebreak]
Mike Pettine is known as a fine defensive mind, making a name for himself in stops as an assistant with the Ravens, as Rex Ryan's defensive coordinator with the Jets from 2009 through 2012, and as the Bills' defensive coordinator in 2013. Pettine understands how to put dizzying arrays of fronts and coverages on the field without losing the ability to contain opposing offenses, so it must have been very disturbing for him to see the Browns' run defense fall apart in his first year as head coach. The Browns ranked 30th in Football Outsiders' Defensive Adjusted Line Yards metrics and gave up 2,265 rushing yards, the most of any NFL team. Only the Giants, Saints and Chiefs allowed a higher yards per carry average than did the Browns at 4.5.
Injuries played a part, to be sure. Enormous nose tackle Phil Taylor missed 11 games with knee problems, and Ahtyba Rubin struggled through ankle issues in what was a sub-par season for him. Rubin played the most snaps of any defensive tackle for the Browns last season, but the Seahawks snapped him up in free agency, and Taylor's future with the team is unknown. Pettine and general manager Ray Farmer had to get it right when they looked to pick a franchise-defining prospect at that position in the draft. They found their guy in Washington's Danny Shelton, who measured 6'2" and 339 pounds at the combine. Shelton played at up to 360 pounds, but he wasn't a sub-out guy—he played over 80 percent of the Huskies' snaps last season, and that came against a lot of high-snap Pac-12 teams. In addition, Shelton's sideline-to-sideline quickness surprised a lot of people who expected him to be a tub of goo in the middle of a defense.
Browns defensive line coach Anthony Weaver started his analysis of draft-eligible defensive tackles with Shelton, and as head coach Mike Pettine said, "It was all kind of downhill after that."
Pettine runs a hybrid 4–3/3–4 defense in which linemen are tasked to play one-gap and two-gap responsibilities. Shelton did both at Washington. He can soak up blocks as a true two-gap over center nose tackle, but things get really interesting when you line him up between a guard and center and tell him to penetrate. Washington did that last season, and Shelton responded with 93 total tackles, 16.5 tackles for loss and nine sacks. Those sack numbers are a bit of a mirage, as several of the takedowns came against less than stellar competition, but Shelton's ability to establish a powerful presence at the line and pursue all over the place? That's no myth.
Shelton ran a 5.59 40-yard dash at the scouting combine and also had the slowest 10-yard split among all defensive tackles at the combine at 1.90, but the Browns didn't care.
"He doesn't play to that speed, and the college coaches who have gone against him have made the comment they're glad he's gone," Pettine said. "He's gone against elite competition and played well. I think he's an example of you believe the tape more than you believe the stopwatch or tape measure."
One thing Rubin did very well even last season when he was hurt was to push the pocket back in one-on-one matchups with guards—he would just bull-rush his opponent and make things very difficult for opposing quarterbacks. There's no better example than this Andrew Luck interception he pretty much caused single-handedly. Rubin just clowned left guard Jack Mewhort, rushed Luck's throw, and cornerback Justin Gilbert stepped in for a 23-yard interception return for a touchdown. It was the only pick Gilbert had all year amid a rookie season better known for its disappointments, but one suspects that Shelton won't exhibit that same bust potential.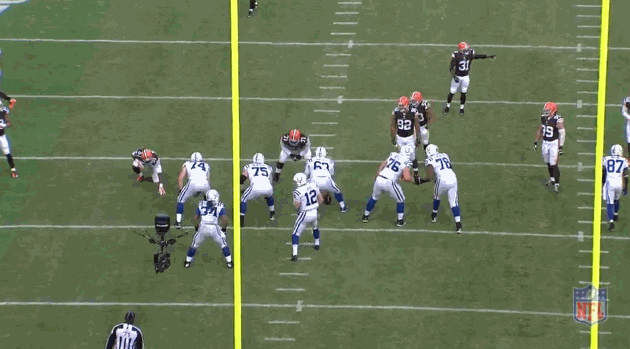 Here's Shelton against Oregon last season, causing a breakdown in the pocket that Marcus Mariota couldn't run his way out of. Notice not only Shelton's ability to physically dominate his blocker (center Hroniss Grasu, selected in the third round by the Bears) but also to close on Mariota with impressive speed.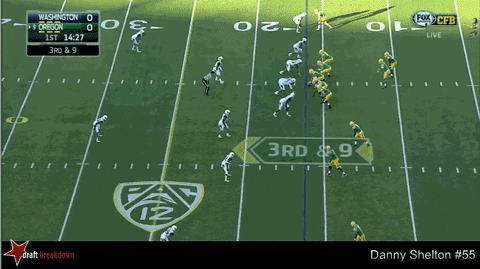 Size, strength, balance, intensity—Shelton checks all the boxes. The Browns haven't earned the benefit of the doubt in recent drafts, but this pick should turn out just fine, and that will be a huge relief to Pettine, who would love to see his run defense work its way out of the gutter.
Byron Jones, CB, Cowboys
The Cowboys won their first NFC East title since 2009 with a tremendous offense, including a running game that milked the clock and kept Rod Marinelli's defense off the field long enough to avoid exposure of one simple fact: Dallas's defensive personnel had a lot of holes, and it was up to Marinelli to coach the unit brilliantly. Dallas went into the draft understanding that they had to upgrade that talent, and they did so first in taking Connecticut cornerback Byron Jones with the 27th pick. Jones was a relative blip on the radar until he blew up all the measurables at the scouting combine, setting a world record in the standing broad jump at 12 feet, three inches.
One connection that made this pick an obvious one for the Cowboys was that Paul Pasqualoni, who spent time as a position coach in Dallas from 2005 through 2007 and again in 2010, was Jones's head coach from 2011 through 2013. Pasqualoni is now the Texans' defensive line coach, but he apparently had no issue providing intel on Jones to his former boss.
"We've got a guy here that we probably knew as much about as anybody in the draft," Jerry Jones said. "Pasqualoni coached him. We had a scout that knew his position coaches and spent a lot of time with him so we felt real good about our evaluation of Byron. I am talking about the evaluation of him as a player. He did play two years at safety as well as what he can do at corner. That was pretty prominent in our decision to take him."
Jones's experience at free safety made him more attractive to the Cowboys, and head coach Jason Garrett made it clear that his freakish combine numbers were only a small part of the equation.
"That is one of the reasons you go to the combine," Garrett said. "You want to see these guys move around. You want to see them run, you want to see them jump, you want to see them change direction. Certainly that was something that was very impressive. Not only the broad jump was great, but the vertical leap was outstanding. We also thought the movement was really good. He had an impressive combine workout, but let's go back to his experience as a player. Two-year starter at safety, two-year starter at corner. This is not a workout warrior that we drafted. We drafted a football player who we really think plays the right way and has a chance to develop a couple different spots for us."
Jerry Jones said that he wants to see how Brandon Carr, Orlando Scandrick, Morris Claiborne and Jones all fit together in the secondary, but it's easy to see Carr as the odd man out here. The Cowboys signed Carr to a five-year, $50.1 million contract before the 2012 season, and last year Carr allowed six touchdowns and a 107.6 opponent passer rating with no interceptions. Claiborne is coming back from knee injuries, and the team declined to pick up his fifth-year option, while Scandrick is engaged in contentious contract discussions with the franchise. From that perspective alone, it would be easy to project a lot of defensive snaps for Jones in 2015.
Schematically, it's an even clearer fit. Jones's athleticism shows on the field, and though he can get turned around at times, he can get from Point A to Point B better than most cornerbacks you'll see. This is crucial in defensive coordinator Rod Marinelli's defensive schemes, which require cornerbacks to play a lot of press and press-bail coverage.
Bail technique, in which the cornerback lines up at an angle to cover the receiver and read the quarterback at the same time, is a must in Marinelli's defense, and many talented press cornerbacks struggle with it. Carr certainly struggled with it on this 16-yard pass from Austin Davis to Kenny Britt in a Week 3 win over the Rams. Carr can't keep Britt out of the picture as Davis tries to adjust from lateral movement, and the result was an easy pitch-and-catch.
​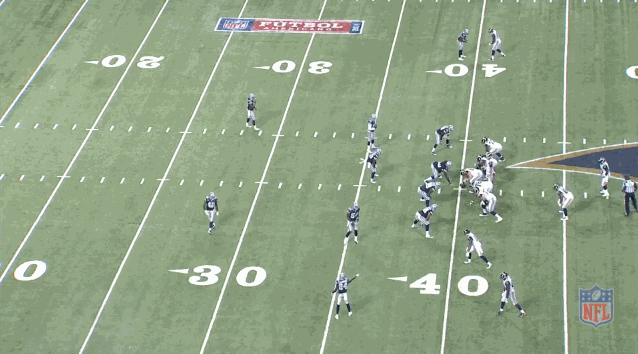 Conversely, here's Jones playing bail against UCF last season, adjusting his lateral moves to jump the route inside and slap the ball away. 
​​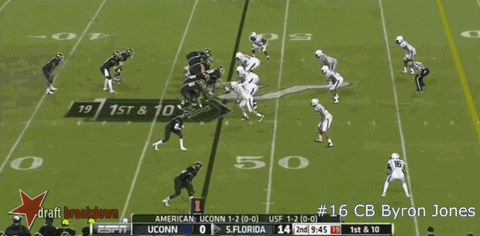 Between Jones and Nebraska pass rusher Randy Gregory, the Cowboys got two marquee picks in the first two rounds for a defense in desperate need of top-tier talent.