Geno Smith's broken jaw leaves the Jets staggering into season
Did that really just happen? Geno Smith is out 6–10 weeks with a broken jaw after a locker room fight, and the Jets are at the center of a frenzy once again.
Welcome to the show, Todd Bowles.
Before even making it to his first pre-season game, the Jets' rookie head coach finds his team dealing with an almost unfathomable setback. Bowles announced Tuesday that projected starting quarterback Geno Smith will miss six to 10 weeks with a broken jaw, suffered Tuesday morning when teammate IK Enemkpali punched him during a locker-room altercation.
Make that "former teammate" IK Enemkpali—the Jets released the backup linebacker almost immediately after the incident. "It's something we don't tolerate," Bowles said, via the New York Post's Brian Costello. "It's something we can't stand. You don't walk up to another man and punch him in the face."
Who is IK Enemkpali? Get to know the guy who punched Geno Smith
The fallout could have far-reaching implications, both for Smith and the Jets' hopes this season. By all accounts, Smith was off to a strong start in training camp, with Bowles telling reporters earlier this week his performance was "night and day" compared to OTAs, when the Jets installed their new offense under coordinator Chan Gailey.
Gailey's presence alone was enough reason to believe Smith could see an uptick in performance. The former Bills head coach has a history of success in fitting his system around his quarterback, and the Jets' attack this year was meant to get Smith back to his college roots—the 2013 draft choice thrived in a spread attack at West Virginia.
Instead, Smith will be sidelined until at least mid-September and possibly longer. In his absence, the starting job now will fall to Ryan Fitzpatrick, who was the No. 1 QB during Gailey's tenure with the Bills from 2010 to '12.
The Bills were just 16–32 during that stretch, and Fitzpatrick produced mixed results. He averaged more than 3,400 yards passing per season but also committed turnovers at an alarming rate, leading the league in interceptions (23) as a 16-game starter in 2011.
SI's All-Prove It Team: Players under pressure to shine in 2015
Those teams did not feature the pass-catching weapons that Fitzpatrick will have at his disposal as a Jet. Unfortunately for Smith, that collection of talent was another factor in any bullish predictions about his 2015 season. Rookie receiver Devin Smith may miss the start of the year with broken ribs and a punctured lung, but the Jets' receiver corps still includes Brandon Marshall, Eric Decker and Jeremy Kerley.
Fitzpatrick's boom or bust style could lead to a few nice outings on the strength of the Jets' offensive talent and Gailey's scheme. The 32-year-old veteran was better than most gave him credit for as Houston's starter last season, finishing with 17 touchdowns to eight interceptions and a career-high 63.1% completion rate.
An injury to Fitzpatrick at this point would be catastrophic for New York. Behind him on the depth chart, barring any future signings, are a pair of rookies: fourth-rounder Bryce Petty and UDFA Jake Heaps.
The Jets may be able to weather this unexpected storm otherwise. The injury is far worse, in all senses of the word, for Smith.
Smith had an opportunity, with a new regime in place, to prove he could perform in this league following two middling seasons as the starter on Rex Ryan teams that never prioritized the quarterback. The long end of the timeline for Smith's recovery would have him out of action through most of October, by which point Fitzpatrick may have solidified himself as the starter. If Fitzpatrick falters with Smith out, the Jets' season could be too far gone to save by the time both QBs are healthy.
IK Enemkpali has 'violence in his punch,' says NFL scouting report
Bowles also has some cleanup to do in the locker room, despite Enemkpali's release. This is an absolutely ridiculous development that comes with the Jets' preseason opener at Detroit a mere two days away. For all the off-season turmoil in New England, which has AFC East teams believing the door to a division title is wide open, the Jets now stand to play without Smith longer than the Patriots are without Tom Brady. And Bowles has a new unforeseen roster hole to deal with only a few days removed from Sheldon Richardson's arrest that ultimately may tack on extra games to the star defensive lineman's season-opening four-game suspension.
Bowles knew he was stepping into a tough spot taking over a team that had struggled of late, occasionally in comical fashion. He could not have prepared for this.
GALLERY: The Jets' embarrassing misfortunes
New York Jets Embarrassing Misfortunes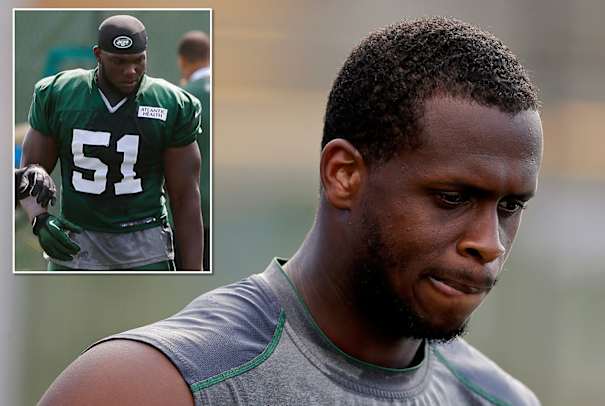 ​