The development Johnny Manziel has shown since 2014 has me believing that the Browns now have a baseline from which to build a starting quarterback.
It wasn't the game-winning play for the Browns in their 28–14 Week 2 win over the Titans, but it may have been the play that preserved Johnny Manziel's uncertain future as an NFL quarterback. Facing third-and-six at the 50-yard line with 3:01 left in the fourth quarter, Manziel took the ball out of an offset Pistol set, backed out of a Tennessee seven-man blitz, pirouetted to his left away from free rusher Brian Orakpo, stopped, set his feet and threw a bomb to receiver Travis Benjamin, who had beaten Titans cornerback Blidi Wreh-Wilson on a deep right-side sideline route and adjusted his placement to cross to Manziel's side.
The resulting 50-yard touchdown pass wasn't just a great bit of improvisation on Manziel's part (and a tremendous example of how a receiver should work his route for a mobile quarterback)—it was also nowhere near what Manziel's coaches, head coach Mike Pettine and offensive coordinator John DeFilippo, expected.
• FANTASY: Week 3 waiver wire pickups | Fact or Fiction: Murray's slump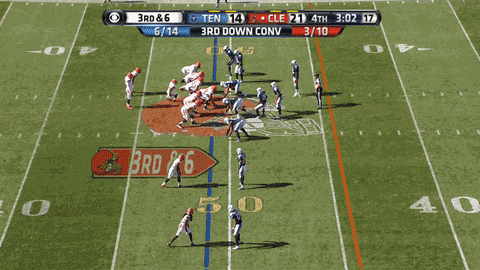 "Certainly wasn't the way the play was designed," Pettine said after the game, via Cleveland.com. "I think [DeFilippo] had the best line of the day on the headset after he rolled out of it, ended up throwing backwards across the field, scored the touchdown. He just says real calmly while everybody was cheering, he said 'Coaching is overrated.' They did a nice job, brought pressure. We didn't pick it up. Johnny did a nice job getting out of it and finding Travis and making a play."
It wasn't that Pettine was surprised that Manziel could make that type of play outside of structure—that's been his hallmark going back to his Heisman days at Texas A&M. It was how Manziel went about his business on the play that showed his development as a pure quarterback in the 16 months since he was selected with the 22nd pick of the 2014 draft.
"It was a heck of a play," Pettine continued. "He felt pressure coming from his blind spot. It was vintage Manziel. We want him to play within structure and make a read, but when a play breaks down, that's what he brings. The ability to escape. He did an outstanding job. I thought he had the chance to just run there.
"One of the signs of maturity there too was that he kept his eyes downfield. He used that as an opportunity. 'I am not just going to get X number of yards and slide. I am going to keep my eyes down the field and make a play.' We saw the result."
• Time to panic on Luck? | KING: The Fine 15 | VRENTAS: The mood in Philly
If you're familiar at all with the NFL over the last two years, you know the ups and downs of Manziel's brief professional career. The front office was divided over whether to draft him, he looked awful in his rookie campaign when he did play (18 completions in 35 attempts for no touchdowns and two interceptions), and he spent some time in rehab during the off-season. When he came back to the team, it was as the understudy to journeyman Josh McCown, who signed a three-year, $14 million contract in February. McCown was never meant to be anything but a short-term stopgap, but the Browns were wise to double down at the position, because nobody knew what to expect from Manziel.
The primary argument against Manziel's future success is that he hasn't taken the game seriously, and that certainly showed in his rookie year. Through five games and two starts, he looked hurried, harried and lost in a league that generally allows some success for rookie quarterbacks. However, the development he's shown since 2014 has me believing that the Browns now have a baseline in Manziel from which to build a starting quarterback.
First, the bad stuff. Here are four plays from his awful game against the Bengals in Week 15 of last season, a 30–0 Browns loss in which Manziel completed 10 of 18 passes for 80 yards, no touchdowns and two interceptions. He actually had a third pick called back by a penalty, and after that game, Pettine was not amused.
"He didn't play well," Pettine said. "He looked like a rookie, played like a rookie. I know a lot of it was we didn't play well around him, but he made some obvious mistakes that typically a veteran quarterback won't make. ... There were plays that were there, make a decision, make a read, throw it and we're on to the next play. There is no substitute for playing. You can only simulate that so much in practice. ... The bad thing is the result, the worse thing is to not learn from it."
And that was Manziel's only out, because the only thing he could do was to learn from it.
This one-yard, third-down scramble with 6:33 left in the first quarter was emblematic of Manziel's struggles at that time: If his first read to his front side wasn't clear, quick and open, he would tuck the ball and run. He displayed little or no awareness in the pocket and even less savvy under pressure. Cleveland lined up in a diamond (four-receiver) formation to the right, and there was an easy read to that side, but Manziel never got there.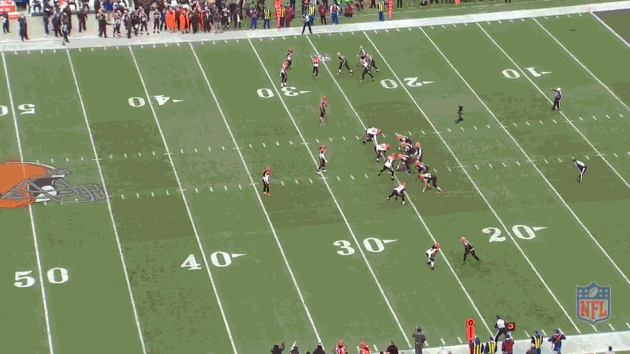 With 11:59 left in the first half, Manziel showed his lack of development in another key phase of quarterbacking: the ability to throw with anticipation. Throwing receivers open is something that every good-to-great NFL quarterback does, but on this in-curl to Josh Gordon, Manziel threw behind his target. The result was doubly bad: an incompletion that set up Gordon for a big hit between two Cincinnati defenders.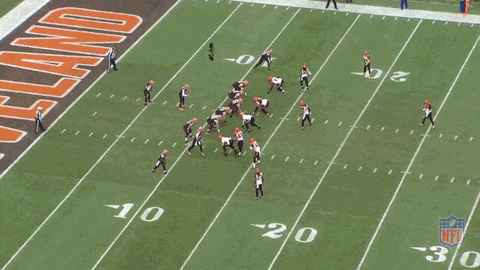 Two plays later, Manziel's inability to throw within the timing of the play came back to bite him. Here, he has receiver Andrew Hawkins on what should be a gimme completion on a drag route underneath cornerback Dre Kirkpatrick's trail coverage. But even with a relatively clean pocket, Manziel throws late and allows Kirkpatrick to jump the route. The timing was so off, in fact, that the one thing Manziel did right on this throw—aiming for the receiver's boundary shoulder—didn't matter.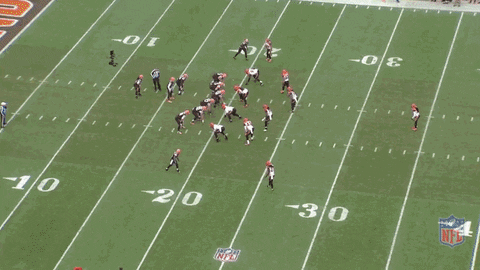 With 1:17 left in the first half, it all fell apart. This throw under pressure never should have happened. Cleveland flooded the left side with three receivers, but Manziel was too jumpy in the pocket to take advantage of a route concept that should have worked. Adam Jones got a free interception from a quarterback who probably should have been on the bench at that point.
Between all that bad tape and Manziel's off-season in rehab, it was easy for a lot of people to write him off as a draft bust, yet another star college quarterback without the mental toughness to take what the NFL dishes out. The only Manziel could turn that tide was to prove it on the field.
He started to do so against the Jets in Week 1. Cleveland lost this game, 31–10, and Manziel only came in after McCown suffered a concussion trying to repeat John Elway's propeller run in Super Bowl XXXII. Good for Elway, not so good for McCown. Manziel took the field with 14:15 left in the first half, and took off on this 22-yard run a few plays later. Here, Manziel read the blitz and understood the need to get rolling. I faulted him a bit for failing to see the easy read on the crossing route, but given his past performances, that was to be expected.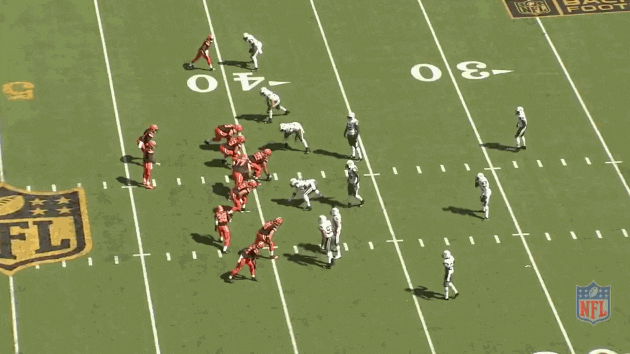 Manziel would have been able to convert a third-and-four but for a chop block penalty that took the Browns back to their own 46-yard line. And then, against a defense that turned Andrew Luck into a pumpkin on Monday night, Manziel came out of nowhere with this 54-yard touchdown pass to Travis Benjamin. Manziel moved calmly away from the overload pressure to his front side, then hit Benjamin, who beat Antonio Cromartie flat-footed down the left boundary.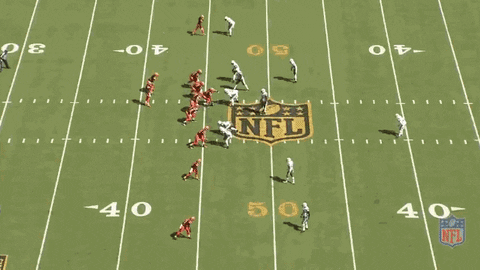 Manziel wasn't done hooking up with Benjamin on big plays. With 12:51 left in the first quarter last Sunday against the Titans, there was this 60-yard pitch-and-catch, as Benjamin simply zoomed by cornerback Coty Sensabaugh and brought the deep ball in over his shoulder. Manziel is able to generate the correct level of torque on the throw because his mechanics have improved. He's throwing more consistently from his lower body up, and he's more quick than harried in the pocket. Here, he steps up, winds up and makes the right throw.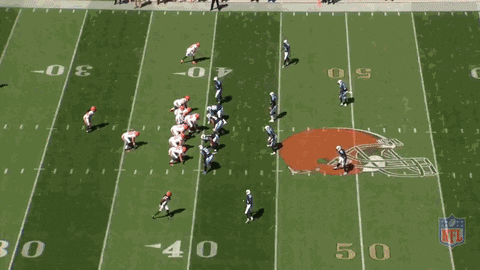 Big runs and explosive passing plays were all well and good, but I had seen those from Manziel before. What I wanted to see was the kind of situational awareness and drive extension that is fundamental to success in the NFL at his position. I saw one nice example with 8:33 left in the first quarter on this 18-yard pass to Andrew Hawkins. Manziel rolls right to extend the play and is running to throw this time. Watch the nifty timing on the pass to Hawkins as Hawkins runs back from the right sideline to remain in the play.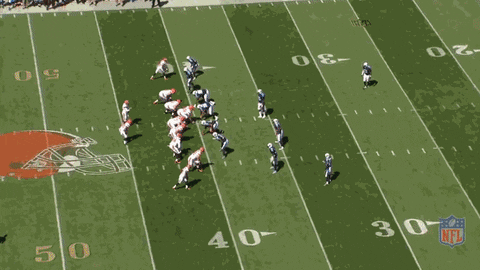 With 7:11 left in the first quarter, Manziel connect with tight end Gary Barnidge on a short pass that Pettine seemed to like as much as the longer completions. This 17-yard gain showed a better understanding of taking what the defense gives, as opposed to being overcome with Hero Syndrome on every play and trying to do things outside yourself.
"To me, it was an extension of the work that he's put in," Pettine said of this play. "The plays that he made were plays that he made on the practice field. I would think you could get lured into that trap, thinking it was just, as you say, a fool's gold type of thing if the preparation wasn't there, the mindset wasn't there, wasn't there in practice. He prepared to be the starter, he got the reps this week, went out and made some plays."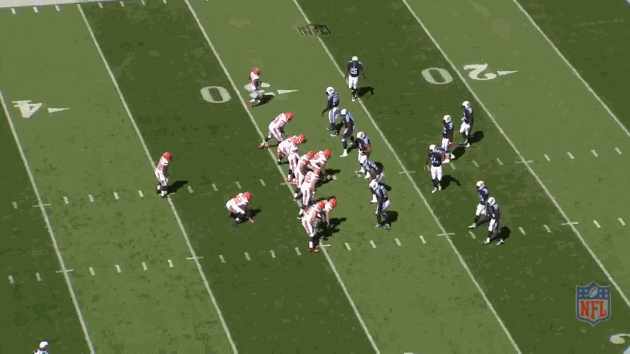 Finally, the All-22 view of the 50-yard touchdown to Benjamin, which also befuddled Orakpo.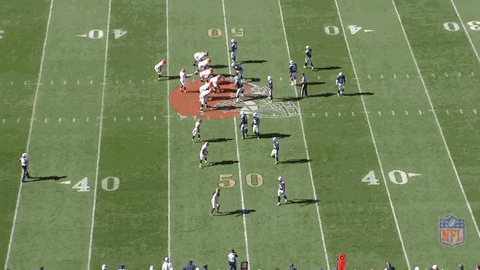 "You see it game after game with what he does," Orakpo said. "He hadn't done that the whole game, and that's what is so frustrating. He didn't do it—he couldn't do it the whole game. Then, the play he needed it, he was able to buy more time so he could throw the ball down the field. We had him corralled in that pocket throughout the whole game. Take away two big plays—man, I wish we could have those back."
Not that Manziel's performance was perfect. He fumbled twice, and there were times when the game still seemed too fast for him. He'll certainly need to expand his palette of reads before he can deliver like a former first-round talent should. But he'll most likely get another chance to start against the Raiders this Sunday, and he's earned that much. He's put the time in, and it's showing so far.
"It is a positive conversation because you have a young quarterback that has been through a lot that has gone out and led his team to a win," Pettine said. "We were all able to enjoy it last night. I am proud of him because if you had said back earlier in the off-season that this was going to happen, I think a lot of people would have said there is a pretty slim chance."
Slim to none, in fact. Perhaps Manziel is ready to swing his 2015 expectations all the way in the other direction.