The Ultimate Mismatch in Super Bowl 50
In the showdown between the Panthers and the Broncos, it's whether Cam Newton and Carolina can handle Denver's virtually unstoppable pass rush that will determine the game
The Broncos won their eighth AFC Championship Game by pressuring the hell out of Tom Brady. To win their third Lombardi Trophy, their defensive front will have to bring that same heat once again in Santa Clara.
The Panthers, however, present an entirely different challenge to Von Miller, DeMarcus Ware, Malik Jackson and Derek Wolfe. These men won't see the same protections they saw on Sunday. The Patriots, being a quick-striking spread offense, employ mostly five-man protections, which enable them to send all five eligible receivers on routes.
The Panthers, as a run-oriented team, take almost the opposite approach. Much of their passing game occurs out of heavier sets with multiple tight ends and backs aligned tight to the formation. From this, they feature seven-man protections (i.e. "max protection"), using No. 2 tight end Ed Dickson and either fullback Mike Tolbert or whoever is in at tailback (Jonathan Stewart on base downs, occasionally Fozzy Whittaker on passing downs) to block for Cam Newton.
• THOMAS DAVIS: 'I'm Not Missing the Super Bowl. You Better Believe That'
With seven men in front of him instead of five, Newton has more time in the pocket, which is why Carolina's aerial attack is one of the league's most vertical. The Panthers are very consistent in how they tactically employ their max protection, too. If Newton diagnoses a blitz, the protection almost always involves what's called a "full line slide," with all five linemen sliding in one direction, and the two extra blockers—often Dickson and the running back—sealing off the backside in the other direction.
The Panthers, like most teams, typically reserve max protections for blitz looks. Having the NFL's fiercest four-man front, the Broncos don't blitz often. But with Carolina's O-line being average athletically, max protections might still be necessary against some of Denver's four-man rushes. It will be interesting to see what happens on the backside of those full line slides. Say the O-line slides right, toward Von Miller. That leaves Dickson and the running back doubling DeMarcus Ware on the left. Dickson and the backs are accustomed to blocking blitzing safeties and linebackers; facing an eight-time Pro Bowl defensive end is a much taller order, even if it is a two-on-one battle.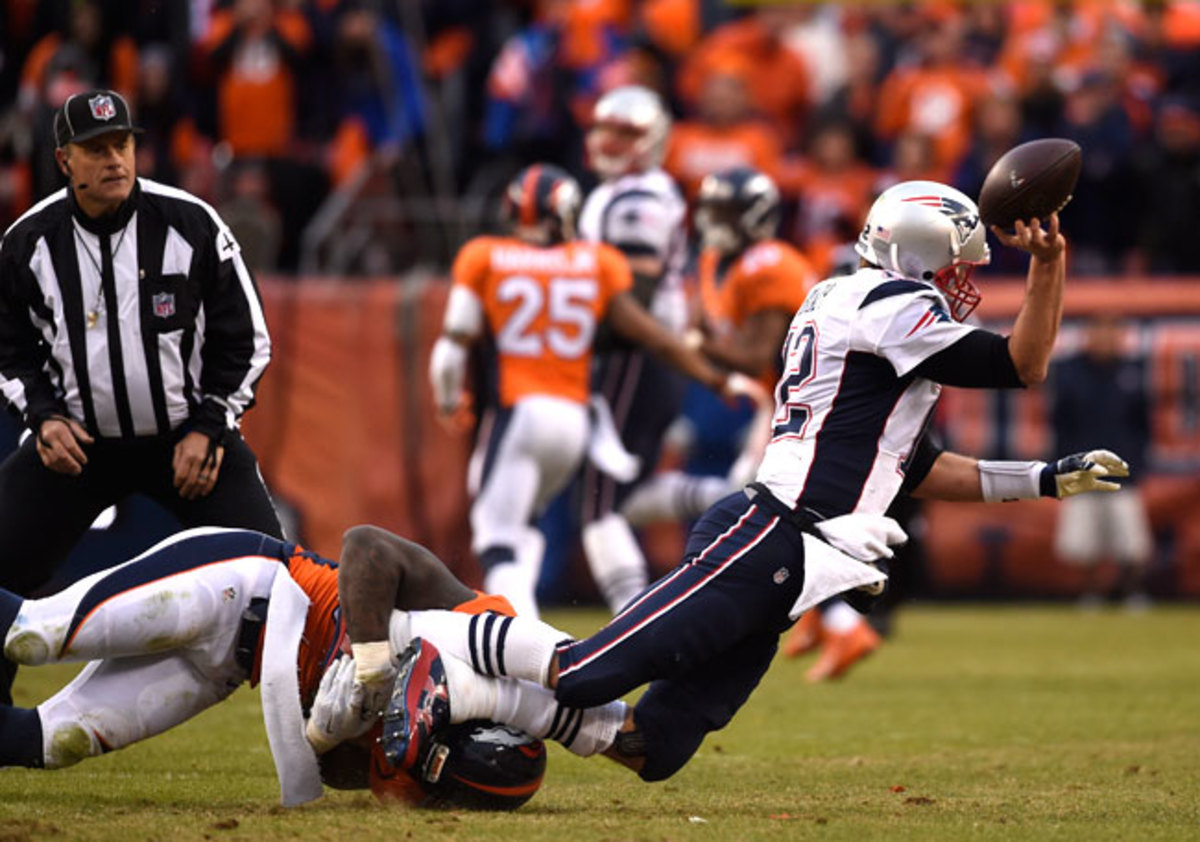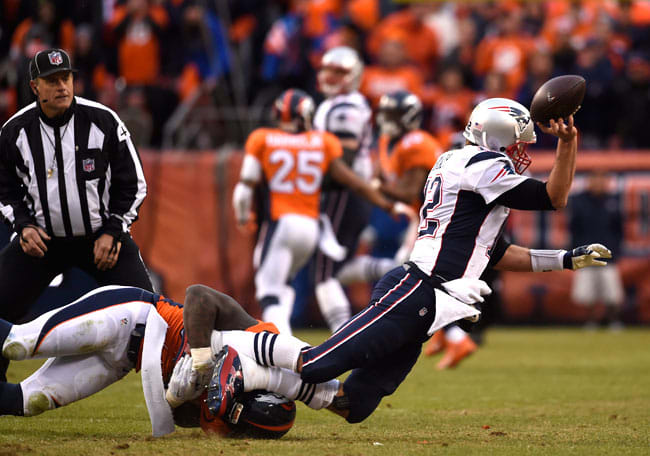 Using a max protection against a four-man rush can be perilous because it leaves seven defenders guarding the remaining three eligible receivers. (These seven-on-three advantages are what the Giants used to capitalize on with their NASCAR pass rush.) In the Broncos' case, it's extra valuable because they play so much man coverage. Ask yourself: When the Panthers go max protection, what happens with the man defenders who are assigned to the No. 2 tight end and running back? In Denver's scheme, this is generally linebackers Danny Trevathan and Brandon Marshall. If the tight end and back stay in as blockers, Trevathan and Marshall, instead of just standing and watching, could blitz. (In football parlance, this is known as a "green dog blitz"—the Broncos do it often.) Or when the tight end and back block, Trevathan and Marshall could spy Newton, eliminating the quarterback's scrambles. That would force Newton to stay in the pocket that Ware and Miller are collapsing. Newton would surely have to hold the ball here because not only would there be two linebackers eyeing him underneath, but there'd also be two safeties playing over the top. That's in addition to three superb corners— Chris Harris, Aqib Talib and Bradley Roby—shadowing the wide receivers.
The more you think about that scenario, the more more troubling it becomes for Carolina. So what will Newton, offensive coordinator Mike Shula and coach Ron Rivera do? Will they consider calling fewer max protections and hoping their O-linemen can survive in a six-man protection? Or even in the occasional minimum five-man protection?
The difference is far greater than simply having one fewer guy blocking. In max protection, with the entire O-line sliding one way, those linemen are zone-blocking. But in a six-man protection, some linemen will have to go one-on-one as man-blockers. You can't slide all five linemen against a straight four-man rush because the extra blocker—either a tight end or running back—is left one-on-one against the defensive end (the ultimate mismatch).
Carolina's offensive line has overachieved this season, but its individual members would not fare well in solo matchups against Denver's pass rushers. Left tackle Michael Oher lacks the necessary balance to handle Ware. Left guard Andrew Norwell has improved his lateral agility since his rookie season, but not enough to consistently fend off Malik Jackson, the NFL's most laterally explosive nickel defensive tackle not named Michael Bennett. Center Ryan Kalil would be positioned to help the guards, but the Broncos can use certain front alignments to dictate where that help goes. You can bet they'd force it to go to the Trai Turner vs. Derek Wolfe matchup, ensuring single-blocking against Jackson. And, of course, there's still right tackle Mike Remmers facing Von Miller. Remmers has risen to big occasions before (J.J. Watt in Week 2 comes to mind), but counting on that to happen again is like trying to catch lightning in a bottle twice, which goes against Coaching 101.
Besides, in Remmers' impressive showing against Watt, there were still plenty of instances in which he benefited from max protection help. The Panthers also used some max protections in both matchups against Seattle this year. That's noteworthy because Seattle was their only opponent with a four-man rush remotely comparable to Denver's.
So what will it be? Most likely, some form of happy medium. The Panthers must mix protection concepts to keep Denver's pass rushers thinking rather than just exploding off the snap. This will include six-man protections that have only three linemen sliding in zone and the other two blocking man-to-man (a common football tactic and one of Carolina's staples).
And then there's the usual cliché: Players will have to step up. Blockers will have to win some one-on-one fights against an athletically superior pass rusher. Receivers will have to beat some double-teams. Shula will have to get creative and really use his running game to set up his aerial strikes—something he does well. And Newton will have to make the types of plays that live up to his Superman gesture. None of it will be easy. But no one ever said winning a Super Bowl is.
• Question? Comment? Let us know at talkback@themmqb.com