2016 NFL Draft Snaps: Connor Cook's long-term future bright despite fall
Despite falling into the fourth round of the 2016 NFL draft, QB Connor Cook could find a bright future in the league—it'll just take him a few years. 
Musings, observations and the occasional insight as we wrap up rounds four through seven of the 2016 NFL draft on Saturday in Chicago...
• Connor Cook was surprisingly forced to wait until day three of this year's draft just to hear his name called, and now he might have to wait somewhere along the lines of three years to get a legitimate crack at a starting quarterback job in the NFL. That may be the stark reality of Cook's situation, after the polarizing former Michigan State star lasted until the second pick of the fourth round (100th overall) before the Oakland Raiders stopped his free-fall, making him the seventh passer drafted this year.
That's right, the Raiders. The team that already has a young and ascending No. 1 quarterback in Derek Carr, who was a second-round pick in 2014. Cook isn't headed to Oakland to compete with Carr, he's there to at best push Matt McGloin for the backup job. But here's hoping Cook's long wait on draft weekend allows him to take the long view when it comes to his NFL opportunity. Because if he's patient and puts in the work, something really good might just come from his draft disappointment.
• NFL draft 2016: Complete list of all 263 picks
And for inspiration, Cook has only to look at his highly successful predecessor at Michigan State, Kirk Cousins. It was just four short years ago that Cousins lasted longer in the draft than he cared to, going early in the fourth round to Washington at pick No. 102, almost the same exact slot as Cook. And just like Saturday's developments, Cousins was drafted into what appeared to be a career dead end, going to Washington exactly 100 picks after the franchise had given up a bonanza of choices for the right to select Baylor quarterback Robert Griffin III.
2016 NFL Draft Snaps: Jags' picks have them on cusp of big turnaround
We all know the rest of that story. Griffin won the NFL's Offensive Rookie of the Year honor that season, but by 2015 was relegated to the bench and now is trying to re-start his once-sensational career in the quarterback graveyard that is Cleveland. Cousins had to wait until his third season to get a true shot at the No. 1 job in Washington, but he blossomed last year and received the team's franchise tag earlier this off-season, keeping him off the free-agent market with a one-year price tag of $19.95 million—the second-highest base salary in the league in 2016.
The lesson is clear: Being taken by Oakland in the fourth round does not necessarily equal the end of Cook's NFL starting dreams. But it in all likelihood will delay them, which is a scenario that Cook could ultimately turn to his advantage. And the same is true for the Raiders, who gave up fourth (114th) and fifth-round picks (154th) to Cleveland in order to move up 14 slots and nab Cook just ahead of quarterback-seeking teams like Dallas (No. 101) and Kansas City (No. 105).
• NFL draft grades: Assessing the classes of all 32 teams
With Carr firmly entrenched as the starter in Oakland, Raiders general manager Reggie McKenzie was likely executing a move he learned in Green Bay from ex-Packers GM Ron Wolf, who habitually drafted young quarterbacks in order to develop them and then reap a reward in trade value (see Matt Hasselbeck, Mark Brunell and Aaron Brooks). In a league where there are never enough starting-caliber passers, Cook could be a valuable commodity in a couple of years, earning the Raiders a return in trade that exceeds their initial fourth-round investment.
2016 NFL draft grades: Analysis of second-round picks
Or at the very least, Cook could become one of the league's stronger backups, offering an improving Oakland team a key insurance policy should Carr get injured or in any way struggle to follow up on his strong showing over his first two seasons. (Think 2014 fifth-round pick A.J. McCarron in Cincinnati). Either way, the Raiders showed me they recognized Cook's long-term value and potential, and weren't going to let their current quarterback depth chart keep them from making a move that could take years to pay benefits. But the shrewdest NFL front offices are always approaching the draft with that kind of foresight, and not just a needs-first, today-is-all-that-matters mentality.
McKenzie and the Raiders have had a very, very impressive off-season with their work in free agency and the draft, and the selection of Cook is another chapter in that book. Oakland's return to relevance continued this weekend, and if Cook is willing to channel Cousins and give his new assignment enough patience and effort, he too could turn his draft-day setback into a tale that eventually has a far happier ending.

And, to top it off, Cook's aforementioned predecessor even had some of his own words of encouragement for the new Raider:
• How much time do we have to get ready for the Dak Attack in Dallas? Will it be a couple years down the road, or might the 36-year-old Tony Romo keep breaking down physically, as he did last season, missing 12 games with two separate collarbone fractures?
Ideally, if all goes well for Dallas, the Cowboys are hoping they don't need their fourth-round pick—Mississippi State quarterback Dak Prescott—until at least 2018 or so. That should give Prescott, the first quarterback drafted by Dallas since Stephen McGee in 2009's fourth round, time to hone his dual-threat game and become more accustomed to throwing from the pocket in a pro-style offense.
Prescott's skill set is intriguing, and his 6' 2", 226-pound size makes him pro-ready from that standpoint. But Dallas clearly had its eyes on other passers, attempting to move back into the latter stages of the first round for Memphis's Paxton Lynch, and perhaps being beaten out by Oakland for Connor Cook, just before the Cowboys' pick at No. 101 came up. Prescott might have been Dallas's third choice, but he's a Cowboy today because Jerry Jones's team never had a good second option behind Romo in 2015.
• For a guy who no doubt wishes he would have declared for the 2015 draft and been able to strike while the iron was hot, former Ohio State quarterback Cardale Jones did pretty well for himself in landing with Buffalo, as the final pick of the fourth round (139th overall).
The Bills have starter Tyrod Taylor in the final year of his deal, with a contract extension anything but certain, and then there's the so-so E.J. Manuel—the underachieving 2013 first-round pick—in Buffalo's backup slot. Manuel probably won't have his fifth-year option picked up for 2017, so the quarterback depth chart could look substantially different for the Bills next season. That spells opportunity for Jones, if he can lay a foundation for improvement this season as a rookie.
• What is it with the Bengals and their almost uncanny knack for taking stud defensive tackles in the fourth round? Cincinnati nabbed Baylor's Andrew Billings with the 122nd overall pick, and that's only about 90-100 slots later than some mock drafts had him going. Billings's selection serves as a reminder that for all the seriousness that the NFL draft is treated with, it's still mostly guesswork, with no one knowing for sure what's going to unfold.
The 311-pound Billings should immediately help with Cincinnati's run defense, and it's probably his 6-foot height that knocked him down into the fourth round. But the Bengals weren't scared off by that, because they have Pro Bowl pick Geno Atkins at defensive tackle, and he's thrived at 6' 1". Cincinnati took Atkins in 2010's fourth round, and Domata Peko in 2006's fourth round.
#http://www.120sports.com/video/v175458576/which-qb-has-biggest-upside
•I'm trying to contain myself, but I'm afraid I've caught Moritz Fever. And you probably will too when you watch the clips of German receiver Mortiz Boehringer, the sixth-round pick of the Vikings who has become something of an Internet sensation. He didn't play college football in North America, and is the first player ever drafted directly out of Europe, but watching him dominate defenders on video in the German professional leagues was literally like watching a man among boys.
Boehringer is anything but ready to take the field in the NFL in 2016, but he's a freakish 6' 4" athlete who ran a 4.45-second 40-yard dash and jumped 39 inches vertically at Florida Atlantic's pro day, catching the eye of league personnel men. Minnesota is the perfect spot for him, because Mike Zimmer will give him time to develop and the Vikings' receiving game could use a little more deep speed after drafting the proven pass-catcher Laquon Treadwell in the first round.
Oh, and did we mention that Boehringer was on the NFL Network earlier Saturday telling the world the Vikings were his favorite team, and that he discovered NFL football five years ago watching Adrian Peterson clips on YouTube? This story had to find its way to Minnesota.
• VRENTAS: Meet the draft's mystery German
• I just assumed the Midshipman-loving Patriots would wind up with the multi-talented and versatile Keenan Reynolds of Navy, but Baltimore works pretty well, too. Especially since it's not far from Annapolis to Baltimore, which might help Reynolds fulfill his military service obligations.
Reynolds was a touchdown-producing machine in college, playing quarterback, but he'll be a receiver and punt returner for the Ravens, who took him in the sixth round, 182nd overall. Baltimore offensive coordinator Marc Trestman and Ravens quarterback Joe Flacco have a new weapon to play with, and I'll bet Bill Belichick is going to experience a sense of Reynolds-envy when Baltimore visits Gillette Stadium for a renewal of one of the AFC's best rivalries on the Monday night of Week 14.
• I have to admit, when I heard new Browns coach Hue Jackson saying "you gotta trust me on this one," in his defense of Cleveland's third-round pick of USC quarterback Cody Kessler on Friday night, my first reaction was to think that yet another Browns quarterback selection is doomed.
2016 NFL Draft Grades: First-Round Picks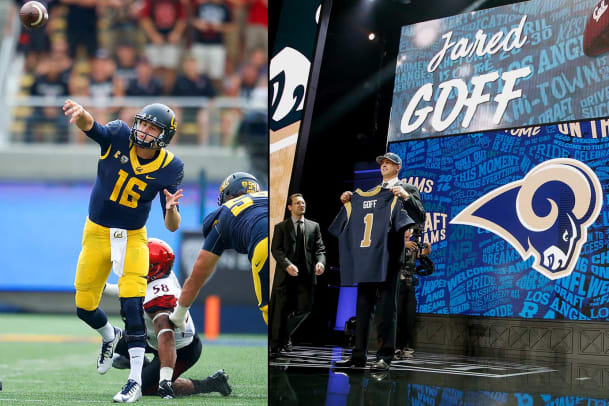 The last time I heard a coach use those kinds of words to explain a quarterback acquisition, Brian Billick was asking Ravens fans to "take a leap of faith" in terms of Baltimore trading for the porked-up Scott Mitchell in 1999. "Trust me, Baltimore, I know quarterbacks," Billick said, flashing some ill-timed confidence in the former Dolphins and Lions quarterback.
Kessler over Connor Cook, Dak Prescott, Cardale Jones and Kevin Hogan? Didn't see that one coming from Cleveland, which once was in position to draft Carson Wentz at No. 2. "In Hue we trust" might be the new mantra in Cleveland, but I suddenly like Robert Griffin III's chances to win the Browns' starting job a lot more than I did before this weekend.
• It can too often be easily tossed out there as a cliche, because teams love to talk about supplementing their rosters with tougher and more physical players. But the Lions certainly seem serious about that goal under new general manager Bob Quinn, who learned his NFL lessons in New England's front office.
Detroit's first four picks of the draft all added some nastiness to the roster, with first-round offensive tackle Taylor Decker of Ohio State, second-round defensive tackle A'Shawn Robinson of Alabama, third-round center Graham Glasgow of Michigan and fourth-round safety Miles Killebrew of Southern Utah playing with a physical, aggressive style. Killebrew especially sets a tone and packs a mean punch in the secondary, plus his nickname is "Killa."
That will certainly work in the rough and tumble NFC North, where the outdoor Packers and Bears reside, and the Vikings have taken on the fierce intensity of head coach Mike Zimmer.