Dramatic Incompetence and the True Story of an NFL Tie
'The craziest game I've ever played' was how one 13-year vet described Seattle 6, Arizona 6. Here are the bewildering details from the scene, plus the success of Matthew Stafford, Josh Brown fallout and more on Week 7
GLENDALE, Ariz. — Scenes from a beautiful and dramatic and sometimes incompetent debacle, the best really bad game I have ever seen: Cardinals 6, Seahawks 6.
* * *
"I never drew before," beaten-up running back David Johnson of the Cardinals said, standing on the field, truly dazed, a minute after it ended.
"Huh?" he was asked.
"It was a draw," he said. "Never played in a draw before."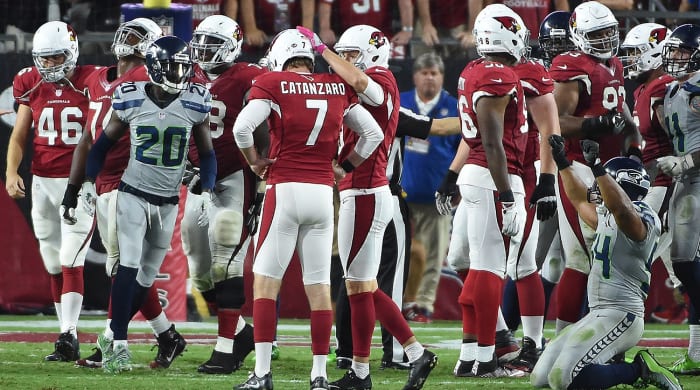 * * *
Other side of the field.
"How many plays did we play?" Richard Sherman said, walking a little awkwardly, like he was staving off cramps.
"A lot," he was told.
"However many," he said, "felt like we were just out there all night. It was just …"
No words, really. Except the one, maybe, that I offered.
"Kickers," I said.
"Kickers," he said, with a little smile.
* * *
Ever see a kicker surrounded by a force field? The kind of force field no one will enter? Toward the end of a dramatic football game, the sidelines are packed with people. Club employees, security, NFL Films, network TV, interlopers who probably shouldn't be there, players creeping down the sidelines for a better look at the action. So this was the situation when Arizona's Chandler Catanzaro trotted onto the field with 3:26 left in overtime to kick a chip-shot field goal. Just 24 yards. Nine yards shorter than an extra point. Chippy.
To recap: Extraordinary game. Catanzaro made a field goal late in the first half for a 3-0 lead. The Seahawks, after a bonehead Arizona special teams play—a spare Seahawk wideout, Tanner McEvoy, bullrushed through the line and smothered a punt late in the fourth quarter—tied it with four minutes left on a Steven Hauschka field goal. Catanzaro and Hauschka opened overtime with field goals. Now it was 6-6. Arizona ball, 6:42 left.
On the sideline, before they went out on the field, a teammate asked Carson Palmer: "We still each get the ball?"
No, Donovan McNabb. Sudden death now.
Beautiful first call. All night David Johnson was getting the ball, but on first down, Palmer play-actioned to Johnson and lofted a strike to young and invisible tight end Ifeanyi Momah for 27 yards. Palmer to Jimmy Nelson for 40 with a flailing Sherman in coverage, to the five-yard line. And then a run left for Johnson—remember this; we'll discuss later—that was stopped three inches shy of the goal line. We think. Obviously Bruce Arians doesn't trust his kicking game (he shouldn't) so he tried to have Johnson stick it in once more. Nope. But here is the easy field goal.
Clank. Left upright.
A helmet slammed the ground on the Cardinals sideline. Disbelief was on every face. Palmer met Catanzaro just before he left the field and got in his face with five seconds of encouragement.
Catanzaro came to the sideline. He stared up, saying nothing. He pierced the crowd on the sideline, then stood by himself for 60, 90, 120 seconds, arms crossed. No one else approached him. The loneliness of the long-distance kicker. Or short-distance, in this case.
* * *
Then, of course, Seattle got in position, with a beautiful Russell Wilson-to-Jermaine Kearse lofted strike for 31 yards, and then a Doug Baldwin catch-and-run to the Arizona 9-yard line. Field goal unit comes on. Game over.
Hauschka, wide left by a mile from 28. From 28!
An hour after the game: "I'm still trying to process what I just saw," said Larry Fitzgerald.
* * *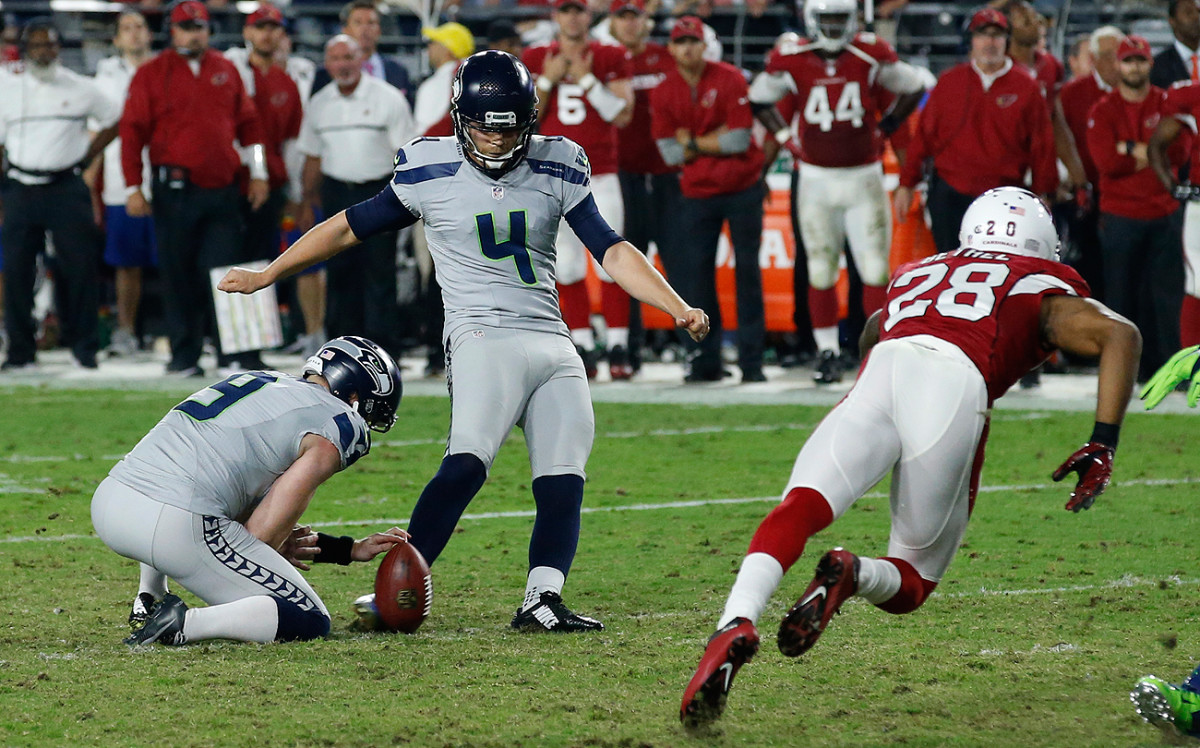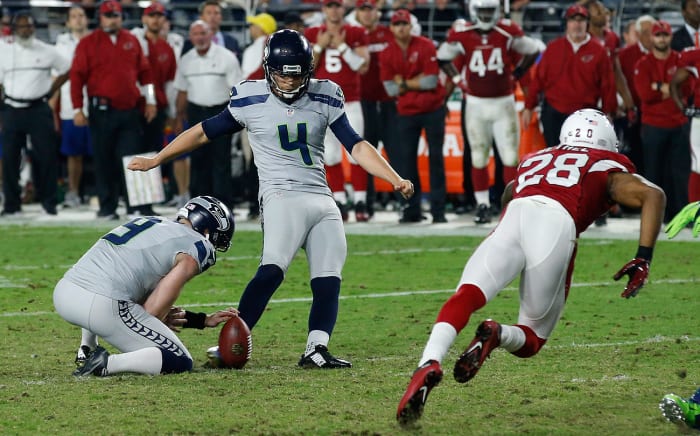 This game was a bad tie for Arizona. The Cardinals needed to win. They are 3-3-1. Seattle, atop the NFC West, is 4-1-1. Arizona is two games behind, essentially, with nine to play, and with two home games and five on the road in the final seven weeks. Seattle still has to play at New England and Green Bay but finishes with three of five at home.
I was going to say something to Bruce Arians as he walked off the field post-game, but he had that "not now" look in his eye and just shook his head in a disappointed way. The crowd didn't know how to react either. The whole thing was weird. But Seattle benefited, without a doubt. Still two up in the loss column.
The Cardinals, the No. 1 offense in football last year with most of the same characters active Sunday night, possessed the ball for 46:19 and scored six points. Arizona had 14 possessions and scored two field goals. This one will hurt for a while. When this season is put to bed in Arizona, whatever happens short of an NFC title, the special teams will be the unit that doomed the franchise. Seattle blocked a field goal on the acrobatic rush of Bobby Wagner, who leaped over the snapper, Aaron Brewer, to smother the kick. McEvoy's blocked punt highlighted the weakness of the Arizona punt-block unit; he bowled over Kerwin Williams. And then the Catanzaro clank.
"I thought," said Arians to the press, "that our football team, other than the three plays in the kicking game, was outstanding. Our kicking game let us down a little bit today. We left three field goals out there."
Someone asked Arians what he said to Catanzaro after the miss.
"Make it," Arians responded. "This ain't high school."
* * *
Larry Fitzgerald, with time to digest it: "I've been in this league 13 years. I've played in more than 200 games, regular season and playoffs. And this is the craziest game I've ever played in."
The reaction in the locker room, he said, was "somber. If you'd have walked in, you'd have thought we lost the game. It was just a really, really weird feeling. It feels like you lost. But you didn't lose. You didn't win, but you didn't lose. A perplexing feeling."
Fitzgerald said the range of emotions was so big, going from Nelson sprinting down to the Seattle 5-yard line late in the fourth quarter ("I was sure he was going to score") to lining up for the easy field goal, to then Catanzaro clanking the field goal try, to Seattle moving downfield with ease for the win, and then Hauschka missing ridiculously.
"The swing of emotions in two minutes … incredible. I thought J.J. was gonna score, and I dropped to my knee, so happy. Then he's not in, and we miss the kick, it's an extra point, it's a foregone conclusion, and they miss the kick. Crazy."
* * *
We'll end with Johnson. So much of him is antidote to what we're seeing in the NFL in this young season. In the past three weeks, in prime time, we've had the Giants lay down in Minnesota on Monday night, Arizona pancake the Niners and the Bears no-show in Green Bay on Thursday. And then, the last two Mondays, the Bucs slog through a 17-14 sleep-inducer at Carolina and the Jets imitate a team of Ralph Kramdens trying to beat the Cardinals. And Thursday of this week, it's Jacksonville-Tennessee. Football Fever! Catch it!
Johnson was big and a gumby character and tough as they come Sunday night. Rushes: 33. (Runs called back by penalty: two.) Targets: 13. Catches: eight, for 58 yards. Yards against the formidable Seattle defense: 171.
"I'm not tired," Johnson said when it was over. "I'll be sore tomorrow for sure. But I'm not tired."
Johnson will be on my podcast this week. If he's not tired after getting whacked around in that game like he was, well, he's a lot tougher than he looks.
• THE VIKINGS HAVE A BIG PROBLEM: Andy Benoit tackles the glaring issue exposed in Minnesota's first loss of the season
* * *
Matthew Stafford, the dominant one
For the third straight Sunday, the Lions trailed at home in the fourth quarter. For the third straight Sunday, the Lions rallied to win behind a quarterback who has been at his career best without one of the best receivers of recent history.
Why, I asked Matthew Stafford on Sunday, have you survived so well without Johnson?
"Hard work," he said from Detroit an hour after his perfectly placed 18-yard dart to Anquan Boldin beat Washington, to the delight of Ford Field gone mad. "Not only by myself, but by my receivers, my teammates. One player doesn't make a team. Football's such a great team game. These new guys have come in and worked and proven they're pretty good football players."
We'll get to how good Stafford's been in the clutch, and overall. But there's something to what he says. Let's look at the way human nature works. You have a superstar. He's humble, he's always good, he's a great force, and he's consistently productive. That's what Calvin Johnson was. But there's also part of a team with a superstar, regardless whether he stomps his feet when he doesn't get the ball or not, that is a bit burdensome. (Johnson didn't stomp his feet, by the way.) A quarterback starts to think, Gotta get the ball to Calvin, instead of thinking only what he should be thinking: Hit the open guy.
So for proof, look at the receivers: Marvin Jones, 33 catches; Anquan Boldin, 32 catches; Golden Tate, 31 catches; Theo Riddick (hurt the past two weeks), 26 catches. Stafford's been an equal-opportunity thrower, and therefore, the 4-3 Lions are in the pennant race with the season nearing the halfway point.
Stafford, who is still just 28, is having the best season of his life: a 105.7 rating, 68 percent completions, with a 15-to-4 touchdown-to-interception differential. Sunday was the 100th game of his career, and he sounded part exhilarated, part drained when it was over.
"Getting to 100 games in this league is pretty special for any player, and certainly for me, and winning it the way we did was pretty awesome," he said. "Happy to come out a victor in such a big game, such an important game for us."
When you watch the Lions now, you just expect Stafford to do very big things at the end. Look what he's done on the three-game home stand that ended Sunday:
• Week 5 versus Philadelphia: Down 23-21 with 2:34 left in the fourth quarter. Stafford leads a 34-yard field goal drive to win, 24-23.
• Week 6 versus Los Angeles: Down 28-21 with 14 minutes left in the fourth quarter. Stafford leads an 84-yard touchdown drive and a 44-yard field goal drive to win, 31-28.
• Week 7 versus Washington: Down 17-13 with 1:05 left in the fourth quarter. Stafford leads a 65-yard drive, finishing with an 18-yard strike to Boldin to win, 20-17.
"At a point of the game like this one," Stafford said, referring to the play that won Sunday's game, "no one's going to be open, really. Somebody's gotta make a great play. It's been interesting playing with Anquan. My parents both went to Florida State, so when I was a kid, I was a huge Florida State fan. And he's got a few years on me, so I rooted for Florida State and I rooted for Anquan. But here, he just got vertical and made a great play on the ball."
Stafford made a superb throw, too, inches from the fingertips of Washington linebacker Will Compton. With cornerback Kendall Fuller hanging onto him, Boldin caught the ball for the winner. "Somebody's gotta make a great play," Stafford said, "and he did. "We just went crazy. What's been great about playing with him is he trusts me, and I trust him."
That left Stafford, in his past 13 games, with 32 touchdowns and five interceptions. He's efficient, not forcing the ball, and not relying on any single player. At 28, he's never played better. "There's a little left in the tank," he said wearily. "I feel I'm doing all the the little things I need to do to get better, and I still have a ways to go to get better."
Back-to-back road contests—at Houston, at Minnesota—the next two weeks will provide more chances for Stafford and the Lions to continue to improve. 
• FOOTBALL LIFESTYLE: Dominic Bonvissuto shares more game day gear suggestions and NFL Halloween costume ideas
* * *
My thoughts on Josh Brown
In the case of the NFL versus Josh Brown, there is one thing that stands above all after the hue and cry of the last four days: The NFL needs to make an absolutely uniform policy about domestic violence. 
I believe the NFL needs to make the six-game suspension plateau in issues of domestic violence boilerplate. After the Ray Rice scandal two years ago, the league said cases of domestic violence would be subject to six-game suspensions for the abuser, unless there were extenuating or aggravating circumstances. This qualifying part has to go away. When a player is found to test positive for performance-enhancing drugs, he is suspended for four games. Players are told that there is no excuse; they are responsible for what goes into their bodies. It is sometimes a very difficult policy, but it is the law of the land and prevents illicit PED use as a matter of course. Similarly, a six-game suspension for anything involving domestic violence will be clear and, hopefully, a deterrent for those who would ever lift a hand to harm a partner or a family member.
Some would say that the inflexibility of this blanket policy would punish those who are not the worst abusers. Too bad. And obviously the players would have the ability to file grievances and appeal their suspensions. That's fine. Let the justice system take its course. The NFL's job should be to present the best case to be sure the player is suspended.
• ANOTHER NFL FAILURE ON DOMESTIC VIOLENCE: Albert Breer addresses the Josh Brown situation and how the league's actions continue to fall short
* * *
Quotes of the Week
I
"When the owner stops believing in you and the GM stops believing in you and coaches stop believing in you, sometime all you have is yourself."
—Jets reliever Ryan Fitzpatrick, who came off the bench to lead New York to victory over Baltimore when starting quarterback Geno Smith was injured. Fitzpatrick was benched Tuesday after throwing a league-high 11 interceptions in the first six games.
II
"Embarrassing."
—Minnesota coach Mike Zimmer, on the Vikings falling from the unbeaten ranks with a turnover-filled 21-10 loss at Philadelphia.
III
"Trying to draw 'em offsides, that just doesn't work anymore, does it? I remember when I tried to do it, all I'd come up with is a sore throat."
—Dan Fouts, on the NFL Network telecast of Giants-Rams from London, after Los Angeles quarterback Case Keenum tried unsuccessfully to induce the Giants to jump before the snap.
IV
"The NFL wants their players to be dynamic individuals from the start of the whistle to the end of the whistle, stop exactly what they're doing on a dime, go back to their huddle and then do it again. After being in the league office and now being on the outside looking in after being in the league office for 13 seasons, there is a real line of demarcation that the NFL product inherently harms itself when it devalues its characters, when it doesn't live up to the entertainment entity that it itself claims it is . . . Sportsmanship is a worthy goal. I'm not minimizing that. That's the line the NFL is taking. But they are throwing out the baby with the bath water. They are stripping away what makes the league a must-watch event.''
—Merton Hanks, who was the NFL's vice president of football operations until last spring, to Tom Curran of Comcast Sports Net-New England. Hanks is now associate commissioner of Conference USA.
V
"[Jack] Lambert couldn't get on the field as a backup linebacker. The kid in front of him was really their leader, kind of the heart-and-soul of the Kent State defense. Through a series of circumstances—that's a long story, but we'll skip through all that—the kid dropped out of school and went to work for Mick Jagger; he was his security guy on tour with the Rolling Stones, and Lambert became the starting middle linebacker. He probably would have never played had that not happened. And you have a Hall of Fame player. Sometimes things take a turn, and once some players get that opportunity and they get in there—the Tom Bradys of the world, or whoever—you can't get them out of there. Lou Gehrig."
—Bill Belichick, in the most pensive storytelling moment of his season, talking at his press conference the other day about the good fortune you sometimes need to excel in sports.
* * *
The Award Section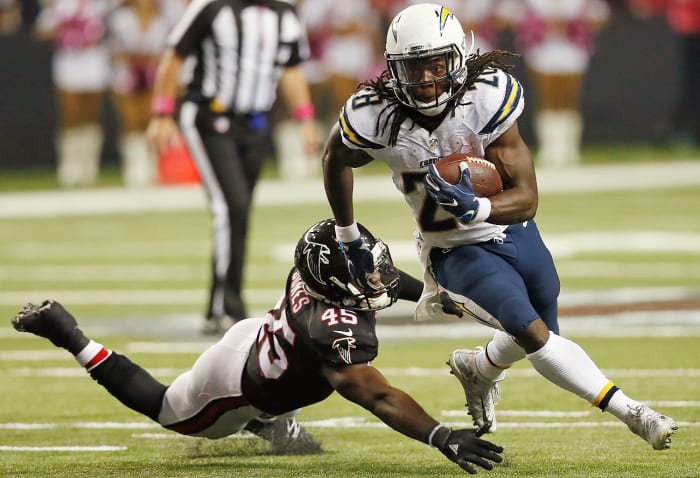 OFFENSIVE PLAYERS OF THE WEEK
Jay Ajayi, running back, Miami. He became the fourth back in the 97-year history of the NFL to rush for 200 yards in successive games. Ajayi followed his 204-yard game at home in an upset of Pittsburgh with a 28-carry, 214-yard domination of Buffalo's resurgent defense in a 28-25, fourth-quarter comeback win over the Bills. Now he's in the same league—at least in the record book—as O.J. Simpson, Earl Campbell and Ricky Williams. If you called that nine days ago, you need to move to Vegas. Today.
Jeremy Hill, running back, Cincinnati. Pretty impressive when you average more in the running game than in the receiving game—particularly when you're gaining 12 yards a clip in the air. But the Bengals finally got what they'd been waiting for from Hill in a rout of the Browns with a nine-carry, 168-yard rushing day (18.7 per touch), including a game-changing 74-yard touchdown gallop in the third quarter.
Melvin Gordon, running back, San Diego. After some idiot (me) questioned Gordon's running ability recently, clearly Gordon was supremely motivated to dominate. He was crucial in the big San Diego upset at Atlanta on Sunday, rushing and receiving for 121 total yards. Gordon had two-yard and three-yard touchdown runs in the first half as the Chargers struggled to stay in the game. With six minutes left he caught a five-yard flip from Philip Rivers for a touchdown. This was a game the Chargers had no business winning, and Rivers and Gordon willed it.
DEFENSIVEPLAYERS OF THE WEEK
Landon Collins, safety, New York Giants.For being the majority of the offense on a feeble day for the Giants … and for making the defensive play of the year, a 44-yard touchdown return of a tipped pass against the Rams in the Giants' 17-10 win Sunday in London. This was one of the best defensive touchdown returns I've ever seen. Six Rams had either one or two arms on Collins in his weaving, instinctive return; at the Rams' 37-yard line, Collins stuck his foot in the ground to pivot left, and Tavon Austin overshot him and knocked two other Rams off the chase at the same time, like they were bowling pins. Collins played an impactful game as well; check out the highlight reel. If he plays 15 years, he'll never have as athletic and highlight-filled a play as that 44-yard touchdown. NFL Network said he actually ran 84 yards on the play. With 11 minutes left in the game, Collins had his second tipped interception, giving the Giants a short field and the ability to drive for the winning touchdown. Giants 17, Rams 10, with 14 points directly attributable to Collins.
Leonard Floyd, defensive end, Chicago. The great rookie hope of the Chicago front seven finally had a breakout game at Lambeau Field, with three tackles, two sacks, a forced fumble and a touchdown—the Bears' only TD of the night. Floyd, late in the first half, stripped Aaron Rodgers for a 10-yard sack, recovered it in the end zone and helped the toothless Bears stay in the game. With Chicago down to Mike Tomczak at quarterback, Floyd and his mates will have to dominate for Chicago to salvage much of this season.
SPECIAL TEAMS PLAYERS OF THE WEEK
Bobby Wagner, linebacker, Seattle. Made the special teams play of the year, leaping over Arizona long-snapper Aaron Brewer like a high-hurdler. Wagner's foot scraped the back of Brewer, which Arizona coach Bruce Arians screamed should have negated the play because of safety concerns with snappers, but he lost the argument. "Incidental contact is not necessarily a penalty," Al Michaels said on TV. Anyway, Wagner steamed ahead and blocked the 39-yard field-goal try, fair and square. As NFL VP of Officiating Dean Blandino tweeted a couple of minutes after the play: "In #SEAvsAZ you have to land on the player for it to be a foul. The block was legal." Not only legal, but epic.
GOAT OF THE WEEK
Sunday Night Football Kickers. How fitting, another tie. Chandler Catanzaro and Stephen Hauschka, two relatively reliable NFL kickers, traded yak jobs on game-winning gimmes and America went to bed without a victor. 
COACH OF THE WEEK
Andy Reid, head coach, Kansas City. In his 300th career game (176-123-1), Reid's Chiefs beat the Saints, and Reid moved two wins behind Jeff Fisher for second on the wins list among active coaches. How the active coaches with the most career games stack up:
| | | | | | |
| --- | --- | --- | --- | --- | --- |
| Coach, Current Team | Games | Years | Age | W-L-T | Pct. |
| Bill Belichick, N.E. | 376 | 22 | 64 | 252-124 | .670 |
| Jeff Fisher, L.A. | 344 | 22 | 58 | 177-166-1 | .516 |
| Andy Reid, K.C. | 300 | 18 | 58 | 176-123-1 | .588 |
| John Fox, Chi. | 246 | 15 | 61 | 134-112 | .545 |
| Marvin Lewis, Cin. | 222 | 14 | 58 | 115-105-2 | .523 |
The guys on that list will have a long way to go to break the ironman marks of Don Shula (526 games coached) and George Halas (506).
• CHARLES HALEY WON'T APOLOGIZE: In his new book, the Hall-of-Famer explains his battle with bipolar disorder and desire to spread awareness
* * *
Right Combination of the Week
Davante Adams, Randall Cobb and Ty Montgomery, receivers, Green Bay. A very unexpected combination, this was an incredible occurrence in Green Bay's victory over Chicago. Adams, Cobb and Montgomery—not Jordy Nelson—combined for this stat line that I can say with confidence these three receivers in tandem will never exceed:
| | | | | |
| --- | --- | --- | --- | --- |
| Targets | Receptions | Yards | Avg. Per Catch | TD |
| 44 | 34 | 293 | 8.62 | 3 |
AND
| | | | |
| --- | --- | --- | --- |
| Rushing Attempts | Yards | Avg. Per Rush | TD |
| 14 | 81 | 5.79 | 0 |
The Right Combination's total yards: 374. Touchdowns: 3.
Ty Montgomery, lead back. Who knew?
Yes, it was the Bears, the totally messed-up Bears thanks to a spate of injuries. But what makes this significant, to me, is how Mike McCarthy and Rodgers—in tandem, and without Eddie Lacy, and without significant help from Nelson—simply invented during a short week a new offensive philosophy. For all those lobbing grenades at the Packers recently (I'm guilty too), it's a long season, and it's about adjusting week to week. Thursday's game, with a strange combo platter in the backfield and at receiver, showed how both Rodgers and his coach can adjust, and flourish, in adverse circumstances.
* * *
Stat of the Week
I don't know why, whenever Jay Cutler is compared to Jeff George, the first thing you hear, after groaning, is: "Oh, don't compare Cutler to Jeff George! Different situations!" Disagree. George did start at the bottom with the moribund Colts in 1990, and Cutler had it significantly better by starting with the Broncos in 2006, but the comparison works exceedingly well, I think.
Consider first the difference in passing eras. In the midst of George's career, 1999, 15 quarterbacks had a rating of more than 80. Fifteen years later, in 2014, some 27 quarterbacks were over 80 in rating. So the numbers are a bit inflated, and when I look at these two careers, the two guys are eminently comparable.
| | | | | | | | | | |
| --- | --- | --- | --- | --- | --- | --- | --- | --- | --- |
| QB | Ht/Wt | Yrs | G | Comp. Pct. | Yards/ Game | Yards/ Attempt | TD-INT Diff. | Playoff Wins | QB Rating |
| Cutler | 6'4", 222 | 11 | 136 | .620 | 233.7 | 7.2 | +62 | 1 | 85.9 |
| George | 6'3", 231 | 12 | 131 | .579 | 210.7 | 7.0 | +41 | 1 | 80.4 |
Factoring in the stat-inflation from having been drafted 16 years apart, Cutler versus George looks pretty comparable to me.
* * *
Factoids That May Interest Only Me
I
Every one of the four AFC North teams' games this year will be played in the Eastern and Central time zones, except one, which will be next Sunday in Greenwich Mean Time: Cincinnati versus Washington, in London.
But not a single trip west of Dallas, for any of the 32 road games for Cleveland, Cincinnati, Baltimore and Pittsburgh.
II
Game 1, NBA season: Tuesday night, 7:37 p.m. New York Knicks at NBA champion Cleveland Cavaliers, after the Cavs get their championship rings.
Game 1, World Series: Tuesday night, 8:08 p.m., Chicago Cubs (no world title since 1908) at Cleveland (no world title since 1948).
Two hundred yards apart in downtown Cleveland.
Quicken Loans Arena, Progressive Field.
A historic twinbill, and it's happening in Cleveland.
What must the 0-7, six-quarterback Browns feel like?
III
Texas Tech quarterback Pat Mahomes II threw 88 passes in that ridiculous Oklahoma-Texas Tech game Saturday. Pat Mahomes (Pat II's dad, the former major league pitcher) threw 104 pitches in a start for the Cubs at Pittsburgh in September 2002.
And, of course, it all comes back to the Cubs.
* * *
On Your Night Table
1984, by George Orwell.
Recommended by Jaguars tight end Julius Thomas
"It's a very interesting book," said Thomas. "Published in the late 1940s, it provides a glaring example of a dystopia. We are taken inside the thoughts and feelings of a man realizing that a society with the right type of control cannot be overthrown."
* * *
Mr. Starwood Preferred Member Travel Notes
My parents are both gone now—Dad in 1987, Mom in 2003—and I am eternally grateful to them for so many things. My father for instilling a work ethic and love of sports and sportswriting, and my mother for instilling a love of words and a tenacity and for encouraging me to start a neighborhood newspaper in fifth grade, and both of them for encouraging all four children to be good people above all … I mean, there are so many things that it'd take me this column and 10 more to express how much they did for me. But down the list somewhere, deep down, would be the part of genetics they passed on that made me immune to so many of the travel problems so many people have that I don't.
I don't get jet lag. I can sleep on planes. I never feel logy getting off planes. I can pick up with whatever I need to do as soon as I get off planes. This past week, I flew New York to Los Angeles (did Rich Eisen and Jason Whitlock for my podcast) on Tuesday, Los Angeles to Phoenix on Tuesday evening (for an NBC "Football Night in America" story on the versatile Arizona safety/slot corner/corner/box safety Tyrann Mathieu), Phoenix to New York on the redeye on Wednesday night. I napped on the plane, slept for an hour on the couch at home, then had a fairly normal Thursday and Friday. Saturday afternoon: Newark to Phoenix. Sunday night: redeye return, Phoenix to New York. Now, today might find me muttering to myself about the week, but I don't think so. I'll have a nap this morning and likely be fine for the week. My theory is that since I've started to work out some, I've got a little more energy to burn for things like long flights. I spent 45 minutes on a bike Saturday morning at Soul Cycle in New York, getting beat up by an instructor playing loud music I didn't recognize, and was drenched at the end of it. I'm sure that helps.
I'd be curious to know from you this week about the strain travel takes on you—or whether you're like me and just get off the plane and it's a normal day. Send your thoughts and I'll use the best responses in this space next week. Thanks.
* * *
Tweets of the Week
I
II
III
V
* * *
Pod People
From "The MMQB Podcast With Peter King," available where you download podcasts. This week's guests: NFL Network host Rich Eisen and Jason Whitlock of FOX Sports. 
Here's the rundown of topics and time stamps.
• Rich Eisen on dinner with Donald Trump: "I called [Baseball play-by-play man] Jon Miller to pick his brain. I said … when I'm telling a story and a ball is hit, pops up in the air and a triple play starts, what do I do about my story? Do I stop? He said, 'Here's what I tell people. You are telling a story to your friend, the most beautiful woman in the world walks in, what do you do? You and your friend look at the beautiful woman. You stop telling the story, nobody bats an eyelash, no big deal, you just stop, recognize the woman in the room and go back to telling the story. Cut to … about five years ago, and my wife calls me up and said a friend from New York had asked her, 'How would you like have to dinner with us and Donald Trump?' I grew up in New York City, I knew exactly who Donald Trump was, this was before all the politics, and I'm like, 'Yeah, absolutely I will have dinner with Donald Trump, no question about it.' There we are at dinner, Donald Trump is telling one of his million stories about his beautiful acreage and his golf course and all his business, and and right behind me and wife and everybody else is some 6'4" brunette, walks in the room, and he stops telling his story, goes, 'Wow, she's beautiful.' We all looked at her, then looked back at him, he finished his story."
Me: "Just the way John Miller said!"
Eisen: "I've never seen it put into real-time practice before! And it was Donald Trump!"
Me: "What was dinner with Donald Trump like?"
Eisen: "It was him talking about, seriously, his beautiful golf course, his beautiful this, his beautiful that, it was everything that you would expect it to be."
• Whitlock on the importance of football: "As a black person who understands the power of football and has seen it transform a lot of young black men, I just look at [Colin] Kaepernick and all these guys and I just wonder if they know how good football, really as an industry, has been for us and to us. It has created more wealth for black men than any other industry I know and for me, more opportunity. Because football, if you don't make it all the way to the NFL, at least you have a chance to make it through college, and that opens up doors. When Baltimore was rioting after the Freddy Gray deal, I saw all those kids out in the street rioting, and I literally thought, 'Man, when I was a kid I was so tired from football practice, no way I could be out in the street doing this!' They run you to death and you go home and you sleep. These kids don't have any men in their lives pushing them from 3 p.m. to 7 p.m. so that they are too tired to be out. I was run to death from playing sports, and I didn't have time to do dumb stuff."
* * *
Photo Op
Yes, the Cardinals have strawberry whole milk in their cafeteria in Tempe, courtesy of Danzeisen Dairy, which is 10 miles from downtown Phoenix, and has roots as a local dairy since 1959. Lucky Arizonans: Danzeisen distributes its milk (all in glass bottles) to 117 outlets throughout Arizona, as far south as Tucson, as far north as Flagstaff, as far west as Lake Havasu and Kingman. Smack dab in the middle of the distribution area is the Cardinals' football complex in Tempe. Let me say this: The Cardinals are incredibly lucky. That strawberry milk is to die for—and probably tasted eight times better to me seeing that I use almond milk on my morning cereal now. Like a strawberry milk shake—that's how good it was. I don't think I've had strawberry milk since my mother bought the strawberry Quik powder mix when I was a kid.
* * *
Dr. Z Unsung Guys of the Week
Each week, in conjunction with Pro Football Focus, I'll point out three players who played well but were under the radar. Paul Zimmerman would have loved this section. This week's trio:​​​​
1. Guard Kevin Zeitler, Cincinnati. Zeitler quietly had a phenomenal performance against the Browns. He did not allow a single sack, hit or hurry of Andy Dalton on 31 pass-block snaps. Zeitler also was a very proficient run blocker and helped the Bengals rush for 271 yards as a team; his 90.5 run-blocking grade led the league in Week 7.
2. Defensive Tackle Damon Harrison, New York Giants. Harrison was a disruptive interior force against the Rams and played a big part in holding running back Todd Gurley to 57 yards rushing. Harrison led all defensive linemen in Week 7 with seven run stops, which he did on only 18 run-defense snaps. Harrison also added a sack and two QB hurries on 25 pass rush snaps.
3. Linebacker Blake Martinez, Green Bay. Martinez played his best game yet against the rival Bears. The rookie had two run stops and an impressive 82.8 run-defense grade but was even more impressive in coverage. Martinez was targeted twice, allowing one catch for nine yards and breaking up the other pass. He also came up with an interception on a deflection.
Go here to access PFF grades on every player.
* * *
Ten Things I Think I Think
1. I think these are my one-liners of analysis from Week 7:
a. The NFL, obviously, is trying to get Europe to not like American football, with the Giants-Rams monstrosity following Jags-Colts (awful game), and last season's Chiefs-Lions (45-10 blowout), and Jets-Dolphins (Miami totally toothless).
b. That means the Cincinnati-Washington game this week, the third and final game in London this year, had better be good … or the NFL will foist four games on the fine people of Great Britain next year.
c. If Case Keenum is the quarterback when the Rams host the Panthers in 13 days, it will say an awful lot about Jared Goff, and not good things.
d. It's not a good idea for the NFL to have a Pacific Time team in the London game, if it's going to start at 6:30 a.m. PT.
e. Ten weeks shy of his 44th birthday, and perhaps 19 years shy of being fitted for his gold jacket in Canton, Adam Vinatieri set the NFL record with his 43rd consecutive field goal at Jacksonville.
f. Malcolm Butler's a big-time cornerback, as evidenced by his athletic pick over Antonio Brown.
g. It feels like the beginning of the end for Gus Bradley—1-3 at home, two players ejected in ugly loss to Oakland, 14-40 career record—in Jacksonville.
h. I'll have whatever Jacquizz Rodgers is having.
i. The three-week stats for Tom Brady (75 percent accuracy, 9.94 yards per attempt, 8-0 TD-pick ratio, 132.6 rating) are video-game numbers and just prove one thing: The clock of regular age does not apply to this 39-year-old singular athlete.
j. We're seven weeks in, and there's a lot to love about the Vikings, but you've got to wonder if they're going to score enough to win in January—and February. 
2. I think the rise of Jay Ajayi in Miami is one of the best stories of this season. What you need to know about this truly international guy:
• He was born in England 23 years ago to Nigerian parents and lived in London until he was 10.
• He lived in Maryland for his middle-school years, and then the Ajayi family moved to Frisco, Texas, where he starred at running back and rushed for 2,240 yards as a high school senior.
• He got a full ride to Boise State and scored 50 touchdowns in three seasons as a 6-foot, 225-pound back.
• He skipped his senior year to enter the 2015 draft but was disappointed to go in the fifth round, 149th overall, the 13th running back chosen.
• Miami coach Adam Gase left Ajayi behind on the team's first road trip of the year, the opener at Seattle, because Ajayi had a lousy attitude when he didn't win the starting job after Lamar Miller left for Houston in free agency.
• No one, not even his parents, could have seen this coming. It is ridiculously fortuitous. His first four games: 14, 28, 33 and 42 rushing yards … 31 carries, with a long of 11. That's before the Steelers came to Miami last week.
• Home against Pittsburgh last week: 25 carries, 204 yards. Home against Buffalo on Sunday: 28 carries, 214 yards. "We were trying to do the same thing, make it a shorter game for our defense," said coach Adam Gase. "Anytime it happens early, it gets everybody's confidence up knowing that, 'Alright, we have a good rhythm,' really before you anticipate it. He did a good job of running through arm tackles, and our line did a good job as far as sticking on guys and finishing blocks."
• Can he make it three straight 200-yard games? After a bye in Week 8, the Dolphins return to host the Jets, who rank second in the NFL in rushing yards allowed, at just 74.1 per game.
3. I think some of the coaches we thought would never, ever make their living on the ground—Bruce Arians (in part), Adam Gase, Bill O'Brien (because of Brock Osweiler's struggles)—are winning on the ground. Nothing's forever in the NFL.
• WHAT'S LEFT TO MAKE THE VEGAS RAIDERS A REALITY: Albert Breer details the relocation hurdles still to clear
4. I think it's hard to count how many offensive lines in the NFL stink, but a lot do. It's the position group that's the most subpar in the league right now. Did you see Sunday night, when four Seahawks (and I know the Seattle defense front is very good) met at Carson Palmer midway through the first quarter and combo-sacked him? Palmer never had a chance. So many quarterbacks feel that way right now.
5. I think I simply cannot believe the league fined Odell Beckham Jr. $24,309 for taking his helmet off as he was leaving the field at the end of a play. This is an inexcusable sanction. The average personal income for an American male with a bachelor's degree in the United States today (according to Wikipedia) is $49,804. Odell Beckham Jr. was fined six months' salary of the average American man with a college education for taking his helmet off in celebration as he left the field after scoring a touchdown. Give the man a 15-yard penalty and leave it there. The NFL has the right to fine players for unsportsmanlike conduct fouls, but they don't have to. Jon Runyan, the league's first-year discipline czar, chose to fine Beckham that egregious amount. No wonder so many fans and media people flail away at the league endlessly. And don't get me started on the Vernon Davis free throw fine ($12,154).
6. I think this is the way not to make a positive first impression, Knile Davis, with your new team in Green Bay: returning your first Packer kickoff from three yards deep in the end zone. Don't do it. And not just because you only returned it to the 15-yard line, giving away 10 free yards. But simply because the average kickoff return in the NFL this year is about 22 yards, and you'd have had to return the kick 28 yards to get what the NFL gives you for free. Unless you're Devin Hester or Gale Sayers in their prime, take a knee.
7. I think this happened last Monday: Big Jets fan Larry David attended the Jets-Cards game in Glendale. Carson Palmer loves Larry David; loves "Curb Your Enthusiasm." (By golly, who doesn't love that show?) Carson's wife, Shaelynn, saw David at the game. She said her husband sometimes would come home from practice or a game all wound up and unable to go to sleep on schedule, and would sometimes use David's show to relax him. So Shaelynn Palmer asked Larry David if she could record a greeting on her smart phone from David to her husband. David obliged. He said: "Hey Carson! Go to sleep, would ya!"
8. I think you'll read a good story on the late Dennis Byrd from our Jenny Vrentas at The MMQB this week, but one postscript on Byrd that I don't think got enough attention after his death in a two-vehicle crash in Oklahoma nine days ago: The guy was a really good player. As teammate Marvin Washington said, Byrd was comparable to standout three-technique tackles like Trevor Pryce and Bryant Young. In the last games of the 1990 season, the Jets, 4-10, had nothing to play for as they finished up against the Patriots at home and Bucs on the road. Byrd had three sacks against the feeble Patriots, then sacked Vinny Testaverde twice in the finale in Tampa—one of them for a 23-yard loss. "I really want people to know what a good player he was," said Washington, his roommate the night before games. "I don't want that to be lost. When he was hurt, that was a huge football loss as well as huge personal loss."
9. I think, from out here in the Valley of the Sun, I would like to provide this as a public service to every broadcaster or talk-show host or just real football fans who care about pronunciation, regarding Tyrann Mathieu, courtesy of Cardinals media man Mark Dalton: "It's TY-run (rhymes with Byron) Matthew."
10. I think these are my non-NFL thoughts of the week:
a. What a great job you did in the debate, Chris Wallace. "Like a veteran teacher monitoring detention hall," wrote Stephen King. Always knew one day I'd steal a line from Stephen King. What Wallace did was hold each candidate's feet to the fire and get to everything he said he was going to get to and make each candidate focus on the specific topic instead of long rants.
b. That was Mike Wallace's son right there. Terrific.
c. Get well soon, Dave Strader. The Dallas Stars' play-by-play man, so well-respected in the hockey world, revealed last week he has cancer of the bile duct, exceedingly rare, and is on leave from the booth. All the best to him.
d. RIP, Drew Sharp, the excellent columnist from Detroit, respected by peers and subjects and readers alike. "I will miss our talks in the locker room pre-game," Justin Verlander tweeted. Detroit will miss Sharp's voice.
e. Story of the Week: From the Charlotte Observer'sScott Fowler, on the son whom Rae Carruth tried to murder in the womb when Carruth killed his mother, and how that son plans to be outside the prison gates when Carruth is released in 2017. Scott, if there are awards for making readers cry, you've won this year. It's not a contest. Well-told, and the kind of story readers will remember for a long time.
f. Thanks for getting me cross-country twice in six days, Bob Dylan. In honor of your Nobel Prize for Literature, I listened to "The Freewheeling' Bob Dylan" and the double album "The Essential Bob Dylan." Twice.
g. "Like a Rolling Stone" will always be to me "North By Northwest." Whenever I hear that song at any point, I listen to it until the end. Whenever I see the latter at any point, I watch it until the end.
h. Cubs win! Cubs win! Cubs win!
i. That was a fun sight, seeing fans refuse to leave Wrigley Field, celebrating such an august event. Good for them.
j. What a great World Series this should be. I'll stick with Cleveland over Chicago in seven—which was my pick on Oct. 3. With Andrew Miller the MVP.
k. Joe Maddon used to look like Spencer Tracy. Anyone think he looks like Robert DeNiro now?
l. Baseball Story of the Week: A history lesson, kids, by Daniel Brown of the San Jose Mercury News, about an 81-year-old man living in San Jose who is cursed by Cubs fans to this day—and who is not named Bartman. 
m. Will never forget agent Mark Rodgers—a cross-sport guy; he has baseball players, and he has Russell Wilson of the Seahawks—telling me two years ago he was pretty sure he could get Andrew Miller $9 million a year somewhere. Sure, I thought. And then Miller got a $10-million-a-year offer from Houston, and took four years and $36 million from the Yankees. Incredible to say, but Miller could certainly get more if he was on the open market now.
n. You know what I admire about Andrew Miller? Never once has he complained about his role. Here you have Pedro Martinez saying he's never seen a more dominant postseason pitcher, and the Red Sox had someone close over him, the Yankees traded for Aroldis Chapman to close over him, and Cleveland traded for him and had Cody Allen close over him. Not a peep from Miller, who rightfully was named the MVP of the ALCS. And it's a great call by Terry Francona, I believe, using him at the most significant part of the game, or when he needs five or six outs to shorten the game.
o. Interesting experience I had Tuesday. I was in L.A. to do some podcast interviews, and I was at the FOX studios, about to talk to Jason Whitlock, and right next to his office/dressing room was a conference room. I saw a buddy I've known over the years from some major events, producer Bardia Shah-Rais, and said hello, and saw it was a meeting for that night's FOX baseball show. Whitlock introduced me to Alex Rodriguez, and then, on the far side of the room was Pete Rose. He'd forgotten (and why shouldn't he have?) the time when I was 23, a backup Reds' writer for the Cincinnati Enquirer, and I introduced myself to him (he was on the Phillies then) in the Philadelphia clubhouse locker at Riverfront Stadium—and he talked to me for 45 minutes. "That's pretty good, talking to a kid you didn't know for that long," I told him. Pete's got some stories. Fun moment.
p. Curious to know what smart baseball people see in Jason Heyward that makes him so rich. Heyward, 1-for-16 in the National League Championship Series, was benched for the Cubs' decisive Game 6 win that sent them to the World Series.
q. Heyward has a power-hitter's swing. He has 31 homers in the past three years: 31 homers in 445 games. Yasmany Tomas had 31 homers this season: 31 in 140 games.
r. And you've never even heard of Yasmany Tomas. (Well, 78 percent of you haven't heard of him.) This was the first year of a $184 million contract for Heyward. A thousand NFL players just fainted.
s. Coffeenerdness I: Actually tried this experimental fall beverage (on a 93-degree morning) at a Tempe Starbucks the other day: a pumpkin spice mocha Flat White. Seems this store, at the corner of Elliott Road and Priest Drive a few long spirals from the Cardinals' training facility, encourages the baristas to invent new drinks. Good idea. Odd taste, but a good idea. Love the flat white, but it's better additive-free, I think.
t. Coffeenerdness II: The coffee on American Airlines, at least on the flight from Newark to Phoenix on Saturday afternoon, tasted like it went through a filter with grounds that had been used 17 times. Definition of coffee-flavored water. Bitter coffee-flavored water at that. Other than that, a pleasant flight.
u. Beernerdness: Hangar 24 Orange Wheat (Hangar 24 Brewery, Redlands, Calif.) isn't quite Allagash White, but it's a fine beer. The taste is different, only slightly orange-tasting and not overwhelming.
v. An hour after I texted the Only Other Devils Fan On Earth, Tom Mantzouranis, about how maddening this season was going to be, praying you could eke out 2-1 wins (I believe those were my exact words), New Jersey eked out a 2-1 win over Minnesota with a third-period goal and an overtime goal by Taylor Hall.
w. Pete Thamel Can Figure This Out Because I Can't Note of the Week: Texas Tech and Oklahoma each had 854 total yards in their game Saturday. Is that football?
* * *
Who I Like Tonight
Denver 27, The Osweilers 12. In the midst of everyone saying the right things all week about Bronco-turned-Texan Brock Osweiler's return to Denver tonight on a national stage, there was this one lonesome meaty item on a Denver quote sheet the other day, from Broncos linebacker Brandon Marshall: "We know Brock likes to hold the ball, so I feel that we can get a lot of good pressure on him. Just watching their offense, I think this can be a great week for us, I can say that." Not sure what Marshall is referring to, except that Osweiler isn't being protected well and he's thrown a few balls to Amarillo instead of his receivers and the Houston offense just looks out of sync. Plus, Osweiler entered Sunday the league's 29th-rated quarterback (out of 31 passers), 29th in yards per attempt, second in interceptions and 18th in yards (despite being fifth in attempts). I agree with Marshall: This should be a great night for the Denver defense.
* * *
The Adieu Haiku
We export football
to London. Lousy football.
Hmmm. God save the game.
• Question or comment? Email us at talkback@themmqb.com.