A Raiders-Cowboys Super Bowl? The NFL Can Dream
Three months before Super Bowl 51, an intriguing potential matchup presents itself in the form of Week 9's two best teams. Plus the last-second Lions strike again, Luck does Lambeau, 10 Things and more
Every week watching the NFL, we try to draw conclusions on what we've just seen. This is the Patriots' bye week, so the best team in football is out of mind for the moment, and we wake up this morning with the most unthinkable thought we could have ever thought two months ago, at the dawn of the 2016 season:
Super Bowl 51, Feb. 5 2017, in Houston: Dallas versus Oakland.
The Cowboys, off a 25-point road rout of the woebegone Browns, have won seven in a row, and please, look at their schedule. They don't play a team better than 5-3 the rest of the way. The two best rookies in football, Dak Prescott and Ezekiel Elliott, have revolutionized their team. No offensive line can touch theirs.
The Raiders just dismantled the Super Bowl champions. Oakland 30, Denver 20, and it wasn't that close. The hottest young quarterback in the game threw zero touchdown passes, and Derek Carr didn't need any either. The Raiders outrushed Denver 218-33 and held the ball for 41 minutes, like an old Bill Parcells team. The defense is coming alive, finally.
They're easy teams to fall for, with 25-year-old (Carr) and 23-year-old (Prescott) leaders who seem made for NFL stardom. They can take some adversity and unfriendly faces; combined, Dallas and Oakland are 9-0 on the road. There are eight weeks for reality to slap each team in the face, which undoubtedly will happen. But this morning, when your thoughts are anxious with the most significant and potentially outlandish election day in the recent history of this country, think for a moment that the one matchup that probably should have happened sometime, some place in the previous 50 Super Bowls but never did actually has a prayer of coming true this year.
Cowboys-Raiders. Want a cure for the sinking-like-a-stone TV ratings? That Super Bowl just might be it.
A lot has to happen first. The NFC part of the equation isn't so unlikely. Dallas has to be the NFC favorite right now; the road to Houston likely goes through Jerry World. But the AFC's a different deal. New England (7-1 and rested and healthy) is football's Everest, and the last time Oakland played a playoff game in Foxboro, funny things happened that have haunted the Raiders franchise ever since. The Chiefs (6-2) own a 16-point win over Oakland already this year; as my buddy Don Banks pointed out Sunday night, Kansas City has won an NFL-best 17 of its last 20.
But Roger Staubach and John Madden and Jim Otto and Gil Brandt can dream. At the season's midpoint, there's lots of time for that.
* * *
Last-second Leos strike again
My favorite scene of the weekend, though, came at a tense time in Minneapolis, and is a huge reason why the Lions passed Green Bay and moved to within a half-game of the slumping Vikings in the NFC North on Sunday. And there's a very good chance you have no idea it even happened.
Two seconds. Jim Caldwell got two seconds added to the clock in the game's 58th minute, and two seconds turned out to be an eternity for Detroit. Two seconds gave the Lions life at the end of the fourth quarter.
TV didn't catch it. Nobody caught it. The key people in the game didn't know about it, not even three-and-a-half hours after it was over.
"I had no idea," Detroit wide receiver Andre Roberts, who made a game-prolonging 27-yard catch in the final seconds of the fourth quarter, said when the team arrived back in Michigan on Sunday night. "I wasn't aware of that."
The story of the amazing and ridiculous Detroit Lions season grows in legend weekly. The Lions are 5-4. In each of the five wins, Detroit trailed in the last 90 seconds. Truly, the Lions could be 0-9 right now. It'd be a heartbreaking 0-9, but it'd be an explainable 0-9.
They beat Minnesota because of a play offensive coordinator Jim Bob Cooter just installed last week, because Matthew Stafford likes playing when it is darkest, because Roberts executed a perfect in-cut at the perfect depth, because Matt Prater kicked a 58-yard field goal at the end of the fourth quarter, because Golden Tate has balance rivaling Simone Biles, and because Jim Caldwell made the kind of coaching decision and the kind of convincing argument with referee Ed Hochuli's crew that affected the outcome of the game.
Start with Caldwell. Detroit led 13-9 with 1:17 left in the fourth. Minnesota had the ball at the Lions' 11. Fourth and four. Detroit had one timeout left. If the Vikings converted but didn't score on this play, Caldwell knew they had to burn the last timeout and hope that if the Vikings scored, they'd do so with enough time left that Stafford would have a play or two to get the Lions in long Prater range for the tie.
Stefon Diggs caught a pass from Sam Bradford and went down at the Detroit three-yard line with 1:14 left. Detroit called for a timeout. The clock stopped with 1:11 left. On the Lions sideline, they knew they should have a second or two, at least, added. Caldwell called for a conference. Officials blew their whistles, and Caldwell made his case. He was right, they determined. On TV, a few seconds before the next play was run, you heard the muffled sound asking for the timekeeper to add time to the game clock, and on the screen, in the little score box, the "1:11" changed to "1:13."
It took the Vikings three plays to get in for the go-ahead touchdown, and the drive included a dubiously called Minnesota timeout with 27 seconds left, which ended up aiding Detroit tremendously. Trailing 16-13, Stafford took the ball at the Lions' 25. After an eight-yard sideline pass to Tate, 17 seconds remained. The clock was stopped. And it was time to run Cooter's new play.
"Most end-of-game defenses don't let you get out of bounds," Roberts said. "They'll play their guys near the sidelines so you can't out of bounds. So we had this play where our guys run in-cuts and get down right away. Then we run to the line and try to spike it so we can run another play or kick the field goal."
• HIGH SCHOOL WEEK: The MMQB's special series on how the game remains integral in communities across the country
Cooter's theory was that the in-cuts, run by four receivers, would be open—at least one of them anyway—with the defenders cheating toward the sidelines. Before the huddle broke, Stafford said to his receivers: "Catch it! Get down! Then get back to the line!"
Roberts, starting from the right flank, was supposed to run 25 yards downfield. "I went 27," he said. Then he pivoted left.
With 13 seconds left, Stafford threw a line drive.
With 11 seconds left, a sliding Roberts caught the pass at the Minnesota 40.
With 10 seconds left, Minnesota linebacker Emmanuel Lamur flopped onto Roberts, preventing him from getting up. "Just doing his job," Roberts said. "That's what defenders are supposed to do. We know it. We work on that a lot."
With eight seconds left, Roberts wrestled free of Lamur and got up and ran to line up—anywhere. He ended up in the backfield.
With six seconds left, sprinting to the line with his linemen, Stafford made the clocking motion.
With three seconds left, the Lions, after sprinting 30 yards and getting set, motionless, so they wouldn't get a game-ending flag for not being set at the snap of the ball, were 11 statues at the Minnesota 40.
With two seconds left, Stafford clocked the ball.
Deep breaths.
As the clock hit :00, Prater's kick was long and high and straight down the middle, like an old Tiger Woods drive on a straight par 5.
Tie game.
When I told Roberts about the Caldwell timeout and the successful plea for two seconds, he said, "Hey, luckily we got those two seconds. If we didn't, who knows? Maybe we run a different play at the end. I don't know."
Overtime. Deflated crowd. Lions won the toss. In six minutes, Stafford drove from his 13 to the Vikings' 28. Tate lined up flanked left, by the numbers. Across from him: Xavier Rhodes, Minnesota's best cover corner. Lurking nearby: Harrison Smith, one of the best safeties in football, to double Tate if Stafford chose him. Surely Stafford would look elsewhere. Right?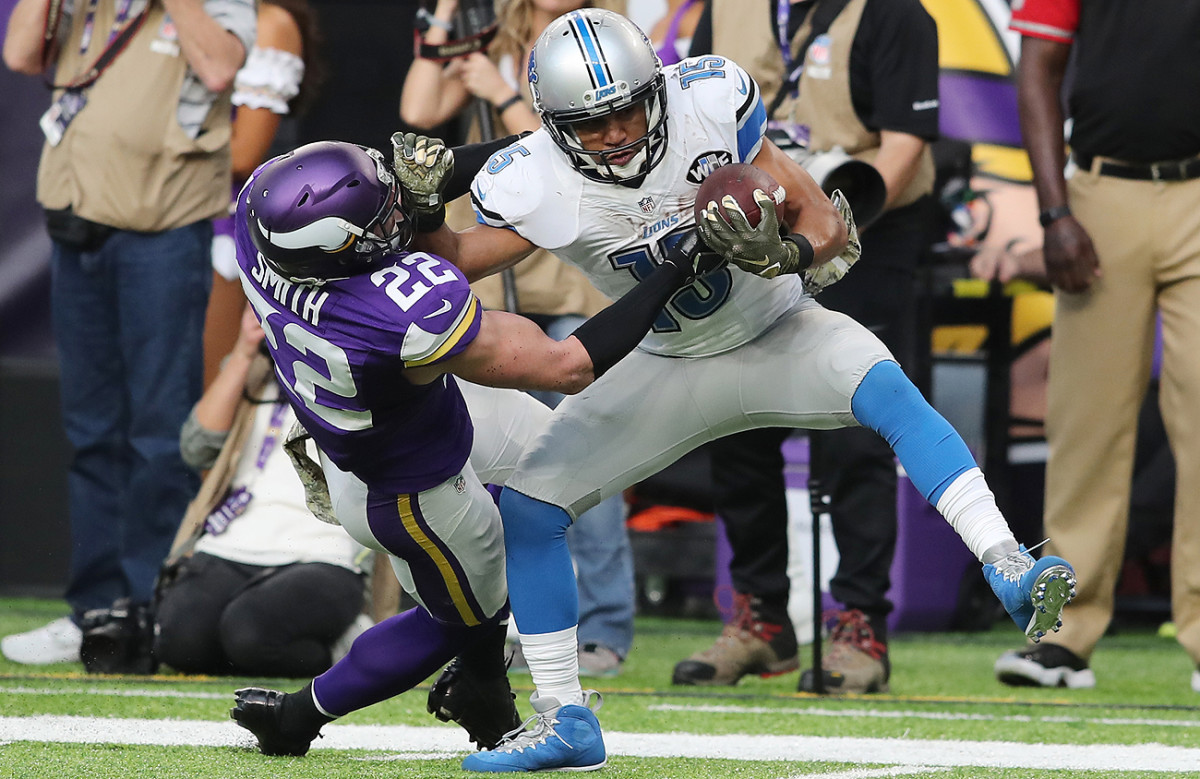 "That specific play," said Tate, "I ran my route and just tried to get some space. Matthew threw a dart. He made some great throws today. That was one of them."
Tate ran a simple out-route, to the Vikings' 15. When he caught the ball, his feet were maybe eight inches from the white stripe of the sideline. Here came Rhodes, shoulder lowered. How did he miss? No idea. He was anticipating that Tate would lunge forward, but Tate stayed at the 15, readying himself for the hit from Smith, approaching on his blind side, from behind.
"Smith's a great, phenomenal player," Tate of his former Notre Dame teammate. "God took over. God pushed me off Harrison, and somehow I stayed in."
Smith grabbed Tate with both arms around the 14. Tate, somehow, stopped his momentum with a man hanging on him, got free of Smith around the 10, ran toward the end zone, and pirouetted through the air in joy, diving into the end zone.
The 58-yard field goal and the long gain and the clocking just in time and then Tate staying in bounds. Week after week, it's something with this team. If one thing goes wrong … just one thing …
"If ifs and buts were pots and pans, the whole world would be a kitchen," Tate said.
Never heard that one before. Pretty good.
"We got incredible heart," Tate continued. "We truly don't believe it's over 'tll there's two zeroes on the clock. I don't know how it happened. I don't know how I stayed in. But we got an incredible quarterback, incredible athletes on the perimeter, and we don't give up. This group, we love the game."
So we see.
• WHERE DID THE HOODIE GO? Dominic Bonvissuto looks at Bill Belichick's sideline style and sees a surprising trend in 2016
* * *
Week 9, in brief
• Life for the Colts. Sunday's 31-26 Indy victory at Lambeau Field was precisely the kind of game Andrew Luck has to win. It's a cliché, but to whom much is given, much is expected, and when Indianapolis owner Jim Irsay made Luck the highest-paid player in football last June, it was with the expectation that he would carry the team to some wins when it was outmanned in a tough road place. So far this season Luck hadn't done that. On Sunday, numbers be damned (one touchdown, two picks, 74.2 rating), Luck led touchdown drives of 62, 91 and 66 yards, and was a commanding presence physically and mentally. Indy's not out of the woods by any means, surrendering 28.4 points per game and needing every bit of Luck as a modern bombs-away Dan Fouts. The Packers, meanwhile, continue to dig holes and not get out of them. They've lost three of four. They're in third place in the NFC North. "I don't understand it," Aaron Rodgers said. "I mean, this is what we get paid to do, is to bring it every week … I mean, I love this game and I bring energy. I'm not a rah-rah guy, but I'm a focused, enthusiastic player, and I don't know what the lack of juice was. You kind of felt it over the entire sideline. We didn't have the same kind of enthusiasm and encouragement that we had the previous two weeks. So we've got to look deep in the mirror there, because that's just not acceptable." Not good. See Stat of the Week, below, for more swell news.
• In appreciation of Eli Manning. On the heels of the 5-3 Giants' 28-23 win over the Eagles on Sunday in New Jersey, noting Eli Manning:
—He's the last quarterback to look like an iron man, but Manning, 35, hasn't missed a football game in 12 years; his streak of 202 straight starts, including playoffs, is third all-time among QBs. It's amazing. He never even winces in pain.
—His 257-yard day Sunday moved him into ninth place all-time on the passing yards list, with 46,428. No. 8 Fran Tarkenton is only three good Sundays away. Everyone ahead of Manning is either in Canton or a lock to be there.
• BREAKING DOWN THE GIANTS OFFENSE: Andy Benoit says there's nothing to worry about with Eli Manning, but as for the rest of the team...
—His four touchdown passes Sunday gave him 306, good for seventh all-time. Three-and-a-half more years at his pace, and Manning will be in range of Dan Marino, at 420. That's a very big assumption at 35, but seeing quarterbacks play the way they do (Tom Brady, Drew Brees, Peyton Manning), being prolific in their late 30s is no surprise.
A quarterback cannot do it on his own. Manning has had zero running game, a leaky offensive line and some good to great receivers in the past two or three years. The fact that he's ahead of draft-classmates Ben Roethlisberger and Philip Rivers in the above numbers games and has won two Super Bowls says tons about Manning.
• The Raider road. As much as Oakland is a crowd favorite entering the second half of the season, and the Raiders should be, they'll have a tough road to the top of the AFC West and to a home playoff game in the Black Hole. The Raiders have a bye this week, then a "home" game with Houston in Mexico City. Then Carolina and Buffalo come to Oakland on successive Sundays. That leaves the final four weeks. Kind of a doozy: every division foe on the road. In order, Oakland is at Kansas City on a short-week Thursday, at San Diego 10 days later, hosting the Colts on Christmas Eve, then at Denver on the final Sunday of the regular season. Look on the bright side: Oakland's won its first five road games of the year, so what's a trip to Mexico City, and three division games in hostile venues?
• As a rivalry turns. Steelers-Ravens ain't what it used to be … in many ways. Mike Tomlin and John Harbaugh have been squaring off for nine seasons now, dating back to Harbaugh's appointment as Ravens coach in 2008. Check out the dichotomy of the rivalry:
2008 to 2010: Eight games, including playoffs. Pittsburgh 6, Baltimore 2.
2011 to 2016: Twelve games, including playoffs. Baltimore 9, Pittsburgh 3.
Fifteen of the 20 meetings have been one-score games, including Ravens 21, Steelers 14 in Baltimore on Sunday.
* * *
A World Series Interlude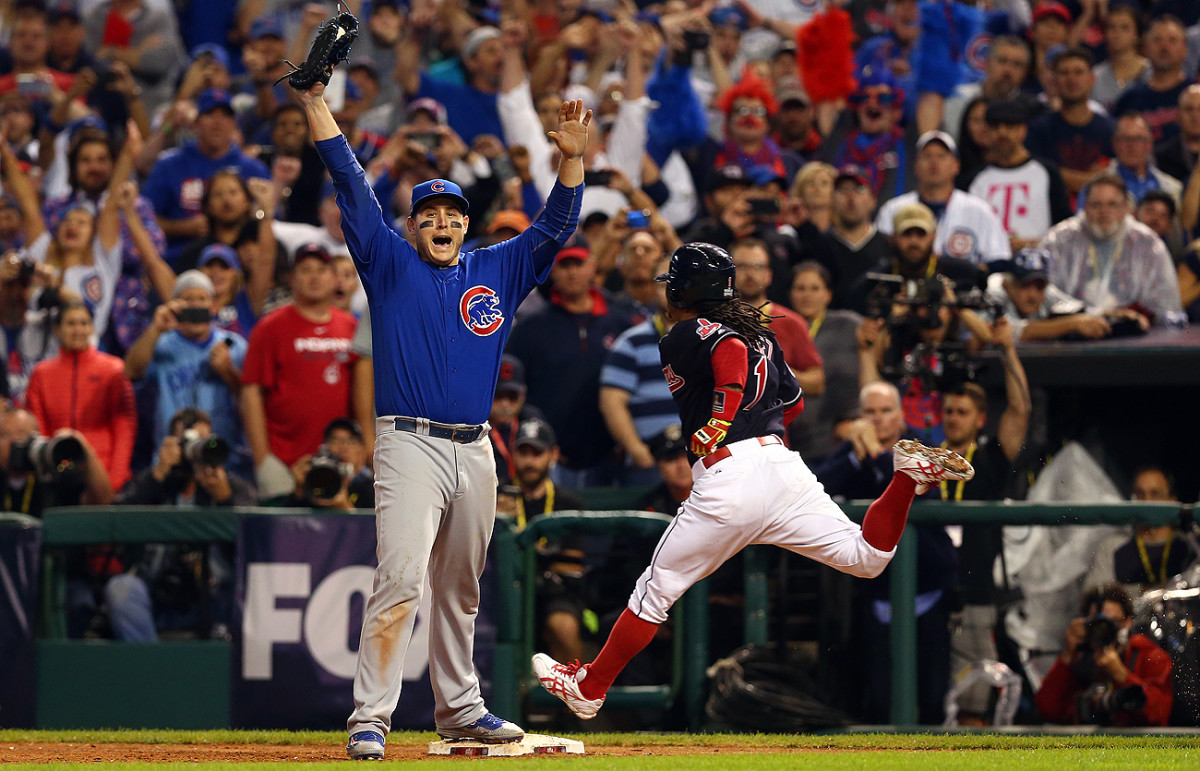 One-eighth of the column today covers one of the best baseball games of all time, plus a pretty darned good World Series, in a micro version of MMQB.
Cubs manager Joe Maddon got very lucky Wednesday night. In the last 10 weeks of the regular season and his first 10 appearances of this postseason, covering 36 games, Aroldis Chapman had never pitched more than one inning in a game. In his last six appearances of the postseason, over 12 days, Chapman pitched more than an inning five times. Most notable were the final three appearances. The first was understandable: 2.2 innings in an elimination game that the Cubs won to make the series 3-2 Cleveland. But Chapman threw 42 pitches. Two nights later he entered the game with the Cubs up 7-2 and two outs in the seventh and got four outs; 20 more pitches.
Using the closer up five? In the seventh inning? Two days after he'd thrown 42 pitches? With a potential Game 7 the next night? Was anyone that surprised at the double-homer-single that made a 6-3 Cubs lead a 6-6 tie in the first two hitters Chapman faced in that decisive game?
The removal of Kyle Hendricks after he'd retired eight in a row and then given up a fifth-inning walk was classic over-managing, but nothing compared to the Chapman decision. Maddon is fortunate that the Cubs won this game, or there'd be a chapter in the Woe Is Cubs book dedicated to him. Right after the Bartman chapter.
• Baseball Fan of the Week: Running back Kapri Bibbs, Denver Broncos. Not a lot of NFL players are big baseball fans, and I couldn't find one who loved the Cubs as much as Bibbs, who grew up in Chicagoland. Bibbs grew up in a split house—his brother loved the White Sox—but catching a Sammy Sosa foul ball at a Cubs game sealed the deal for Kapri. "I'm gonna be honest," Bibbs said Friday. "I'm not big on watching a lot of baseball. But watching this series, watching that last game, it was like a movie. You just couldn't look away. You grow up loving the Cubs and always hear from people when they find out you're a Cubs fan, 'The Cubs suck!' … When they won it, I was just staring at the TV. I couldn't move. I stared at the screen in disbelief for five minutes. What a night."
• Quotes of the Week
I: "I can't control myself right now. I'm an emotional wreck."
—Cubs first baseman Anthony Rizzo, to catcher David Ross in the Chicago dugout mid-game seven, captured by a wireless FOX microphone worn by Ross.
II: "It's only gonna get worse. Just continue to breathe. That's all you can do, buddy."
—Ross, to Rizzo.
III: "I'm relinquishing my presidential duties. I'm going on a month-long bender. Wake me up for the winter meetings."
—Cubs president of baseball operations Theo Epstein, an hour after game seven ended.
IV: "Don't worry Grandma. Grandpa Rossy'll take good care of ya."
—David Ross, appearing with Anthony Rizzo and Dexter Fowler as three male strippers at a granny's bachelorette party in a sketch on "Saturday Night Live."
• Tweet of the Week
• Baseball Factoid of the Week That May Interest Only Me: Theo Epstein, graduate of Yale, ran baseball ops in Boston when the Red Sox ended an 86-year title drought in 2004 and won the World Series. Epstein ran baseball ops in Chicago when the Cubs ended a 108-year title drought last week and won the World Series. Fairly impressive. His intro to professional baseball came two decades ago, partially thanks to the best running back Yale ever produced. Former Dallas Cowboy Calvin Hill was an Orioles executive at the time and interviewed Epstein for a job, and Baltimore hired Epstein as a summer intern. The rest is baseball history.
• Five Things I Think About The World Series: I think this won't surprise anyone—71 percent of all TVs in use in greater Chicago had on Game 7, making it the most-watched baseball game in the history of Chicago … I think the story of the week belongs to Tom Verducci of SI, on deadline. Imagine writing this after working the game for FOX, working the locker room of the winning team, and writing it so fast that the mag was able to close its special issue at 5 a.m. (thanks to the hard work of many, led by exec editor Stephen Cannella) … I think it would be blessed relief for everyone if Chicagoans stopped the vilification of Steve Bartman now … I think Theo Epstein walks into the Hall of Fame if he retires tomorrow. Right? … I think it was notable that with all the hand-wringing over not enough kids in this country playing baseball, so many key people in Game 7, and this series, were American. Dexter Fowler (from Atlanta) led off the game by homering off Corey Kluber (Coppell, Texas). David Ross (Bainbridge, Ga.) had a huge homer in his last baseball game. Jason Heyward (Ridgewood, N.J.) made a big Game 7 speech. Rajai Davis (Norwich, Conn.) had the vital two-run homer in the eighth for Cleveland. The MVP was Ben Zobrist (Eureka, Ill.). The Cubs pitchers who closed it out: Carl Edwards Jr. (Prosperity, S.C.) and Mike Montgomery (Santa Clarita, Calif.). And in the bottom of the 9th: Third baseman Kris Bryant (Las Vegas) threw to first baseman Anthony Rizzo (Fort Lauderdale) for the final out.
* * *
Quotes of the Week
I
"We didn't make plays. I didn't make plays. I didn't convert third downs. I turned the ball over. It's frustrating, because I hold myself to a higher standard than that."
—Steelers quarterback Ben Roethlisberger after Pittsburgh's 21-14 loss at Baltimore.
II
"We have Irving on Erving crime going on."
—FOX analyst Charles Davis, when Dallas defensive end David Irving and Cleveland center Cam Erving tussled on the first drive of the game—and were thrown out when it got too violent.
III
"This is the guy we've got to hurt. This is the guy we've got to take out of the game. There's got to be 10 guys that want to hurt him every single play. We may even put a little bounty on Ezekiel Elliott."
—Brian Baldinger, NFL Network analyst, before the Dallas-Philadelphia game eight days ago, on 97.5 The Fanatic in Philadelphia. The NFL suspended him for six months for the comments, meaning he'll be off the air until at least the 2017 draft. Baldinger told Richard Deitsch of SI.com that he was speaking in the voice that he presumed a coach of a team playing the Cowboys would speak in, but the NFL didn't buy it.
IV
"What professional athlete don't have a gun?"
—The Eagles' Josh Huff, arrested for having an unregistered one, plus marijuana, in a car in Philadelphia last week. The Eagles fired him two days later.
Just a hunch, Josh, but I would guess it's more than one or two.
V
"To the men of Harvard Soccer and any future men who may lay claim to our bodies and choose to objectify us as sexual objects, in the words of one of us, we say together: 'I can offer you my forgiveness, which is—and forever will be—the only part of me that you can ever claim as yours.'"
—Former Harvard women's soccer players Brooke Dickens, Kelsey Clayman, Alika Keene, Emily Mosbacher, Lauren Varela and Haley Washburn, in a Harvard Crimson op-ed column, responding to a Crimson story than the men's soccer team in 2012 wrote sexual scouting reports on each of the incoming freshman soccer players. These six women were among them. The university canceled the rest of the men's season as a sanction for the detailed and graphic scouting report.
Thankfully.
Not sure how much professional writing these six women have done, but that is one great message to people who have wronged them.
• READY OR NOT, IS IT JARED GOFF'S TIME? Emily Kaplan examines what's holding back the Rams on playing their rookie quarterback
* * *
The Award Section
OFFENSIVE PLAYERS OF THE WEEK
Melvin Gordon, running back, San Diego. With 261 total yards against an oft-formidable Tennessee front, Gordon controlled the wild 43-35 win over the pesky Titans in San Diego in a crucial game for the long-term future of the franchise. With the Chargers' stadium initiative needing a two-thirds approval vote Tuesday (not likely under even ideal circumstances), the Chargers just couldn't lose a game to Tennessee in the final show-me event before the balloting. Gordon took care of that. He led all NFL rushers with 196 yards on 32 carries (with one touchdown), and added 65 yards on four catches. This game was a good template for the Chargers down the stretch: play possession football (they held the ball for over 36 minutes) without turning it over. And it was Gordon who was most responsible for that Sunday.
DEFENSIVE PLAYERS OF THE WEEK
Khalil Mack, outside linebacker, Oakland. Two more sacks (7.0 for the year), and also the biggest defensive play of the game for the oh-my-gosh-they're-really-pretty-good Raiders. Midway through the fourth quarter, Denver down 10 and driving, Mack steamed into quarterback Trevor Siemian and punched the ball out while sacking him. Mack recovered the fumble at the Denver 39, and one minute later the Raiders ran in an insurance touchdown. It was over, and Oakland was the undisputed leader of the AFC West.
SPECIAL TEAMS PLAYERS OF THE WEEK
An incredible day of special teams play. Four winners.
Jordan Todman, kick-returner/running back, Indianapolis. Talk about a serendipitous start to a game. Todman took the opening kickoff of a game the pressurized coaching staff and scouting staff had to have at Green Bay at the Colts' one-yard line. He was never touched. Running through a tremendously well-blocked return unit, Todman didn't stop until he was in the Green Bay end zone. After 12 seconds, the Colts were up 7-zip.
Kenyon Drake, kick-returner/running back, Miami. He's not quite Darren Sproles in terms of burst and acceleration, but Drake was one of those guys before the draft last year who had the label of home-run hitter and not an every-down back. His home run beat the Jets on Sunday. With less than six minutes left in Miami, Drake took a Nick Folk kick at the four-yard line and sprinted through the Jets' kick-coverage team, 96 yards for the game-clinching touchdown. An amazing turn of events.
Matt Prater, kicker, Detroit. Two seconds to go. Fourth quarter. Vikes 16, Lions 13. Lions line up for a 58-yard field goal. Need it to extend the game to overtime, obviously. The amazing thing about this kick? It would have been good from 66, and it was absolutely down the heart of the plate. The Lions lived to play overtime, won the toss and went down the field to score and keep hope alive at 5-3 in the NFC North.
Javorious Allen, running back, Baltimore. An assist is needed here, for Pittsburgh rookie safety Sean Davis, for an abominable matador block that allowed a juking Allen the freedom to rush in and cleanly block a Pittsburgh punt from the left end. Allen absolutely smothered the Jordan Berry punt, and rookie wideout Chris Moore picked it up off the turf and returned it for an insurance touchdown.
COACH OF THE WEEK
Dan Quinn, head coach, Atlanta. This is a nod to Quinn's complete job over the first half of the season, as well as for the two wins in five days, over Green Bay and Tampa Bay, and for going on the road on a short week and throttling the Bucs on Thursday night. "We looked fresh, we looked fast," Quinn said after the Falcons, without pass-rusher Dwight Freeney all game and top cover guy Desmond Trufant (shoulder) missing much of it, built a 40-14 lead in the first 50 minutes. "I thought we had a real edge." Atlanta's 6-3, and this is a different team from the one that followed a 5-0 start in 2015 with a 3-8 finish. The Falcons play fast, the way Pete Carroll's Seahawks always play, and the way Quinn polished his head-coaching profile as Carroll's defensive coordinator in 2013 and '14.
GOAT OF THE WEEK
Antonio Allen, safety, New York Jets. With the Jets nursing a three-point lead with less than six minutes left, Nick Folk lined up to kick off after the go-ahead touchdown. He kicked, and the Dolphins returned it to the Miami 22. But wait. Allen was a yard offside on the kick, meaning the Jets would now have to kick again, penalized five yards. This time Folk mooned one to the Miami four-yard line, and rookie Kenyon Drake returned it 96 yards for the winning touchdown. Allen's offside put a dagger in any faint playoff pulse the Jets (3-6) had.
• THE CONTENDERS' FLAWS: At the season's midpoint, Albert Breer weighs up the weaknesses of the top teams
* * *
Right Combination of the Week
Drew Brees, quarterback, and Michael Thomas, wide receiver, New Orleans. Amazing how quickly Brees and the second-round rookie from Ohio State have formed the sort of quarterback-receiver bond that it typically takes years to build. Why is it the right combination? Because Brees had a very similar receiver, Marques Colston, age out of the lineup at 32; the Saints let him go last spring. And in came Thomas two months later in the draft. How similar are Thomas and Colston? Both around 6'3½", both around 225 pounds, and both run about a 4.5-second (non-blazing) 40-yard dash. To see why Brees has fallen in like with Thomas, look at his second touchdown catch Sunday, a wrestling match for the ball in the end zone that Thomas won with athletic physicality. For the game, Thomas caught the fourth and fifth touchdown catches of his eight-game career, and he now leads the explosive Saints with 47 catches … on pace for a 94-catch season as a rookie.
* * *
Photo Op
A trip to Bucs coach Dirk Koetter's office yielded a quite interesting display behind his desk: a helmet from each of his coaching stops. I figured out all—including Boise State, Boston College, Arizona State and Texas-El Paso—but the last two. One helmet looked like Colorado State's, with a Rams' horn. But no. That was Highland High in Pocatello, Idaho, Koetter's first coaching job. And the other … odd. "Gators" was on the side of the helmet. I had no clue on that one.
"San Francisco State," Koetter said. "My first college job, back in 1985." And it was "Gators" because of the Golden Gate Bridge nearby.
San Francisco State dropped football 21 years ago, but it had some pretty good coaches, as it turned out, back in '85.
"You know who else was on that staff?" Koetter said. "Andy Reid."
Amazing: A defunct program from a small college in the city of San Francisco helped yield two NFL head coaches, on the staff three decades ago. Reid coached the offensive line; Koetter was the offensive coordinator.
* * *
Stat of the Week
In their past 20 games, Aaron Rodgers and the Green Bay Packers are:
a. 9-11.
b. 4-5 at Lambeau Field.
c. Two wins worse than the Oakland Raiders.
d. Three wins worse than the Detroit Lions.
e. Owners of the same number of 300-yard passing games (three) as Cleveland.
* * *
On My Night Table
The Martian, by Andy Weir
Recommended by Browns guard Joel Bitonio
The Martian, made into a major motion-picture starring Matt Damon last year, is a science-fiction novel about an American astronaut stranded on Mars in the year 2035. In an email, Bitonio wrote: "Once I picked it up I couldn't put it down, and was finished with it in a couple of days. I enjoy futuristic adventure books. This one has twists and turns throughout that keep you on the edge of your seat. The book is a diary of the main character for the majority of it, and he brings a great sense of humor, including some pretty good pop culture references, cool NASA science and perspective that makes you feel like you're part of his journey on Mars. I tend to read a lot of the books that become feature films, and I usually get pretty angry after the movie doesn't do the book justice, but I'd have to say 'The Martian' does a pretty good job in recreating the book. If you want an easy read that will put you on an emotional roller coaster from start to finish, I would definitely pick it up."
You can purchase The Martian here.
* * *
Factoid of the Week That May Interest Only Me
I
There was a Democratic strategist forecasting the election Saturday night on MSNBC named Krystal Ball.
II
Dez Bryant has at least 3,000 pairs of athletic shoes. "I'm not wearing a shoe when it releases," he told the Dallas Morning News. "When it releases, I'm done with it. Like, I'm already in January 2017 right now."
* * *
Dr. Z Unsung Guys of the Week
Each week, in conjunction with Pro Football Focus, I'll point out three players who played well but were under the radar. Paul Zimmerman would have loved this section. This week's trio:
1. Ravens guard Alex Lewis. The rookie Lewis had the best game of his young career against the rival Steelers on Sunday. He didn't allow a single pressure on Joe Flacco in 41 pass-blocking snaps and had a run-blocking grade of 85.3, the best for any guard in Week 9.
2. Saints center Max Unger. Unger played a key part in the Saints' impressive offensive performance on Sunday. As a pass protector, Unger didn't allow a single pressure of Drew Brees on 44 pass-blocking snaps. In the run game, Unger and his linemates cleared the way for the Saints' backs to run for a combined 154 yards before being contacted by a 49ers defender.
3. Chiefs linebacker Ramik Wilson. Wilson only played 30 snaps against the Jaguars but was responsible for some huge defensive plays. In the second quarter Wilson read the eyes of Jaguars quarterback Blake Bortles and intercepted a pass. He also had four run stops and forced a Chris Ivory fumble at the goal line, preventing a touchdown.
Go to PFF to access grades on every NFL player.
* * *
Tweets of the Week
I
II
The 0-9 Browns have allowed more than 24 points in all nine games this season.
III
IV
* * *
Pod People
From "The MMQB Podcast With Peter King," available where you download podcasts.
This week's conversations: NFL vice president of officiating Dean Blandino and, in advance of Tuesday's mildly important elections, NBC political director and 'Meet the Press' host Chuck Todd—my first non-football guest this year. Todd is a Packers fan, and he was really good.
• Blandino on the spate of excessive celebration calls—and fines: "This is not a new issue. I agree that it does seem harmless, when you look at all the other things that we are concerned about in officiating. But it does come down to sportsmanship and consistency. This really came about probably 10 years ago with players really going above and beyond in celebrations and using the football as a prop and creating these choreographed demonstrations, and then they escalated into altercations later in the game. It comes down to sportsmanship and trying to give our officials some consistent guidelines and not letting it just be in the eye of the beholder. You are trying to create as much black and white that you can, and sometimes it gets into a gray area, but the key with the ball as a prop is that you can't use the football for anything other than a football. We've always allowed them to spike or spin the football, but when you start shooting free throws or dunking the ball over the goal posts, that is using the football for something other than a football and that is a foul. You can look and say, that's black and white to me."
I wondered: Where is just a little, tiny room for fun?
Blandino said: "I'm a football fan, and I get that as well … I've always said, let's have one week where anything goes. And then see after that week, is that really what we want? But I don't think the committee will go for that. In passing I have mentioned it, half-facetiously, but that's just something we joke about."
• Todd on covering Donald Trump: "Trump is a very accessible candidate. He's been less so on-air and on the record, but as an individual, I'll just be honest with you, I am sometimes shocked at the amount of access I have. I'm not alone, especially with television media. He watches a lot of TV news, so it is important to him to have personal relationships with all the TV hosts and major news anchors. He is a throwback to the politicians of the '50s and '60s … I think he watches a lot of NBC—we are his home network, it is where he worked, and I think it is the first place he watches. He also believes he can always win you over. That's where he is like every politician I have ever covered. They believe, just give me five minutes with him. Bill Clinton has always said that. Hillary [Clinton] has been much less accessible, and I think that has been a problem. I think that she tried to be a little more accessible this year than she has in years past."
• Todd on the allure of Trump: "[At the Iowa State Fair] one guy goes, 'I know who he is. I know he is kind of full of it. But he is my middle finger to you.' Meaning: me, the press, the political elite … He was basically saying—I think Michael Moore put it this way—Trump is a molotov cocktail for a bunch of people who think the system just doesn't work. They aren't confident he can run the system, but they are confident that he will blow it up."
* * *
Ten Things I Think I Think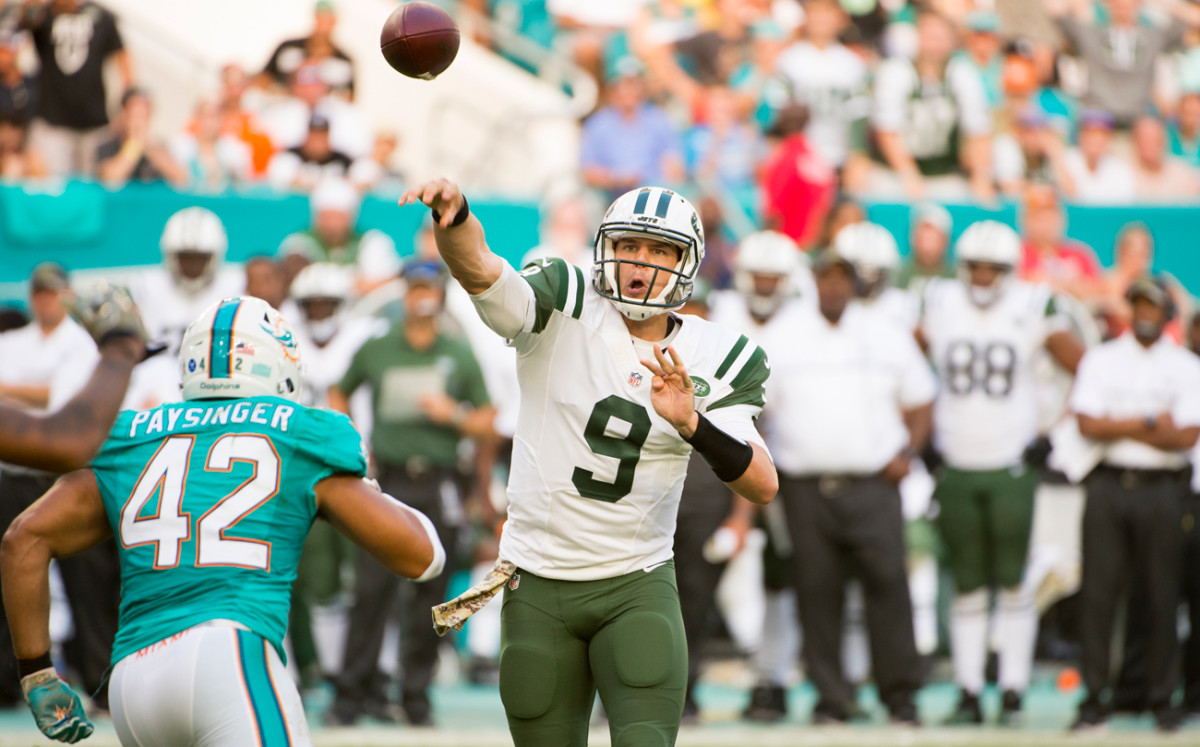 1. I think these are my quick notes of analysis from Week 9:
a. I vastly underestimated Terrelle Pryor as a receiver. His gorgeous improvisational route and touchdown catch from Cody Kessler against Dallas is all you need to see to know he could play in a Pro Bowl someday soon.
b. It's time to see Bryce Petty, Jets.
c. Those Tampa Bay uniform numbers, which are hideous, must go. The inventor of the "5," for instance, must have been working with eyes shut when producing that digit. Have a look.
d. No idea what Dez Bryant was thinking, jogging downfield on a third-down play in the first quarter at Cleveland. Dak Prescott was looking for him, and Bryant is jogging, and that's not going to look very good in the Dallas film room today.
e. Speaking of ugly film, there will be two awful snippets that Philadelphia cornerback Leodis McKelvin will have to endure after he gave up two first-quarter touchdowns to the Giants.
f. Blair Walsh is all kind of messed up right now. Against Detroit on Sunday, the Vikings kicker missed his third extra-point of the season and had a field goal blocked.
g. The scary thing about the Cowboys, for the rest of the NFC: They're two games up on their closest competition for home-field playoff supremacy, and there's a good chance their toughest game down the stretch is this Sunday at 4-4 Pittsburgh.
h. I really feel for Tony Romo, but a seven-game winning streak is a seven-game winning streak, and there's no way Dak's bench-bound now.
i. The Panthers aren't perfect, and they're still only 3-5, and they've got consecutive roadies with Oakland and Seattle coming up in three weeks, but they are absolutely not dead.
j. Don't look now, but Ezekiel Elliott has an 84-yard lead in the NFL rushing race at the season's midpoint.
2. I think the news last week that Kevin Turner had evidence of significant chronic traumatic encephalopathy (CTE) when he died last March should have reverberating effects across football. According to Ann McKee, director of the Boston University CTE Center who studied Turner's brain, never has she seen such evidence of CTE in any other athlete who died in his 40s. Turner, who played 107 NFL games for New England and Philadelphia in the 1990s, was 46 when he died last March. Assigning specific blame to a single entity is almost useless here. But it is certainly striking that football, and the way Turner played it, was likely the cause of his death. Turner played from age 5 to 30, with 43 games at Alabama, about 45 in high school, and scores before then in youth programs. Ken Belson of The New York Timesreported that Kevin Turner's father, Raymond, said his son was coached at a young age to lead with his head in playing football.
3. I think this is why it's vital for the NFL and for all levels of football to be transparent in how they're teaching and coaching the game—and, in my opinion, follow the lead of strong-voiced current players like Drew Brees and communities like Tega Cay, S.C., in banning tackle football in its youth programs. With all the evidence that cumulative head trauma is as dangerous as concussions to long-term brain health, and with evidence that formative brains are at higher risk, flag football or no football makes far more sense to me for young players—say, age 14 and younger. Brees told me he's bullish on flag football because he doesn't think there are enough good youth coaches nationwide who can teach the physical part of the game exactly the right way. Cardinals safety Deone Bucannon, whose first two years of youth football were flag football growing up in San Diego, says it's hard enough to teach young people all about the game without having them scared off by an intense hit at a young age.
4. I think this story will be with us for a long time if the Supreme Court hears the case. Whenever the $1 billion class-action settlement with the NFL is finalized (the Supreme Court is considering taking the case on behalf of some plaintiffs who object to the settlement as inadequate and rushed), the family of Turner will receive his cut: $5 million for a diagnosed case of ALS as a former player. "We have 33 objectors out of 22,000 former players, and the most important thing toward getting the payments out to the affected players is to move on from the objectors," said Christopher Seeger, a lawyer for the class waiting for the money to be parceled out. "Now if the Supreme Court wants to review the case, we're delayed another couple of years, probably. I do these phone calls with the wives and kids and families who need the money for things like school and medical expenses, and these awards are very important." I've always felt the fact that virtually all of the former NFL players suffered some degree of head trauma before entering the league, and that makes it hard to quantify what the NFL should pay and what is someone else's responsibility. If the case ever gets opened back up, it could take years to delineate for every player what level of football was responsible for what amount of damage to each player. It's impossible to know.
5. I think I understand the rage of Jacksonville, regarding the Chris Ivory fumble call at the goal line in Kansas City. But I wouldn't have overturned the fumble call either. The call on the field was a fumble and a Chiefs recovery. The replay showed the ball pop out after Ivory crossed the goal line, but it's impossible to see if the ball was on its way out when Ivory's hands cross the line. And absent a shot that shows the ball in Ivory's grip as he crossed the line, by rule the call can't be overturned. "We can't overturn because we can't confirm whether he had control of it or not," VP of officiating Dean Blandino said in a video review of the play the league released Sunday night.
• DRAFT 2017: Emily Kaplan on the surprisingly strong tight end class
6. I think Sunday night was the first time I watched the Raiders and thought, "Now that's a defense that can win a playoff game if the offense sputters."
7. I think the league is under tremendous pressure to get this alleged Ezekiel Elliott domestic violence story right. Which is why it could be several weeks, or months, before we get to the bottom of whether the story of the physical altercations between Elliott and a female friend earlier this year have merit. USA Todayunearthed a Florida police report in which the woman in question refused to press charges after an incident with Elliott, and the woman claims there were other incidents in July. The league is taking this seriously, which is wise.
8. I think Eli Apple might need to have a heart-to-heart conversation with his mother. Not to shut up Annie Apple; her first column critical of the Giants and CEO John Mara over the Josh Brown abuse story was fair game. Annie claimed in another SI.comcolumn that Eli has been pressured to get his mother to tone down her criticism—which he denies. Whatever did or didn't happen between the team and the cornerback, it's become the kind of story that can materially affect her son's career. So my advice to Annie: Write away. Write away passionately about the issues affecting you, including on domestic violence; the league has been inconsistent in its attention there. Write important things, as you often do. But leave your son out of those things. He's under enough pressure as it is.
9. I think this is the Story of the Week, by Newsday's Kimberley Martin on the mission of Betty Maccagnan and husband Mike, the Jets GM, to ensure that the death of a close friend of theirs from Houston, who was killed by her husband in a murderous rampage, was not in vain.
10. I think these are my non-football thoughts of the week:
a. The seventh-largest gathering in human history was at the Cubs' victory parade. Five million people.
b. Cool tradition at Columbia University, building a four-day break (Saturday through Tuesday) around the election to give students who want to participate in last-minute campaigning the chance to get involved in the electoral process. Some go to Pennsylvania or other swing states to campaign or canvass for the candidate of their choice.
c. As you know, I'm not a big college football watcher. But I'm starting to think Michigan-Washington would be a lot of fun to see.
d. Or Alabama-Anyone Undefeated.
e. Chris Petersen must be a heck of a coach.
f. I miss baseball already.
g. Coffeenerdness: The color of the Starbucks cup is not remotely meaningful or interesting, and I don't know why it would be the focus of an ad campaign.
h. I am mind-boggled that incredibly bright students, ones who would matriculate at Harvard, would think, "Hey, let's put out a sexual scouting report, maybe nine pages long, on the incoming freshman class of players on the women's soccer team. Then let's be nice to them when we see them, and behind their backs we'll talk filth about them. You know, because we can."
i. So I had Chuck Todd on my podcast this week, to talk about a somewhat important election. If you like non-football people on the podcast, let me know. Send comments to talkback@themmqb.com.
j. Let me be the 943rd person this fall to advise you thusly: vote. Please vote.
k. And it will all be over in 48 hours. I think I've done a fairly good job this autumn holding my tongue, haven't I?
l. RIP Janet Reno, a diligent public servant. She died this morning in Florida at 78.
* * *
Who I Like Tonight
Seattle 20, Buffalo 16. Weird year for Buffalo. Lose two games. Fire offensive coordinator. Win four games, all by double digits. Lose two games, by dissolving defensively. So I have no idea which Bills team shows up in King County tonight. But I don't know the Seahawks either. I worry about Russell Wilson's three injuries, and why wouldn't you worry? In seven games he's produced five touchdowns. Five by passing, zero by rushing. Seven games, 44 rushing yards for Wilson. All is not right in Seattle, and the 'Hawks have to hope they can limp into December while their quarterback gets back to something approaching health.
* * *
The Adieu Haiku
The Oakland Raiders
Something sad: Now they get good
And Vegas beckons.
• Question or comment? Email us at talkback@themmqb.com.