The MVP Race is Wide Open
Derek Carr? Matt Ryan? Tom Brady? A Cowboys rookie? Here's the latest pecking order for the NFL's biggest award. Plus reader questions on bad drafting, icing the kicker and the importance of saving the Pro Bowl
Voting for the NFL's Most Valuable Player will occur by 50 members of the media in the days after the regular season ends and the first playoff game begins. The vote will be tabulated by the Associated Press, kept secret for a month, and announced Feb. 4, the night before Super Bowl 51.
There are years when, with two games left, we're pretty sure who the MVP will be. This is not one of those years. I can think of 10 players I feel have a legitimate shot at the award as we head into the last 32 games on the schedule.
• PITTSBURGH'S OLD MAN OF STEEL: Tim Rohan goes into the world of James Harrison and finds flex-offs, drug tests and naked pull-ups
I haven't done any sort of straw poll of voters (I am one of the 50), and I don't anticipate doing one. But I'm going to take a run at giving you a list of the 10 candidates, and what order they look to be in right now. It could be that you'll think I've missed one or three, and I may have. Send the missing persons to me at talkback@themmqb.com.
The top 10, as I see them, in order: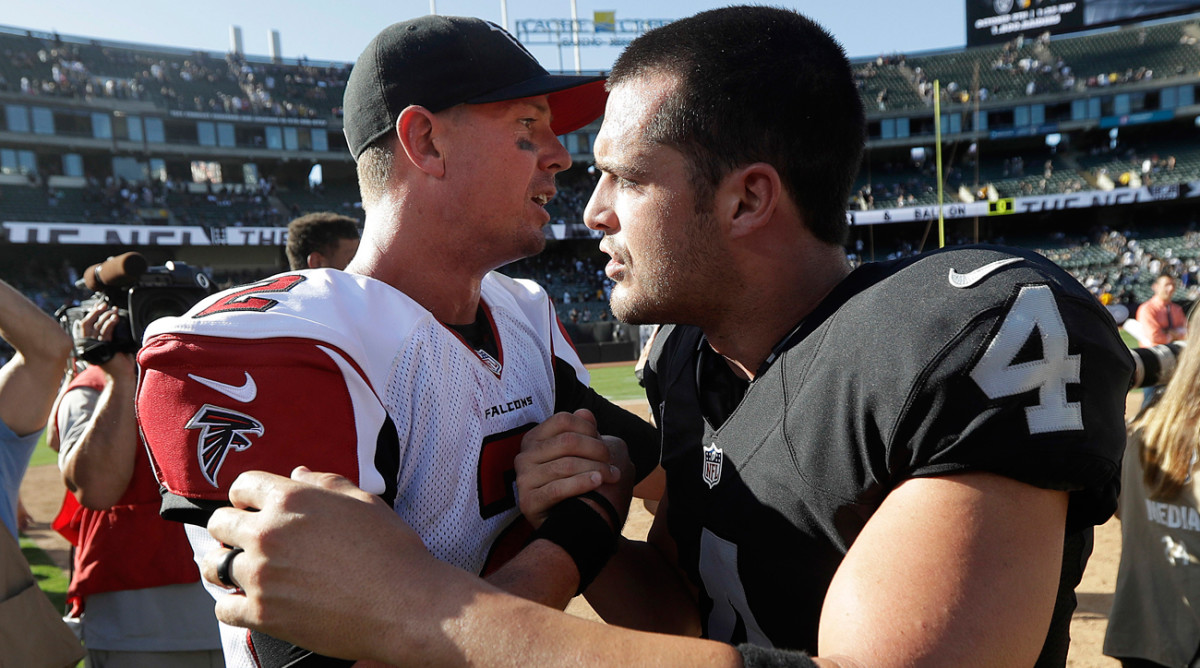 1. Derek Carr, QB, Oakland. The egg-laying in Kansas City hurts, but there's very little Carr has done otherwise to denigrate him. The Raiders are 11-3, contenders for the second seed in a strong conference, and week after week Carr has shown he's the biggest reason why.
2. Matt Ryan, QB, Atlanta. It's a passing league, and the 9-5 Falcons are the most explosive offense in football. Ryan leads the league in passer rating, yards per pass play (a gaudy 9.3) and touchdown-to-interception differential (plus-25). He's done it knowing he's going to have to put up huge numbers because of a defense still under construction. Ryan's ninth season has been his best.
3. Dak Prescott, QB, Dallas. The 135th player picked in the 2016 draft has been the story of the year on the NFC's team of the year, the 12-2 Cowboys. And on Sunday night, with whispers that the Cowboys should think of yanking him (unjustly) for Tony Romo, he responded with one of the most efficient games a passer has ever had: 32 of 36 (.889) in a decisive victory against Tampa Bay.
4. Tom Brady, QB, New England. How a 39-year-old man can play this consistently well is mind-boggling. Scientists and kinesiologists must study Brady, and now. He's 9-1, and he's working on his third highest-rated season and second most accurate season in a walk-in Hall of Fame career. He definitely could win it. But what hurts him is missing four games due to the Deflategate ban and his team going 3-1 in his absence. The word "valuable" is in the title of this award, not "outstanding." And voters will have to ask: Was Brady so much better than his peers this year in 12 games, while they played 16, or maybe 15?
5. Ezekiel Elliott, RB, Dallas. It won't surprise me if he wins, and there are times this year I've thought he should win it. With two weeks left, he's got a 327-yard lead over DeMarco Murray for the rushing lead; it's so significant that Elliott probably could sit out the last two weeks and still earn the rushing crown as a rookie. What'll hurt him is the splitting of votes with his fellow rookie teammate, Prescott.
Six through 10: Matthew Stafford, QB, Detroit. The loss to the Giants on Sunday hurt his cause, and two consecutive meh showings haven't helped. But he has had eight fourth-quarter comebacks, and if he finished with two strong games and a playoff berth, he's back in the race. ... Aaron Rodgers, QB, Green Bay. Flown up the charts in the past month. Two great games down the stretch and he, like Stafford, could push his way into contention. … Marcus Mariota, QB, Tennessee. Probably a year or so away, but the Titans are 8-6, and the Hawaiian kid who feels no pressure just willed a win in -9º wind chill at Kansas City. You never know. … Ben Roethlisberger, QB, Pittsburgh. Debated the great Le'Veon Bell here, but the Steelers can win without Bell. They can't win without Roethlisberger, and he's had a good year, and the Steelers are odds-on favorites in a difficult season to win their division. … Odell Beckham, Jr., WR, New York Giants. The biggest tilter-of-the-field among non-quarterbacks in football. Without his burst and explosiveness, the Cowboys would be 13-1 right now because the Giants wouldn't have won that second meeting 10 days ago in New Jersey.
• MONDAY MORNING QUARTERBACK: Peter King on the Titans, Packers and playoff possibilities coming out of Week 15
Now for your email:
* * *
JETS QUARTERBACKS
I get your point about the Jets continuing to draft QBs and the oddity of it but wasn't it Ron Wolf who said you draft a QB every year until you know you have one? I'm still not convinced the Jets have one. Pretty sure I remember you lauding Wolf for this idea in MMQB columns over the years.
—Craig M.
There's a difference, Craig. In Wolf's 11 years running the Packers, he took seven quarterbacks. He picked them in the ninth, fifth, fifth, seventh, seventh, sixth (Matt Hasselbeck) and fourth rounds. In the Jets' last eight drafts, they've drafted quarterbacks in the first, seventh, second, sixth, fourth and second rounds. Now, according to Manish Mehta of the New York Daily News, the Jets are in love with North Carolina quarterback Mitch Trubisky, who will be a first-round pick if he chooses to enter the 2017 draft. If you've picked three quarterbacks in the top two rounds since 2009, and you're thinking about choosing another one (Mehta's claim, not mine), and the guy you picked in the second round just eight months ago hasn't even seen the field yet, pardon me if I don't have a lot of confidence in your team's ability to scout, coach and predict success of quarterbacks.
• FANTASY FOOTBALL: Gary Gramling's advice for championship weekend
SHERMAN'S MATH IS BETTER THAN YOURS
Regarding Sherman's gripe about running versus passing from the one-yard line, it would seem that he (of the Stanford Cardinal) understands basic math better than you do. While you did substantiate your own opinion by calculating the scoring percentage of run plays from the 1-yard line at approximately 50%, you failed to calculate the scoring percentage of pass plays from the 1-yard line... which is 30% (six attempts, two touchdowns). While you may feel a need to chastise Richard for what you see as a lack of decorum on the sideline, his math is right. A run from the one-yard line is, based on your sample, likely to score one out of two times where a pass will score one out of three times. Two words to drive Richard's point home: Malcolm Butler.
— Chris, Boston
Six plays you're going to use to draw a conclusion. Six plays in 14 weeks of the season. Based on one Tom Brady pass (an incompletion to Rob Gronkowski) and based on five Drew Brees passes—in three months of the season—you're going to deduce that Richard Sherman is correct in saying a team is wrong to consider passing from the one-yard line. You're from Boston. Tell me that you never want the ball in Tom Brady's hands when the Patriots are at the opponent's one-yard line. Tell me when Damon Harrison of the Giants is across the line in the Super Bowl this year, and you've got second-and-goal from the one, and LeGarrette Blount at running back. If need be, you're running three straight times, with Tom Brady at quarterback. Here's my point Chris: There are few absolutes in football that make a lot of sense. And saying you cannot pass from the one-yard line because it's dumb is, well, dumb.
YOU BOTCHED BOSWELL
It's a pity you did not include place kicker Chris Boswell of the Steelers in your special teams player of the week section. He went 6 for 6 on field goals on a downright frigid day. Five of the made field goals were of 40 yards or more. Additionally, he had a touchdown saving tackle which turned out to be a game-saving tackle. After spending a fair portion of your column focusing on Tennessee's kicker beating the odds in cold weather, let us not forget the other stellar day of a kicker elsewhere in the league.
—Jamie S., Annapolis, Md.
I plead guilty. You're right. It was a great weekend for special teams, and I picked three, and I should have picked four.
• THE MMQB FOOTBALL GIFT GUIDE: Dominic Bonvissuto's last-minute ideas including fan apparel, team items and NFL book recommendations
ON CHEERLEADERS
Writing from Australia where we watch all the Sunday games on a Monday and get to read your excellent column soon after on Monday evening—very civilized! I have a question about cheerleading. Watching the Dallas game tonight I couldn't help notice the camera dwelling on the cheerleaders occasionally. While I appreciate their athletic skill, I find it hard to understand how it is acceptable to "reward" viewers with shots of semi-dressed women. It's especially galling when the male cheerleaders are fully clothed. In a league fighting constant domestic violence issues (Sunday night star Ezekiel Elliott being a case in point), the idea that a touchdown or score is reason to cut to bikini-clad women is a little out of order. What message does it send to viewers, male and female?
—Christian M., Australia
A mixed message, Christian. Thanks for writing from Australia and pointing it out. Excellent note.
WHY I LIKE THE PRO BOWL
I may be the only person left in America who still likes the Pro Bowl. I don't like the risk of injury, and I don't like the farce from a couple years back where nobody would tackle anybody, and I don't like stars opting out, and I don't like mixing the rosters to include players from each conference on both teams. So there is a lot I do not like about it. But the truth is that the Pro Bowl played a huge part in making me a fan of the NFL.
As a kid growing up in the 70s, when only a few games were on TV each week, and some teams were never seen in our area, I loved watching the Pro Bowl to see players I had never seen, to watch my Browns Pro Bowlers represent Cleveland, and to see the variety of helmets atop the red or blue uniforms. While we now have access to every game and every team, I still think there is something to the Pro Bowl in developing the next generation of NFL fans. I don't have an answer to the problems, but I hope they can find a solution without totally dismantling the game.
—Joe C.
You're not alone, Joe. But times have changed. When you were growing up, chances are you loved to see a competitive game between the biggest stars of the game. Football is only fun to watch when guys on both sides are invested in making it a competitive game. That's not the case anymore.
A WISCONSINITE ALWAYS PAYS HIS DEBTS
These two coincidental details probably both got missed as everyone focused on the playoff implications of each win, but I find it really cool that the following both happened in the same autumn:
• Nov. 26: The Wisconsin Badgers tie the all-time series with Minnesota (59-59-8) in the most-played rivalry in NCAA football. The Gophers had led the series continuously since 1901.
• Nov. 18: The Green Bay Packers tie the all-time series with Chicago (94-94-6) in the most-played rivalry in the NFL. The Bears had led the series continuously since 1933.
It's a pity the Bears and Packers don't have a trophy along the lines of Paul Bunyan's Axe. Perhaps a small statue of a beef sandwich drenched with cheddar? The faces of George Halas and Curly Lambeau glaring at each other? A block of frozen, mangled sod?
—Nolan S., Madison, Wisc.
Brilliant, Nolan! I hereby commission you to make such a trophy. Great email, thanks.
ICING THE KICKER
You talked about Ryan Succop and his game-winning kick. He missed the first attempt and got a reprieve because Andy Reid called time in an effort to "freeze the kicker." You pointed out that Succop had heard the whistle so he may not have given it 100 percent. Fine. It just doesn't seem like this strategy works very often. Are there stats available comparing the success rate of FG kickers following an opponent's timeout to the average success rate? Even without the timeout, I would expect that these kicks have a slightly lower success rate because of the significance of the kicks. Curious to hear your thoughts.
—Mark F., Fredericton, New Brunswick
I've thought it to be a mistake to ice the kicker, simply because I'd rather have the kicker hurry up and maybe not have the exact amount of time he needs to get ready and to get his snapper and holder set. I don't think such stats exist. In this case, the freeze hurt the Chiefs because the first kick gave Succop the knowledge that, mechanics be damned, he was going to have bang the ball as hard as humanly possibly to even have a shot. Had he not known how short his best normal kick would fall, he'd have kicked a fairly normal kick (his first) and missed. With more knowledge of the conditions, he knew it was a desperate situation and made sure he'd kick harder than normal.
I'LL MISS OBAMA TOO
You will no doubt hear a lot of knuckleheads write you about how Barack Obama was the worst president ever, or how he made so many mistakes in office, and so I am going to chime in with a positive reaction to your comment. I agree; Obama is so poised when he speaks and so much more thoughtful than The Orange One, that it is going to be sad to see Obama leave office. He brought a grace and calmness to the Oval Office that we hadn't seen in a long time.  
—Rob D., New York
Agreed. I like my president to be the smartest guy in the room, or at least someone near the very top of that category. The intelligence and class and dignity of Obama were among the best of any president of my lifetime, and I'll miss that.
• Question or comment? Email us at talkback@themmqb.com.