The Hunt for Carson Wentz and Father's Day Books
After a roller-coaster rookie season, the Eagles quarterback still feels confident and ready to stalk his prey in Year 2. Plus our annual summer reading recommendations, notes on the news around the NFL and more
I don't know if Carson Wentz is going to be a good player or not. It's more likely than not he'll have a successful career, but as Bill Parcells has said about 1,600 players in his life, they don't sell insurance for that stuff.
But I talked to Wentz for awhile the other day, as he drove home from an off-season practice, and I came away thinking he's got a good chance. He reminds me of Eli Manning in terms of mentality and confidence—I'll explain that in a few moments—and I don't think the game's too big for him, which I'll explain too.
I don't believe Eli Manning's ever been hunting for Himalayan tahr (similar to a wild goat) and chamois (a goat-antelope species) and red deer in New Zealand, though. And that's one of the things that's got Wentz particularly excited these days. "I went with my brother to New Zealand for a week [in late March], on what I know would be a bucket-list hunt for so many hunters," Wentz told me. "It's probably the most exhilarating hunt I've been on. I got my tahr with a bow from about 40 yards, and boy, that was rewarding. It's addicting."
"What would be more rewarding from 40 yards—getting a tahr with a bow and arrow, or throwing a touchdown pass from that distance in the Super Bowl?" I asked.
Pause. "God willing, playing in the Super Bowl one day, and making that pass like you say, would be a blessing—that's what I'm working for right now," Wentz said.
This is my annual Father's Day book column. Every year I urge those with dads or significant male others to buy those of the fatherly persuasion a book for Father's Day instead of struggling to find something (Starbucks card, fifth of whisky, tie) that he'll use … but is it really imaginative or does it speak to him? I'm a little nutty about this. We (and I include me) spend too much time with gazes locked onto smartphone screens and not enough time doing what we learned to do and loved to do at younger ages. Reading is fun. And there are so many good books out there. I'm hoping you choose one of the six I highlight—led by a fast read I just couldn't put down, "The Phenomenon," about the very strange life and times and yips of former big-league pitcher and outfielder Rick Ankiel—and get it for some dad close to you this summer.
Lots more this week:
• The Chargers make a very big signing, defensive end Melvin Ingram for four years, and it's likely to give the franchise a better chance to win in L.A. than it did recently in San Diego.
• The NFL signs a woman, veteran cap and financial guru Dawn Aponte, to a vaunted league position. Could she be the league's first female GM down the road?
• The Bob Stoops resignation at Oklahoma gets me thinking he could consult with an NFL team soon.
• LeBron loves Tom Brady. But it sounds like he loves Bill Belichick more.
• Could a team in London outdraw the Patriots?
• The Taylor Decker injury really hurts the Lions.
• Isn't it supposed to be slow on June 12?
• THE 15 BACKUP QBS BETTER THAN KAEPERNICK: Andy Benoit believes inability in the pocket is what's keeping the ex-Niner off an NFL roster
But first, a bit of a game-rewind on Wentz, the phenom who grew up in North Dakota, starred at North Dakota State and was fed to the Philadelphia wolves with the second pick in the 2016 draft. He was supposed to wilt. He didn't. Wentz was an early sensation, ripping off three wins to start his career and sending the normally skeptical Philly fans into a Wentz-for-Canton tizzy. But it was too good to be true, as these number illustrate:
| | | | | |
| --- | --- | --- | --- | --- |
|   | W-L | Comp. % | TD-INT | Rating |
| The Good Start | 4-2 | .638 | 8-3 | 92.7 |
| The Rough End | 3-7 | .616 | 8-11 | 73.4 |
Odd: Wentz's only three wins in the last two months of the season came against NFC playoff teams—the Falcons, Giants and Cowboys. So the most famous athletic North Dakotan since Roger Maris entered a long off-season with more question marks than exclamation points. Mostly this: As the season went on, Wentz never got a crisis of confidence or questioned that he should be playing as a rookie from North Dakota State. Basically, his confidence occasionally signed checks his arm couldn't cash. To start a five-game Eagles losing streak, Wentz threw a laser into a forest of four Seahawks just before halftime, down nine points, that was picked by Kam Chancellor and killed an important drive. There were more where that came from. 
Wentz didn't have a crisis of confidence. If anything, he had a crisis of decision-making.
"The thing is, I never pressed last year," Wentz said. "I learned a lot. Windows are smaller, I have to make decisions faster … athletes, obviously, are better. But my motto was, 'It's just football.' I didn't make anything bigger than it was. I made some mistakes, but I didn't get shaken by them."
"Did anything last year, making that jump from North Dakota to the NFL, bug you?" I wondered.
"Never," he said. "Definitely never."
That's where the Eli comparison is appropriate. I'll always remember after the February 2012 Super Bowl win over New England, an emotionless Manning was being shuttled through the Giants' locker room to a media obligation by a phalanx of yellow-coated security people. Looking at the scene, Justin Tuck of the Giants said, "That's Eli—he'd look the same whether we just won or lost this game." Manning felt if he left everything in preparation and performance on the field, no sense crying about a bad loss. And he never got very high after his biggest wins.
It's early, but that's Wentz's way. He went to work with Tom House's quarterback-mechanics protégé, Adam Dedeaux, in southern California for two weeks after the season to polish footwork, the timing between arm and legs, and learn the kind of shoulder exercises and "prehab" work that is intended to prevent his shoulder from aching during heavy throwing periods. (Dedeaux recently took over House's business tutoring quarterbacks.) "What made me go there?" Wentz said. "Knowing so many good players went there and it helped them. I never want to stop learning. There are so many little things about playing this position that to the naked eye you won't see when you watch me. But I do feel I am improved mechanically."
Wentz has confidence that he can play faster, he said, because he's not thinking as much. In the Eagles' OTAs—important not just for Wentz, but also for his chemistry with new receivers Alshon Jeffery and Torrey Smith—he said he feels faster and more comfortable in his second year under offensive coordinator Frank Reich. "Way more comfortable," he said. "It's OTAs, I know. But things have slowed down. I'm not thinking about everything anymore—last year I was. Now I can feel the important things early in the play—where's my answer, what are my options, what will work? It's a different game when you can dial it down and feel you know what's important to look for, and you're not looking at every little thing out there. I mean, cover 2 is cover 2."
On the topic of hunting, Wentz, who turns 25 this year, did a lot of it with American League MVP and Eagles season-ticket holder Mike Trout, 26. "Ducks, geese, sometimes just shooting boxes of shells and getting nothing. But there's nothing like laying in a field, waiting for a shot. He's a ridiculous fan of ours, but we don't talk sports, really. Just life. We've got a lot of common ground."
Eagles fans certainly hope so. Last year Executive VP of football operations Howie Roseman dealt two starting defenders (Kiko Alonso, Byron Maxwell), plus first-, second-, third- and fourth-round picks to move from 15 to eight, then eight to two, in the draft to pick Wentz. So he'd better be the guy. One of the things Wentz needs to be significantly better doing is throwing downfield. His 6.2 yards-per-attempt was 31st in the league—and Wentz has a good arm. There's no way Trevor Siemian and Case Keenum should be better downfield throwers than the second pick in the draft, with a good arm and a load of confidence. The Eagles got the speedy Smith and the productive deep weapon Jeffery to make Wentz better intermediate and down the field. Now he's just got to do it.
For now, you're not shaking Wentz's confidence. Reich and coach Doug Pederson have emphasized smarter throws when diagnosing some of his 2016 mistakes. Wentz understands.
"I never found myself pressing last year, and I won't this year,'' he said. "Losing bugs me. But I'm a very optimistic person. I continue to refine what I do. I'm loving working with these new guys. The attitude here is very good, very positive. Going into this year, I'm really happy where we're at."
• NFC EAST OFF-SEASON GRADES: Andy Benoit grades the free agency and draft moves of the Eagles, Cowboys, Giants and Washington
* * *
The MMQB Book Club, 2017
Some books I'd recommend as gifts this summer:
The Phenomenon: Pressure, Yips, and the Pitch that Changed My Life
By Rick Ankiel and Tim Brown (Public Affairs Books, 2017)
Do you remember Ankiel? Seventeen years ago, some in baseball thought he could be the next Koufax, a lefty with a 95-mph fastball and a repertoire of pitches that buckled knees. He was so overpowering that, after his rookie regular season in 2000, Cardinals manager Tony LaRussa handed the 21-year-old kid the ball for Game One of the playoffs. Cruising with a 6-0 lead in the third inning over the great Greg Maddux, Ankiel lost it. He threw an errant pitch, wondered how it happened, tried to fix it, and the future ace couldn't fix it. Ever. In four innings that postseason, Ankiel walked 11 and threw nine wild pitches. He was a circus act. He won one start the rest of his life—the following April, in Arizona. He won that game because he pitched drunk.
Oh, and in the middle of that mayhem, his father, a convicted drug-trafficker and a beater of Ankiel's mom, called from prison screaming about how Rick should fix it.
Oh, and when he couldn't fix it, Ankiel became an outfielder, and in 2008 he hit 25 home runs, more than Chipper Jones and Joey Votto and Ryan Zimmerman.
This is one great American story. And Ankiel, as painful as it is to relive the dad stuff and the yips stuff, retells it vividly and exactly. Maybe it torments him, the fact that he could have been Kershaw and isn't, the fact that his father wrecked the family's life. But he sounded fairly at peace with it all in the book and when we spoke the other day.
"The biggest thing is, and the way I've been able to move on from it, is I realize it's not my fault," Ankiel said. "It's not like I brought this on myself. In all walks of life, sometimes things just happen. It's how I can look at it and detach from it. I am not comparing this to cancer, because obviously baseball is not life and death, but sometimes you hear about an eighth-grader who lived right and still got cancer. It's not their fault. It happens."
One of the things I liked about the book is it's not simply a recitation of what happened. It delves into those whose careers were similarly derailed by this strange phenomenon that prevents a straight thrower from throwing strikes consistently. Ankiel goes to Pittsburgh to meet with the original (or at least the first we knew it) yips sufferer, Pirates pitcher Steve Blass, whose career was short-circuited by it too. Poignant moments there. And with less-famous guys too. And psychologists. "Some guys get through this and some guys don't," Ankiel said. "There is no way to not wonder why it is happening to you. The dream you had for so long, it's taken away from you, and it sucks that I can't say: 'I got the recipe, and this will fix it.'"
A fitting passage:
I used to describe it this way: If a boy had reached to pet a large dog and that dog had bitten him, he'd think of that pain every time he put his hand near a dog again. That's what pitching had become for me, even when I was pitching well enough to keep pitching. Every time I picked up a baseball, I was reaching out to that dog. Its ears were back. It was growling. My heart raced.
That's no way to let your talent shine through. I strongly recommend this book. I'm a sucker for happy endings, and this isn't your classic happy ending. But Ankiel the hitter, and Ankiel in his post-career world, and Ankiel the dad breaking the chain with his own father, is one redemptive story.
* * *
Hillbilly Elegy: A Memoir of a Family and Culture in Crisis
By J.D. Vance (Harper, 2016)
"You've got to read this book," Jason Whitlock told me at the Super Bowl. Good advice. Hillbilly Elegy is a bestseller that had its debut in the right place at the right time. Published last year just ahead of the 2016 presidential election, it is the tale of a culture of disenfranchised white Americans, beset by poverty, alcoholism, drug addiction, domestic violence and poor education. It is the story of people who fall behind time and again, trapped in a cycle of aspiration, disappointment and despair. They are some of the people now known as Trump voters—people who believe the American system is rigged against them. Author J.D. Vance, in his early 30s, is a self-proclaimed hillbilly whose grandparents married and moved from Kentucky to the steel town of Middletown, Ohio, with the hope of raising their family into the middle class. Like many of their fellow travelers, they earn good wages and begin to achieve their dreams, only to find themselves faltering long before the mills began layoffs. 
With exceptional honesty, humor and love, Vance writes of his chaotic family life, moving from house to house with his drug-addicted mother and his "new fathers" and his mostly-absent real father. Though mired in instability, his grandparents were Vance's anchors. They believed in him and his abilities. They are two great characters: the grandmother an angry, salty-mouthed woman he knew was capable of violence in the protection of her family, and the alcoholic grandfather who always believed in J.D. the person. Vance is part memoirist and part sociologist, suggesting that while many believe poverty and its manifestations are mostly structural and can be government-cured, he believes the underlying culture also has to share in much of the blame.
A fitting passage:
This was my world: a world of truly irrational behavior. We spend our way into the poorhouse. We buy giant TVs and iPads. Our children wear nice clothes thanks to high-interest credit cards and payday loans. We purchase homes we don't need, refinance them for more spending money, and declare bankruptcy often leaving them full of garbage in our wake. We spend to pretend we're upper class ... Our homes are a chaotic mess. We scream and yell at each other like we're spectators at a football game ... At especially stressful times we'll hit and punch each other, all in front of the rest of the family, including young children ... We don't study as children, and we don't make our kids study when we're parents. Our kids perform poorly in school. We might get angry with them, but we never give them the tools—like peace and quiet at home—to succeed.
But Vance succeeds. In high school his grandmother made sure he improved his grades. He got into college but first entered and served four years in the Marines (where he learned the creed of self-reliance), and eventually graduated from Yale Law School. In his analysis, what saved him was a grandmother and the stability of a peaceful home that all children need in order to thrive. It's the kind of book a divided country needs to read.
* * *
In brief:
The Captain Class: The Hidden Force That Creates the World's Greatest Teams
By Sam Walker (Random House)
The biggest reason I'm happy Walker wrote this book? Because he disabuses readers of the notion that leaders on good sports teams must be holler guys, players who lead through words and deed. I've never felt that is so. A few years ago, when Dallas Cowboys coach Jason Garrett visited New York Yankees spring training, he told Derek Jeter he was worried about the lack of leadership on his team—and the fact that Tony Romo wasn't much of a verbal leader. Jeter said that really didn't matter. He told Garrett that the real important part of leadership was leading by example and with strong character and ethos. (Paraphrasing there.) Walker writes about how, for the truly great teams in history, "the most crucial ingredient in a team that achieves and sustains historic greatness is the character of the player who leads it." Jack Lambert, the strong, silent type with the Steelers in the '70s, for instance, possessed the traits Walker found in these great leaders: extreme doggedness, aggressive play testing the limits of the rules, doing thankless jobs without credit, the courage to make unpopular stands. The book's a thoughtful, smart and quick read, and a counterintuitive one—which I like and endorse.
The Whistler
By John Grisham (Doubleday)
I know: I'm a sucker for Grisham, and he's formulaic. But darn it if I don't crack another one and three long nights later the book is read. I think my record is two nights, reading until about 3 or so. This one took three, for 374 pretty fast pages. What's great about Grisham is that page 1 leads very neatly to page 374, in this case two investigators for the Florida Board on Judicial Conduct on a case on page 1, with one of the investigators working eventually to try to bring down the most crooked judge in state history by the bottom of page 374. I've always appreciated Grisham's research. The narrative sometime stretches the imagination, but it's well-researched and fast-paced with admirable characters. The tentacles into creepy Florida gambling society and the desperate creeps staying a few steps ahead of the law make this a great summer read. I loved it.
Twenty-Six Seconds: A Personal History of the Zapruder Film
By Alexandra Zapruder (Twelve Books) 
If the last name sounds familiar to those of a certain age, or those who are fascinated by the John F. Kennedy assassination, the author is the granddaugher of Abraham Zapruder, the Dallas clothing company owner who shot the only film of Kennedy being shot to death in Dallas in 1963. I was only 6 then, in first grade, but the day is one of the first memories of my life, and so Kennedy books have always been of interest to me. The title refers to the length of the film that Zapruder shot of the killing. The author, through exhaustive research and interviews, tries to interpret her grandfather's work and motives in safeguarding the film until his death from cancer in 1970. What makes the book such a good piece of historical work are paragraphs like this, recounting the hours after Kennedy's death, when a crew including a Secret Service agent, Abraham Zapruder, police and a reporter were rushing to the Eastman Kodak film lab near Love Field in Dallas with the film so it could be developed, to see just what the amateur videographer had captured with his film. Wrote Abe's granddaughter, Alexandra: "The group piled into a police car to ride the five miles to the Eastman Kodak processing lab at 3131 Manor Way. It was just blocks from Love Field. At around the same time, Lyndon Johnson was being sworn in as the thirty-sixth president of the United States. At the very moment the police car approached the Kodak plant, Air Force One could be seen taking off from Love Field, ascending steeply into the blue for the terrible trip home to Washington with the casketed body of President Kennedy and his widow on board." Chilling.
• MORE BOOKS: From December, reading recommendations that cover everything from football to life to leadership, from page-turning nerds including Andrew Luck, Pete Carroll, Ray Lewis, Michael Phelps, Steve Smith Sr. and more
* * *
Quotes of the Week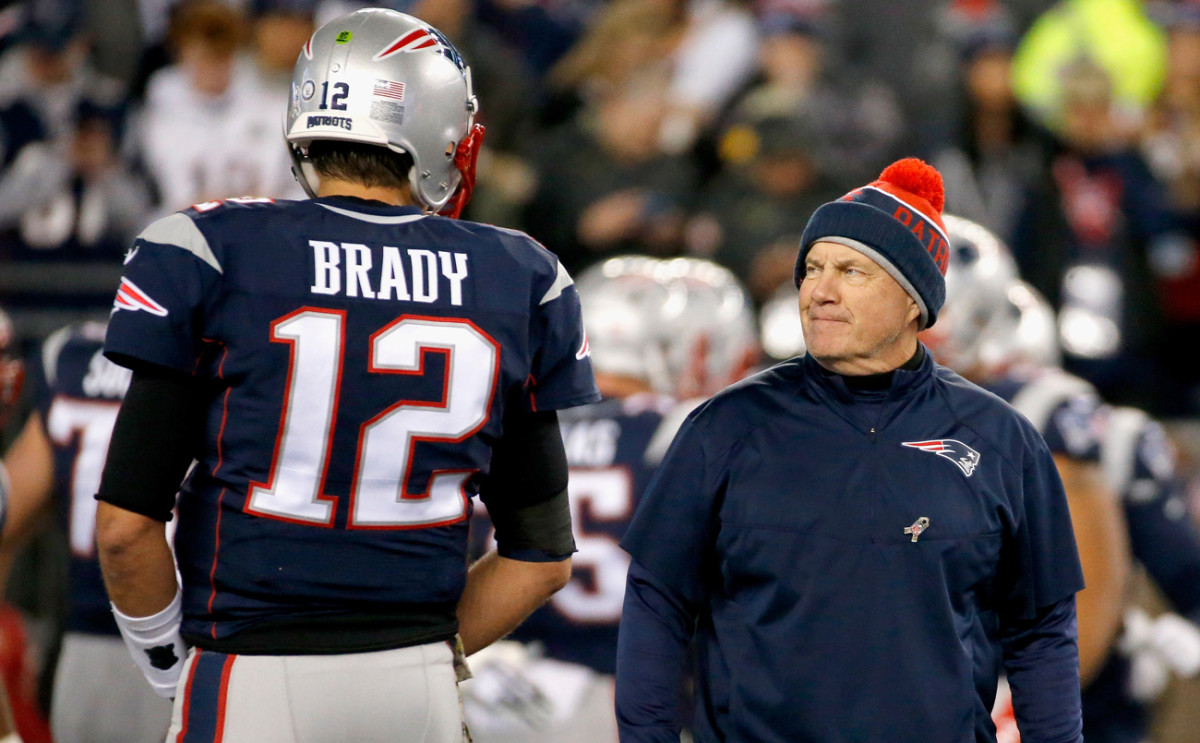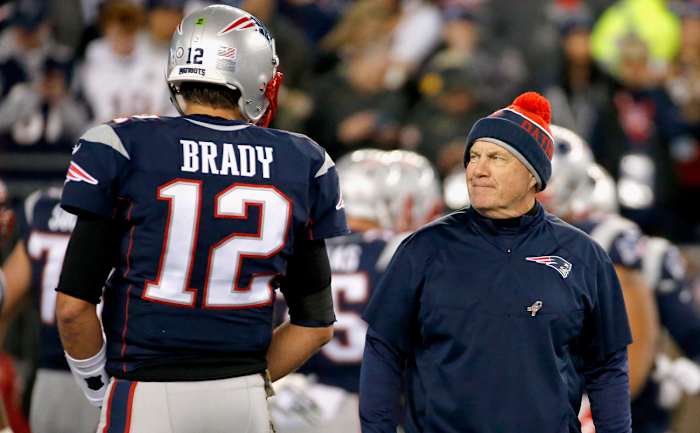 I
"Brady is unbelievable—the greatest quarterback I've ever seen … He's the greatest football player of all time."
—LeBron James, in a video posted by Def Pen Hoops, debating the greatness of the Patriots and Tom Brady and Bill Belichick. Very interesting.
And then …
II
"But he [Brady] affects the game one way, and that's by throwing the ball. And it's great. And it's great … But as a basketball player, the pounding that you take, and running both sides. I gotta get back on offense, I gotta get back on defense … Belichick has done a great job of implementing those five guys up front, to protect that asset. That's Belichick, that's not Brady … [But] I'm not saying Brady's not great."
—James, in the same video.
III
"[Roger Goodell] is restless. He thinks about the future a lot. He thinks close to a generation ahead."
—Alistair Kirkwood, the managing director of NFL UK and leading proponent of a franchise in London, to me while I toured four markets in Great Britain with a contingent of NFL players for a story about the future of football there.
IV
"Why can't there be 32 good quarterbacks on 32 teams? Maybe the same reason why, in his prime, a Wayne Rooney can't be on every team in the Premier League."
—Washington quarterback Kirk Cousins, with an interesting response to a question on this NFL tour in London, when a fan asked him, "Why can't the NFL find 32 quarterbacks?"
V
"It's a lot better than the Jets Hall of Fame, which is nonexistent."
—Josh Kraft, son of Patriots owner Robert Kraft, to the Boston Herald, at a community event, commenting on the Patriots Hall of Fame.
There is no proverbial love lost between these two teams.
VI
"Alexa, lights off. Alexa, lights off.Alexa….lights…..off." 
—Sean McVay, commanding his Amazon personal assistant to make it dark in his Encino Hills home, via the latest installment of The MMQB's 24 Hours series. Writer Andy Benoit spent an all-access day in Los Angeles with the 31-year-old Rams coach—hanging at his house, watching tape at the office, attending an OTA practice and having a sushi dinner on Sunset Boulevard.
• THE ROAD FROM 9/11 TO THE 49ERS: Robert Klemko tells the story of San Francisco's groundbreaking defensive coordinator, Robert Saleh
* * *
Stat of the Week
I wrote the other day about the NFL and Great Britain and the inevitability of it all … but these numbers really caught my attention:
| | | |
| --- | --- | --- |
|   | 2016 Games | Average Attendance |
| New England Patriots | 8 | 66,829 |
| NFL Games in London | 3 | 80,786 |
Could England do that for eight games a year—sell an average of 13,960 more tickets per game than the Super Bowl champs? I don't know. But I do know that there are four games in England this year, and they sold out by the end of April, and the market has sold approximately 40,000 season tickets for the four games. And this conservative thought: The NFL is preparing a stadium to be shared with the Premier League's Tottenham Hotspur, with the agreement between the league and Tottenham to put a minimum of two games there per year starting in 2018, and with separate entries and locker room and playing surfaces for the two games (grass for soccer, FieldTurf for football). That stadium has a capacity of 61,000. With the NFL's two current venues in England seating 84,000 (Wembley Stadium) and 74,000 (Twickenham Stadium), selling 61,000 seats eight times seems pretty manageable.
* * *
Factoid That May Interest Only Me
One more about football in London.
Remember Osi Umenyiora? Of course you do—he won two Super Bowl rings with the Giants in an 11-year NFL career, retiring in 2015 after two quiet seasons with the Falcons. Born in London to Nigerian parents, he took a different road post-career, wanting a broadcasting job. He inquired about working in TV in England, using his very slight British accent to tell NFL folks he hoped to become the Michael Strahan of British sports TV. As the BBC's host on two weekly NFL shows, Umenyiora's made a quick and telling impact. This spring he won the Royal Television Society's Best Sports Presenter Award. This is significant, because he beat out all the TV hosts in the sports widely known and covered in England: soccer, rugby, cricket. "He understands the UK market's need to appeal to passionate hardcore NFL fans and also to new fans of the sport," the Royal Television Society said in bestowing the award.
• OSI UMENYIORA'S GLOBAL MISSION: Kalyn Kahler catches up with the ex-Giants star to see how his broadcasting work is going overseas
* * *
Mr. Starwood Preferred Member Travel Note
I could do a commercial for Oregon. The state, not the university, not the university's team. The King family had a cool week in Oregon wine country and then in Portland, and there wasn't a dull moment. (Well, with a four-and-a-half-month-old boy along for the ride, you wouldn't figure there'd be many dull moments.) My five favorite things—other than the adorable Freddy King, of course:
• Wine Country. This must be what Napa was like 30 years ago. Quiet, mostly, with dedicated craftspeople like Jackson Holstein, a second-generation winemaker running Granville Wines on a hill in Dundee, Ore., 30 miles southwest of Portland. He is 26 years old. He runs a holistic farm and wine operation with some of the best Pinot Noir I've ever tasted. He and his family are married to the land, which is rolling and conjures memories of the hills of Tuscany. "My grandfather's buried here, my father will be buried here, and I'll be buried here," Holstein said to us in his kitchen—which doubles as his tasting room. Then he brought me out to see the vines on a chilly late morning. What a place. And there were more like that one.
​• The Portland Timbers. What an atmosphere in the 2-0 victory over San Jose—as close as I have seen in America to the World Cup chanting/singing/sign-waving I saw in 2010 in South Africa. Just a fun night—and thanks, Timbers, for the scoreboard birthday wishes.
• Running. We stayed in an Airbnb on the east side of Portland, and I twice ran over the bridges of the Willamette River, serpentining them through different downtown neighborhoods. Good running city.
• Powell's Books. Billed as the world's largest independent bookstore, it's like a city Macy's … only with floors and floors of books, of all kinds. What a gift. Used books, new books, staff-recommendation books, an area of people reading to kids … Spent 90 minutes there, and could have spent days. We walked out of there with 16 books for five people.
• The beer scene. Ran by this place in a neighborhood near downtown, and I knew I had to come back: Hair of the Dog Brewery. That became lunch one day (fish sandwich with Ruth American Ale). Sometimes, the name catches you. The beer at 10 Barrel Brewing (I tried Boise 150 Blonde, excellent and hoppy) was as good as the street scene outside. The beer visits are limited only by the length of your stay. There are 116 breweries in the city or within a hour's drive.
Oregon is a great place. Glad we experienced it.
• MIKE ZIMMER'S NEW PERSPECTIVE: Albert Breer on how the Vikings coach is seeing things differently in Minnesota, plus more NFL notes
* * *
Pod People
From "The MMQB Podcast With Peter King," available where you download podcasts.
This week's conversations: Atlanta coach Dan Quinn on the meaning of Father's Day; author Michael MacCambridge, on his book "Chuck Noll: His Life's Work"; and Lucy Kalanithi, widow of Paul Kalanithi, author of the sobering and inspirational book, "When Breath Becomes Air."
• MacCambridge on the only interview he couldn't get for the Noll book: "The only person who said no, out of the three years and 300 interviews, was on several occasions from Terry Bradshaw. I went through Dan Rooney, I went through Fox, and I went directly to Terry's office. I can remember Terry's personal assistant telling me at one point, there's two things Terry doesn't like to talk about. One of them I'm not going to say, and the other is Chuck Noll. There is a tortured relationship there, so I tried to tell as much of the story as I could from Terry's own words, from his books and his interviews, and sometimes as you well know, those words are contradictory. But I thought it was interesting, through all the grievances Terry still has and clearly still feels, the people who are closest to the situation, and the people who I respect most, all said a variation of the same thing. They all said, Chuck was exactly the kind of coach that Terry Bradshaw needed. He held Terry Bradshaw accountable. He made him into a better quarterback. He made Terry discipline himself in a way that he might not have done if he was playing with the Chargers or the Saints or some other team. And I thought that was meaningful. And sure, a lot of coaches and quarterbacks tangle. I'm sure that Marino had his own thoughts about Shula, I'm sure that Otto Graham disliked that Paul Brown called the plays, but not many quarterbacks have four Super Bowl rings for the trouble, and to be bitter after that, I believe probably says more about Bradshaw than it does about Noll."
• MacCambridge on the relationship between Noll and wife Marianne: "She was certainly by Chuck's side at a lot of the social functions to help him and shield him. She was active in art, continuing education, charity work, she was working at their parish, she was somebody who was a person in full on her own, and it was neat to hear about their relationship and how it evolved. Their son Chris said at one point when he was in his early twenties, 'I don't know if I am ever going to get married, because I don't know if I am going to be able to find something that you guys have.' Which is a nice thing to model for your children when you can."
• MacCambridge on how the Nolls lived with his Alzheimer's disease: "That was his last heroic act, and it was her heroic act too. She didn't leave his side for the rest of his life. The only times they didn't spend the night together were when he was hospitalized a couple times. When I would go visit them, they were always connected, always doing things. Alzheimer's is always a losing fight, and the only way you can minimize that is to keep your mind as active as possible, and they would be doing jigsaw puzzles and crosswords, and he would be helping her with dinner. He never did forget who she was. If you've known people with Alzheimer's, you know how difficult that is. It was like this heroic act on both of their parts, and that story touched me as well."
* * *
Tweets of the Week
I
The Browns tackle, on the NBA commissioner apparently trying to downplay the talent gap of the top two teams in the league. Thomas got annoyed by Silver's contention that hard work could bring the lesser teams up to the level of Cleveland and Golden State.
II
III
IV
V
The WFAN Yankees reporter, after watching Judge hit the longest home run in the big leagues this year, a 495-foot bomb in Yankee Stadium on Sunday.
* * *
Ten Things I Think I Think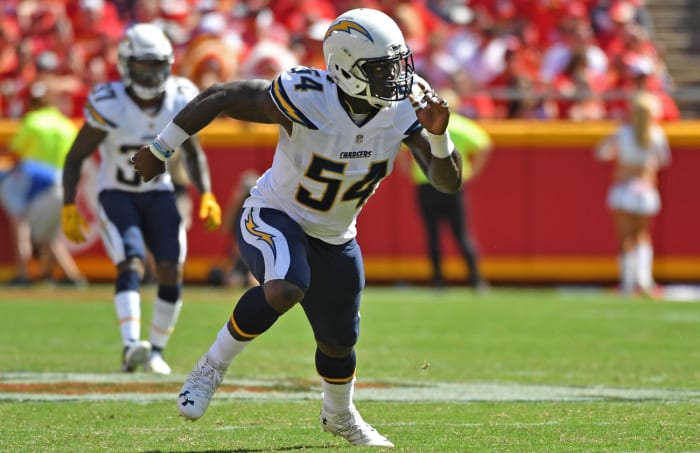 1. I think the Chargers, in ensuring that one of the best bookend pass-rush tandems will play together for at least the next four years (assuming the fifth-year option of Joey Bosa is exercised at the end of the 2018 season), now have something to build around on defense in their new home. Bosa plays this season at 22. Melvin Ingram, who signed a four-year, $66-million deal over the weekend, according to Adam Schefter, plays the year at 28. Both are healthy. So now the Philip Rivers-led offense doesn't have to worry about scoring 34 a game if the relocated Chargers hope to win.

2. I think the league made a really good hire in Dawn Aponte for its chief football administrative officer (per Dan Kaplan of Sports Business Daily). I think that because of the respect Aponte has earned around the league with the Browns and Dolphins in football administration since 2009. "She should be a GM," said one front-office veteran via text Sunday night. "Hope this gets her closer to that." Amy Trask served as CEO of the Raiders under Al Davis. But a woman has not been a general manager in the NFL. Aponte has been a strong negotiator, and the argument I've heard for her as a GM is that not all GMs climb the ladder the traditional way, beating the bushes as a scout for years before having a chance to run a front office. She's strong-willed and very smart. It'll be interesting to see her fate working under Troy Vincent in the league office in the near future—and whether a team would at least interview her for a GM opening.
• OFF-SEASON REPORT CARDS: NFC East | NFC North | NFC South | NFC West | AFC East | AFC North | AFC South
3. I think not much happens in June that you can say truly impacts the regular season. But that's exactly what happened when the Lions lost their best offensive lineman at the most integral position, left tackle Taylor Decker, with a shoulder injury and surgery last week. Decker's value is not just his fine play; Pro Football Focus recorded that, in his 1,037 snaps in 2016, only nine times did he allow his quarterback to be sacked or hit significantly. The Lions will miss Decker's leadership on a changing line, where at least two starters will be new.
4. I think the truest words of the week belong to longtime and well-respected football writer Rick Gosselin, who tweeted the other day: "Everything I see, hear and read out of NFL OTAs in May and June is fake news." Twenty-nine teams are making the playoffs as of this morning. Haven't you heard? Read the clips, day by day. The only teams I hear zero playoff talk about are the Niners and Browns and Jets. So 17 fan bases are going to be bitterly disappointed at some point this season. Optimism is fine. Nothing but optimism is misleading. That's the slippery slope of having media cover football every day in May and June and July, when nothing but instruction is happening.
5. I think a pretty good example of that is what Colts owner Jim Irsay said, according to Zak Keefer of the Indianapolis Starvia an event with fans the other day. The offensive line is fine, Irsay said, and line guru Howard Mudd, the former Colts assistant, told Irsay so. Now, one of the reasons the Colts fired GM Ryan Grigson was because the quarterbacks were getting hit too much, and the line was leaky and a constant issue in the past couple of years. Grigson gets whacked, Chris Ballard takes over, doesn't address the line much in the off-season, and now all of a sudden the line's no problem? I'll believe it when I see it. But there was Irsay saying all's well. "If Howard Mudd tells you it's fixed, trust me, it's fixed," Irsay told the fans. We'll see.
6. I think I had this reaction when I saw a headline on Pro Football Talk Saturday about the Saints exploring a trade for running back Travaris Cadet: For what? An eighth-rounder? Any team looking at the Saints sees Mark Ingram, Adrian Peterson and Alvin Kamara certainly ahead of Cadet, and sees the mildly used Cadet with 128 touches in five years, and has to wonder why it would give a draft choice for him.​
7. I think I'll be very interested to see which NFL team, if any, makes some offer to retired Oklahoma coach Bob Stoops to consult. He's a very popular coach in NFL circles.
8. I think Odell Beckham Jr. will be at Giants' mandatory practices this week—the first ones for the full squad this off-season. He hadn't been at voluntary ones.  Of all non-Kaepernick stories since the draft, the Beckham no-show to voluntary practices has gotten more attention than anything else in the league. Which just goes to show you that May, June and July, truly, are the NFL's silly season.
9. I think it's great, and just, that Mike Vick retires as a Falcon today in Georgia.    
10. I think these are my non-football thoughts of the week:
a. Thanks for subbing for me with a tremendous column last Monday, Jenny Vrentas. Knew I could count on you.
b. Story of the Week: From Janet Eastman of The Oregonian, on one of the two men who was macheted to death on the commuter train in Portland, Taliesin Myrddin Namkai-Meche, who seems like one of the nicest souls ever to inhabit the planet.
c. Nice officiating Friday night, NBA.
d. I don't care if it was a crappy goal by Patric Hornqvist. Sometimes hockey's like that. A goal shot off the back of the goalie from behind the cage is one of those legendary things that makes the sport so fun. Plus, the Penguins were the better team, again, winning their third cup in the Crosby Era—and Sidney is still only 29. Congrats to Pittsburgh.
e. I caught the MLB Network guys on the evening show a couple of days last week—opinionated host Greg Amsinger, the frank Harold Reynolds and the illuminating Pedro Martinez, who said after a great play by Alcides Escobar of the Royals: "That's what they used to call Ozzie Smith in my country." Good chemistry.
f. Man, the Yankees are good. In five games against their AL East pursuers between Wednesday and Sunday, this was the score: Yanks 55, Foes 9. They've got the kind of mashing lineup the Red Sox used to have in the Ortiz/Manny days.
g. Man, the Rockies are good. Here was how their week just ended: They beat the two teams in the World Series last year, Cleveland and the Cubs, by 8, 7, 3, 2, and 8 runs, then lost 7-4 at Wrigley on Sunday.
h. Antonio Senzatela and Kyle Freeland … ever heard of them? They're 15-6, cornerstones of the Rockies rotation, and proof that it's possible to pitch well in Coors Field. Senzatela's home ERA: 3.18. Freeland's: 3.50.
i. Week after week, game after game, Daniel Murphy continues to sock it to the Mets. What a great player.
j. Condolences to Ian O'Connor of ESPN.com on the death of his sister last week.
k. Coffeenerdness: Heart in Portland is one of the best local coffee shops I've visited, for atmosphere and coffee quality. A bit stark, but friendly and welcoming.
l. Beernerdness: Enjoyed the pFriem Wit (pFriem Family Brewers, Hood River, Ore.), light and flavorful, on the first night in Oregon.
m. What a meal we had in Portland at an Italian place on the east side of town, Luce, that could have been on a side street in Siena. You walk in there and are bowled over by the focaccia aroma, and it gets better from there.
n. As you can tell, I liked Oregon.
o. Travel Diary of the Week: Sarah Lyall of the New York Times, explaining why travelers get so angry today (except that you'd probably be angry too if you flew all day, every day, for eight days in a row).
* * *
The Adieu Haiku
Benoit on McVay
Totally Enlightening.
Rams got a good one.
• Question or comment? Email us at talkback@themmqb.com.