Colin Kaepernick Needs To Let His Voice Be Heard
Silent all offseason, the unemployed quarterback has created a vacuum that is being filled with tweets, opinions and teams wondering just how committed he is. Here's why Kaepernick should speak up. Plus notes on the rookie QBs, Derek Carr's contract and the NFL link to the NBA champ
Most Niners people liked Colin Kaepernick last year. And that was different.
Often quiet and keeping to himself, Kaepernick's season-long protest against police brutality opened discussions that allowed him to build relationships with teammates that he previously didn't have. The San Francisco brass supported his effort, as did the coaching staff, and as a result his separation from the team that drafted him in 2011 was nowhere near as ugly as it would've been had it happened a year earlier.
And yet, this question from those who were there lingers: Does he still want to play?
So in the immediate wake of the most controversial thing he's done since he started kneeling for the anthem, I'm ready to align with others who've said it: It's time for Kaepernick to talk for himself. Doesn't matter how he does it. It can be through the legion of reporters friendly to his efforts. It can be through a video released on social media. It can be through a Facebook page or a press conference.
Whatever. It's just time for Kaepernick to talk.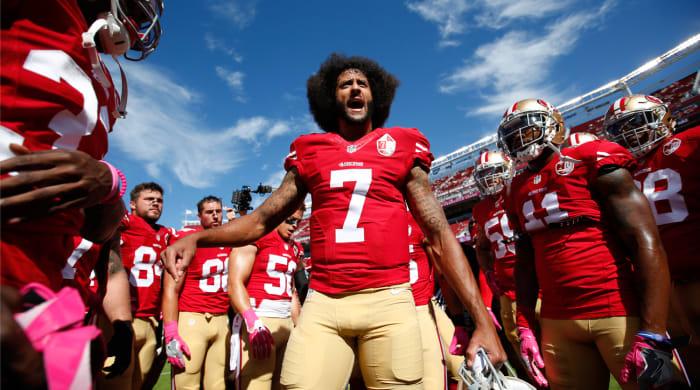 The problem is in the vacuum that his silence has created. It's been filled with speculation and tea-leaf reading. Meanwhile, teams unsure if Kaepernick was truly interested in continuing his NFL career (rather than focusing solely on his causes) are still wondering. And that's so long as they haven't been convinced by his most recent actions that he's out.
In this week's Game Plan, we'll go back to the NBA Finals and Golden State Warriors coach Steve Kerr's NFL connection, look at why rookie quarterbacks are less likely to play this year than they were in the past, see another example of the league's offensive line crisis and I'll take you through some things to look forward to when training camps kick off.
I'm starting with Kaepernick, and that means starting with his tweet of last Friday, but not to assess its validity. We're looking now at its implication, since the door back into professional football may be closing on him as a result.
It came in the aftermath of the Philando Castile verdict. Whether you agree with what Kaepernick tweeted or not, it was, without question, the most divisive public message he's sent since last summer. But it's not close to the first time he's pushed buttons on social media in a way that would get the attention of his prospective employers.
On Sunday, two days after the Castile tweet, Kaepernick retweeted a story that blamed commissioner Roger Goodell for his unemployment. On May 10, he retweeted Shannon Sharpe's take that teams were holding his anthem protest against him. On June 5, he retweeted Sharpe saying the Seahawks' interest in him was a ruse. On June 2, he retweeted a tweet quoting ex-NFL player Eric Davis as having said the NFL told teams not to sign Kaepernick—and that tweet actually misquoted Davis.
So I look at all of this, along with the bomb Kaepernick dropped last Friday, and see one of two things. Either he doesn't want to play anymore, or he's so frustrated with the lack of interest in his services that he's given up, and has just decided to take off any sort of governor on what he's putting up on social media.
Ask yourself this: If you wanted a job that badly, would you be endorsing shots at employers publicly like that? And if you'd had to fall on the sword for a recent act (Kaepernick had to backpedal last summer after wearing socks depicting police as pigs), would you repeat that act in a most public way while you were looking for work?
These are questions being asked by NFL teams, and they bolster the aforementioned feeling that some Niners staffers held a year ago: Kaepernick's interest in football isn't what it once was.
As one Niners employee explained it, Kaepernick wouldn't stay late at the facility during the season like many quarterbacks routinely do, saying he'd take work home. And there were examples where coaches saw what looked like shoddy prep surfacing in inexplicable mental errors in games. Another staffer, asked if he thinks Kaepernick wants to keep playing, answered, "I do think he wants to play—to stay relevant."
Remember, these guys like Kaepernick, and felt like the distraction he brought to the team was very manageable after the initial surge of attention subsided. And these problems added to the deficiencies in his accuracy and consistency from the pocket.
Now, if Kaepernick's trying to get back into football to help advance his cause, he wouldn't be the first player to do that, and there's even something admirable about it. If he fell out of love with the game and just wants to squeeze a few more bucks from the sport, there are plenty of guys who reach that point, too. And if he doesn't want to play anymore, that's obviously his right.
It's also his right to say whatever he wants, but as most of us have learned the hard way—myself included—the first amendment doesn't absolve anyone from resulting fallout. Kaepernick has to know how retweeting shots at the league and the teams would come off. And he had to know, after his experience with the pig socks, that his Friday tweet would be seen as generalizing cops with slave catchers.
• THE MMQB MAILBAG: Peter King answers questions from readers, including one on Kaepernick and the story that won't go away
Without hearing from him in the aftermath of any of this, we're all left to speculate where his head is. Last month, his trainer, Josh Hidalgo, told our Peter King, that Kaepernick is "ready to lead a team."
I've chronicled here what my reporting has told me. This starts with the erosion of Kaepernick's playing value, then trickles elsewhere. Bottom line, he's not seen as a starter, and so teams aren't making scheme or off-field accommodations for him. That—which is far from a black-balling—has been hard for him to overcome.
No one makes a list of the best 64 or 96 players at any position and just hands out jobs.  It doesn't work that way. Back-half-of-the-roster jobs usually come down to fit.
But Kaepernick also has made it harder on himself, because we're left to wonder why he keeps doing things unrelated or unnecessary to the movement he's supporting that hinder his ability to find work. We're left to wonder why there hasn't been more aggression from his people in finding him a job. We're left to wonder, as teams are, if he really wants to play.
If he does, it wouldn't be that hard to let the rest of us know.
• 1967 WEEK AT THE MMQB: Our series of articles on what the game, the players and the culture of professional football were like a half-century ago
* * *
FIRST AND 10
1. I would not ignore DeShone Kizer's strong spring in Cleveland. My sense is he's proven to be the most talented quarterback on the roster and is right in the thick of the competition to be the team's Week 1 starter.
2. The Cowboys feel good about their secondary, despite all the turnover, with rookies Jourdan Lewis and Chidobe Awuzie expected to contribute right away at corner. The pass rush is another story, and one to watch in July and August.
3. I still think Jimmy Garoppolo remaining on the Patriots' roster is among this offseason's biggest stories. He's the first quarterback drafted during the Tom Brady Era with potential to replace the legend. And that the Pats passed up a draft-pick bounty to keep him tells you the door for him to do so remains open.
4. Another underrated offseason storyline: The return of Martavis Bryant to the Steelers. I don't think there are five more physically gifted receivers in the NFL. If he keeps his nose clean, he and Antonio Brown can be crazy good together.
5. Given their volume of picks—five in the Top 103—the Saints knew they needed to nail this draft. And they feel good about it after spring. Marshon Lattimore and Marcus Williams look like cornerstones in the secondary, and running back Alvin Kamara, linebacker Alex Anzalone and defensive end Trey Hendrickson have flashed promise.
6. One of the things you have to like about the way Titans GM Jon Robinson has built his roster—there's visible rhyme and reason to it. And the signing of Eric Decker fit right into that. Robinson and Mike Mularkey want smart receivers who can play inside and out. It's what rookie Corey Davis is. And Decker too.
7. Arizona's Budda Baker, coming from Washington's quarters system, is among those affected by rules keeping rookies out of spring camps if their colleges are still in session. Forced to work from home, Baker said he was able to hone in on shortening the learning curve from a mental standpoint. That's good, because I wouldn't be surprised if he works at both safety and corner this summer.
8. On the contract front, the Falcons seem confident that they'll be able to get a deal done with star tailback Devonta Freeman. But what happens with Le'Veon Bell, who has until July 17 to do a long-term deal with Pittsburgh, certainly could have an impact on that.
9. Great lessons to be learned in Seahawks defensive end Cliff Avril's commitment to build a home in Haiti for every sack he had in 2016, then following through with the construction of 12 homes this offseason. Avril's parents are Haitian, and he wanted to help in the aftermath of last fall's hurricane. Great work by him.
10. If you haven't read the Ryan O'Callaghan story, go now. I covered him as a Patriots beat writer in 2005 and '06, and remember him to be a quiet, smart worker-type. I had no clue on the rest. Here's hoping the telling of his story will help others who might be struggling like he was. Credit too to Scott Pioli and others in K.C. who helped O'Callaghan when he needed it most.
• MONDAY MORNING QUARTERBACK: Peter King on Randy Moss, equality and commencement speeches
* * *
FOUR DOWNS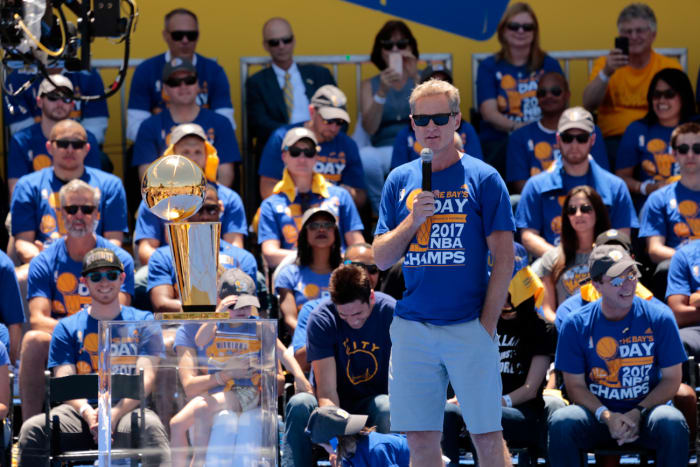 1. The NFL's Golden connection. The Warriors have won two world titles and appeared in three straight NBA Finals since naming Steve Kerr coach back on May 14, 2014. And by the looks of it, Golden State might just be getting started. And from his office in Davie, Fla., Dolphins vice president Mike Tannenbaum is smiling.
Shortly after being fired as Jets GM in early 2013, Tannenbaum started what would be a two-year run as a coaching agent at Priority Sports, and Kerr was among his first clients. At the time, Kerr was still a broadcaster, and Tannenbaum was charged with getting him ready to make the transition to coaching. Immediately, Tannenbaum explains now, it was obvious what he had in Kerr. "I will tell you that whatever he is as a coach, he's way better as a human being," Tannenbaum said Wednesday. "You talk about a coach's strengths and weaknesses. He has it all. He has an incredible innate competitiveness that people don't always recognize because he's so nice as a person. You have people who are world-class competitors and others who are great people, and he has the unique ability to be both."
As for Tannenbaum's memories of his time with Kerr, he says two things stood. First, there was Kerr's relentlessness in preparing to coach while he was still broadcasting during the 2013-14 season. Kerr traveled the country to elicit the advice of people like Bill Parcells and Pete Carroll. Second, after he landed the Warriors job, choosing Golden State over the Knicks, Kerr didn't take his foot off the pedal. So to prepare for his coaching debut, he coached the Warriors' summer-league team in Vegas, telling Tannenbaum, "I want to go there and make my mistakes there."
"It was really important to him that we worked hard to prepare him to transition, even when he wasn't sure when he'd do it," Tannenbaum says. "Our dynamic was to set a high bar for everything. … He was very serious about it, very focused—'I want to meet with people and learn all I can.' He had a well thought-out plan, and you could tell this wasn't let's try coaching. It was, if I'm gonna do it, I want to be great. You could see the competitiveness. Honestly, it was inspiring. He helped me raise my own game."
Now, Tannenbaum took plenty from each of the clients he worked with (Browns coach Hue Jackson and Falcons coach Dan Quinn were also among them) during his time out, but there were a couple specific things he saw in Kerr that applied to his 2016 hire of Adam Gase. First, he saw the competitiveness in Gase that Kerr had. Second, he saw Kerr's ability to relate with a wide range of people, at different positions, with different backgrounds, in Gase. So suffice it to say, Tannenbaum was excited to see Kerr win it all again last week, and certainly wasn't surprised to see how Kerr handled the aftermath.
"If you saw his words after they won—his first words, at the podium, 'I want to thank Mike Brown'," said Tannenbaum, referencing the interim coach who took Kerr's place while Kerr dealt with back issues. "That's Steve. Totally selfless. Here's a guy who's won two titles, and went to Game 7 of a third Finals, and the first thing he's doing after winning a championship is thanking his associate head coach. That's just him."
2. Carr pulling into the sweet spot?Derek Carr is on the verge of becoming the highest paid player in league history—ESPN's Adam Schefter reported Wednesday that the quarterback and the Raiders are "close to finalizing" a $25 million per year mega-deal. And you can bet there are more than a few prominent players, and not just quarterbacks, who will be paying close attention to the details.
So where are things right now? As I understand it, the sides aren't quite to the point where a deal is imminent but it is expected to be done soon, and the contract will be different in how it's set up. What does that mean? So last month, we laid out the landscape here, and the challenges that the Raiders and Carr had to overcome. More than anything else, the big one was that this deal stood to extend past the 2021 expiration of the collective bargaining agreement, and the player's side was wary to do a contract that might look outdated under whatever the economic realities of the next CBA. One potential answer there was to structure his numbers over the coming years as percentages of the cap. Another was to do something shorter, maybe a three-year extension that would go to the end of the old CBA, with protections for the team in case the parameters of the franchise tag change.
However this shakes out, you can bet that Kirk Cousins and Matthew Stafford and their people will take note. And it's a good bet that a couple of Carr's teammates—Khalil Mack and Amari Cooper—could benefit as well.
(Update: On Thursday morning it was announced that Carr and the Raiders have agreed on a five-year, $125 million extension, with $40 million fully guaranteed and $70 million in total guarantees.)
3. Why the job of backup quarterback is not the same as starting quarterback. In the course of reporting the above lead to this week's column, a coach articulated something to me that I think gets lost in all of the Kaepernick hoopla: The job of the backup quarterback is far from the same as the job of starter. And so I went looking for an example, and found the perfect one in Carolina, a place that, on paper, could be a fit for Kaepernick, given the scheme and veteran locker room in place.
Why would the Panthers choose to stick with 34-year-old Derek Anderson over someone like Kaepernick, who may have a higher ceiling? It's because being a backup quarterback isn't just about how good a player you are. It's about how you fit with the starter. In many organizations, the backup is as important a resource to the starter as a position coach or coordinator, and Carolina is one of those places. Anderson played for Rob Chudzinski in 2007 and '08 in Cleveland, and Chudzinski brought Anderson to Carolina after Ron Rivera hired Chudzinski as offensive coordinator in 2011. That means Anderson has a decade of background in the offense. So when Anderson and Newton meet on Monday to look back at a game, or come together on the players' day off to look forward to the next Sunday, Anderson can give Newton a different perspective and another set of eyes and ears that are on the level of a coach, but with the experience of having run the offense on the field. On top of that, with all that experience, Anderson doesn't need many practice reps during the week to be ready play in a pinch, which allows the coaches to give them all to Newton. As I understand it, for every 100 reps given to Newton in-season, Anderson may get 5 or 10.
Simply put, there's value in all of this, and it illustrates why, again, you can't simply list the top 64 or 96 players at the position and yell from the mountaintops that they all should be employed. As we've said forever now, part of the problem Kaepernick has—in addition to the newsworthiness of his social stance—is how he fits into the tapestry of individual teams as a backup.
4. Greg Robinson as Exhibit A. It's not like the warning signs weren't there for the Rams with Auburn tackle Greg Robinson in 2014. Heck, his college coaches told NFL scouts at Robinson's Pro Day that the Tigers were really only running a handful of run plays, less than a handful of protections, and there were concerns about whether or not the athletically-freakish tackle prospect would be able to learn a complex pro offense. The Rams figured they could teach him anyway, and took him second overall.
Three years later, Robinson has been dealt to Detroit (desperate for left tackle help after Taylor Decker's injury) for a sixth-round pick, and that was after the Rams paid 35-year-old ex-Bengal Andrew Whitworth $12 million per year to take the spot Robinson was supposed to fill. And it's yet another story proving how much harder it's become to get it right with offensive-line prospects in this era of the college spread. 
It used to be that there was no surer thing than a highly-drafted left tackle. That's changed. Baylor's Jason Smith, the second pick in 2009 (also to the Rams), was really the first high profile spread-specific washout. Since then, Robinson and ex-Jaguar Luke Joeckel fit into the spread-offense bust category. And you could argue this trend was a factor this offseason in how teams valued veteran NFL linemen (six free agents got deals worth $10 million or more per year) and not rookies (the first linemen drafted went 20th overall). And it's tough to see where this ends, since the offseason rules limit contact to a pretty insane degree. Plus, backup linemen don't play the way backups at other positions do (meaning young linemen who aren't starting aren't hitting much in-season), and colleges won't stop running the spread anytime soon. What's not hard to see is the frustration a lot of teams have felt on this over the past few years.
• HOW TO BUILD WINNING FRANCHISE IN NFL: Andrew Brandt on how tanking could be part of vital strategy to achieve to long-term success
* * *
OFFSEASON LESSON TO TAKE WITH YOU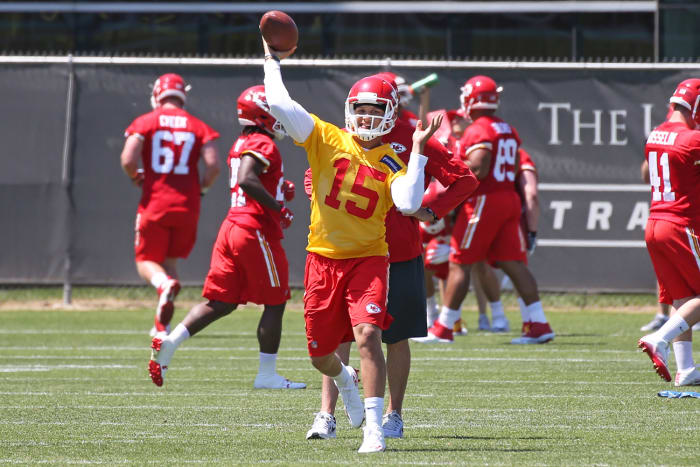 Normally I'd say to ignore teams telling you they're going to put rookie quarterbacks on ice in Year 1. It sounds good, but almost never happens.
How rare is a true redshirt? Twenty-four quarterbacks went in the first round of the nine drafts between 2008 and '16. Only one of the 24—Tennessee's Jake Locker—failed to start a game as a rookie. And if you want to go back further, only eight of the 45 first-round quarterbacks this century didn't start as rookies.
So here's my offseason lesson for this week: This year is demonstrably different when it comes to the rookie quarterback class, and their chances of playing.
And it's not just because Mitch Trubisky and Deshaun Watson and Patrick Mahomes have a ways to go as players. They do, but that doesn't make them much different than how we all viewed Carson Wentz and Jared Goff and Paxton Lynch at this time last year.
Instead, this is about where things stand for the teams that employ this year's rookie quarterbacks.
So take that group of 24 first-round quarterbacks drafted from 2008-16, add them up, and you'll see that only one—Lynch—went to a team that was coming off a playoff year. Go back further, and of the 45 drafted from 2000-16, just three—Lynch, Jay Cutler and Aaron Rodgers—went to clubs that were in the playoffs the year before.
Rodgers didn't play until his fourth year. Lynch started two games—in Weeks 5 and 13, both times because of injuries to QB Trevor Siemian. Cutler is the only one of the three to have actually wrested a job from a starter as a rookie, taking Jake Plummer's spot in December of 2006.
Conversely, this year, two of the three teams drafting quarterbacks in the first round (Houston, Kansas City) are coming off division titles, and the third (Chicago) just signed a veteran quarterback to a deal worth $15 million in 2017. So you could easily argue that in any of those three places, the most likely path to the field for the rookie would be having something go terribly wrong.
With that in mind, I checked on Trubisky, Mahomes and Watson after six weeks in their teams' offseason programs. Here's what I found …
• Trubisky: The Bears rookie's strides through May and June came in learning a lot of the basics. Through no fault of his own, Trubisky arrived with relatively little knowledge of defense in general or coverage in particular, and so he's gotten a crash course in those areas and has made strides there. The other area of improvement came in the basics. At North Carolina, Trubisky got play calls from the sideline, didn't take a single snap from center and never huddled. Early in OTAs, that was apparent. By the end, he was getting the hang of calling plays in the huddle and taking snaps. And he's impressed with his accuracy and his movement skills—he doesn't just run 4.6, he plays at 4.6, which should ease his growth once he gets on the field.
• Mahomes: Coming from Texas Tech, Mahomes probably had the furthest to go of these three, and so the best thing I heard about him out of Kansas City was something pretty simple—he doesn't make the same mistake twice. Like Trubisky, Mahomes had to learn how to spit out a play call in the huddle, and towards the end of spring it was clear that he was starting to see the calls in a way where he could be thinking about the defense, rather than his own verbiage, as he broke it. And he's done good work learning not only progressions, but also the why's behind where he's going with the ball based on what the defense is throwing at him. We said a few weeks ago that Mahomes won't even be a consideration to play until he leaves the huddle thinking about the defense and not the offense. So these steps he's taken are good ones.
• Watson: Tom Savage will enter camp as the Texans starter, but Watson is, as I understand it, way ahead of where the team expected him to be at the post-spring break. He's made leaps over the past two months in his knowledge of the system, and ability to call plays and protections. Watson also has shown accuracy, arm, smarts and instincts in his on-field work. Another thing that's been consistent coming out of Houston is that the quarterback room is a much healthier place than it was a year ago. Watson's worth ethic has impressed and he's easily fit in with Savage and Brandon Weeden, while pushing Savage in certain ways. The Texans don't need their quarterback to be a superstar, so Savage still makes sense as the starter. But Watson has absolutely done all he can to affirm his spot as the team's quarterback of the future.
So it's easy to say in June, but so far, so good for those three. And if things are good for their teams, all this work these quarterbacks are doing will continue to happen in the background, which would be quite the departure from recent history.
• Question or comment? Email us at talkback@themmqb.com.