The Morning Huddle: There Goes Perfection
So much for 16-0. The Kansas City Chiefs opened the season with a shocking, 42-17 win over the Patriots, proving that we know less than we thought we did about the defending Super Bowl champs.
FOXBOROUGH, Mass. — Want to know what a stunning defeat sounds like? Squishing and squooshing. Team shower sandals shuffling across the carpet in an otherwise silent locker room. Squish. The sound of projections and prognostications, built up over months, being squashed by the reality of a 42-27 defeat for the Patriots on the night they raised their fifth championship banner. Squoosh. Welcome to the 2017 NFL season.
As if the Chiefs were a mere afterthought, the frenzied crowd at Gillette Stadium seemed more focused on razzing Roger Goodell than anything else. Big mistake. Kansas City, which hadn't won here this century, racked up 537 yards of offense against a Patriots D that was largely discombobulated and toothless, especially after losing linebacker Dont'a Hightower to a knee injury in the second half. The unit was unable to contain wideoutTyreek Hill (133 yards receiving) and rookie running back Kareem Hunt (148 yards rushing, 98 receiving). Tim Rohan has more on Hunt, who set the NFL record for yards from scrimmage (246) in a debut. Jenny Vrentas, meanwhile, has a piece on Alex Smith, who was maestro-like with 368 passing yards and four touchdowns. Andy Benoit analyzes what went wrong with Bill Belichick's defense.
Reality check: This doesn't make Andy Reid's team the favorite to win it all, though it does raise the Chiefs' stature. (Remember what happened after Kansas City beat New England, 41-14, in 2014? Seattle does.) Mainly, last night proved that we know even less than we thought we did about the defending Super Bowl champs. And we're just getting started.
Not getting this newsletter in your inbox yet?Join The MMQB's Morning Huddle.
* * *
HOT READS:
NOW ON THE MMQB: Kalyn Kahler chronicles Operation ClownFace ... Andy Benoit offers 32 scouting reports ... the staff picks every Week 1 game against the spread ... plus more in our archive.
LATER TODAY ON THE MMQB: Michael McCann tackles the legal side of the latest Michael Bennett news ... Richard Deitsch talks with Beth Mowins ... Keep coming back for these stories, and more, throughout the day.
* * *
PRESS COVERAGE
​
1. Week 1 is officially underway, so let's dive into the weekend's most compelling game—Seahawks vs. Packers—with Sean Wagner-McGough. Two other noteworthy matchups:
—McCaffrey vs. Thomas: Former Stanford teammates Christian McCaffrey and Solomon Thomaswill face off on Sunday. Their parents will sit together.
—The Falcons vs. The Hangover: OK, so technically Atlanta is facing Chicago, but the real challenge will be bouncing back from the team's Super Bowl collapse. Matt Ryan went into the team's strategy with The Players' Tribune.
How the Atlanta Falcons Are Handling the Worst Loss in Super Bowl History
2. A "freak accident" left No. 1 pick Myles Garrett with a high ankle sprain that will sideline him for multiple weeks, but Hue Jackson says there is no need for concern. It's not like Cleveland was in win-now mode. In other very Browns news, the team released safety Calvin Pryor, who reportedly was involved in a fight with receiver Ricardo Louis.
3. Vontaze Burfict has signed a three-year, $39 million extension. For The Ringer, Jane Coaston writes that "Vontaze Burfict Is Football's Inescapable Past and Future." On the other side of the ball, A.J. Greenranked the five toughest corners he's ever faced, one of whom was cut this year.
4. Much has been made of the fact that the Buccaneers and Dolphins will play 16 consecutive games after their Week 1 matchup was postponed. Too much, says Greg Auman.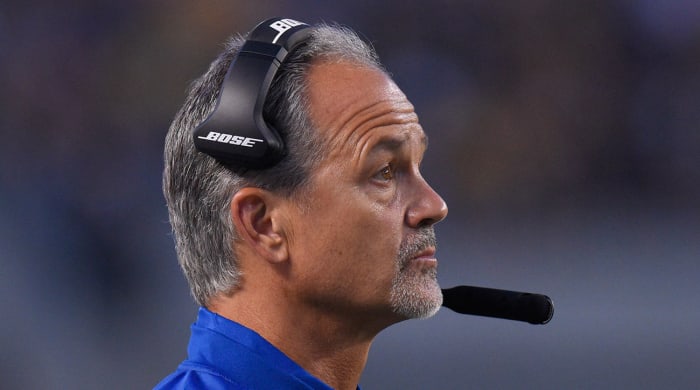 ​
5. "Hey guys, this is where it all started for me," Chuck Pagano told his Colts this week. As Pagano prepares to return to L.A.'s Coliseum for the first time since his first coaching job, Stephen Holder provides a humanizing look at the occupier of one of the league's hottest seats. Another coach with some pressure on him, Jay Gruden, "will draw on a lifetime of experience" as he returns to calling plays.
6. The Washington Post and The New York Times both published lengthy Colin Kaepernick profiles yesterday. Plus, a year after some of Kaepernick's critics pledged to boycott the NFL, some of his supporters are now doing the same.
Why Is Colin Kaepernick Still Looking for a Job?
7. In some states, football "is more popular than ever," a Wall Street Journal analysis found. Check out the story for more insights, including the correlation between football participation and election results. Meanwhile, football could go extinct in Vermont.
8. The NFL's best defensive player may sit out indefinitely, and no one is talking about it (even though he plays in the country's second biggest city).
9. For Time's Firsts series, a profile of Kathryn Smith, the NFL's first full-time female coach. In the same genre, Bill Simmons spoke with Korean-born kicker Younghoe Koo.
Kathryn Smith joins select group of female coaches in men's pro sports
10. On the eve of his 15th NFL season, Jason Witten speaks with the Star-Telegram.
Have a story you think we should include in tomorrow's Press Coverage?Let me know here.
* * *
THE KICKER
How'd your fantasy draft go? Probably better than The Ringer's.
Question? Comment? Story idea? Email me directly or let the team know at talkback@themmqb.com