Ten Things I Think I Think: On Week 1, NFL Crimes, Looming Trades and Monday Night Football
Peter King's 10 things on NFL Week 1 including Ben Roethlisberger, Marcus Mariota, Andy Dalton and much more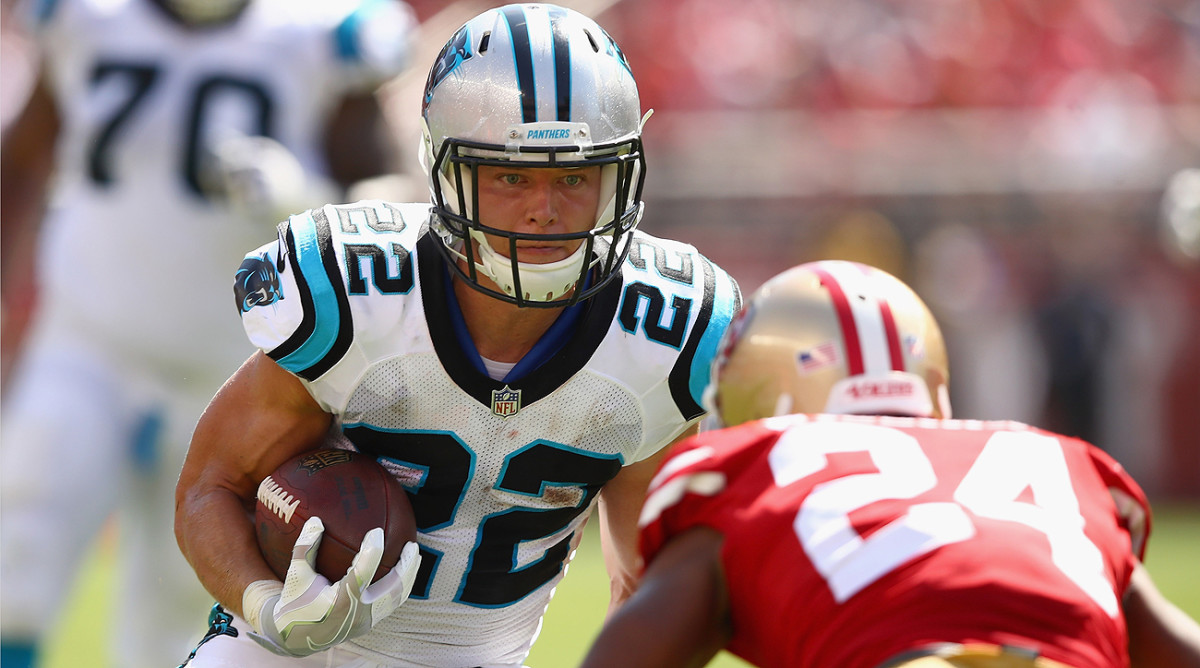 1. I think these are my quick-hitting thoughts of Week 1:
a. Great to see you back in the studio, Chris Mortensen.
b. I do think Bill Belichick will fix the Patriots, but a couple of fretters for the Pats this morning: Before Thursday, the home teams in the last 14 Thursday night NFL openers were 13-1, and New England lost by 15 … and Alex Smith outperformed Tom Brady by 101 passing yards and 78.6 rating points.
c. Great idea by Fox, getting Michael Bennett to share his social thoughts on Sunday. From the sound of it, seems like it will be an every Sunday segment on its pregame show.
d. It didn't work, but how do you not like Mike Mularkey starting the season with an onside kick?
e. The same people who say it was a crappy idea—I guarantee you—would be praising him as Riverboat Mike the Great if it worked.
f. Graphic of the Day, when the CBS cameras showed Marshawn Lynch early in Nashville: "First NFL game in 602 days."
g. Washington's Ryan Kerrigan (pick returned for a TD versus Philly) always makes good things happen.
h. Three picks in the first half is not the way to make friends and influence Cincinnatians, Andy Dalton.
i. Downfield block of the week: Titans tight end Delanie Walker chopping down Oakland safety Reggie Nelson, paving the way for a Marcus Mariota touchdown run.
j. As an NFL coach, I can't imagine there to be a more ignominious thing than trailing the Rams 37-3 after 38 minutes of play.
k. The coaching clock is ticking on a truly good man, Chuck Pagano, after four quarters of a 64-quarter season.
l. The accuracy issues still exist for Cam Newton, but he did have good chemistry in the short game at San Francisco—and that's the most important thing for these Panthers.
m. Take a bow this morning, Jags offensive line coach Pat Flaherty, for your guys surrendering zero sacks to the vaunted Texans front.
n. My Super Bowl pick, Seattle over New England, looks like a gem after Week 1.
Alex Smith Made the Patriots Look Like Clowns
o. A friend of mine texted me Sunday evening and asked, how could the Seattle offensive line be worse than last year, and I texted back: "I don't know, but it is."
p. Not saying Goff-to-Kupp will be one of the great combo platters of this NFL era, but if Jared Goff is going to be any good, he's going to need a precision route-runner with great hands. That's what Cooper Kupp is.
q. Lots of teams with offensive line issues right now, but the Giants, Seahawks and Colts are 1-2-3 on my list.
r. Which brings back those great memories of the dog days of summer, when Colts owner Jim Irsay pronounced, "The offensive line is fixed."
2. I think the Giants' porous line helped, but I'll be damned if Dallas defensive coordinator Rod Marinelli hasn't again figured a way to take a slew of blue-collar playerswith a star or two (Sean Lee may be the only one) and build a defense that should be good enough for Dallas to contend for the playoffs.
3. I think the Ben Roethlisberger ankle tackle of Emmanuel Ogbah should have been penalized for sure. But those comparing it to a Vontaze Burfict hit and saying if that was Burfict he would have gotten suspended—don't make me laugh. Your Bengal stripes are showing.
4. I think I know what must give Matthew Berry intense acid reflux: At 3:11 p.m. Sunday, late in the third quarter for the Cardinals and Steelers, the two best fantasy football backs in creation, David Johnson and Le'Veon Bell, had 18 and 16 rushing yards, respectively. And the monstrously unknown Tarik Cohen of Chicago and Javorious Allen of Baltimore had 66 and 56 yards rushing, respectively, both team highs. Aah, the science of fantasy football.
5. I think the stark reality of football hit home to me in the Chiefs' locker room at New England on Thursday night. Most of the players knew one of their vital guys, safety Eric Berry, had been hurt seriously late in the fourth quarter, and the injury turned out to be an Achilles tear. He's out for the year. Truly sad. But there was a life-goes-on vibe that has to be part of a player's credo. So tough. So real.
How Do the Chiefs Replace Eric Berry? The Options Aren't Great
6. I think there's a lesson for the NFL in the way MLB is likely to handle the Red Sox sign-stealing. Follow me here:
• The Red Sox used electronic means—an Apple Watch, according to the New York Times—as part of a system to steal signals from the catcher to the pitcher in a series against the Yankees, and maybe in more games than that. Stealing signs is allowed in baseball. Stealing them with electronic or computerized aids is not.
• The Patriots may have used a scheme to deflate footballs so that they would have been more to the liking of Tom Brady's grip. I say may have, because there was some significant circumstantial evidence, but it was never proven with certainty that such a scheme occurred.
• Sox 8-11 versus Yankees this year.
• In nine years before the investigation, Brady performed almost exactly the same at home (when home ball boys theoretically could fiddle with the footballs) and on the road. Nine-year home rating: 100.2. Nine-year road rating: 99.7.
• The MLB shelf life of the controversy is expected to be a month or less. The investigation and whatever discipline is meted out should be done by the end of the regular season, commissioner Rob Manfred said.
• The NFL shelf life for the Brady story—through the months of the reported $8 million investigation, the initial sanction, the court battles, the Brady suspension and all the way to the Thursday night game last week when Roger Goodell finally reappeared on the field in Foxboro and got massively catcalled—is 32 months.
As my friend Mark Leibovich of The New York Timesreminded me Thursday night (and I've heard this so much over the years), Paul Tagliabue always liked to say, "All's well that ends." Not, "All's well that ends well." Get the story out of the papers and off the web. Resolve it. End it.
Going to war is costly for everyone. Save the jail sentences for true crime. MLB fined the Cardinals $2 million, and St. Louis employees lost jobs, for hacking into Houston's scouting database. That's true crime. Neither of these other ones is. As I said at the time of the Goodell ruling, he killed an ant with a sledgehammer in this case. If I'm right about the baseball sanction being a moderate fine and a loss of a draft choice that's not very high, seems like a good lesson for the NFL: Reevaluate what true crime is.
7. I think there's one postscript to that, and to what will be the lingering Ezekiel Elliott story, possibly well into 2018, and maybe to the 11.5 percent drop in ratings from the 2016 opening game to Chiefs-Pats last Thursday: The NFL has to start building more bridges, starting with the fractured relationship with players and the union. The Elliott story's going to be drawn out, and ugly, and though America wants to see the league be tough on violence against women, there has to be a way to make it a more cooperative venture so that every fight with a player isn't nuclear.
Regarding the ratings: The decline for the opener should frighten the league, and the partners who pay multimillions to broadcast the games and to advertise on them. Last year, with no Peyton Manning in the game, and no megamarkets, and (maybe) the contentious presidential campaign election siphoning away marginal viewers, the Denver-Carolina ratings were down 6.8 percent from the previous year's Brady-Ben Roethlisberger opener. This year the league's marquee player was back, but even Brady couldn't stem the rockslide. This year's opener, in fact, was down a whopping 17.5 percent from the Patriots' 2015 opener. Maybe it's Kaepernick. Maybe the anthem protests. Maybe the league office needs to learn from the "all's well that ends" ethos of Goodell's predecessor. Whatever, it doesn't look like it's going away.
8. I think, and I'm judging by the 2-1 ratios of trades from 2016 before final cutdown to 2017, the trading deadline will mean something this year. The deadline's on Halloween, the day after the end of Week 8. That's going to be an interesting couple of days, October 30th and 31st, particularly if some of the aggressive trading teams (Seattle, New England, Minnesota, Philadelphia, Baltimore, Cleveland, Denver, Indianapolis) have major needs or are sufficiently out of contention and would be willing to make deals. I'd watch the Jets dealing a good veteran too. They'll want ammo to be able to compete with Cleveland, if necessary, to move up for the best quarterback in what's shaping up as a good quarterback draft in 2018. And the Browns could have five picks in the top 70, including primo ones near the top of the first three rounds.
9. I think the unique football TV show of the week, and it's not close, will be Tuesday at 9:30 p.m. ET, on ESPN. It's a short documentary, "Strike Team," about one of the most famous stings in law-enforcement history—and it involves an NFL game in Washington in 1985. Before the Cincinnati-Washington game on Dec. 15, 1985, the U.S. Marshals Service worked a scam by inviting a long list of outstanding fugitives in the District of Columbia to a party at which two game tickets (Washington at the time was a Super Bowl contender) per attendee were the lures. There were no game tickets—just the fake promise of them, to reel in the crooks. I watched it Saturday; it's a classic cops-and-robbers piece with inside footage of planning leading up to the execution of the scam. On the appointed day, let's just say the cameras were there to show exactly how the game-day experience of the 101 dangerous fugitives went down. If you can't see it, set the DVR. Cool show.
10. I think these are my non-football thoughts of the week:
a. Sixteen years ago this morning, two airliners hit the World Trade Center in New York, another hit the Pentagon, and a fourth, bound for Washington D.C. landmarks, crashed to the earth in Shanksville, Pa. The multilayered act of terrorism cost more than 3,000 lives and reverberates to this day. There's a lot going on today—hurricane recovery, flood recovery, threat of nuclear war. But we mustn't forget 9-11. Ever.
b. Movie of the Week: The Man in the Red Bandana, about a 24-year-old heretofore unknown hero on the day the towers fell, and the work it took to make a film about him.
c. Story of the Week: From Evan Osnos of The New Yorker, a story about our tempestuous and potentially life-changing relations with North Korea, with real people at the core of it. That's the kind of great reporting that must never go out of style.
d. Who knew North Korea had two operatives living and working legally and in plain sight in Manhattan, doing everything in pairs so as not to risk defection? What a story.
e. Hurricane Story of the Week: From David Ovalle of the Miami Herald, in Key West on Friday night with those planning to stay during the storm that could obliterate the town. "You have to get out of town!" one man said after busting into the Conch Farm bar. Those who remained were unmoved. And not moving.
f. Sports Story of the Week: Sean Gregory in Timewrites a gem about the growing business of youth sports specialization that seems totally and ridiculously out of whack, with some kids traveling across the country at 10 and 11 to play on high-level travel teams. Really quite absurd, and captured so well by Gregory. 
g. Wake up, parents.
h. Sports Column of the Week: Steve Rushin of Sports Illustrated, with an homage to his wife, Hall of Fame basketball player Rebecca Lobo. This is just terrific, Steve. 
i. "So Mom is better than LeBron?" their 6-year-old daughter asked. Wonderful.
j. Coffeenerdness: There are things I'll never quite get, but that's okay. My feeling about the pumpkin spice latte is if you want a drink that tastes like the fall and has 3,000 calories, get a pumpkin milk shake. But, as Maura Judkis tells us in the Washington Post, this Starbucks drink is the sugar bomb of choice as the leaves change around the country. 
k. Beernerdness: Walt Wit, the greatest name ever for a Belgian-style witbier, also has the greatest beer tap I've seen: It's a pencil. I had Walt Wit (Philadelphia Brewing Company, Philadelphia.) at a Phillies game this summer, and it was tremendous. I say this in the most flattering way possible: Walt Wit reminds me of Allagash White. Congrats, Philly Brewing.
The Best of Peter King's Beernerdness
l. Good for you, Sloane Stephens. Talking about coming from way back in the pack earlier this year, and from the unseeded pool of the U.S. Open, and then dominating the final. Congrats. And good for both players, that post-match bearhug.
m. Joined the human race. Finally have an Echo Dot in my office. I'm no tech nerd but holy crap, this is one incredible invention, Amazon. I love it.
n. Take a guess the first song I asked Alexa to play.
o. "My Old School," by Steely Dan.
p. I've had Steely Dan on the brain, shuffling through their songs over and over all week since the death of Walter Becker. (And my apologies for my terse RIP last week. I should have written more about Steely Dan and what the band meant to my life.) My late brother Ken was nine years older than me. We were not close growing up, and then he went to William & Mary, the first in our family tree ever to go to college. When he graduated, he moved home for a while and worked construction, and I used to hear this new band from his room. Then he bought me a copy of "Can't Buy a Thrill," by Steely Dan, and then I bought "Countdown to Ecstasy," and took both to college in 1975 and wore them out and drove Irvine Hall at Ohio University crazy, with this jazz/rock music with the fanciful lyrics. Anyway, "My Old School" became my favorite Steely Dan song, in part because of the lyrics ("I was smoking with the boys upstairs … when I heard about the whole affair … I said oh no, William and Mary won't do … well I did not thing think the girl could be so cruel … and I'm never going back to my old school …'' It's a cliché, and I know that, but when my big brother and I had nothing whatsoever to talk about, we could talk about music.
q. Who remembers 44-year-old lyrics? Answer: I do. It's kind of weird.
r. Second song: "Dirty Work," by Steely Dan. And then Alexa played "Katy Lied," the whole album. I believe I'm hooked.
s. Dodgers since Aug. 26: 1-15.
t. Cleveland since Aug. 26: 16-0.
u. You are such a good friend, Don Banks. Do you know what Don Banks did the other day? He gave me a belated 60th birthday gift. I was born in 1957. Banks collects baseball cards. He got me a 1957 Topps Ted Williams baseball card. A cool, thoughtful gesture.
v. RIP, Don Ohlmeyer, the former producer of "Monday Night Football" and longtime imaginative TV czar. He left tremendous footprints in the TV sand.
Who I Like Tonight
Minnesota 23, New Orleans 20. Lucky schedule break of the year: NFL schedule released April 20 (and was pretty solidly in place for several days beforehand, particularly the marquee games like the Monday nighters in Week 1); Adrian Peterson signs with Saints April 25. The NFL's schedule-meister, Howard Katz, couldn't have known. This should be the kind of ratings-grabber the NFL really needs. I could see the Saints winning, if Sean Payton's plans for less Drew Brees and more clock-eating running game work perfectly. There's something about the Viking front, though, that I think is going to be hugely significant. I think Danielle Hunter, one of the game's emerging pass-rush stars, comes up big tonight.
Los Angeles Chargers 25, Denver 23. Upset special. I think the Chargers' Joey Bosa and Melvin Ingram will give the Broncos' edge protection some real trouble, and I think Philip Rivers with some healthy offensive weapons will do enough to win. Two media notes you would be interested in: Ed Werder debuts as a Westwood One sideline reporter on the national radio broadcast (with Kevin Harlan and Kurt Warner upstairs). And Beth Mowins becomes the first woman play-by-play voice to do an NFL regular-season game in 30 years. She'll team with Rex Ryan on the second ESPN game of the night. Interesting point from Mowins to SI's Richard Deitsch about the significance of her appointment to this job tonight, and what has to change for more women to sit in her chair: "I have always thought it has been significant for men who are making decisions in the business to have a daughter. They realize they want her to have every opportunity that their son might have. I think that has been huge in this industry, once they start seeing young women in these roles." Simple. Wise.
The Adieu Haiku
Big hole in Week One.
Rumblin', bumblin' ... and golfin'.
Missed you, Chris Berman.
• Question or comment? Email us at talkback@themmqb.com.