Finding an Anthem Protest Compromise at NFL Meetings Will Be Seminal Moment for Roger Goodell
Roger Goodell and NFL owners are seeking a compromise with players over national anthem protests. NFL meetings will be Tuesday in New York.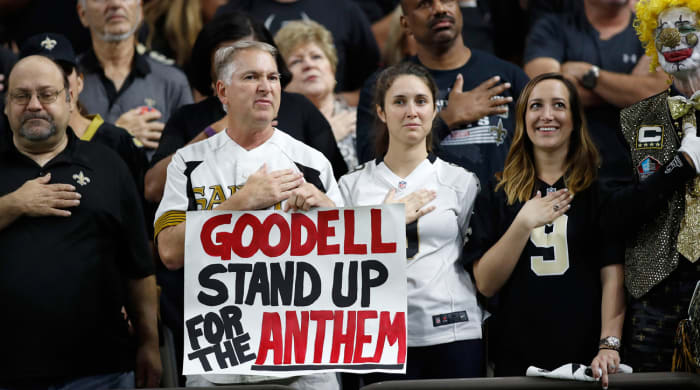 The NFL meets every fall for a day and a half to discuss league business. This week, on Tuesday in New York, owners will gather and hear from players and NFL Players Association representatives on the contentious matter of players standing at attention for the national anthem. The league has said it will try to devise a plan that would build a bridge with players and assist on their social-justice causes so they'll stand as one. Advertisers getting major guff from their customers don't want to continue to take a hailstorm of criticism from those who don't like anything but what they perceive to be a show of total loyalty toward the flag.
What I learned in the past few days:
1. This could be a seminal moment for the tenure of commissioner Roger Goodell. There's no sense his job will be in trouble if he doesn't come out of this meeting with a strong proposal that the players and clubs will adopt. But if there is no significant progress toward an endgame here, I believe some owners could ask by meeting's end, Are we sure we want to extend Goodell's contract five years?  That's the current length of the extension Goodell is discussing with the league's compensation committee—and they're far down the road in the contract talks.
2. Goodell doesn't have the kind of political capital with the players, or the players union, to call in any favors to get a deal done that will compel every player in the league either to stand for the national anthem or to not protest while it's being played.
3. It's a fractious issue with both owners and players. Usually, Goodell can get the owners at least mostly on the same page. Not this time. You've got Niners CEO Jed York telling players he won't force them to stand, Chargers owner Dean Spanos telling players he's got their backs, and Cowboys owner Jerry Jones saying if players don't stand for the anthem they won't play for Dallas. So how can Goodell get some universal policy when said policy would force owners to go back to their teams—some of them, at least—and renounce what they recently told them?
4. The general feeling among club owners and executives seems to be this, voiced by one strong ownership influencer: "The players have to buy into something as a group, or else we're going to be stuck in this muck and mire. That will be awful for the game."
Colin Kaepernick's Collusion Claim: Does He Have a Case?
5. The league was taking advice and proposals from players as late as Friday night on this issue. Many players want the league to partner with them to work on inner-city problems, particularly in civil rights and relations with police. But the fear in the league office is there will be no universal buy-in from the players, because no one as of yet has a widely shared idea for a league policy.
6. It's likely that part of the league's offer to the players would be giving them a week or two this year for their social-justice causes to get the league spotlight—to be part of an ad campaign or social-media campaign. Similar to what the league does with breast cancer, for instance.
7. Christine Brennan of USA Todaywrote that players should stay in the locker room during the anthem, and some in the league really like that idea. But others think it could cause blowback from those who would think the players are being disrespectful by being on the field when the anthem is being played.
8. There are differing views among top club officials and owners about how teams should proceed. There is some sentiment for allowing all 32 teams to control their own player activism campaigns, because the issues in Cincinnati might be different from those in Los Angeles. But there's no clear consensus on it.
9. The solution has to be either driven by the players or widely perceived to be driven by the players, or it could give the impression that the league is being good and generous about this issue just to mollify the players. The players can't be sellouts.
10. This is the time when a top commissioner has the chops to get a deal done and stop the bleeding on an issue that was nearly forgotten before the President spoke three weeks ago. But building a consensus in the two days allotted for the meeting will be very hard.
Football in America: Episode 4—Dallas
Our series (in partnership with State Farm) examining all levels of football—youth, high school, college and pro—has taken us to the Bay Area, Charlotte, Minneapolis-St. Paul, and now to Texas. Jenny Vrentas, Kalyn Kahler and videographer John DePetro visit a classic Friday night high-school game (with a little Tongan war dance thrown in) in the Dallas 'burbs, a youth league in Irving with 6-year-olds playing tackle football, over to Fort Worth to see Big 12-leading TCU emerging as a national power, and then the Cowboys on a Sunday afternoon in Arlington.
Football in America: Dallas, Where Everything is Bigger—Including Expectations
I can't get past the 6-year-olds in a tackle football game, not with so many warning signs about the developing brain tissue in kids so young that can be affected by blows to the head. I just don't get it. But the mom of a boy in Irving, Texas, who started at age 6, Lauren Bryant, says: "It's a little nerve-wracking being a mom; you worry about the hits. But at the same time, my kids love it, so I'm not going to take it from them. Of course you've got all the research that shows the whole CTE thing, but football is still very prominent in the state of Texas. You've got a lot of kids who are starting this young, and it's almost like you've gotta start this early if you want to be recognized in high school by colleges and stuff."
At 6?
This week: Greater Phoenix, featuring the leading touchdown passer in the history of Arizona football, playing nine-man football in a mining town … who rushed for six touchdowns and threw for five Friday night.