Who Is Ben McAdoo, and Can He Reclaim the Giants?
Those who've worked with McAdoo in previous spots say he's driven, hard-working and personable. But as his tenure running the Giants reaches a critical point, the question is whether he has the right qualities to run an NFL team
EAST RUTHERFORD, N.J. — Ben McAdoo has a great recipe for Caesar dressing.
The secret, he tells players, is in the anchovy paste. The acrid, mud-colored condiment, when blended with olive oil, lemon juice and a few other ingredients, makes up the backbone of his signature dish. A little goes a long way. He likes it on salad, alongside a cast-iron steak fillet on Fridays.
You would know this if you ever spent time in McAdoo's quarterbacks room in Green Bay. When he was an assistant to Mike McCarthy, this is how he preferred to run his corner of the football operation. He and the QBs would all meet on Saturdays. McAdoo would bring donuts and carve out the first half hour just talking to players about what they did the night before. More often than not McAdoo would come prepared with the results of some deep Google wormhole he fell into the night before. Or he'd get into his passion for cooking.
Some players thought he was "dorky," but in a good way. They saw McAdoo as the perfect counterbalance to McCarthy, whom former quarterback Graham Harrell described as like a bouncer at a bar in Pittsburgh. (McCarthy grew up in the Steel City.) McAdoo had an ability to put players at ease, sometimes reaching to sources outside the facility for assistance in dealing with his guys, whereas many position coaches and coordinators choose to simply react to what happens inside the building.
"They're way different," Harrell, now the offensive coordinator at North Texas University, said, comparing McCarthy and McAdoo's styles. "Mike McCarthy was raised in a bar. Very confrontational. I guess in stature they may look alike, and they had similar backgrounds, but behind closed doors they're totally different people. I'm sure [McAdoo] has patterned some things after coach McCarthy … but that's another thing I liked about Ben. He was always himself. He never tried to be anyone but himself. He was okay with that."
At some point in McAdoo's path to the Giants' head coaching job—a position that is in grave danger after 10 weeks of the 2017 season and that and could get worse with the Chiefs coming to MetLife Stadium on Sunday—life seemed to get more complicated. A typical New York sports talk radio caller now paints McAdoo as distant, clueless and awkward. Two of his players told ESPN anonymously last week that he was unable to lead a locker room. His offense has failed to score more than 23 points in 14 straight games, the longest such streak in the NFL. The back end of his defense appears to have lost its passion and fire.
McAdoo's two-year tenure as Giants head coach has been dotted with strange but endearing moments, like when he showed up to his debut press conference in what looked to be David Byrne's "big suit" from Stop Making Sense—a nod to McAdoo's mullet-and-jeans roots in Western Pennsylvania.  Or when he emerged for his second season with a slicked-back haircut reminiscent of legendary basketball coach Pat Riley. He exists in a space between instances of actual cutting-edge coaching and the gaffes he makes in the public eye, the latter of which will almost always receive more attention. And yet, many coaches, players and agents who have worked with McAdoo describe a lovable, self-deprecating mensch, the kind of guy who still checks his kids' math homework at the end of every work day—a good man getting eaten alive in the Big City.
So who is Ben McAdoo really, and how did he get to a point where the most pragmatic franchise in American sports needed to release a statement simply saying he would not be fired mid-season? Can a sharpened focus on the DNA of the locker room—a process that began over the last few weeks with a few new one-on-one initiatives—be enough to keep him in East Rutherford beyond the next seven games?
Think, for a second, about how someone like McAdoo becomes an NFL head coach in the first place. He was from Homer City, Penn., a small town 50 miles west of Pittsburgh. He played an undersized left tackle in high school and attended a Division II college to major in physical education. He got his start at age 24 as a low-level college assistant. He wasn't connected or born into the profession. To rise, you need to hand over life to menial tasks that are often glossed over in stories of the great men and women who ascend to the top of the coaching world from similar places. You are asked to spend days watching three-year-old film of an offensive coordinator the team is facing two weeks from now. You need to mark everything, down to the hashes, weather and time of day. Identify the personnel groupings. Discover the tendencies. You sit for hours on end, like a police detective in a phone booth, looking for clues in one narrow space.
But … McAdoo was very good at it. Those who worked with him in Green Bay—where he was McCarthy's tight ends coach for six years, then quarterbacks coach for two—remember nights when McCarthy would change one route in a concept at the last minute before a game and McAdoo would know exactly which pages in the playbook where everything would need to be changed. Pencil in hand, he would go through all the drawings one by one. He was diligent and dogged.
He and McCarthy met in 2004, after McCarthy called to interview McAdoo for a quality control job. When they hung up, McAdoo drove 12 hours from Connecticut to Indianapolis to shake McCarthy's hand in person at the combine. McCarthy, then the offensive coordinator in New Orleans, hired McAdoo for that QC job, then brought him to San Francisco when he became the coordinator there in 2005, and to Green Bay when McCarthy took over as Packers head coach in 2006.
"He knew the system the best," says Ty Knott, a former Green Bay assistant who worked with McAdoo at multiple places. "Mike leaned on him. He's a hard-working guy. He's one of the first-guy-in-last-one-to-leave mentalities. You talk about accountability and availability—you preach that with players, but it's true with coaches, too."
Even with all of that, there's a fine line in the coaching world. If McAdoo wanted to progress further, he would have to transition from right-hand man to leader of men. Some good coaches remain in that film room, at the side of a great head coach, forever. McAdoo's challenge was to craft an identity and culture of his own.
From the outside looking in, that pivot seems to be something McAdoo is still working on. One former Giants player remembers an introductory meeting with McAdoo in New York where the coach just stared at him for what felt like minutes, before getting into the task at hand—an attempt, possibly, at intimidation, that was ultimately joked about. At the start of the 2017 season, McAdoo presented players with the story of an aging circus lion that, after a change of diet and vitamin regimen, became known for his reproductive vigor. McAdoo's use of the tale as a presumed motivational ploy generated some bemused laughs. Such stories contribute to what some who have dealt with McAdoo in New York feel about him: good coach, maybe just not head coach.
In an attempt to clear his schedule and become more visible in the facility, McAdoo handed play-calling duties off to offensive coordinator Mike Sullivan in mid-October. The plan allowed him to spend time outside the all-important quarterback room. After the switch, the Giants won their first (and thus far only) game of the season, at Denver. Considering the dynamics of the Giants' locker room (the star power and antics of Odell Beckham, a top-heavy, well-paid and opinionated defense with title aspirations and a soft-spoken veteran quarterback who prefers to lead by example) it would conceivably take more time than the day allows to wrangle everyone onto the same page.
Over the last few weeks McAdoo has also started pulling aside players for in-depth personal conversations. The act of separating his linchpin performers from the herd and just listening—even about the problems that might seem superficial on the surface but could grow into more serious gripes—has helped give him confidence for the future. He always had various informal sessions with a loose construction of "locker room leaders," but the latest development is an effort to expedite the process while staying on top of the various personalities inside the building. McAdoo also spoke to reporters this week about an airing-of-grievances meeting he had with the entire team.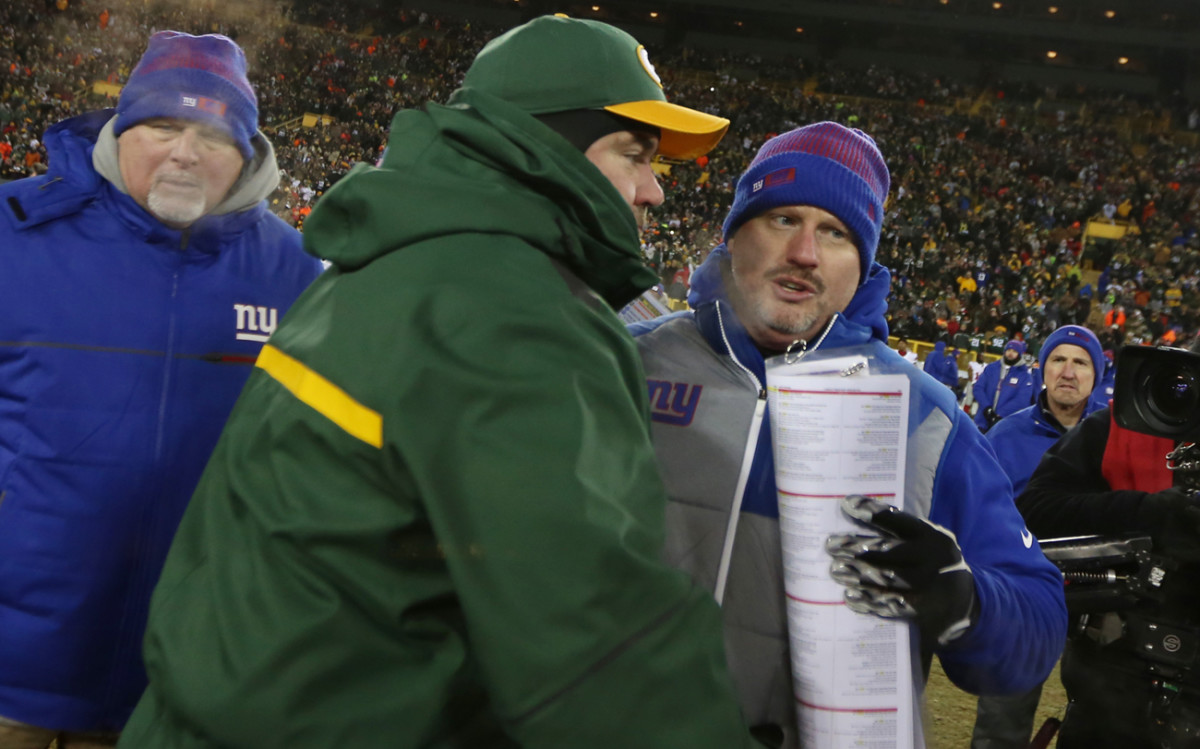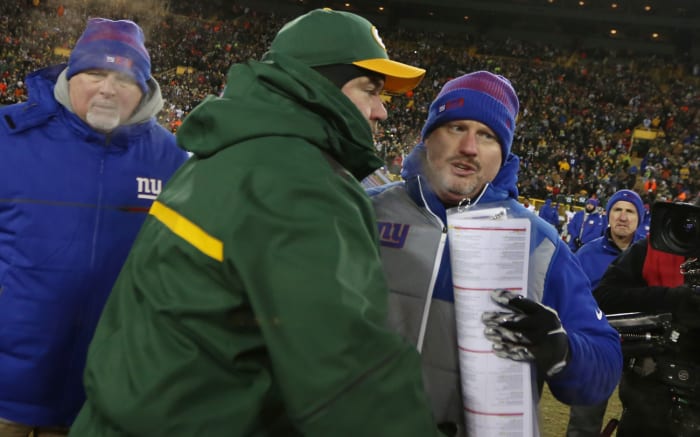 Since his days as an assistant coach with the now-defunct Fairfield University football program, McAdoo was always looking for new messages, philosophies and maxims to prop up his teaching. Today he uses his morning commute to search for inspiration. He rattles off a list of audiobooks he's finished—The Subtle Art of Not Giving a F*ck by Mark Manson, Simple Rules by Donald Sull, Strong Fathers, Strong Daughters by Meg Meeker, Outliers by Malcolm Gladwell, Tools of Titans by Timothy Ferriss—and says he's currently working his way through The 5 Second Rule by Mel Robbins. 
In Green Bay, free of responsibility from molding a team-wide message, McAdoo's approach seemed more personalized. He was known for giving his players take-home worksheets with questions about their leadership abilities, to be filled out by the player's wife, girlfriend, kids or parents.   
Former Packers tight end Jermichael Finley remembers McAdoo as a coach who tailored his approach to specific players. He concedes that McAdoo was "up my ass" from the moment Finley joined the Packers in 2008 but credits McAdoo with brokering peace talks between the talented tight end and quarterback Aaron Rodgers. Certain on-field mistakes had led to an icy relationship between the two. McAdoo got them together in a hotel room the night before a game and facilitated a talk about their families—a vehicle to build some common understanding between the two outside of football.
"It's hard to get across to Aaron, but Ben was one of those guys who could get in his ear and bring him down a little," Finley says. "That's one of the reasons he was a great tight ends coach. I respect Ben 100 percent, man."
Finley recalls McAdoo confiding in him that he would one day be a head coach in the NFL. McAdoo called it "going to get the briefcase."
It's 12:20 on a Thursday, a little less than 24 hours after two of McAdoo's players voiced their frustrations about the team anonymously to ESPN (one said the coach lost the team, while another said he was not a leader) and about 48 hours until the Giants would lose to the 49ers. The coach stands at midfield twirling a whistle around his arm while an eclectic playlist sets the mood for a critical practice.
Like McAdoo, the music is hard to pin down. "I Get Around," by 2Pac bleeds into "Dammit" by Blink 182, which leads into "Bow Down" by the Westside Connection and "Go" by Jimmy Dade.  The coach floats from one position group to the next, saddling up in the middle of the action before quickly fading into the outer ring of players. 
This style still takes getting used to for those accustomed to observing a different Giants head coach. For more than a decade Tom Coughlin would involve himself in almost everything, thrusting his bony frame at offensive linemen or receivers, trying to teach them proper technique. It was like watching a late-career James Brown waddle around on stage, covered in sweat, before the ceremonial blanket came out to be draped around his shoulders. 
After practice, Coughlin would sprint-walk into a terse session with reporters and then vanish into the facility for another eight hours of planning. On Thursdays, McAdoo typically does not meet with reporters at all, instead taking a few pool questions via email from media members (who are working in the same building) and releasing his responses through the team's public relations department later on. When McAdoo holds a press conference, he can look as if he's reading from a prepared statement. The attitude he projects feels like a mixture of discomfort and contempt. This particular Thursday, he chose to address the anonymous comments made by the two players in a private, off-camera setting in front of a handful of beat reporters while the rest of the assembled media was sequestered in the indoor practice facility for almost 20 minutes.
The next morning, however, a different McAdoo emerged from his office—the one many of his former players and co-workers describe fondly. Feeling light before the doomed trip to San Francisco, he smiled while walking over to a group of reporters waiting for him in front of the franchise's Wall of Fame. On the floor was a black piece of tape where he was supposed to stand.
Someone from the group mentioned that McAdoo was a little like comedian Jay Leno, walking out on stage and trying to stand on his mark.
"Yeah," McAdoo deadpanned. "Just without the personality."
Introducing SPORTS ILLUSTRATED TV, your new home for classic sports movies, award-winning documentaries, original sports programming and features. Start your seven-day free trial of SI TV now on Amazon Channels.
Question or comment? Email us at talkback@themmqb.com.