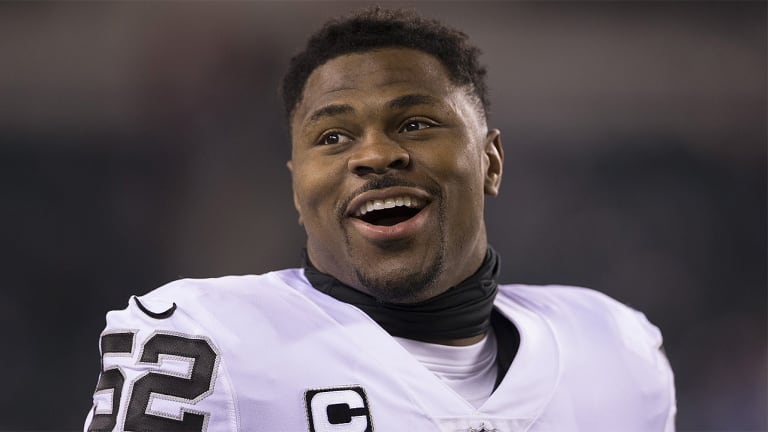 Why Trading Khalil Mack Would Be Insane
The Oakland Raiders would be insane to trade Khalil Mack, one of the brightest young pass rushers in football. 
There are capologists out there who will argue that the Raiders have been smart to keep a middle school dance's worth of distance between themselves and Khalil Mack as he digs his heels in on a holdout. He is already 27 years old. He will command a franchise-changing, quarterback-money deal that will require an injection of cash right away. He will significantly shift defensive spending plans at a time when some around the NFL are anticipating a stellar pass rushing class to hit the draft in 2019.
But make no mistake, if the Raiders linebacker is traded before the start of the 2018 season, it would cap one of the most stunning offseasons in recent NFL history. And no one is going to scrape their jaw off the floor long enough to consider the shrewdness of a maneuver like this.
On Sunday, Pro Football Talk reported that there are four serious suitors for Mack. That was followed by a report from 97.1 The Ticket in Detroit citing a "metro Detroit limo driver(!!)" who said Mack was in town to meet with Lions GM Bob Quinn (that has, so far, gone unconfirmed).
If nothing else, the Raiders and Jon Gruden have allowed it to get to this point, and that might be far enough. While it won't necessarily send a message to the carousel of post-30 veterans the team is signing in order to build a competitive defense in 2018, it is an unfathomable tightrope walk with one of the brightest young stars in franchise history. Imagine if this thing bottoms out sans Mack this season. What high draft pick would want to play here? 
Since 2014, Mack has made the Pro Bowl three times, named an all pro twice and won defensive player of the year in 2016. His presence on the field commands a double team, or the constant fear that he will knife into the space created by offensive linemen to log a sack. He has logged double-digit sacks each year since 2015 despite a fraction of the defensive line help other elite rushers have.
It's understandable a coach would want to remake a team in his image, but the fact that teams are lining up to take Mack off Gruden's hands despite the contract implications and draft pick compensation may want to make Gruden to rethink the image he's trying to create in the first place.
Not getting this newsletter in your inbox yet? Join The MMQB's Morning Huddle.
HOT READS
NOW ON THE MMQB: Giving a piece by Larry Fitzgerald honoring the late Sen. John McCain a second run on a somber day for this country ... Cam Newton ain't changing his game anytime soon ... Sam Darnold is ready to be QB1.
WHAT YOU MAY HAVE MISSED: A sobering Tim Layden column on football, and why we let it get more important than human lives ... Deshaun Watson is ready for liftoff (again) ... A year ago, Blake Bortles was on the way out. Now? The future is in his hands. 
PRESS COVERAGE
1. We could be coming to the end of the Aaron Donald holdout. The resulting contract will be epic. 
2. "A gunman opened fire during a 'Madden NFL 19' online video game tournament Sunday at a mall in Jacksonville, killing two people and sending several other victims to area hospitals, Jacksonville Sheriff Mike Williams said during a news conference."More from NFL.com. 
3. Desperate for help at the cornerback position, Broncos head coach Vance Joseph dipped into his contacts and phonedAdam "Pacman" Jones. 
4. Star Giants defensive end Olivier Vernon was carted off the practice field on Sunday. The latest here. 
5. Eric Decker is calling it a career at age 31. 
6. CENTER TRADE: The Vikings get on the horn with the Giants and swing a deal. 
7.  How close is the NFL to finding a true, two-way superstar? 
THE KICKER
Doug Pederson is at the end of his rope when it comes to Carson Wentz rehab questions.  
Question? Comment? Story idea? Let the team know at talkback@themmqb.com.